I missed a couple of days of training.  On Thursday, I rented a truck, grabbed one of my sons and drove up to Marblehead to collect my father's woodworking tools, plus a bunch of his old stuff.  The tools included a radial arm saw, a bandsaw and a drill press along with a whole bunch of hand held power tools.  Getting the bigger tools out of the basement was a significant strength workout.  It took about 6 hours to get the truck, drive up, load up and return home.  I had no time to train.
On Friday, I grabbed my other son and we drove the truck down to the house on Cape Cod.  We have a big section of unfinished basement and I going to set up a little workshop there.  We unloaded the truck and got everything placed approximately right.  Another strength session I guess.  Then home to Hopkinton, where I unloaded all the non-workshop stuff and then finally returned the truck.  This all took the better part of 8 hours, so I had no time or energy to train.
So this morning, I had to atone for this gap.  I wanted to try a Cat VI workout at a slightly faster pace (2:05 vs 2:06).  I wanted to see what happened with my HR.  The good news, it was a little higher, but plateaued nicely.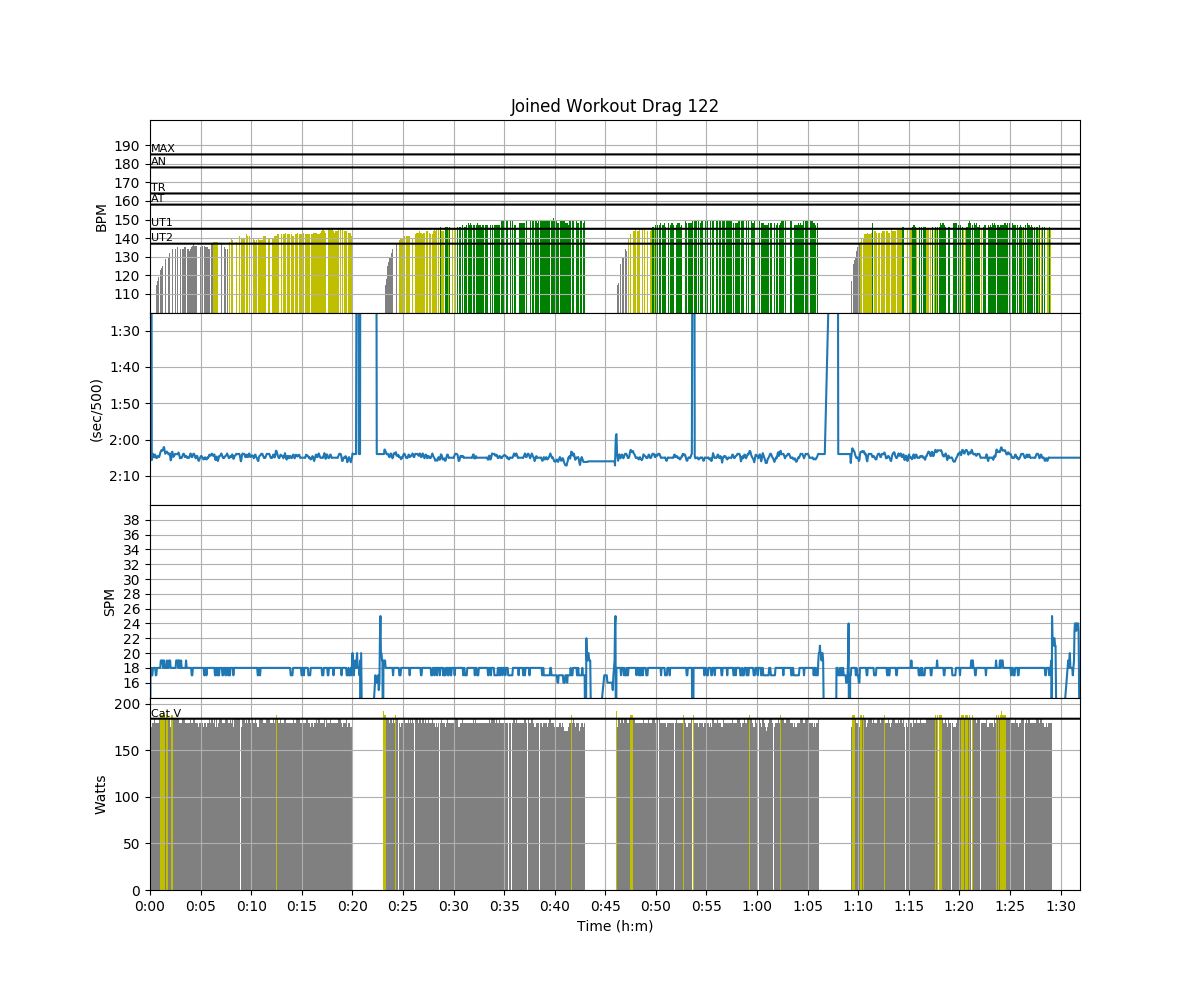 Workout Summary - media/df_20171230-194635.csv
--|Total|-Total-|--Avg--|-Avg-|Avg-|-Avg-|-Max-|-Avg
--|Dist-|-Time--|-Pace--|-Pwr-|SPM-|-HR--|-HR--|-DPS
--|20547|92:00.0|02:14.3|178.5|17.7|95.0|151.0|12.6
W-|19232|80:00.0|02:04.8|180.4|17.7|100.8|151.0|13.6
R-|01318|12:00.0|04:33.1|156.9|17.2|029.5|151.0|06.6
Workout Details
#-|SDist|-Split-|-SPace-|-Pwr-|SPM-|AvgHR|MaxHR|DPS-
00|04818|20:00.0|02:04.5|180.4|17.9|094.0|146.0|13.5
01|04799|20:00.0|02:05.0|179.5|17.6|104.1|151.0|13.6
02|04800|20:00.0|02:05.0|180.0|17.7|098.9|151.0|13.6
03|04815|20:00.0|02:04.6|181.5|17.8|106.1|149.0|13.5
I connected PM3 to painsled over usb again.  This time I had a bunch of extraneous "session completed" messages while I rowed and my workout ended up in about 5 pieces.  Luckily I could glue it back together.  This problem combined with the problem with the HR monitor storing a ton of zero values makes this setup pretty impractical. I'm not sure which is the better solution for PM3, ergdata or painsled.  Both have issues.
But on the plus side, I reported my error messages on the PM5 to Concept2 and they are going to do a warranty replacement of it, even though the unit is well over a year old.  Gotta say, they seem to take good care of customer service issues when you talk to them.
Tomorrow:  I will do the session planned for today.
Session:
1 x 60'  (6 x 10'/1′)
Rest between: n/a only briefly to rehydrate
Rating/Pace: Shift every 3' Cat III; SR 28+/7' @ Cat VI; SR 18

Cat III Pace: 1:48
Cat VI Pace: 2:03 to 2:08