I felt tired this morning.
Weather was cool and misty.  A light breeze from the North was on and off.
The plan:
3 sets of:

1' on, 3' active rest,
1' on , 3' active rest
2' on, 5' active rest

Rest between: Continuous, no rest between sets.
Complete one set and then repeat the series.
The active rest is relaxed, low intensity, easy rowing.
Stop only briefly to rehydrate.
Rating /pace: Race effort, 1k pace (your best right now)
Notes: The emphasis is on high quality work and stroke efficiency. This speed workout aims to keep the lactic acid levels low by allowing enough recovery between pieces for it to clear. Do not cut the rest short. Feel fully recovered and psychologically ready to do the next piece. If the quality starts to drop dramatically, stop the workout.
Well, I blew that.  I misremembered the duration of the rests, so instead of 3 minutes between the 1′ work intervals, I took 2 minute rests.
I was actually having a good time with the workout.  Well, to be more accurate, I was enjoying the 1 minute blasts.  30 strokes.  Focusing on clean early finishes, outward pressure on the oarlocks, early body prep and rowing with the blades off the water.  I would get into the zone where I would have 4 or 5 strokes in a row that just felt great.  I always love seeing a 1:xx pace on the speedcoach and there is something about the fluidesign hull.  It gets super stable when you're going fast.  It's like riding on rails.
Interesting that comment about quality dropping.  I was doing well all the way through until the last interval.  And man did the quality drop like a stone.   I was breathing like a freight train and losing form pretty badly as I made the slight turn at the little island at about 1 minute.   Then a bit of phlegm started rattling around in the back of my throat.  With 10 strokes to go, it got stuck in my throat and I couldn't breath.  I thought I was going to puke, flip or die.  Maybe all three, just to maximize the drama of my demise.
I guess I need to lighten up a bit!  I just hate being slow,
I did all the intervals in the big straight bit of the river.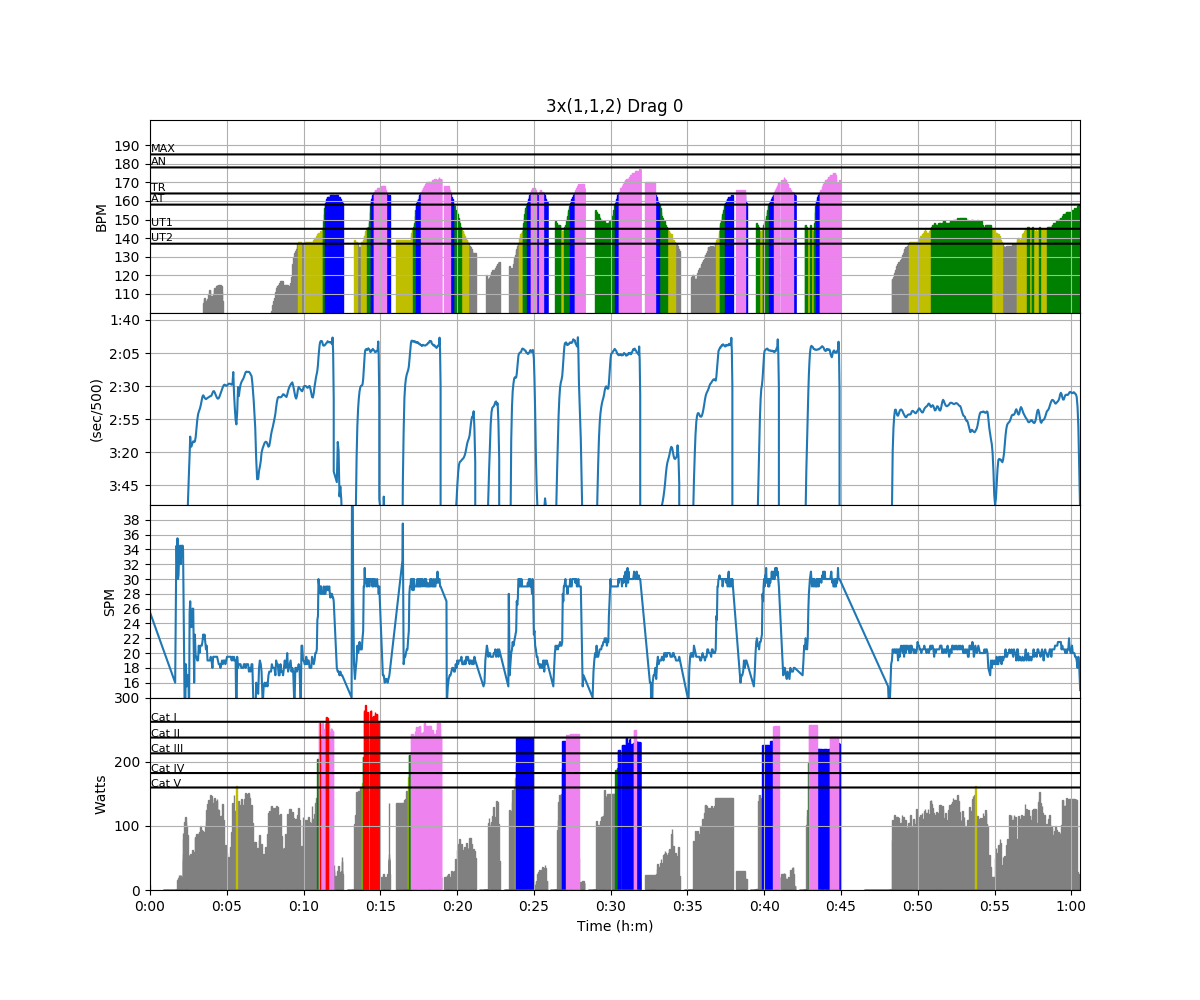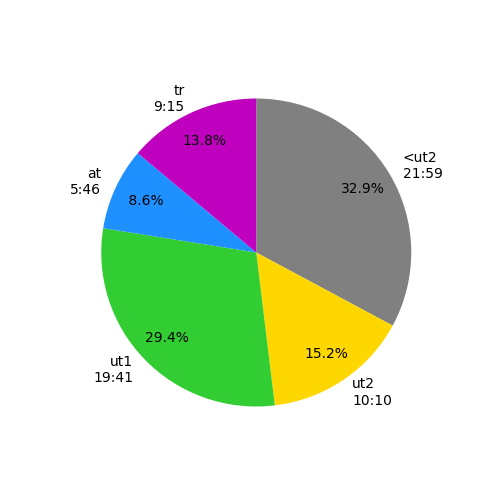 Workout Summary - media/20180510-1240240o.csv
--|Total|-Total-|--Avg--|-Avg-|Avg-|-Avg-|-Max-|-Avg
--|Dist-|-Time--|-Pace--|-Pwr-|SPM-|-HR--|-HR--|-DPS
--|09490|66:54.0|03:31.5|096.2|20.5|140.8|177.0|06.9
W-|02984|12:00.0|02:00.6|230.5|29.5|160.4|177.0|08.4
R-|06517|49:54.0|03:49.7|066.8|18.6|135.8|177.0|07.4
Workout Details
#-|SDist|-Split-|-SPace-|-Pwr-|SPM-|AvgHR|MaxHR|DPS-
01|00258|01:00.0|01:56.3|250.5|28.2|154.3|163.0|09.1 - down
02|00244|01:00.0|02:03.1|268.2|29.5|156.3|167.0|08.3 - up
03|00510|02:00.0|01:57.6|249.6|29.4|163.6|173.0|08.7 - down
04|00246|01:00.0|02:02.2|236.7|29.1|152.1|166.0|08.4 - up
05|00250|01:00.0|01:59.8|241.5|29.4|158.1|169.0|08.5 - down
06|00480|02:00.0|02:04.9|209.2|29.8|167.2|177.0|08.1 - up
07|00251|01:00.0|01:59.3|143.5|29.7|154.4|163.0|08.5 - down
08|00248|01:00.0|02:00.7|237.2|30.1|159.0|169.0|08.2 - up
09|00496|02:00.0|02:01.0|235.6|29.9|164.4|175.0|08.3 - down
Again the power measurements were crap.  There were 237 missed power readings out of about 1200 strokes.  Worse, it seems that the missed readings tend to happen when I executed a work interval, so I had no real time feedback in the boat.  I'm in contact with NK and they are helping me figure out what's going wrong.   Really strong technical support, I have to say!
Tomorrow:  I need to move my Saturday workout to Friday again.
4 x 12'
Rest between: 6'
Rating/Pace:

6' @ Cat VI; target 18-20
4' @ Cat IV; target SR 24
2' @ Cat III; target SR 28.

Notes: Use a strong leg drive to define your transitions from one rating to another. Stay focused on a relaxed recovery rhythm as the stroke rate rises.
This weekend is an extensive endurance cross training opportunity.  I have 5 yards of Mulch to spread.  So all the flower beds need to be raked, re-edged, and then the mulch spread on them.  It usually takes about 6-8 hours of reasonably hard work to get done.