Monday – June 3: Humon Threshold Test and a few intervals
I bought a new toy.  A Humon Hex.  A muscle oxygen sensor.  I straps to your thigh and shines a light into your quadriceps.  The color of the reflected light can be used to determine the amount of oxygen in your muscle.  It advertised the ability to help you monitor lactate threshold in real time and suggested that it could help optimize both steady state and interval training.
The app supports 3 exercise types; running, cycling and rowing.  It also supports 3 sessions types; steady state, intervals and a threshold test.  Sadly, a rowing threshold test is not yet supported, but I decided  to just try it in cycling mode to see what happened.
The app is pretty slick.  I ran it on iPhone, but you can also use it with Android.  It pairs with the Humon Hex sensor and optionally a BLE HR monitor.  I've had mixed results trying to get the HR monitor to pair with it, but the Humon Hex sensor has been absolutely reliable in making and keeping the connection to the phone.
If you pick a Threshold test, it tells you what power to row, and counts down to your next power level while showing your smO2 percentage on the screen.  The instructions are pretty simple.  Start at 30W, and increase by 30W every 3 minutes.  Stop when you can't do it anymore.  The app then tells you what your lactate threshold power is.  (Aka your FTP).
I sat down and gave it a go.
Here are the results from the online data site.
So, weird thing happened.  I was pushing through and I reach the 20 minute mark and go into the "red".  I keep pushing, because that's what they say I should do, and within a minute or so, the display goes green again.  That's pretty weird.  It tells me I'm at "Steady State", and I feel like I'm close to exploding.  Well, no algorithm is perfect right?  Maybe it's the difference between rowing and cycling?  Here's the painsled view of the same session. (I had the HR connected to Humon, not painsled for this session)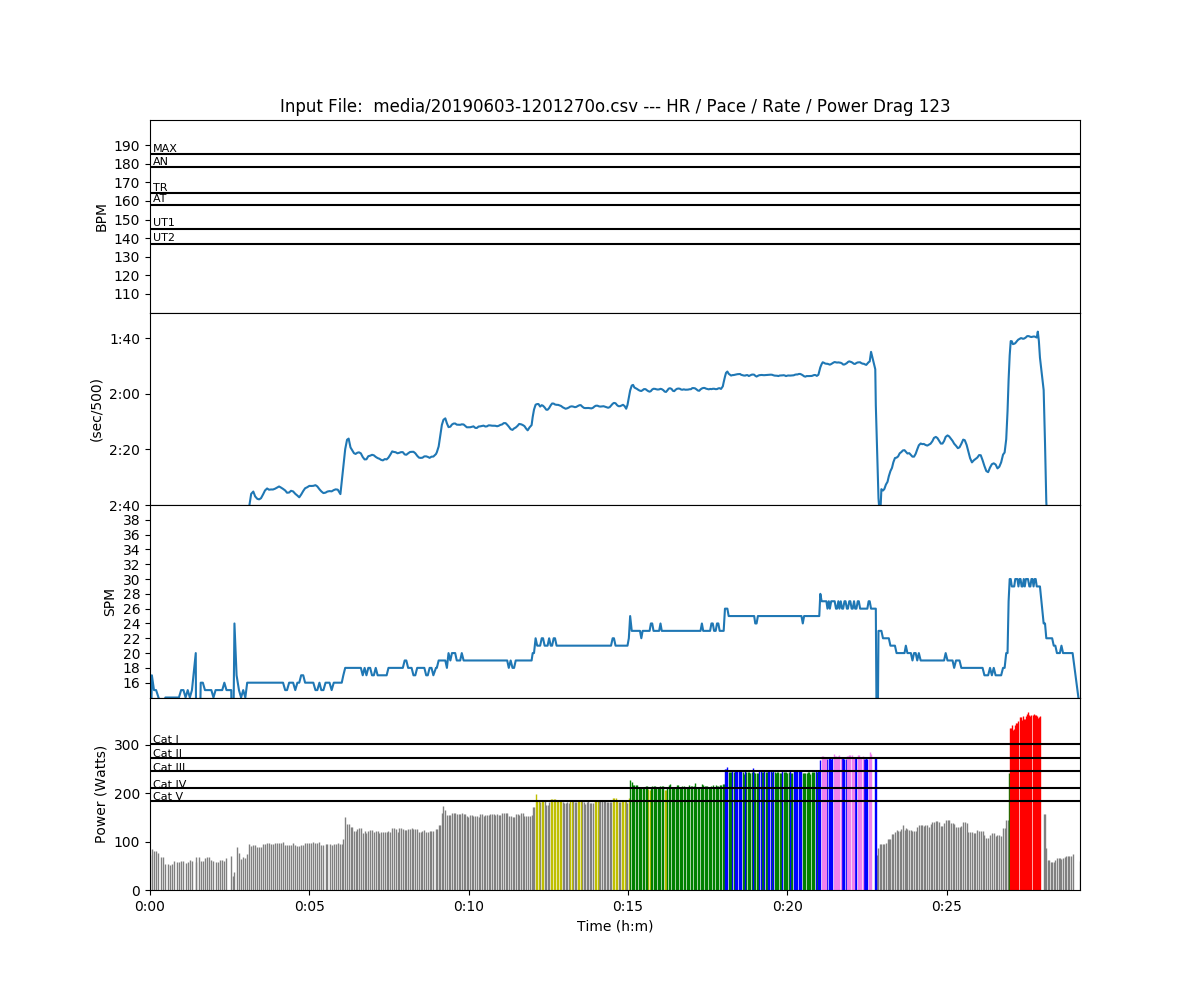 I must have done something wrong, because it didn't give me an FTP value.
You can see I did a hard minute after I rested up to watch what would happen with the Humon.  This time it went red and stayed red for that.
I still had some time and I wanted a bit more exercise, so I just put the rower on just row and set up the humon app to guide me through intervals.  The theory is that you go until you are in the red zone and the % plateaus.  Then you rest until the % goes back to green.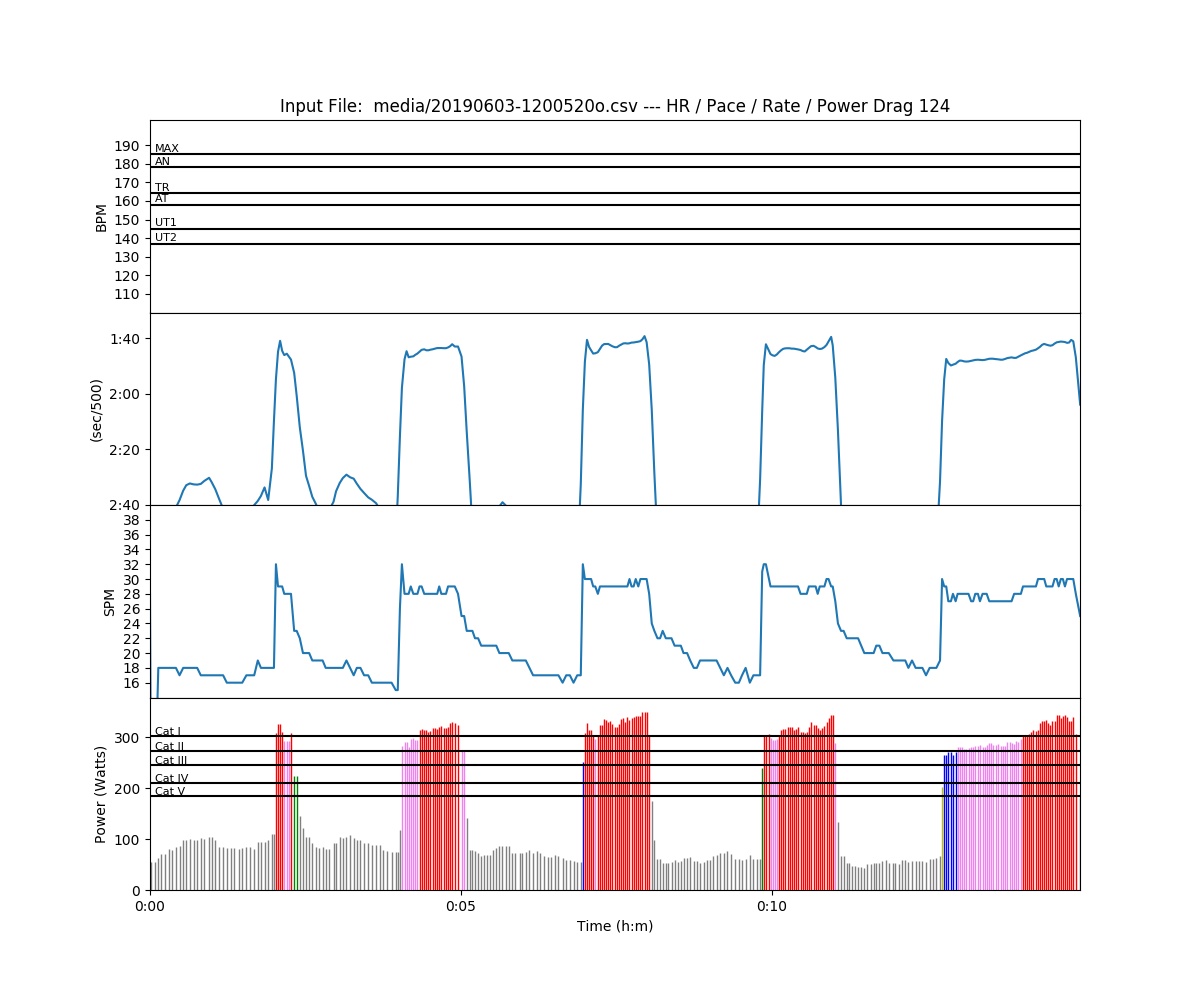 You can see in the last interval, where I dug pretty deep, that Humon flipped me back to green.  An interesting quirk.  I found this an interesting way to do intervals
Tuesday – June 4:  Another attempt at the threshold test
I violated a rule about testing.  Generally, you want to take an easy day between tests, but I didn't think that I pushed all that hard in the prior day's test and I really wanted to try it out again.
This time, I managed to get the app setup right and it actually told me what it thought my FTP was.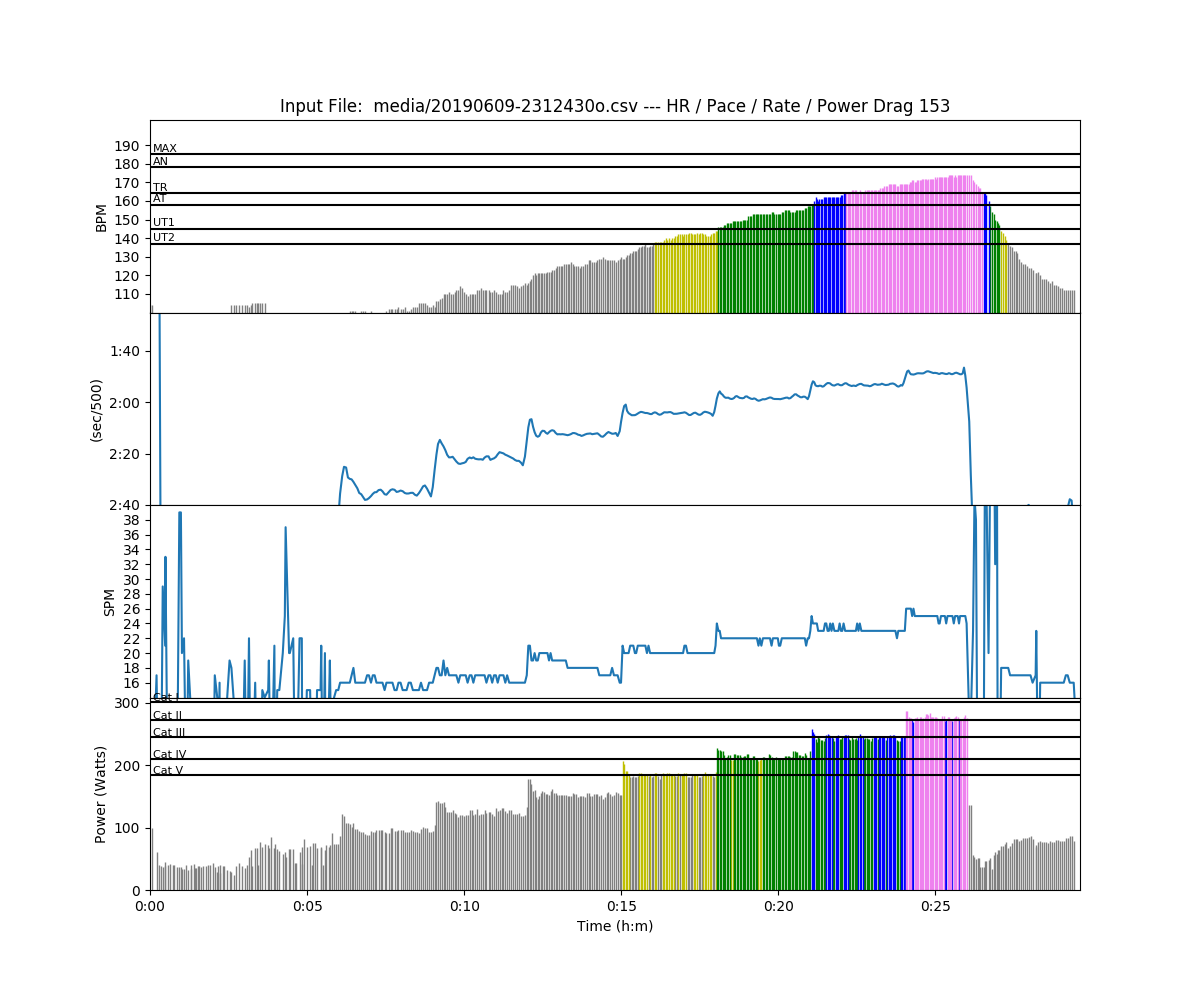 I flaked out at about the same power as Monday.  The test estimated my FTP at 224W.  This actually seems pretty sensible.  In October of 2017, I measured it with a 20′ test at 244W and with a lactate step test at 238W.  I was in better shape then.  I also think I pushed the test a bit harder then.
Again, this was an insufficient amount of rowing, so I decided to do some more of the fun Humon intervals.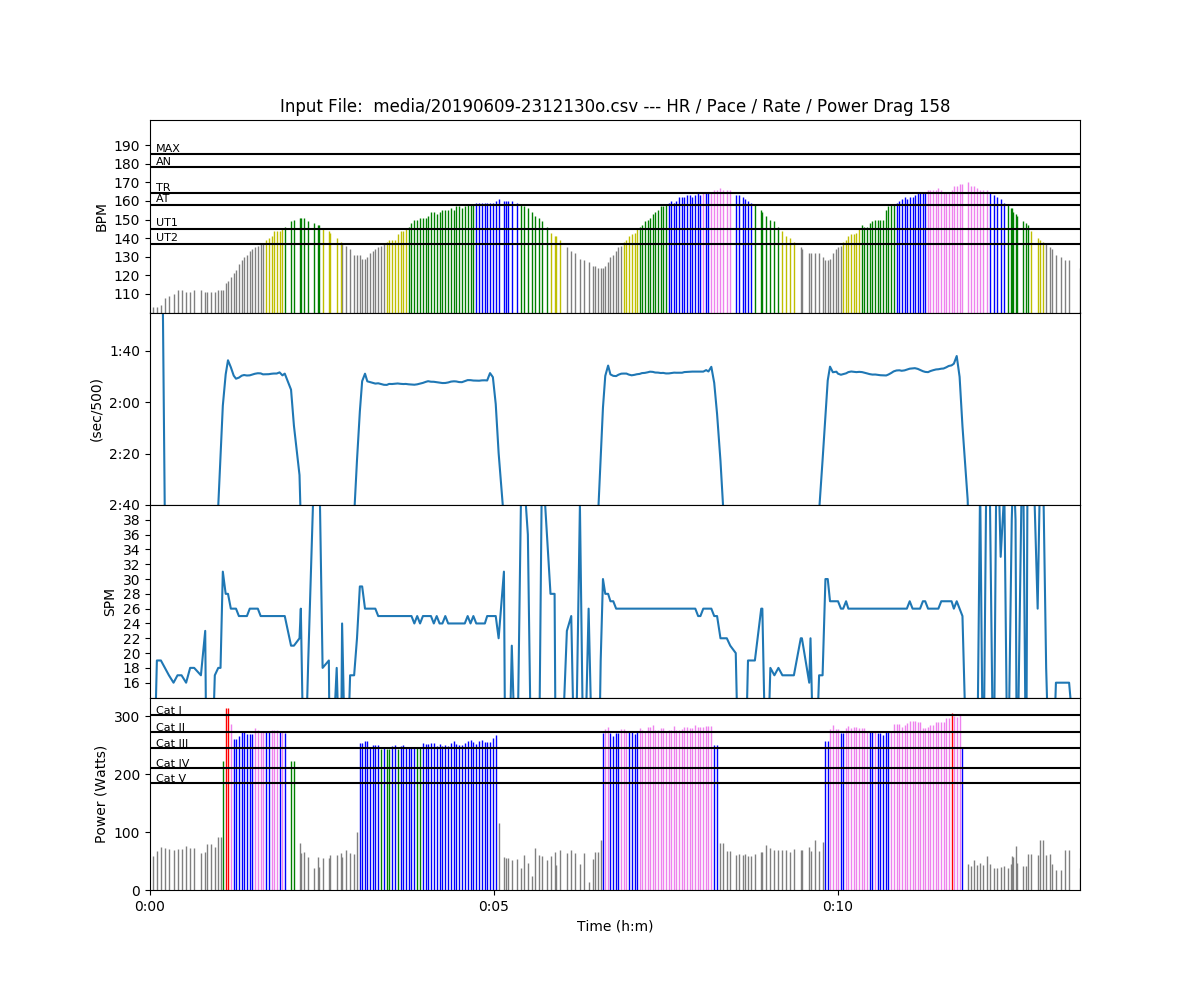 Today, I aimed at doing longer intervals at lower power just to watch and learn what the app did.  It did take a bit longer to get to red and longer to plateau.
Wednesday, June 5 – 5 mile run in Alexandria VA
I was Alexandria for an offsite strategy meeting.  I got up early and went for a run.  Our hotel was right on the shore of the Potomac across from Washington.  There was a nice path along the river so it seemed like a good chance to try out the Humon Hex running.
I am the world's slowest runner, but it seemed like a fun idea to try to run keeping it in the green zone.  I always tend to push too hard on runs and this might help me with my pacing.
All was well until I got to the 50 minute mark.  At that point, the velcro on the Humon strap decided that it liked grabbing onto the inside of my shorts more than the other velcro.  The huge variations and spikes after that in the plot are where I needed to stop and adjust and try to get it to stay.  I think if I run, I need to keep the sensor under the leg of my underwear.
After that, we were in meetings from 8am to 6:30pm.  Then we went to a team dinner.  I got back at my hotel around 10pm, pretty tired.
Thursday – June 6 – Walk around the National Mall
Part of the offsite meeting was a group walk around the National Mall.  We met at the ungodly hour of 5:30Am in the lobby of our hotel and took a 15 bus ride.  We were let off at the Jefferson Memorial.  We walked through the FDR memorial, then to the WWII memorial, and finally to the Lincoln Memorial.  A nice 2.5mile walk.
Then another long day of meetings and another dinner.  I had too much to drink and I felt awful for the next 3 days.  I just can't drink like I could when I was younger.
Friday – June 7 – Nothing
I had an early morning flight back to Boston, felt horrible all day, and couldn't wait to get to bed that night.
Saturday – June 8 – 3 x 20′ / 2′ L4
At home, on slides.  Still feeling subpar.  Today's adventure was to see what a typical L4 looked like from a Humon perspective.  Here's the rowsandall view.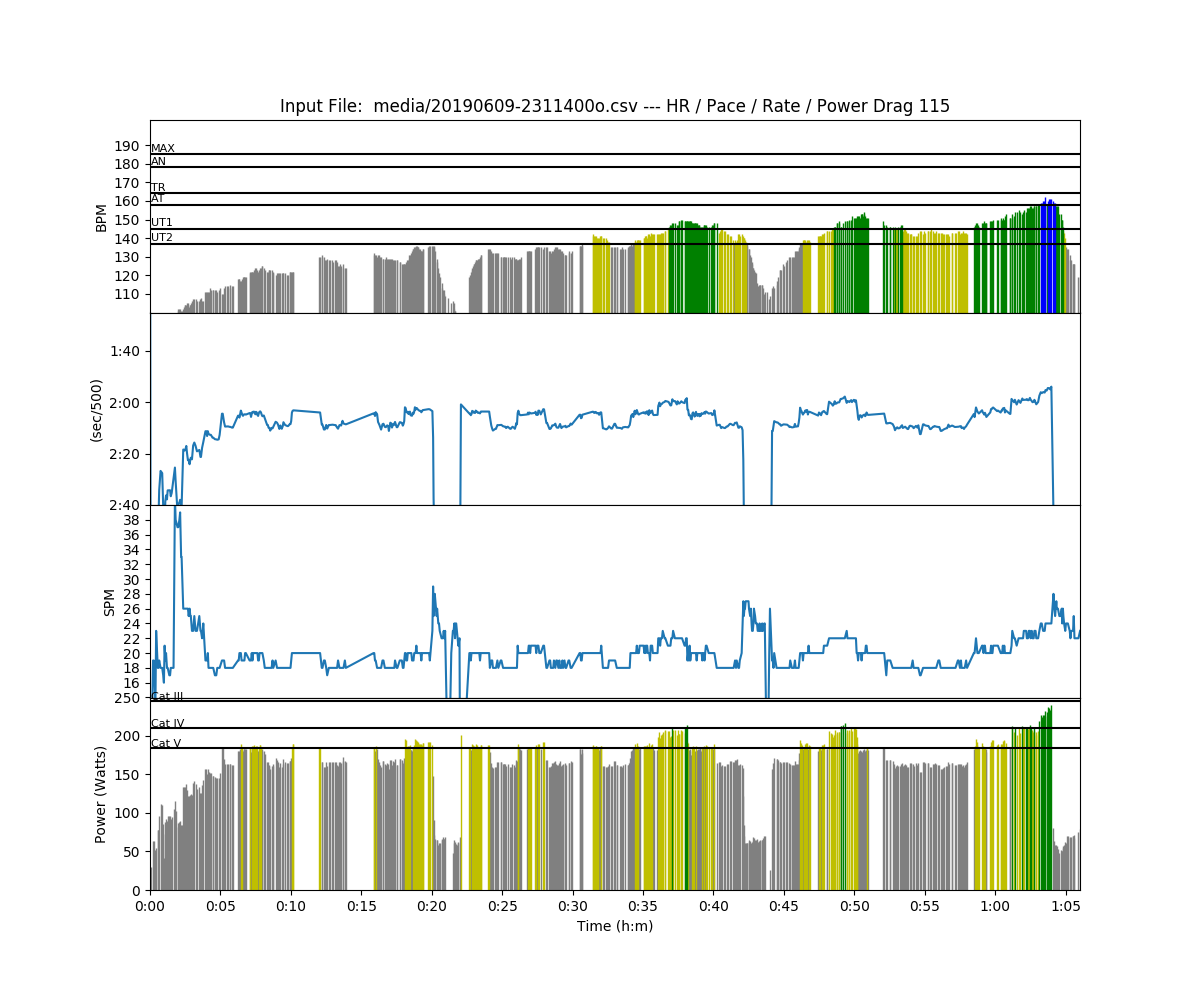 And here is the same thing from Humon.
So, it appears that from a Humon perspective, I am doing my steady state work at too high an intensity.  I am OK seeing the orange, but red means that my lactate is going above 4.0mmol.  It's good the see that it recovers in the lower stroke rate sections, but I think I should probably back off the intensity more.