Thursday: Up at 5:15am to head to the airport.  Direct flight from LAX to BOS.  I managed to score an upgrade to business class.  I arrived around 4:45PM and was home by 6:30.  A reasonably civilized way to travel.
Friday:  Back to the routine.  Up at 5:15, and into work.  I had an 8:30AM meeting so I had to be aware of the time, but the planned workout was pretty short.
I did my full set of PT exercises.  Then the erg session.
8 x 5′ / 30″ rest
first 4:30 of each interval is Cat VI (r18, 2:05)
last 30″ of each interval is Cat II (r30+, 1:45 or faster)
The important thing to me was to try to maintain good sequential recovery in the high rate bursts.
The first annoyance was that I could not get Painsled to link up with the PM.  I tried a bunch of stuff and then gave up.  I ended up using ergdata which linked up right away.
The workout itself went great.  I had a blast.  It was pretty close in feel to the HIIT sessions I did while I was on the road.  I was not pushing  the fast bits as hard as I could go though, and the paddling I did in between bursts was harder than the rests for the HIIT stuff.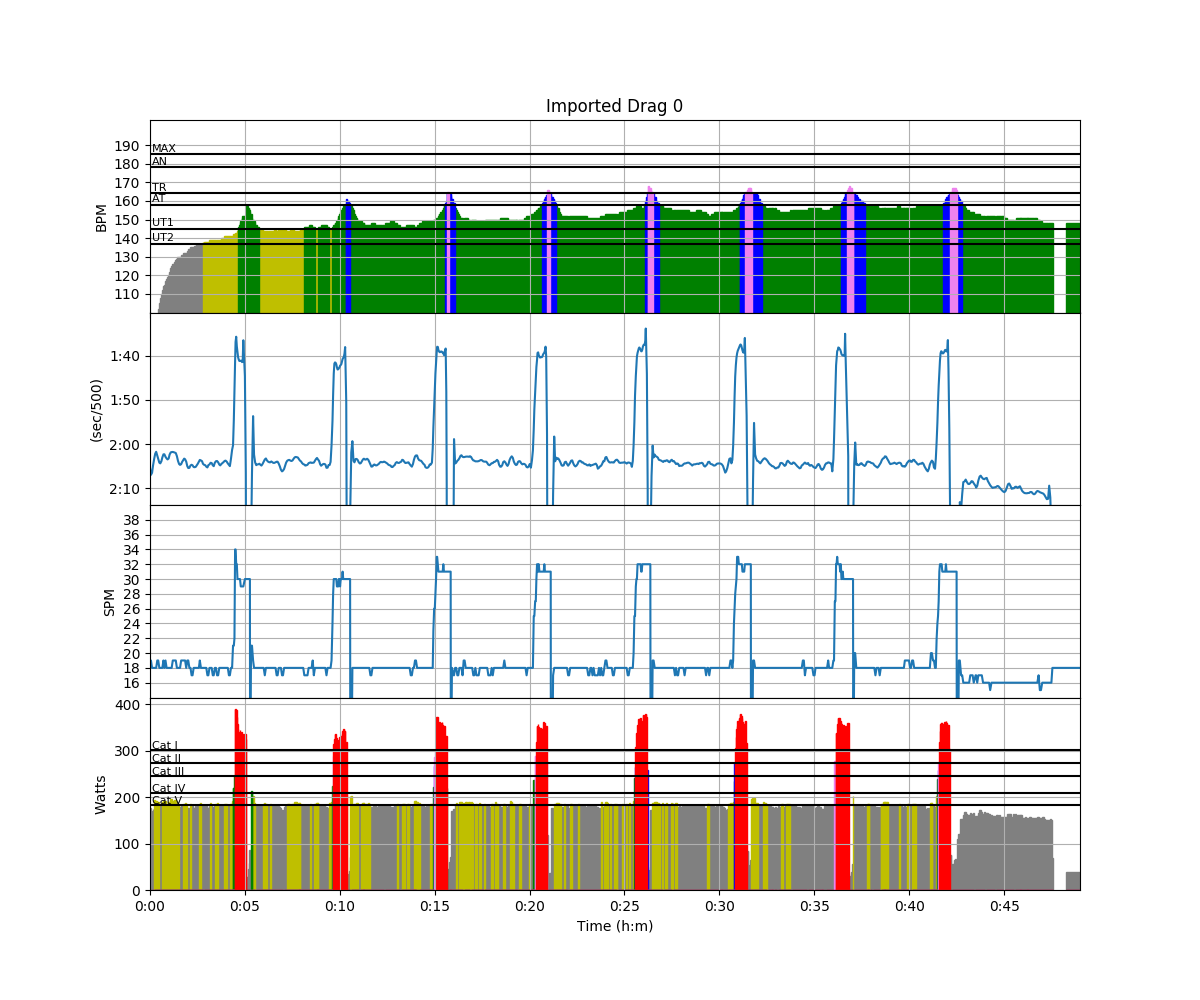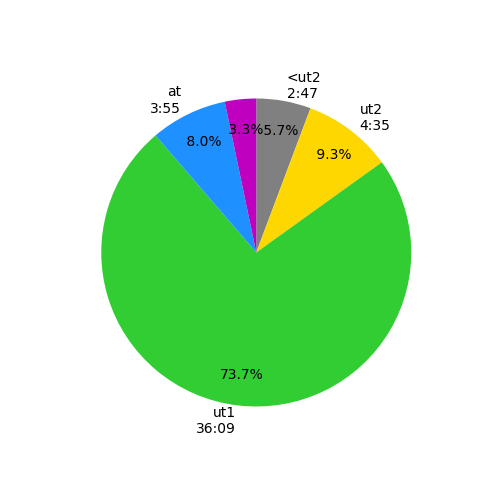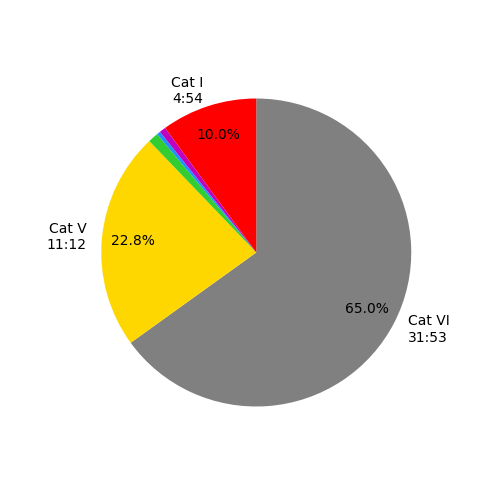 Because it was captured with ergdata, it is almost impossible to get a good set of summary stats.  Luckily, rowsandall has a way around that, using the flex plot.  I can look at a plot of all the strokes I took at above r25.  And get an average stroke rate and power.
So, 324.28 watts is 1:42.6.  I was closer to 1:40 in the bursts after I got up to speed.
Saturday:  I slept a lot on Friday night, and since we had a busy day planned, I went to workout as soon as I got up.  I didn't feel so great.  And today was a tough workout.
I did my PT exercises.
Then
10 minute warmup
4 x (3′ @ r28, 7′ @ r18)/1′ rest
target pace for r28: 1:48
target pace for r18: 2:05
I felt pretty nasty in the warmup.  It seemed like it was taking a lot of work to get to my regular Cat VI pace and the bursts were hard too.
Then into the workout.  I was destroyed by the first 3′ section.  I usually bring down the rate in a controlled way.  Yesterday, I just started paddling and tried to bring the pace back to the target.  I made it about 5 of the 7 minutes in the first rep and I was having trouble catching my breath, so I paddled out the rest of it.  The second 3′ section was even worse.  I stopped completely after it and then rowed to the target off and on through the Cat VI section.  Same thing in the last two intervals.  In the last Cat VI section I started getting awful stomach cramps and I barely made it to the toilet after I finished.  Not really the cool down I was planning.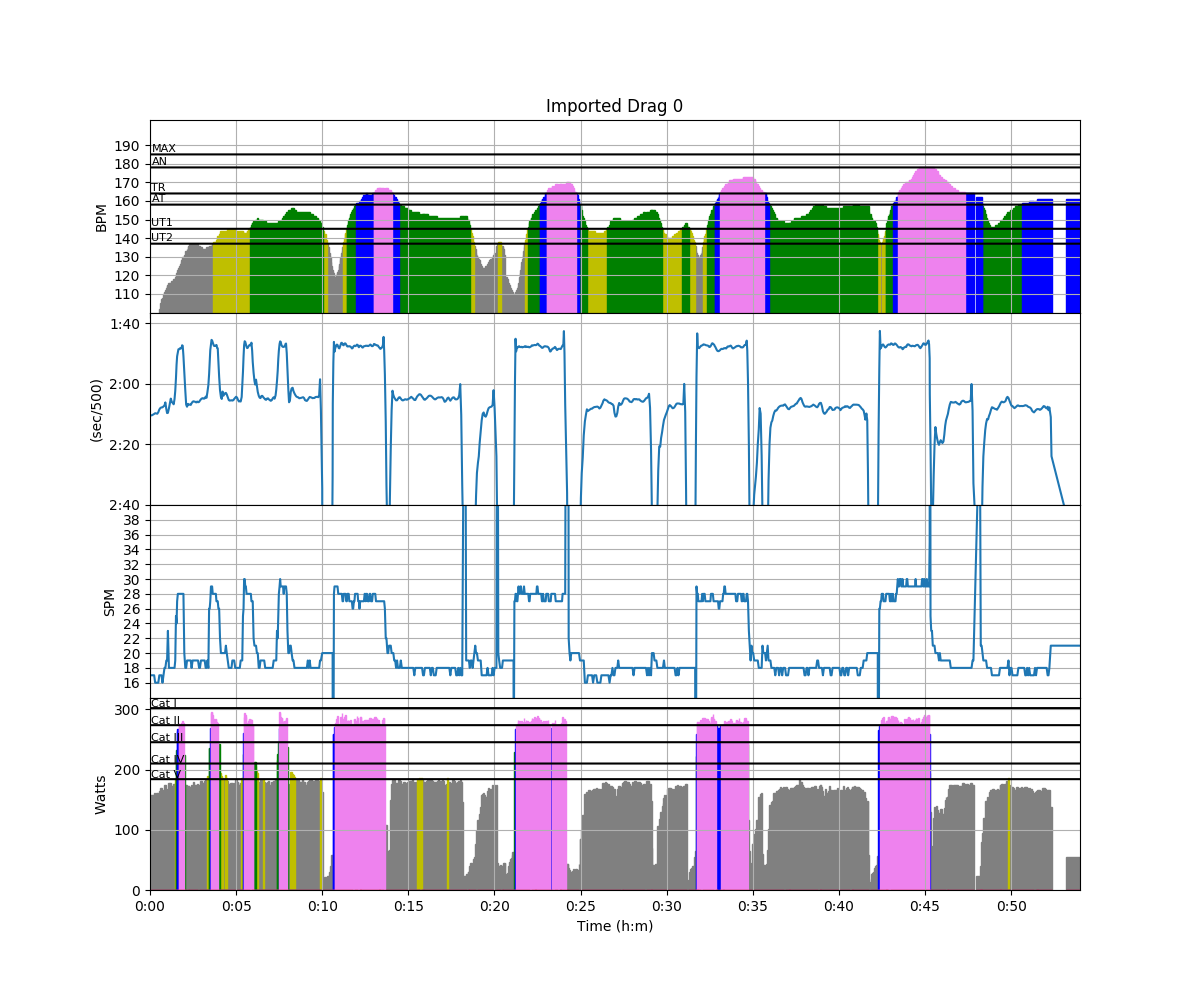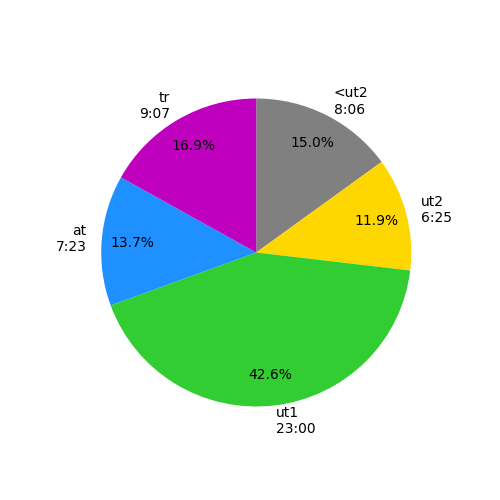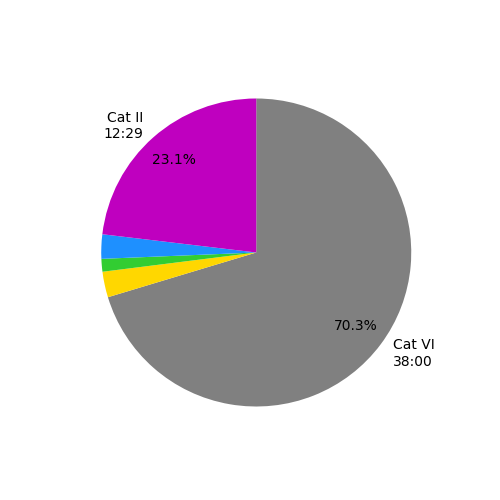 Workout Summary - media/Import_32270454.csv
--|Total|-Total-|--Avg--|-Avg-|Avg-|-Avg-|-Max-|-Avg
--|Dist-|-Time--|-Pace--|-Pwr-|SPM-|-HR--|-HR--|-DPS
--|12943|52:44.0|02:02.2|195.7|22.2|151.3|178.0|11.1
W-|12085|50:00.0|02:04.1|192.5|21.7|151.8|178.0|11.2
R-|00864|02:44.0|01:35.2|053.5|19.4|140.4|178.0|46.0
Workout Details
#-|SDist|-Split-|-SPace-|-Pwr-|SPM-|AvgHR|MaxHR|DPS-
00|02504|10:00.0|01:59.8|208.1|21.4|138.9|156.0|11.7
01|00838|03:00.0|01:47.4|278.0|26.7|151.5|167.0|10.4
02|01535|07:00.0|02:16.8|148.0|19.8|148.5|167.0|11.1
03|00828|03:00.0|01:48.7|278.1|27.8|152.5|169.0|09.9
04|01547|07:00.0|02:15.8|143.6|19.7|150.2|170.0|11.2
05|00839|03:00.0|01:47.3|275.2|26.9|158.9|173.0|10.4
06|01589|07:00.0|02:12.1|153.9|18.4|157.1|173.0|12.4
07|00840|03:00.0|01:47.1|276.5|27.8|164.0|178.0|10.1
08|01565|07:00.0|02:14.2|157.6|19.9|161.3|178.0|11.3

The only positive note was that I actually hit the target for the 3 minute sections.
I was drained the rest of the day.  We took a quick ride down to the cape.  I needed to replace some shingles on the roof and do a few other chores.  I fell asleep in the car going down for about 30 minutes, and while we were there I slept for another half hour or so on the couch.  I didn't have any other symptoms, but I suspect that I am trying to fight off a bug of some kind.