What an unexpected treat.  Joe texted me yesterday afternoon and asked if I wanted to go rowing this morning.  The forecast was favorable.  Very light wind, sunny and right around freezing.  It sounded like a great idea to me.  I asked him if he was up for the workout I had scheduled in the training plan for Saturday.  Lucky for me, he was!
The plan:
40 to 60 minutes
5 minutes at r28 and Cat III pace (1:51 on the erg)
5 minutes at r18 and Cat VI pace (2:06 to 2:11 on the erg)
Stop only as needed to rehydrate
So, the first challenge is to translate this into a good OTW workout.  I decided to focus on the rates.  That translates well.  The lake is a little more than 25 minutes from top to bottom, so we could fit in 5 – 5 minute segments each way.  So, we would warm up to the north end of the lake, then row south to do 3 segments of r28 and 2 segments of r18, then spin to go north.  I decided to let the spin be part of the next 5 minute r18 chunk.  Then we would probably have enough lake to finish that 5 minutes at r18, and do 5 more segments to the north end of the lake.  It worked out perfectly.  We finished with about 200m of lake left.  Then we cooled down coming back to the boat house.
There was a bit of wind from the north.  Not enough to effect the set of the boat, but enough to slow down the northbound splits.  The boat felt much heavier going that way, then going south.  It took a couple of reps to get used to the rate that high, but by the third, I felt like we we rowing well together and the boat was moving.
After we turned north, I felt a big blister on my left hand blow up and by the time we were halfway up the lake, my left handle was a bloody mess.  I sprayed bloody blister juice all over the rigger and the stern of the boat.  The stickiness started to make it a bit tougher to cleanly feather, but it didn't screw things up too much.  I sure noticed it after we finished the main set and started the cool down.  Both my hands were stinging badly.  Oh well, that's what you get when you only get out on the water once every couple of weeks.
It was totally worth it!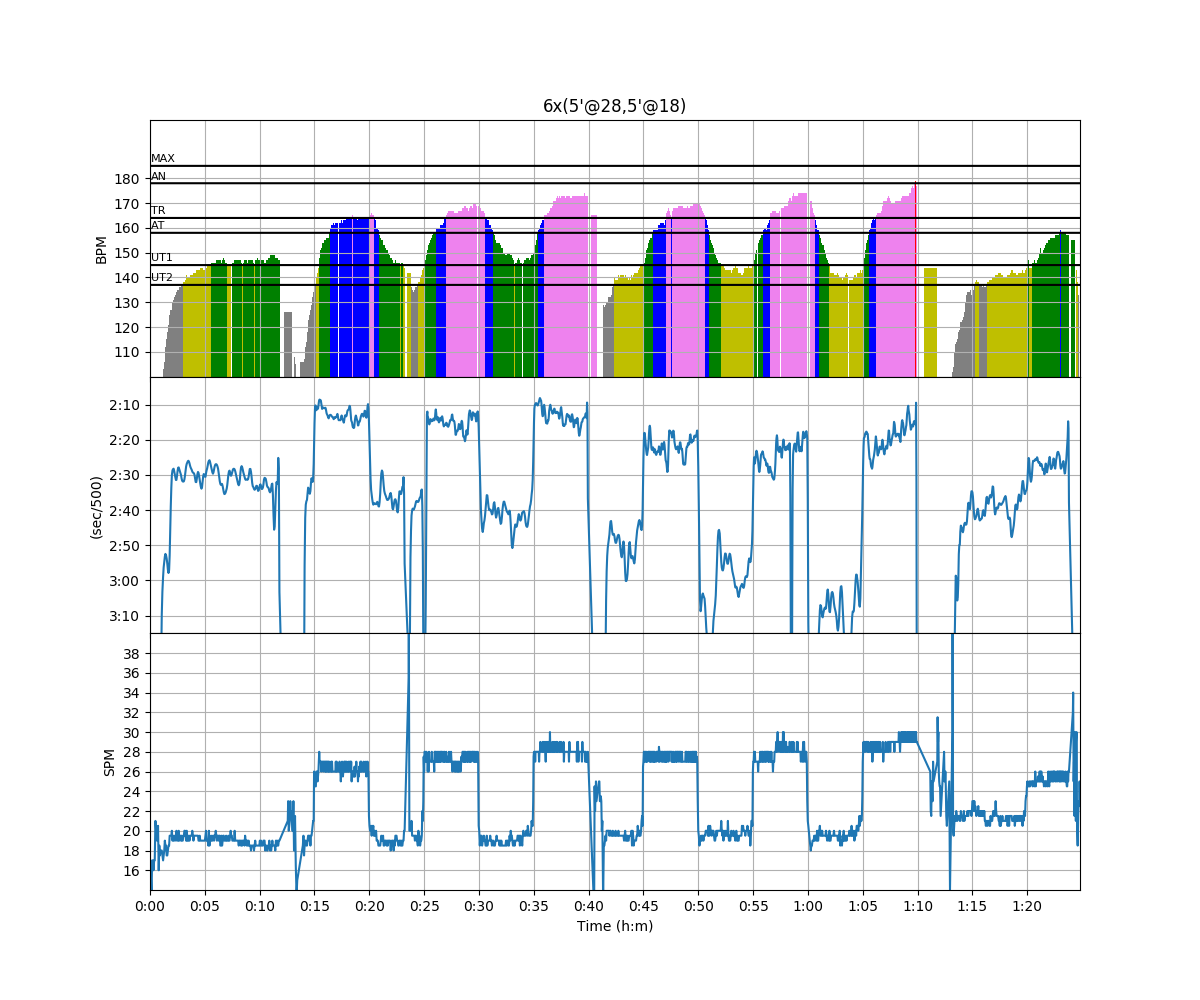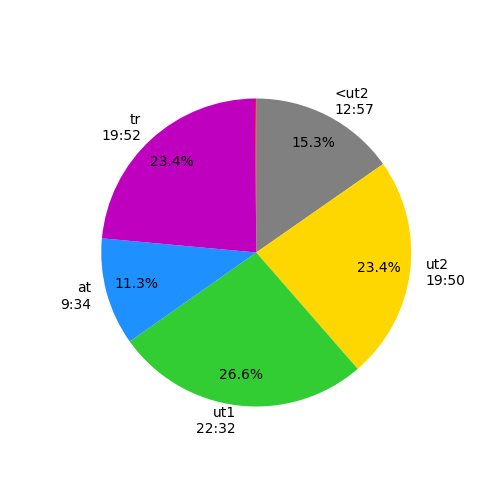 Workout Summary - media/20171202-195851-Greg Smith 20171202 0913amo.csv
--|Total|-Total-|--Avg--|-Avg-|Avg-|-Avg-|-Max-|-Avg
--|Dist-|-Time--|-Pace--|-Pwr-|SPM-|-HR--|-HR--|-DPS
--|15751|84:49.0|02:41.6|000.0|23.7|152.2|179.0|07.8
W-|14706|74:13.0|02:31.4|000.0|23.3|153.7|179.0|08.6
R-|01052|10:36.0|05:02.3|000.0|21.3|116.8|179.0|00.0
Workout Details
#-|SDist|-Split-|-SPace-|-Pwr-|SPM-|AvgHR|MaxHR|DPS-
01|01951|09:45.0|02:29.9|000.0|19.0|144.3|149.0|10.5
02|01138|05:00.0|02:11.9|000.0|26.2|159.5|165.0|08.7
03|00925|05:00.0|02:42.1|000.0|19.9|148.3|166.0|09.3
04|01132|05:00.0|02:12.5|000.0|27.2|163.5|170.0|08.3
05|00943|05:00.0|02:39.1|000.0|19.3|153.1|170.0|09.8
06|01130|05:00.0|02:12.8|000.0|28.1|169.0|174.0|08.0
07|00608|03:24.0|02:47.7|000.0|19.7|139.6|145.0|09.1
08|01063|05:00.0|02:21.2|000.0|27.5|163.5|170.0|07.7
09|00838|05:00.0|02:59.1|000.0|19.8|149.3|171.0|08.5
10|01048|05:00.0|02:23.1|000.0|27.8|166.1|174.0|07.5
11|00785|05:00.0|03:11.0|000.0|19.6|147.0|174.0|08.0
12|01076|05:00.0|02:19.4|000.0|28.8|168.0|179.0|07.5
13|02068|11:04.4|02:40.6|000.0|23.2|143.9|159.0|08.0
Tomorrow:
4 x 20′ / 3′
Cat VI: r18 / 2:06-2:11