Time for another hard session. More head race prep.  Generally I want to do a single hard distance piece for the third hard workout of the week, but since I was rowing close to low tide, my course selections were a bit restricted.  I also didn't feel particularly ambitious today.
I decided to row out to my favorite buoy to warmup.  Then row from there up to the entrance of Wellfleet harbor.  Take a bit of a breather and then row back to the buoy.
I figured it would be roughly 2 x 20′ pieces.
As it turned out, I pushed myself way too hard in the first piece and I called it quits after about 400 strokes.  I was still about 500m short of the harbor entrance, but I was gassed and my form was falling apart.  I stopped had a drink, caught my breath, got the boat turned around and then went for interval number two.
In this interval, I made a concerted effort to lighten up my stroke and just work on maintain good form, getting my oars off the waves on recovery and staying forward during the initial part of the drive.  You can see from the HR plot that I was going a lot easier in the second rep.  My intent was row back to the red buoy, but I got to 400 strokes and I was having trouble spotting it while I was rowing.  I decided to call it finished at that point.  Once I had stopped, I looked around and I still couldn't find it.  I started rowing for home, and after a hundred meters or so, I saw the buoy off my starboard bow.  My course setting from the harbor was pretty terrible, I was way west of the buoy.
I had a long row home to cool down, and experiment with good form with the wind on my beam, and then on my bow.  There wasn't much chop because the wind was from the SE and I was in the lee of the island.  I tried to be careful rowing back to the beach because of the low tide, but I misjudged the channel slightly and I ended up having to get out to drag my boat for about thirty feet back to the deeper water.  You can see that as a little jog on the map right near the beach.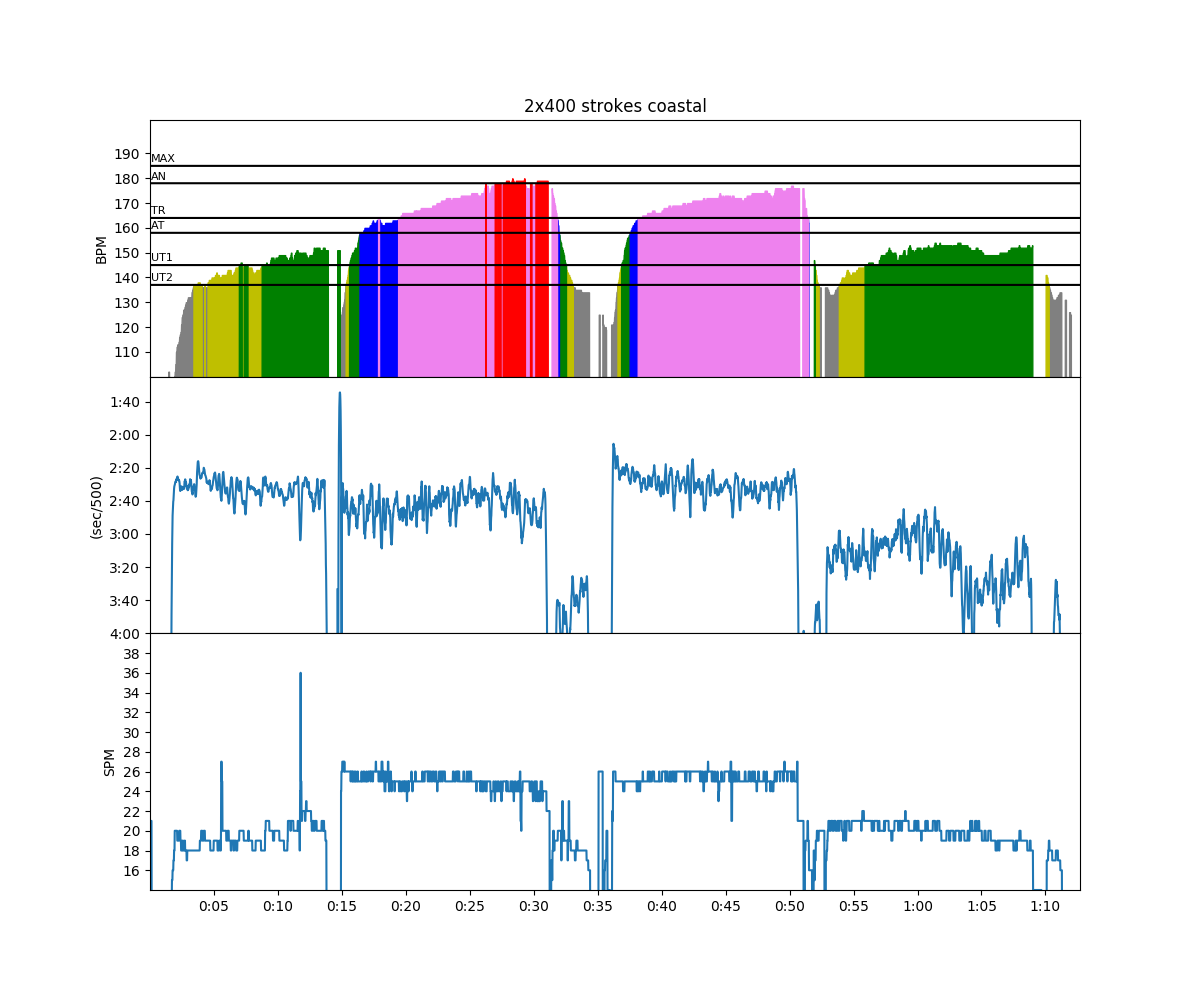 Workout Summary - media/20190817-0031030o.csv
--|Total|-Total----|--Avg--|-Avg-|Avg-|-Avg-|-Max-|-Avg
--|Dist-|-Time-----|-Pace--|-Pwr-|SPM-|-HR--|-HR--|-DPS
--|11744|01:12:42.0|03:05.7|000.0|21.0|153.5|180.0|07.7
W-|09915|00:53:07.0|02:40.7|000.0|22.9|158.2|180.0|08.2
R-|01836|00:19:35.0|05:20.0|000.0|16.0|140.9|180.0|05.2
Workout Details
#-|SDist|-Split-|-SPace-|-Pwr-|SPM-|AvgHR|MaxHR|DPS-
01|02366|12:03.0|02:32.8|000.0|19.5|141.5|152.0|10.1 - out to the buoy
02|02937|15:54.0|02:42.4|000.0|25.0|168.7|180.0|07.4 - into tide, with wind
03|02907|14:31.0|02:29.8|000.0|25.3|168.0|177.0|07.9 - into wind, with tide
04|01617|10:05.0|03:07.1|000.0|20.4|147.7|154.0|07.9
05|00088|00:34.0|03:13.0|000.0|18.9|152.1|153.0|08.2
I'm pretty happy with the session.  I'd be happier if I had taken each interval out to 20 minutes, but I've gotten 3 good hard sessions in this week.  It's a good setup for fall training.