I feel like I am training without purpose right now.
It's been a month since I reviewed my training.  It has been a busy month, but not so good for the state of my fitness.
From the beginning 9th of February:
28 days
Target 24 training days, actual 21 training days (but two of them were very short)
Target is 6 sessions a week.  Actual was 5.1 sessions a week.
Travel in 3 of the 4 weeks

2 day trip to San Jose
1 week trip to Aruba
1 week trip to Texas and Costa Rica
With so much disruption, I dropped back to a maintenance mode, and did very few high intensity sessions.
Target High intensity days 12, actual 3
So, heres the daily activities…
Sunday – Feb 9 – No Training (not sure why)
Monday – Feb 10 – Short Stack – 3 x (13 x 30″/15″)/5′
Based on a tweet from Stephen Seiler.  A pretty intense workout.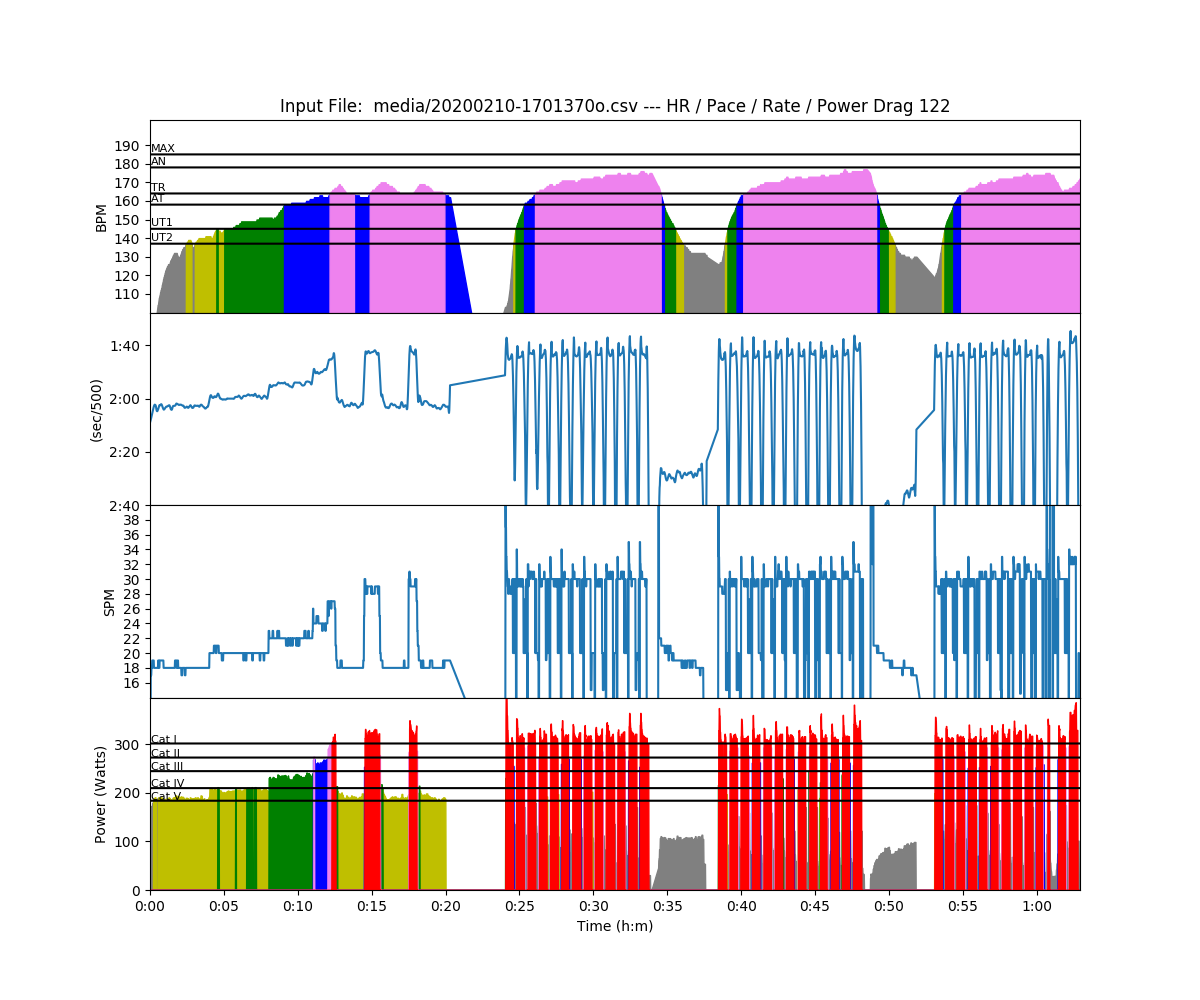 Blew the start of the 3rd to last interval.  Paddled it out.
Findings about these workouts were posted in a youtube video. (link)
Tuesday – Feb 11 – 2 x 30′ / 2′ L4
Based on the HR, things are going in the wrong direction.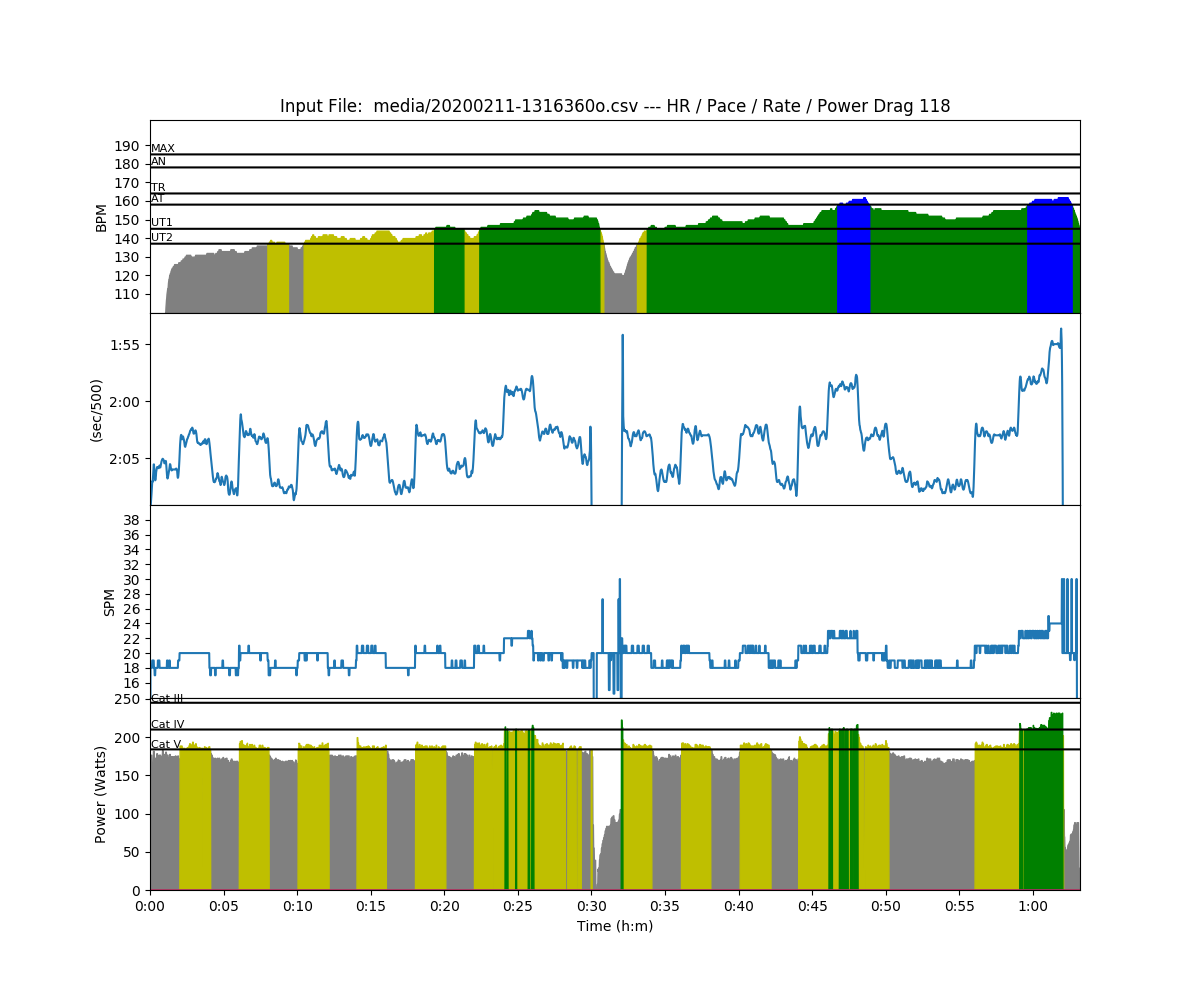 Wednesday – Feb 12 – No Training
6AM flight to San Francisco.  Straight into meetings.
Thursday – Feb 13 – No Training
8AM flight home.
Friday – Feb 14 – 3 x 20'/2′ L4
High HR.  Travel and lack of endurance minutes catching up with me.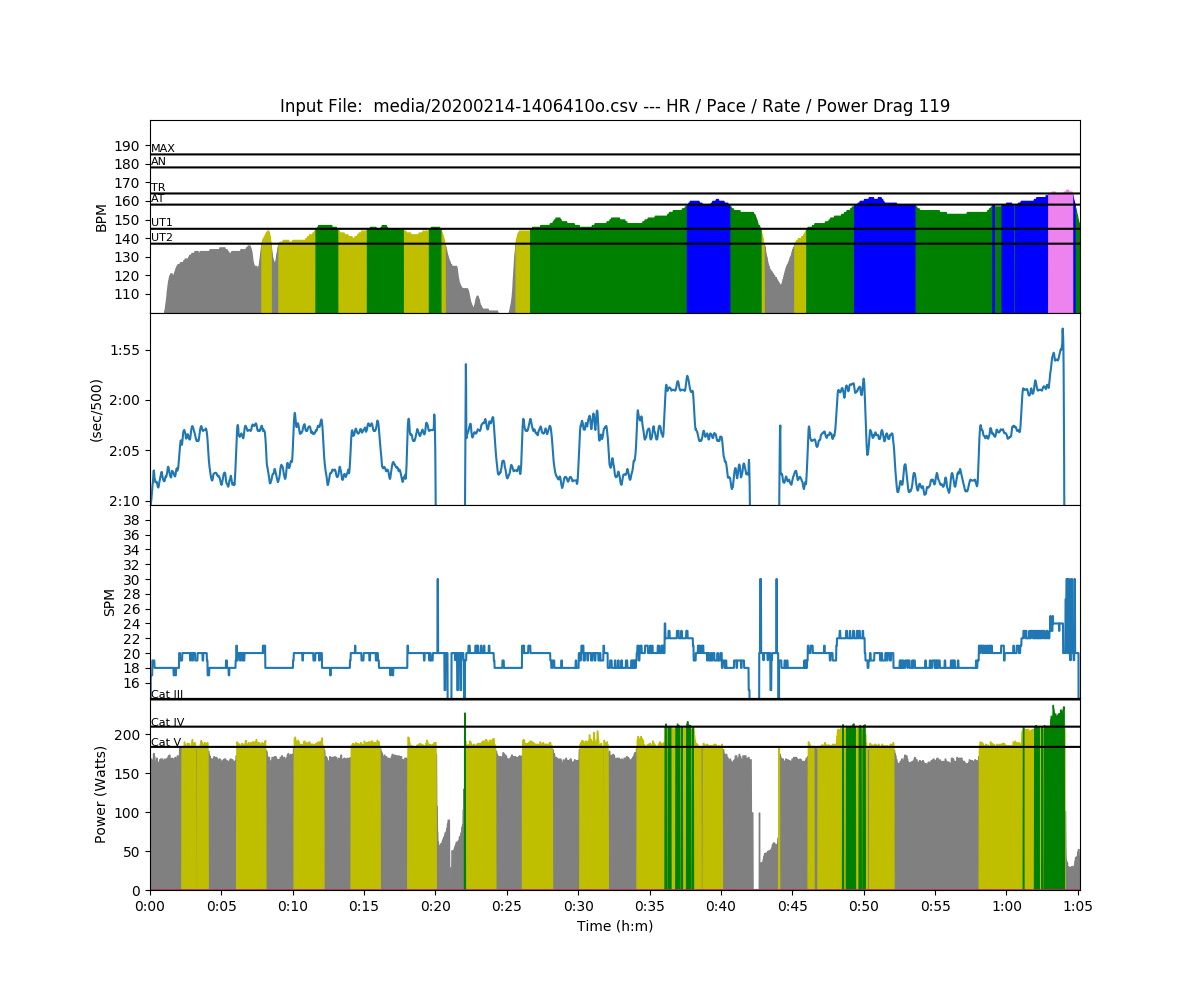 Saturday – Feb 15 – WU + 2 x 20'/2′ L4
I started with the intent of doing a hard distance workout.  So I did a 20 minute workout, but felt so awful that I abandoned those plans and just did 2 20 minute L4 pieces.  HR was better than Friday, which was good to see.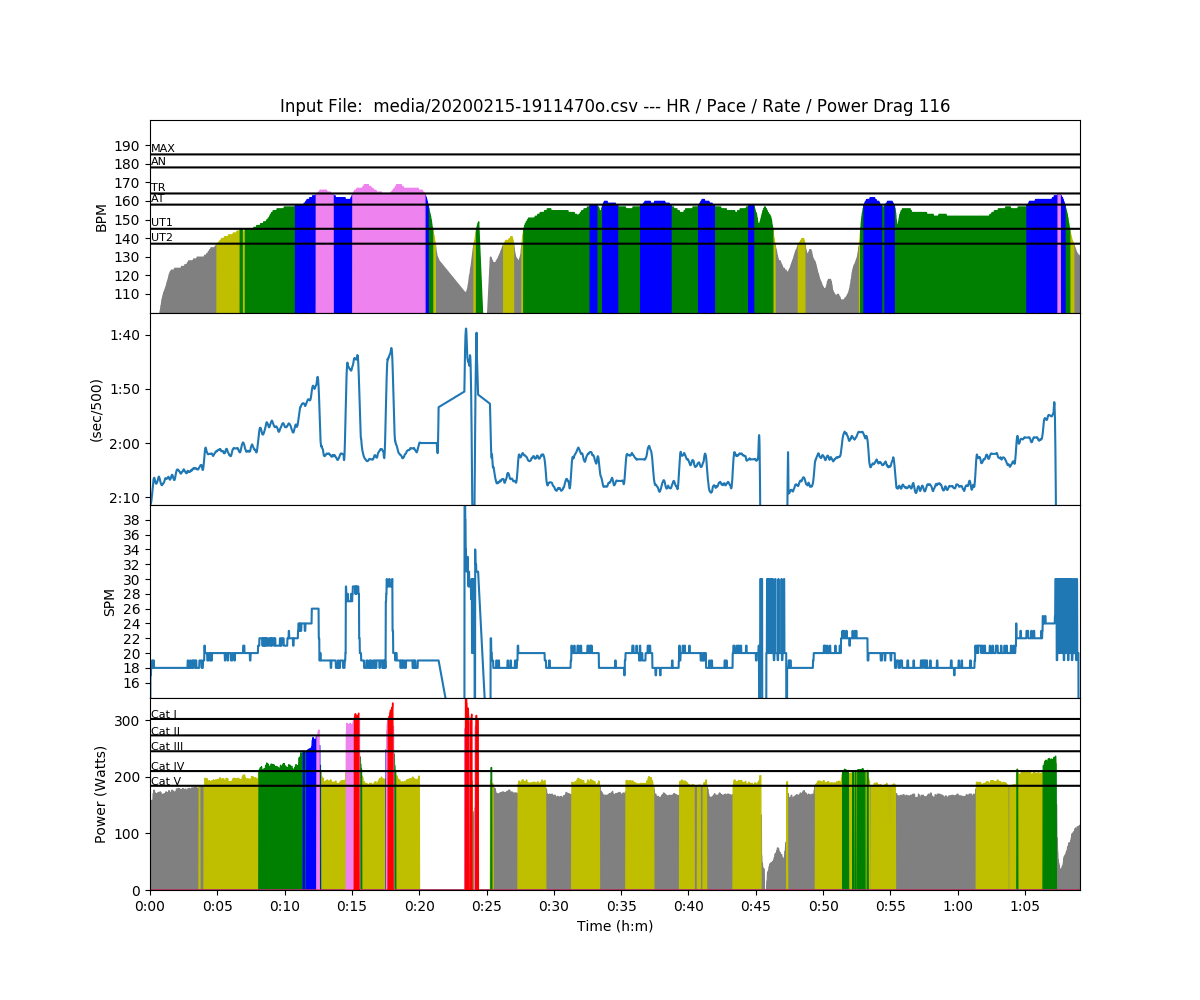 Sunday – Feb 16 – No Training
My wife and I flew to Aruba for vacation!
Monday – Feb 17 – 5km beach run
Aruba is wonderful.  The sand is nice and hard near the water.  Perfect for running barefoot.  I ran from our hotel, which is at the extreme north end of Palm Beach to the other end, where the Divi is.  It's about 2.5km each way.  I ran one way and took breaks on the way back.  The killer is the piers.  You need to leave the hard sand and run up the beach through the soft dry sand and then back down.
Tuesday – Feb 18 – 30′ Stationary Bike / 20 minute swim
Legs a bit sore from beach running, so I started with a 30 minute easy stationary bike ride in the fitness center.
Then I headed down to the beach and went for a swim.  I swam for about 20 minutes and did four complete lengths of the swimming area at our hotel.  I later found out that was about 0.4 miles.
Wednesday – Feb 19 – 5km beach run and 30′ swim
The run was better than the first.  I paced it a bit better (slower) and took fewer breaks on the way back to the hotel.
The swim was also better.  This time, I had goggles and got into a very relaxed groove.  The HR data was suspect though.
Thursday – Feb 20 – 5km run and 30 min Swim
Another nice beach run.  Good pacing and pushed it a bit harder at the end.
Then another swim.  Really enjoying this.  Makes me wish I lived on a tropical island where I could do this every day!
Friday – Feb 21 – No Training
Flying home
Saturday – Feb 22 – 3 x 30′ / 2′ L4
Had technical issues with BoatCoach.  There was a glitch and it lost my first 60 minutes of rowing.  Here's the last 30′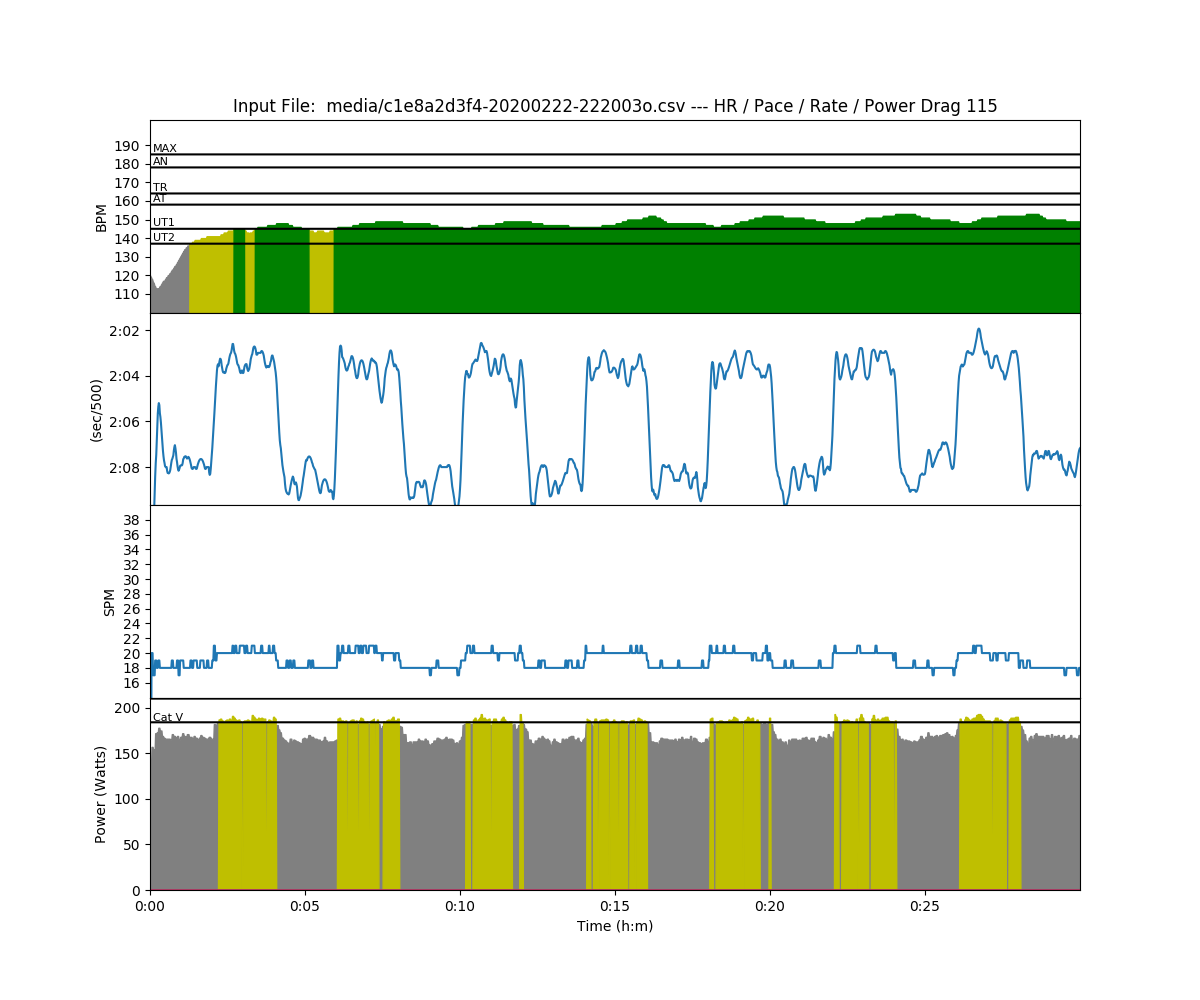 Here's the whole thing as witnessed by my watch.  Equally boring, but necessary base work.
Sunday – Feb 23 – 3 x 30′ / 2′ L4
More meters in the bank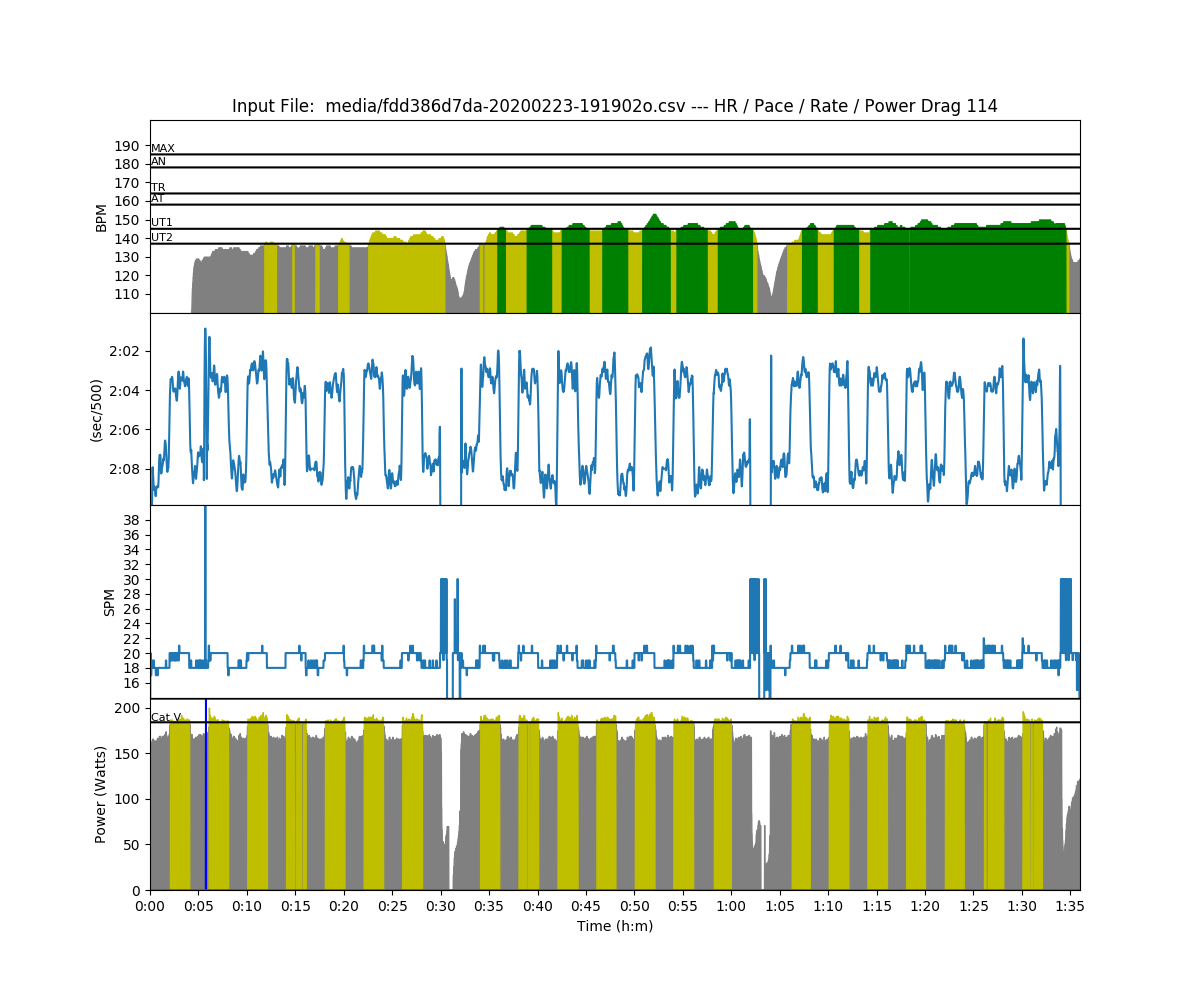 Monday – Feb 24 – No Training
Flew to Austin, straight into meetings
Tuesday – Feb 25 – 30′ Inclined walk / 30′ row
The walk.
The row – felt terrible
Wednesday – Feb 26 – 30′ inclined walk
Needed to be quick.  I was heading off to the airport to catch a 9am flight to Dallas
Thursday – Feb 27 – 30′ Inclined Walk
I had a morning flight to Costa Rica, so another quick stop in the fitness center.
Friday – Feb 28 – No Training
I was in Costa Rica for just the afternoon.  I had dinner with the team there and then headed to the airport.  I caught an 11:30pm flight to JFK, and then caught the shuttle flight to Boston, arriving around 10am.  I had a set of meetings and then scooted home.  My wife and I went down to the Cape that night.
Saturday – Feb 29 – 4 x 20′ steady state
Just coasting along on slides.  Longer rest between #2 and #3 was me going and switching the laundry.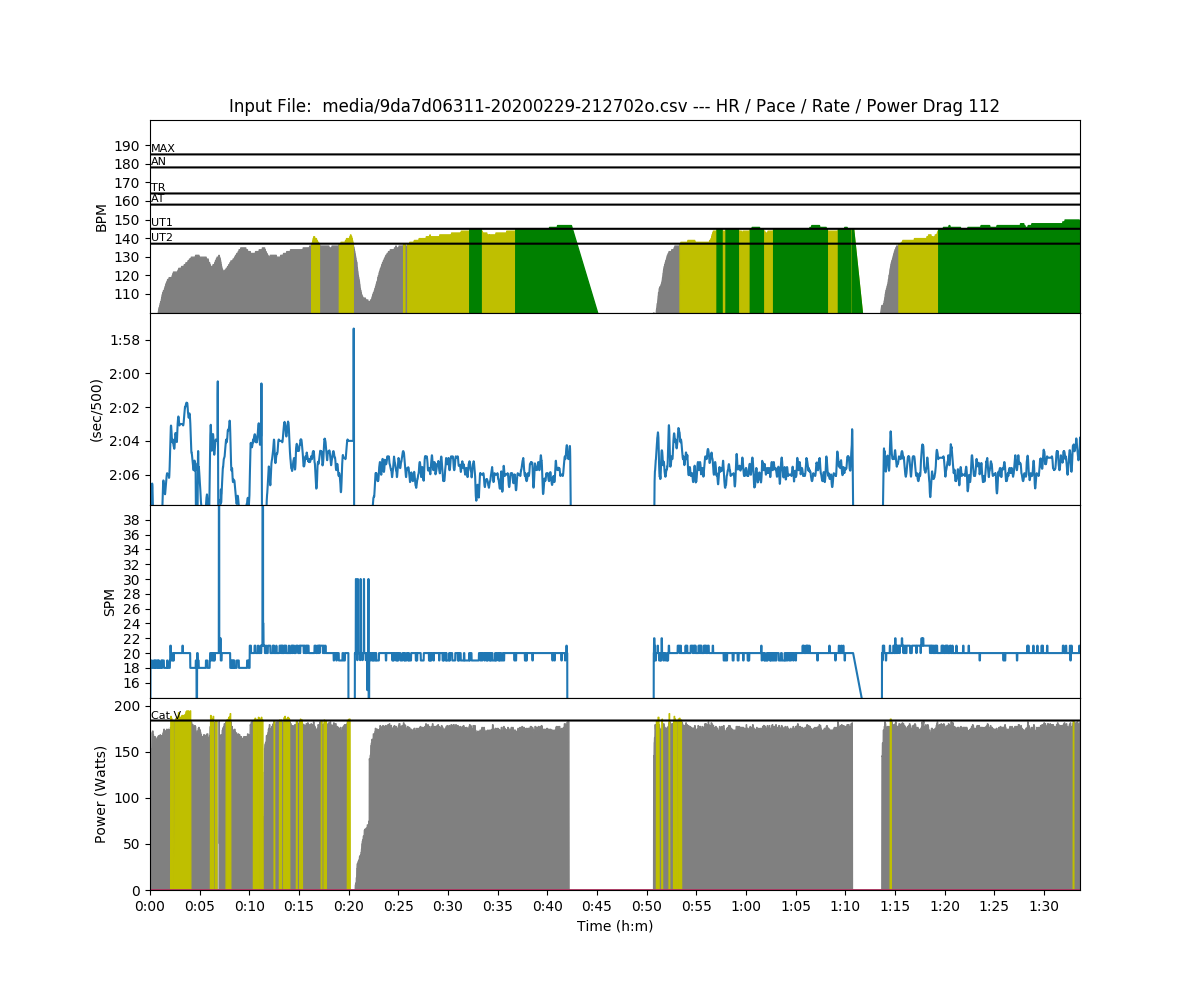 Sunday – Mar 1 – 3 x 20′ / 2′ L4
Not a bad session, all things considered.  On slides in Hopkinton.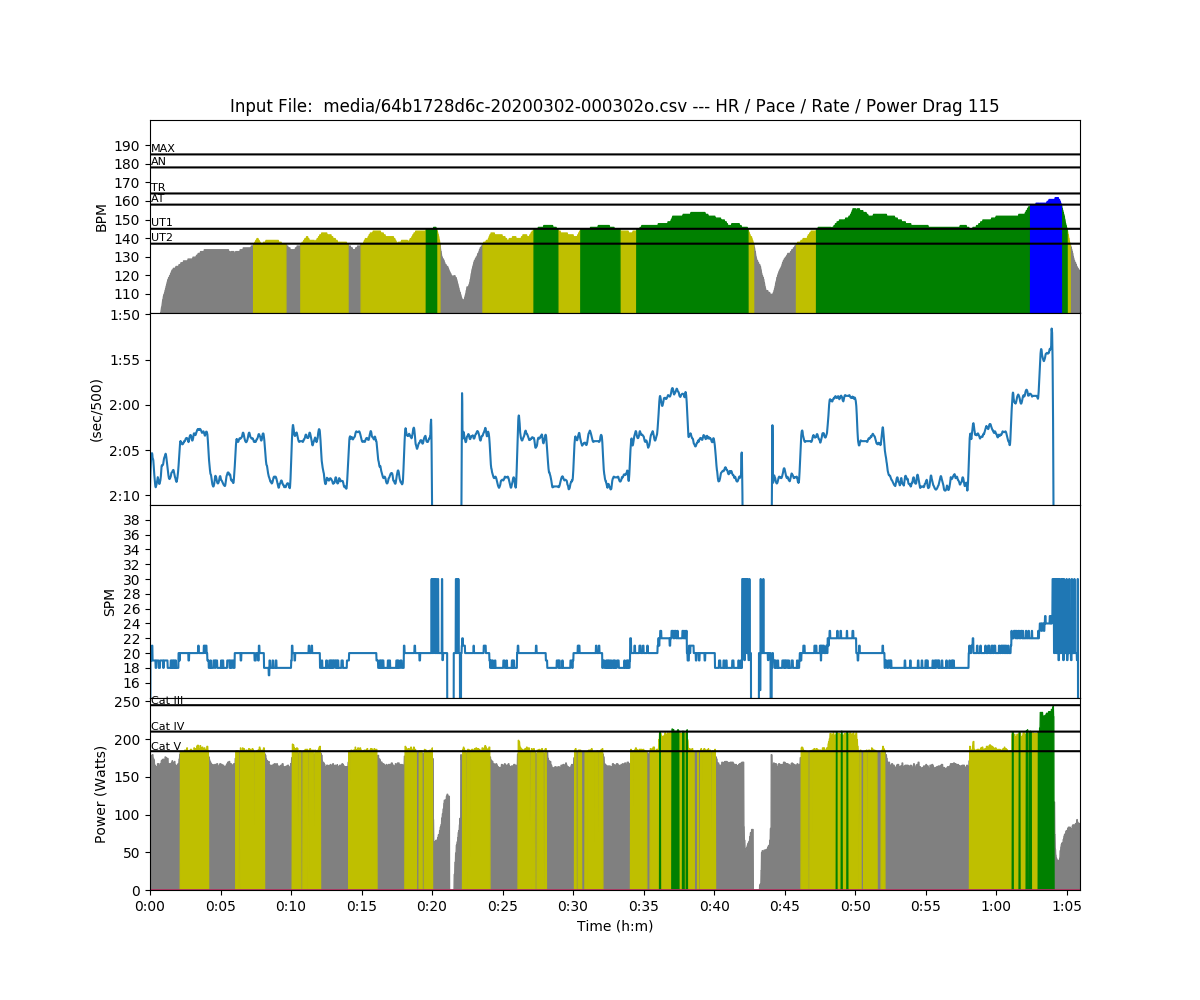 Monday – Mar 2 – 8 x 500/3'30" L1
Holy cow!  An L1 workout.  Very gentle targets.  Started with the thought of just doing better than 1:45.  After 1, decided 1:44 was a better pace to aim at.  The last one was good.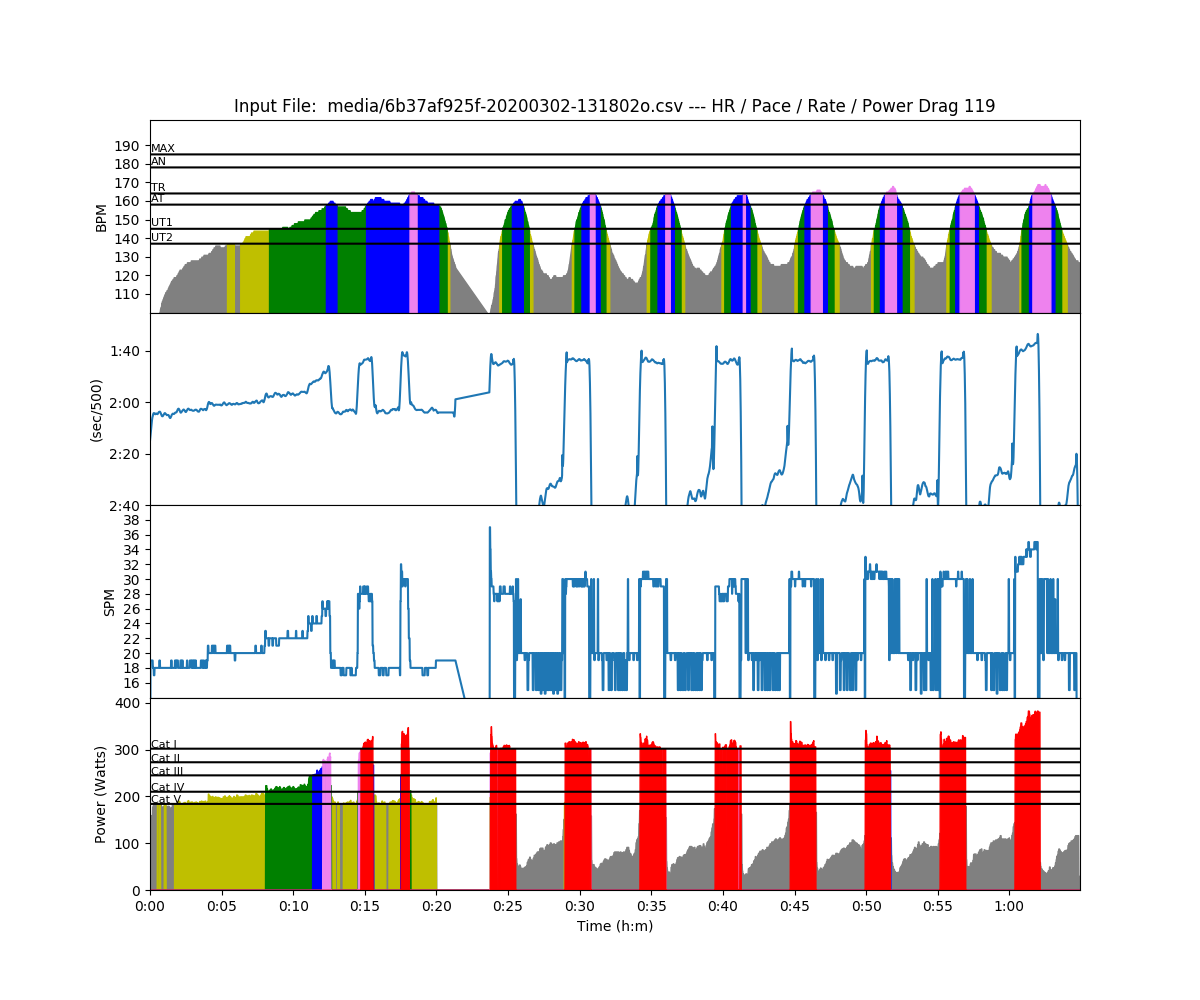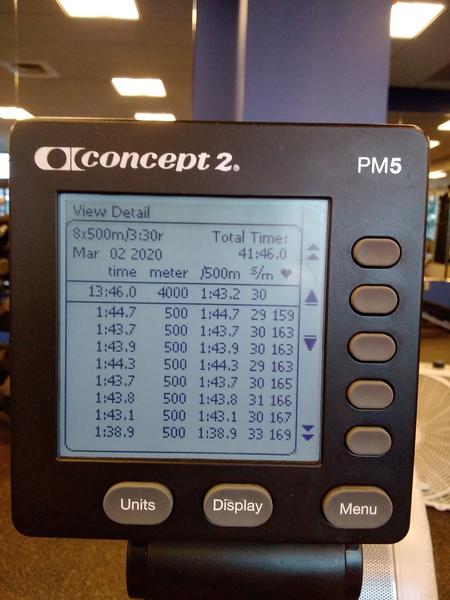 Tuesday – Mar 3 – 2 x 30′ / 2′ L4
Started OK, but I got tired and my HR was climbing freely in the second piece.  Decided to just row it out at 18spm for the last 10 minutes.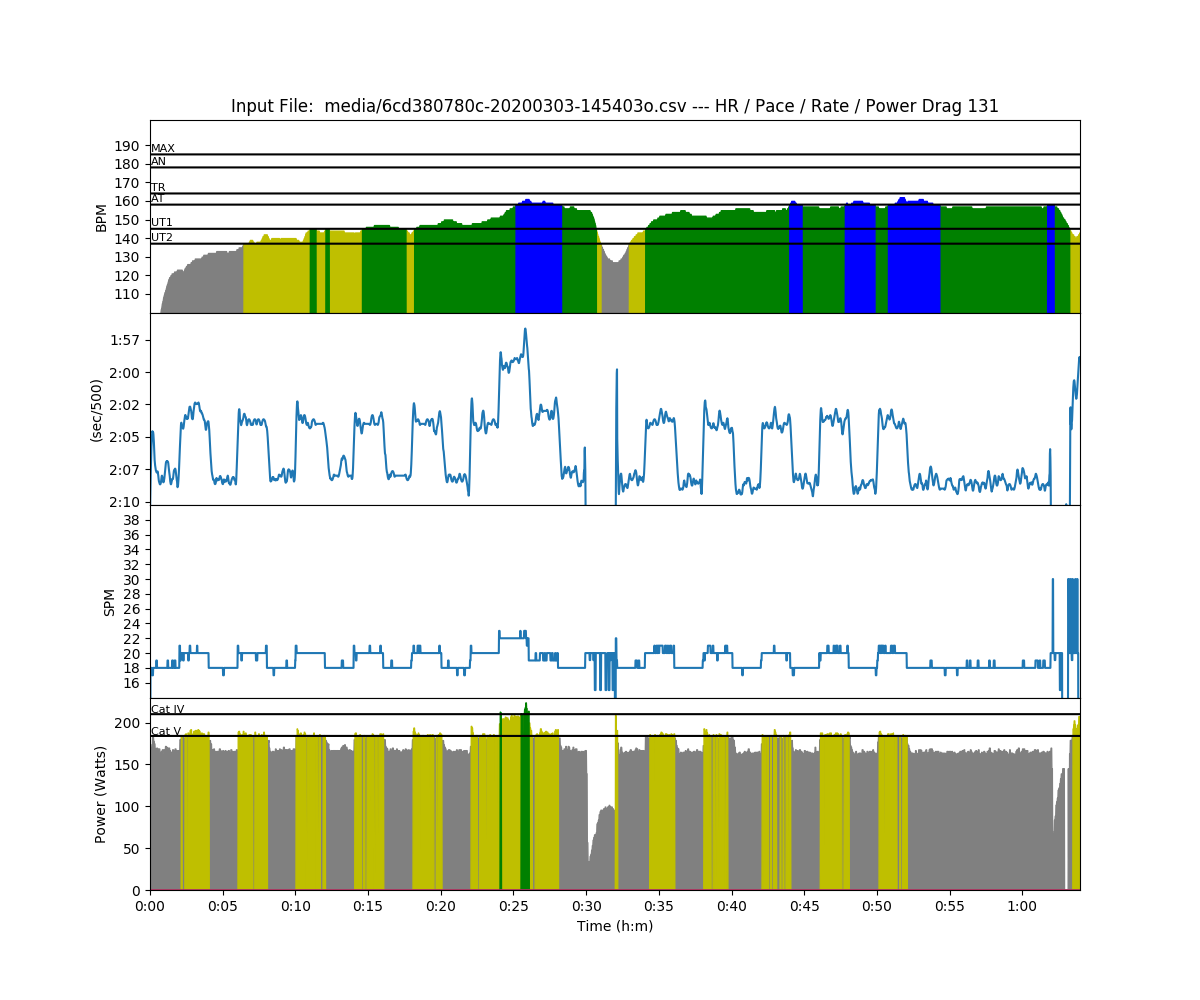 Wednesday – Mar 4 – Short Interval Stack 3 x (13×30″/15″)/5′
An encore of the workout from February.  Less ambitious power target this time, but better execution.  I think I was also in worse shape, but man…It's a great workout.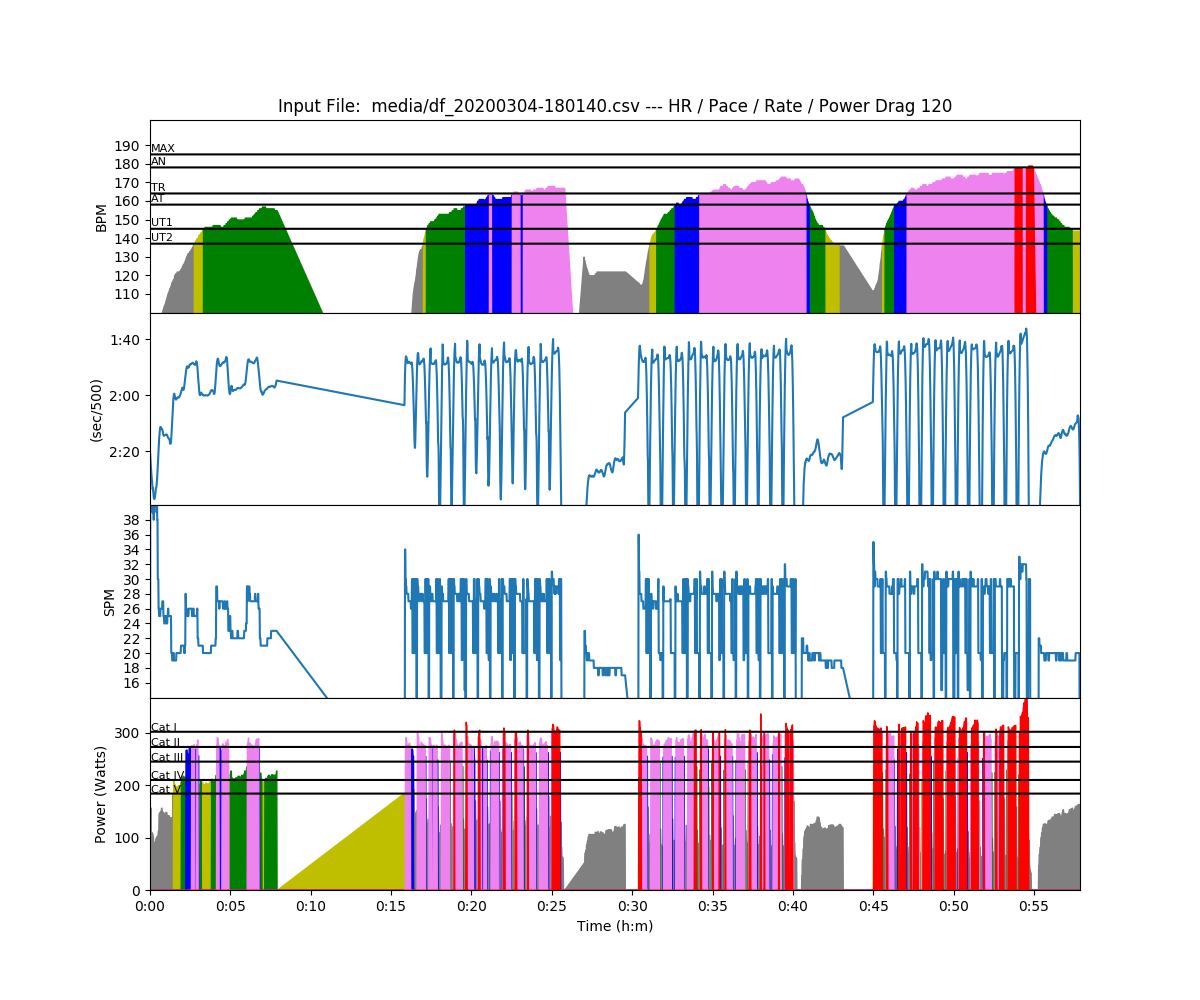 Thursday – Mar 5 – 3 x 20′ / 2′ L4
I was sick of the high heart rates of some previous L4 workouts, so I dialed it back to an easier stroke sequence.  That did the trick and this was a good, enjoyable workout.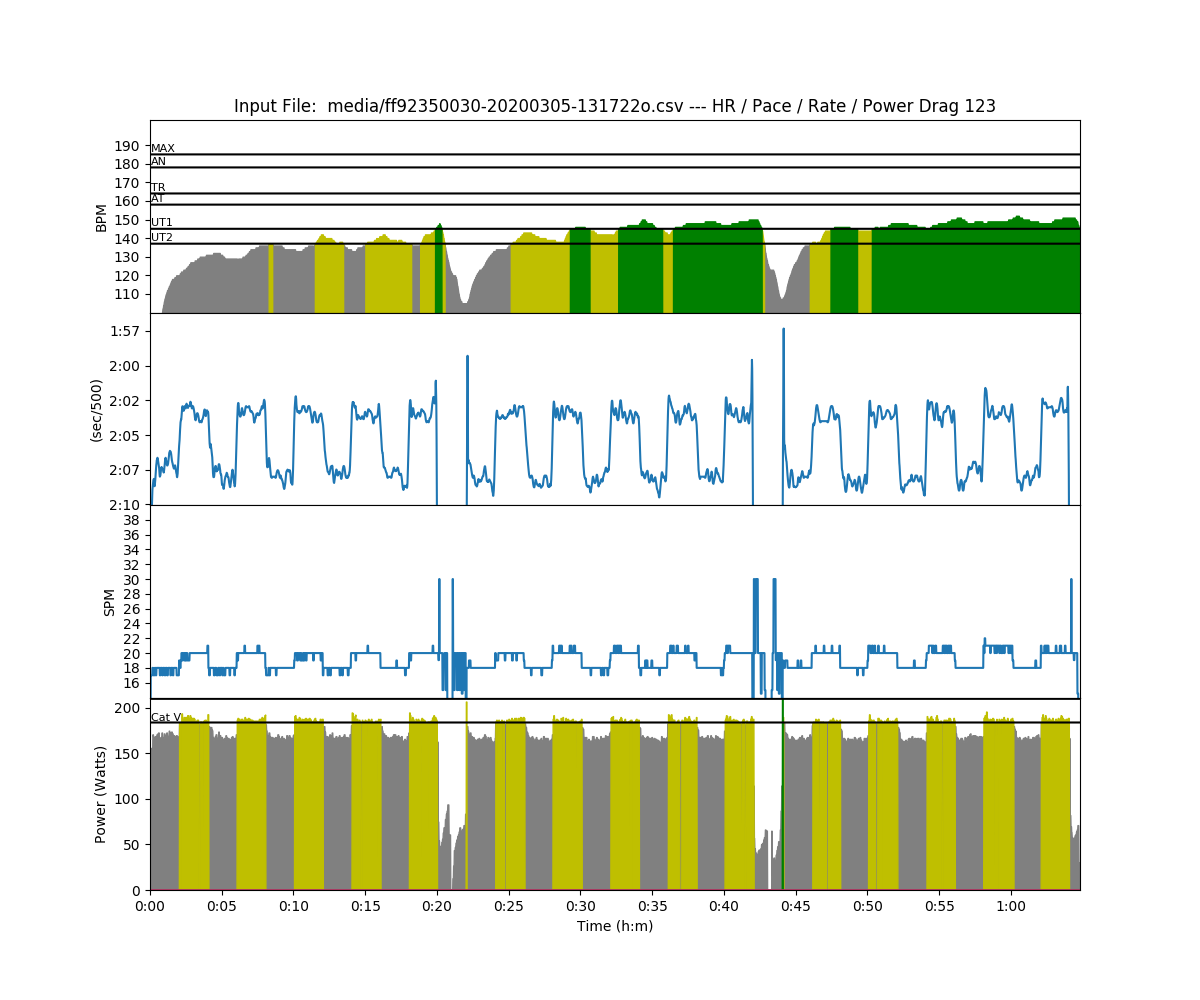 Friday – Mar 6 – No Training
We went into Cambridge on Thursday night to celebrate my sons' birthday.  We got home late and I slept in a bit on Friday.
Saturday – Mar 7 – No Training
We went to go see my wife's cousin's daughter play in the Big East Women's Hockey championship.  I should have gotten up a bit early and gotten a row in, but I didn't, and by the time we had got back home, there was a ton of other stuff to do.  I felt bad about missing a weekend day though.
Sunday – March 8 – 3 x 30′ / 2′ Steady State
Looking for low heart rates and easy rowing.  This session delivered.  Got a bit greedy i the last 30 minutes and pushed the power.  Nice flat HR though.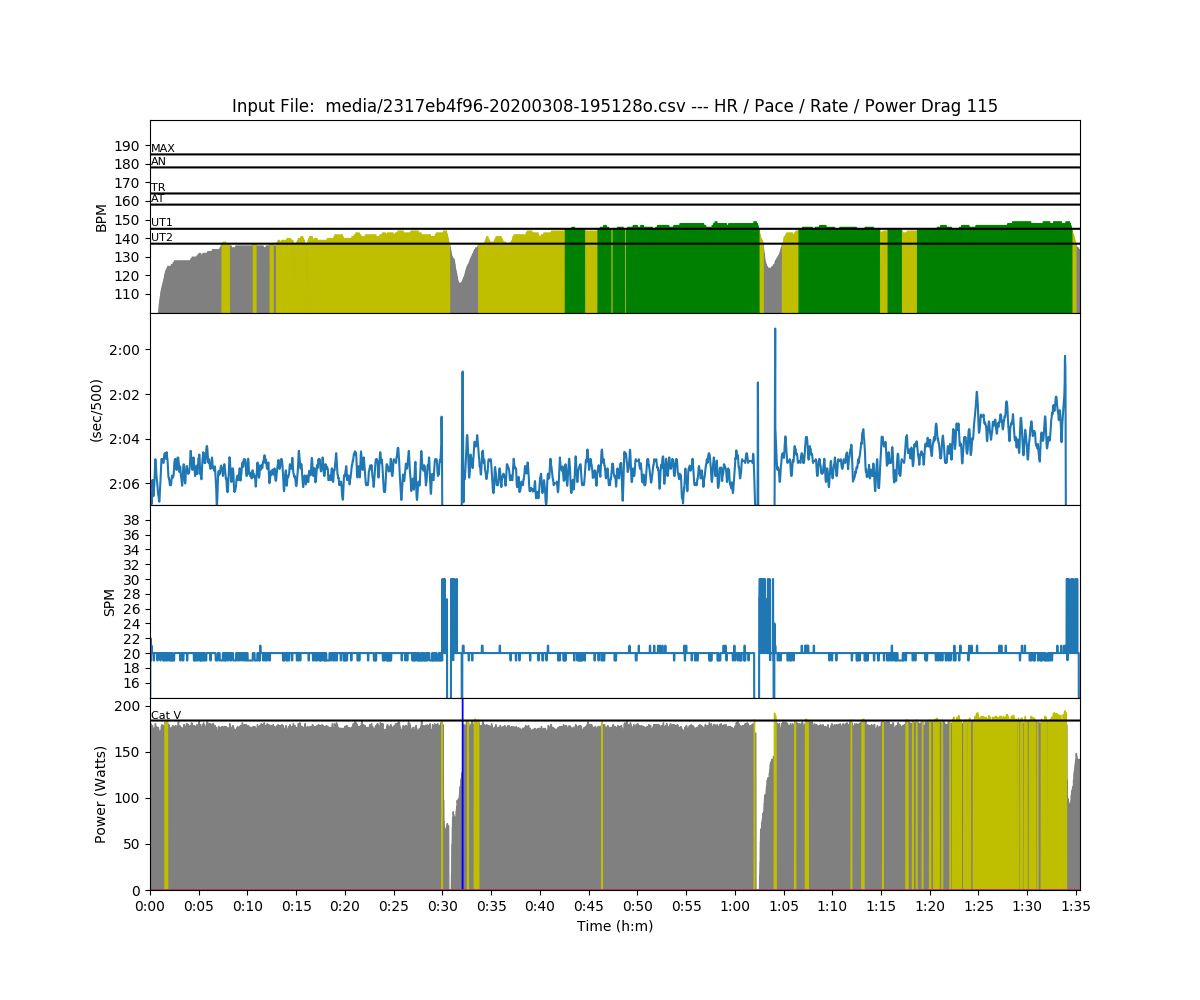 The good news is that today, I got back on the water.  I'll write that one up soon.  But I'm going to just play it by ear for a week or two and then figure out an OTW training plan.