Wormtown is apparently the nickname for Worcester Massachusetts.
I got curious and googled to try to figure out why.  Here you go.
I was delighted to find out that it was bestowed in the late 70s by a punk rock DJ because the punk rock music scene in Worcester was so dead, that it was decomposing.  I'm sure it had nothing to do with the fact that the DJ's name was L.B. Worm.
Anyway, this was the inaugural running of the Wormtown Chase.  For the past two years, the QRA has been generous enough to include masters events in the running of the Snale Race, a collegiate head race on Lake Quinsigamond.  This year, they wanted to do something new and different.  So instead of tagging on to the Snake Race, there would be another Regatta for schools and masters, and a new course!
The course was the draw.  Instead of straight boring shot up the lake, This race was going to feature a giant 180 degree turn around a couple of small islands.
Here's the course map.
I looked to see who my competition would be,
OK, so I know Dave Baker.  He's a great guy, the inventor of the Shox Box and someone who was really nice to me when I first started rowing.  I remember seeing him on the lake when I was out maybe my second or third time in a single and he asked how it was going.  I said, "Well, I haven't flipped yet".  His reply made me feel so much better.  It was basically to the effect "flipping happens".  I was really kind of hung up on the idea that flipping would mark me as a noob, and be incredibly embarassing.  Dave saying that it was just kinda a normal part of rowing was really an awesome thing for me in that moment.  I've been in a bunch of races and I'm normally faster than he is.  But he had been rumored to have been training up in Lowell, so I'd better not get cocky.
The other guy.  He's a mystery to me.  So, the sleuthing begins.  I check to see if he rowed in the HOCR this year.  Nope.  Then I checked the Textile.  Ah ha!  There he is.  He finished a respectable fourth.  I knew the guy that won, and he was 5% slower.
Now, here's how obsessive I can get.  I then went to the HOCR results and checked the textile winners time and place.  Then I compared it to guys that I am typically close to.  Last year, I beat a guy by less than 1% in the snake race, and the Textile winner beat him by 10% in the HOCR.  Oh crap.  This guy, Dan was faster than me.  Probably 5% faster than me.
So, going into the race, I was thinking that I probably couldn't beat him, but if I got within 5% of his time, I could feel like I had performed up to expectations.
The start order was Dan, then me, then Dave.
When I got to the lake in around 7am, it was beautiful.  There was no wind, it was warm and the skies were clear.  But as we got closer to the 9am start time, the wind began to build, and build, and build some more.  By the time my race rolled around at 10:50, it was blowing straight out of the north between 12 to 15 mph.  Ooof.  It was going to be a long and slow race.  I hope all that coastal rowing pays off.
The start line was only about 1500m south of our docks, and there was no place to do a warm up on the water, so I went into the boathouse and did a fletcher warmup on the erg.  I pushed it hard because I was doing it about 45 minutes before my race.
Then I launched, and with the brisk tail wind, I was down to the start area way too quickly, and so I sat around.  Dan came rowing up and then he went ahead of me.  No sign of Dave.  I waited a bit longer, and I saw that, even though our start time was still a few minutes away, Dan was heading down to the line.  I didn't realize it until he was a good 200m away.  Damn, I was hoping to be close enough to try to hang onto him, maybe even push him a bit through the turn.  I picked it up and headed to the line.
The chop was tough.  I was rowing short downwind, and I felt tentative at the catch.  I tried to find a rhythm and crossed the line going kind of slow.  With the chop, I didn't do as much looking around to perfect my course, and I ended up a bit further off the first island than I wanted.  I was watching the speedcoach and disappointed to see 2;20, even going downwind.  I noticed with some annoyance that the power readings were "—".  I guess changing the battery before the race would have been a good idea.  Especially with the wind.
I handled the start of the turn well, and it felt great to get into the lee of island.  I lined up to skirt nice and close to the southern point, and hit that turn just right.  Of course, that is also when the wind hit me broadside, and the chop too.  I took a couple of pretty sloppy strokes, but focused on pushing hard on starboard, with very little pressure on port.  I looked around, but in the daylight, it was really hard to pick the point of the third island out against the shore line.  There was fall foliage on both the island and the shore, and I really struggled until I was kind got close enough to make it out.  Luckily because of the practice, I ended up on a good line, and hit  the eastern point at a good angle and nice and close to the island.
Now I was into the head wind, and I was kind of freaked out about how high my heart rate was.  I thought I was going to blow up.  I tried to calm down and just row clean, but the wind was a big challenge.  I tried lower rates and more power.  I tried rating up and rowing light.  That felt a bit better.  But the splits were soul crushingly slow.  I was hovering on the wrong side of 2:30.  All I could hope was that other folks were equally slow.
I continued to battle along.  I never saw the rower in front of me, and Dave started far enough behind me that it was tough to judge distance to him.  I just slogged akong.
There was a funnel effect under the route 9 bridge and there were a few strokes where it was tough to even swing my oars back to the catch for the next stroke.
It took forever to get up to the gazebo, but once I was there, the water seemed to smooth out a bit and the wind seemed to drop a bit.  I pushed up a bit harder.  Then a wonderful thing happened.  I passed the last girls novice four of the event that started before ours.  They were cheering as they rowed along.  I'm sure it was for themselves, but I imagined it was for me and I rowed a bit harder and smoother to the finish.
My arms and legs were cramping up and I limped back to the dock.  Here's the map.
Here's the turn.  Looks pretty good actually.  I went a bit wider around the point than I needed to, but the turn around that south point was better than I feared.
Here's a comparison between the practice turns (blue) and the race turn (red).
As for heart rate.  It was the hardest I havce ever worked in a race.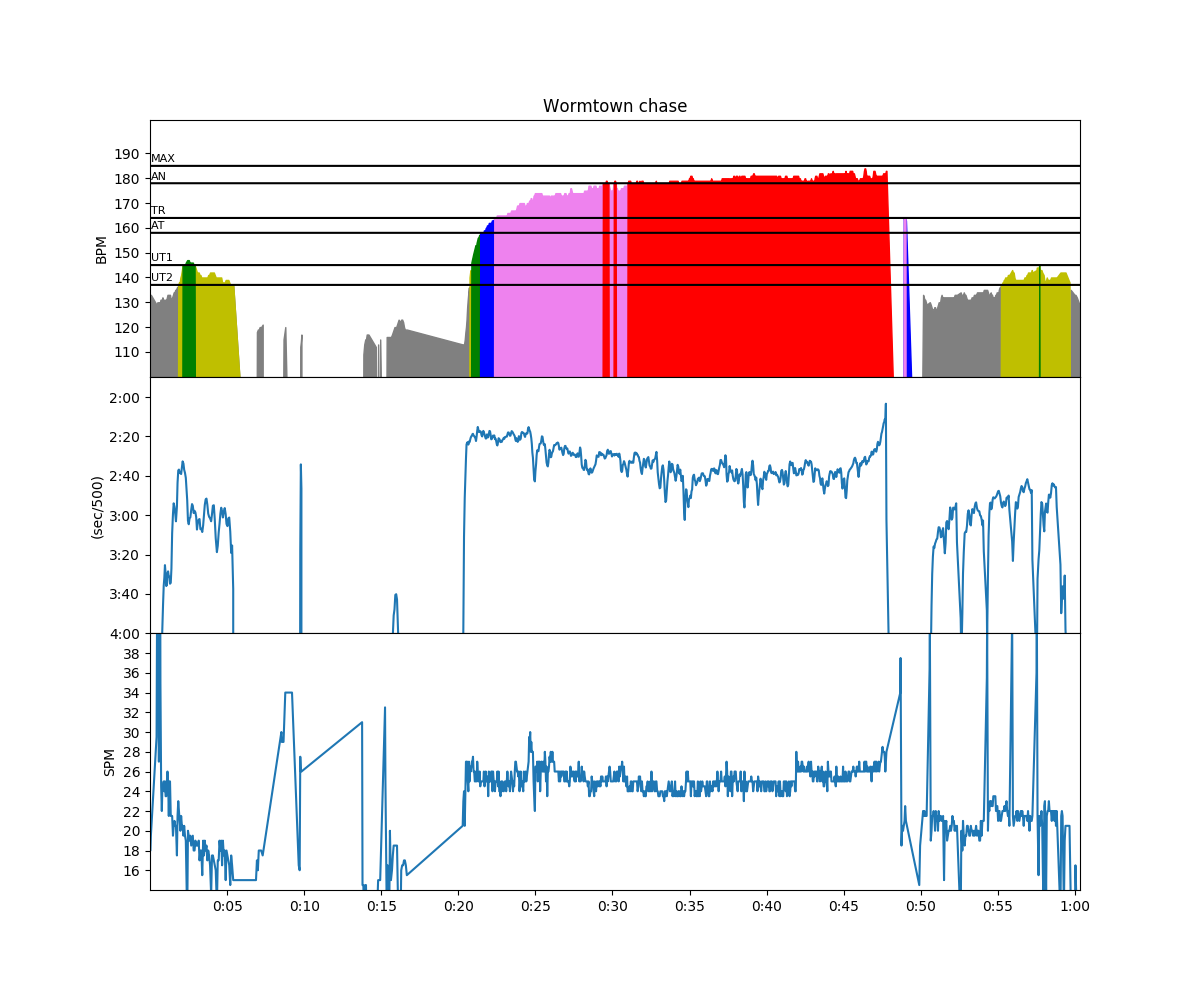 As for splits, it was bad as it looked in the boat.
        Workout Summary - media/20191026-1541100o.csv
--|Total|-Total----|--Avg--|-Avg-|Avg-|-Avg-|-Max-|-Avg
--|Dist-|-Time-----|-Pace--|-Pwr-|SPM-|-HR--|-HR--|-DPS
--|08488|00:60:20.5|03:33.3|034.8|23.5|149.3|184.0|06.0
W-|06368|00:33:03.0|02:35.7|034.0|24.6|169.3|184.0|07.9
R-|02127|00:24:24.3|05:44.2|035.6|22.2|125.9|184.0|08.0
Workout Details
#-|SDist|-Split-|-SPace-|-Pwr-|SPM-|AvgHR|MaxHR|DPS-
01|00248|01:24.0|02:49.2|102.8|19.3|142.3|147.0|09.2
02|05380|27:22.1|02:32.6|031.0|25.2|175.7|184.0|07.8
03|00058|00:20.5|02:58.3|031.0|20.6|132.3|133.0|08.2
04|00101|00:36.0|02:57.5|031.0|19.8|133.5|134.0|08.5
05|00468|02:42.0|02:53.1|031.0|23.1|138.4|143.0|07.5
06|00114|00:38.4|02:48.9|031.0|21.7|139.6|140.0|08.2
2:32.6.  In a race.  At 25 spm.  Wow!  That's slow.
Here are 500m splits in the race.
        Workout Summary - media/20191026-1541100o.csv
--|Total|-Total----|--Avg--|-Avg-|Avg-|-Avg-|-Max-|-Avg
--|Dist-|-Time-----|-Pace--|-Pwr-|SPM-|-HR--|-HR--|-DPS
--|08494|01:02:35.6|03:41.1|034.7|23.0|148.5|184.0|05.9
W-|05250|00:26:45.0|02:32.9|031.0|25.2|176.4|184.0|07.8
R-|03245|00:35:51.0|05:31.4|037.4|21.3|127.6|184.0|05.7
Workout Details
#-|SDist|-Split-|-SPace-|-Pwr-|SPM-|AvgHR|MaxHR|DPS-
01|00500|02:19.9|02:19.9|031.0|25.1|160.3|165.0|08.5
02|00500|02:21.8|02:21.8|031.0|25.9|170.3|174.0|08.2
03|00500|02:27.6|02:27.6|031.0|25.9|173.6|176.0|07.9
04|00500|02:31.7|02:31.7|031.0|25.1|176.4|179.0|07.9
05|00500|02:33.9|02:33.9|031.0|24.6|177.9|179.0|07.9
06|00500|02:42.3|02:42.3|031.0|24.2|178.9|181.0|07.7
07|00500|02:38.1|02:38.1|031.0|24.9|179.6|181.0|07.6
08|00500|02:40.9|02:40.9|031.0|24.6|180.8|182.0|07.6
09|00500|02:37.8|02:37.8|031.0|25.6|180.1|182.0|07.4
10|00500|02:38.2|02:38.2|031.0|25.6|181.5|184.0|07.4
11|00250|01:12.8|02:25.7|031.0|26.6|181.2|184.0|07.7
I couldn't believe how slow I was, but it seemed like I held my distance with Dave.  I had real hope that I had made up ground on Dan.  When I looked at the results, as I expected, I had finished second.
A quick bit of math revealed that I was 3.4% behind the winner.  So, I was happy with that.  I wanted to be within 5%.   I met Dan after the race.  He seems like a great guy.  Former college rower, just getting back in the sport.  We talked a bit and he lives quite near where I keep my boat.  I tried to convince him that the place where I row would be a good spot for him too.
But beyond meeting a nice person, now I have a most valuable tool.  A target.  I want to be able to beat this guy next year.  To do that I need to get faster.  I feel more energized than I have in two years.
After the race, I hung out with my friends for the club for a while, then I packed up my boat for the winter and stashed in the back of the racks.  I hope there's some more good rowing days, but with the colder weather, rowing bigger boats seems like a better idea.