Last time I checked in, I had just spent a long Saturday cleaning my deck.
Sunday – Sept 22 – Tough 10K
On sunday, I completed the second part of the deck chore:  Sealing.  This is a lot easier than the cleaning but still involved about three hours of filling, pumping and spraying.
We headed home in the early afternoon, and around 5, I went to go do a 10K threshold workout.  On slides.
I didn't bother to warmup, I just dove right in.  I should have aimed at a 2:00 pace, but because I am stupid and proud, I ended up aimed more at 1:57.  A pace that I have not earned the right to try for at this distance.
I managed to hold it through 30 minutes, but I didn't have the guts to keep it up for the full piece.  Under different circumstances, I think might have been able to just back off the pace a little and finish it out, but that was not how it ended up on this day.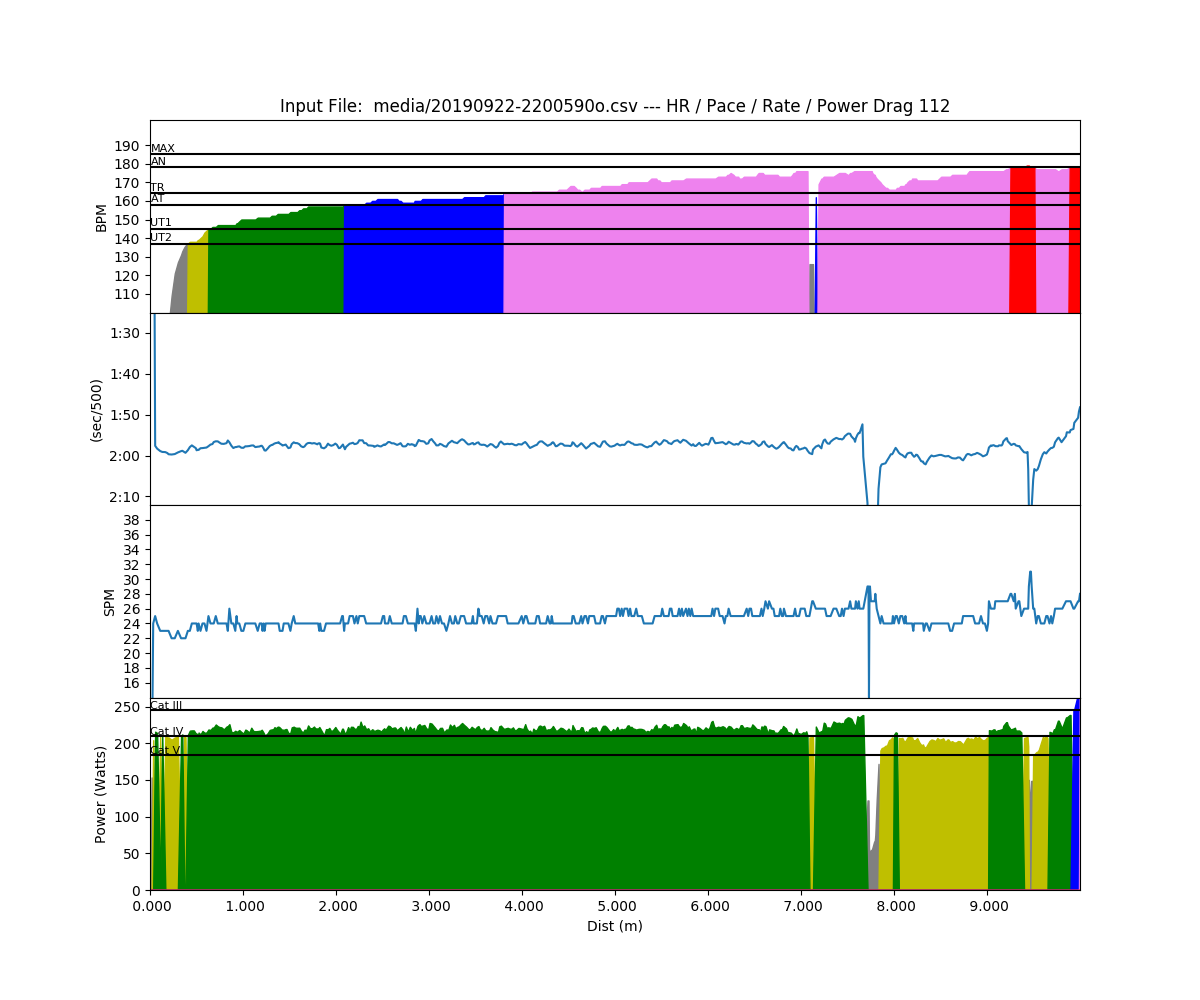 Workout Summary - media/20190922-2200590o.csv
--|Total|-Total----|--Avg--|-Avg-|Avg-|-Avg-|-Max-|-Avg
--|Dist-|-Time-----|-Pace--|-Pwr-|SPM-|-HR--|-HR--|-DPS
--|10000|00:39:15.1|01:57.8|214.6|24.7|163.5|179.0|10.3
W-|10000|00:39:15.5|01:57.8|214.6|24.7|163.5|179.0|10.3
R-|00000|00:00:00.0|00:00.0|000.0|00.0|000.0|179.0|00.0
Workout Details
#-|SDist|-Split-|-SPace-|-Pwr-|SPM-|AvgHR|MaxHR|DPS-
00|01000|03:54.5|01:57.3|213.8|23.2|128.7|150.0|11.0
01|01000|03:54.1|01:57.0|218.5|23.9|153.8|157.0|10.7
02|01000|03:53.5|01:56.7|220.0|24.3|159.4|161.0|10.6
03|01000|03:53.3|01:56.6|220.7|24.4|162.3|164.0|10.5
04|01000|03:53.7|01:56.8|219.1|24.4|166.1|168.0|10.5
05|01000|03:53.2|01:56.6|220.9|25.2|170.7|172.0|10.2
06|01000|03:53.5|01:56.8|219.7|25.3|173.6|176.0|10.1
07|01000|04:05.3|02:02.6|193.7|25.8|170.1|176.0|09.5 - whoops
08|01000|03:59.4|01:59.7|204.4|24.1|172.5|176.0|10.4
09|01000|03:55.2|01:57.6|216.7|26.3|177.3|179.0|09.7

Still a pretty good time overall, but very disappointed that I can't seem to stick it out through a tough piece these days.
Monday – 23 Sept – Drills on the 5s in a quad
I had signed up to race with some friends from Worcester in a quad in the Textile River Regatta at the beginning of October.  I have done very little rowing with other people lately, and I wanted to avoid humiliating myself.  So, it was time to change my morning routine a bit and head out to Worcester.  This means I need to get up at 4:45, and I spend a long time in the car getting to work, but I have to say, it was incredibly energizing to row with other people.  I was feeling stale, and having people to meet for a workout and being to share the experience seems to be just the thing I needed.
I met Joe, Mike and Rob at 5:30 at the boathouse.  I suggested that we do a bit of technique work so I could get reacclimatized to rowing in a big boat.  We did drills on the fives.  Actually, I kind of varied the steady state time depending on where we were on the lake and what was going on.
The drills we did were:
delayed feather
pause at body over
half slide
rowing on the square
I forgot to start recording until after the first leg down to the south end of the lake.
You can see the drills in the stroke rates.  The ones where the rate went higher was the half slide, the really noise ones were the square blades.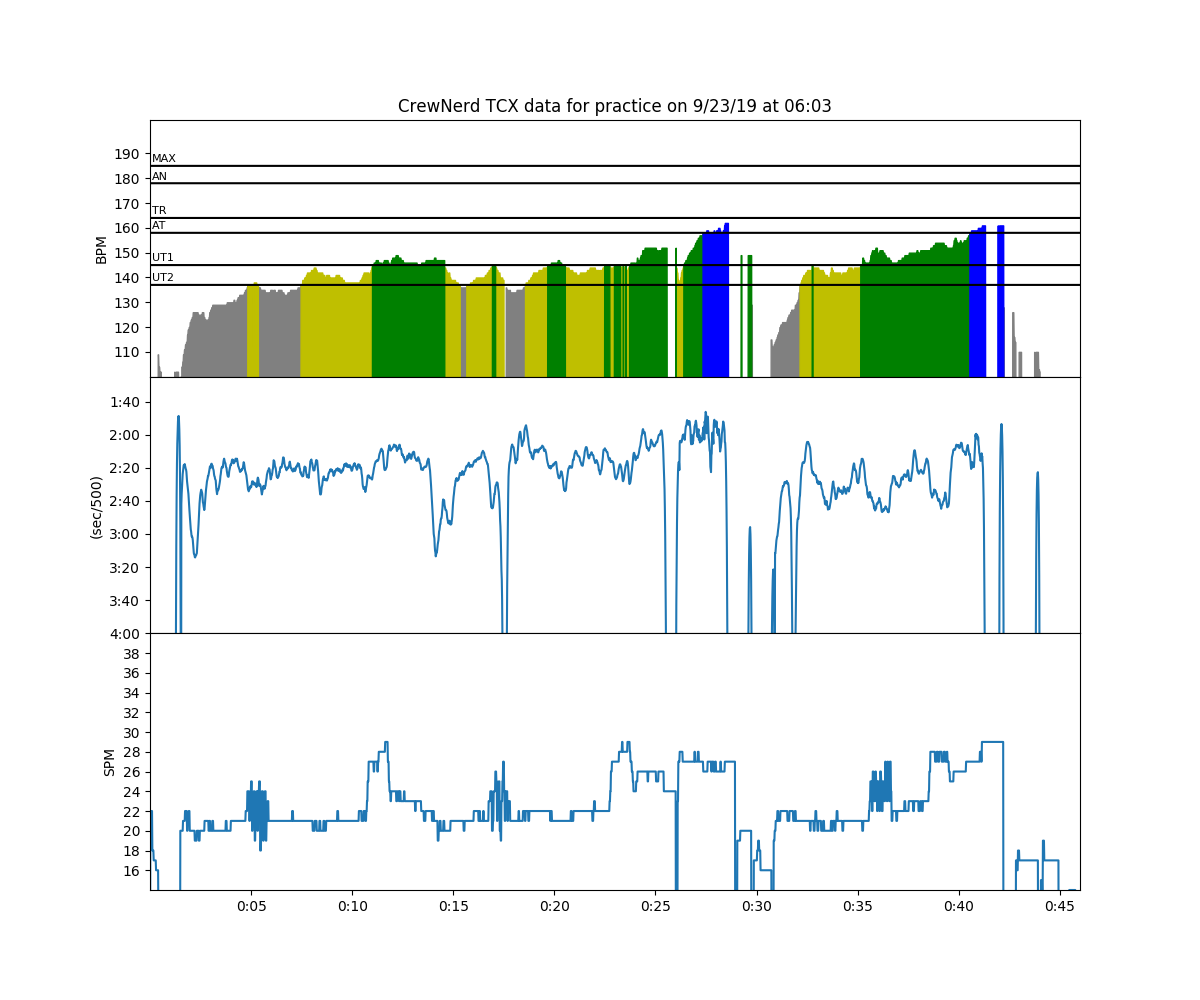 I had a great time and I think we were rowing a lot better at the end of the outing than at the beginning.
Tuesday – Sept 24 – Steady State 1x
Back on the charles.  I had a flight out to San Fransisco, but it didn't leave until about 10am, so I stopped in Newton and went for a row on my way to the airport.
I don't know what happened with the speedcoach.  The data that I have is for the first 20 minutes of the row.  Up through the turn around at the Waltham dam.  I have to assume that I hit the start stop button with my water bottle when I returned it to its normal place.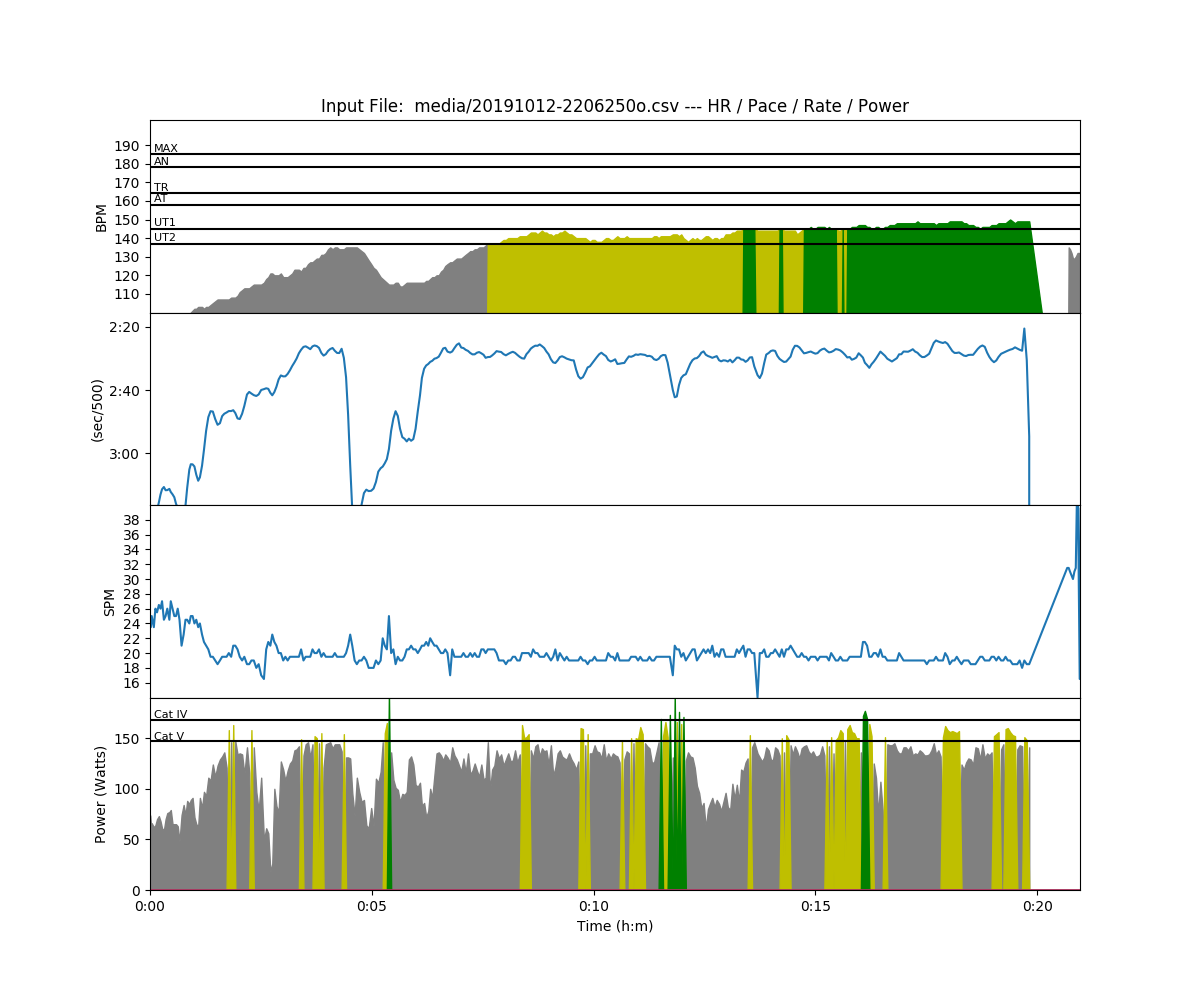 It was a very nice way to start a long travel day, even though I was disappointed that the United Club in Boston does not have a shower.  I cleaned as well as I could in the men's room, but I feel badly for my fellow passengers.
Wednesday – Sept 25 – Fitness Center
In the hotel.  I had an early meeting meeting down in South San Jose, so I got up and headed to the fitness center.  I did 20′ inclined walk and then 30 minute piece on the stationary bike.  All pretty sedate.
Thursday – Sept 26 – No Training
I caught an early flight from San Fransisco back home.  No chance to train.
Friday – Sept 27 – thrills and drills in the Quad
Back out at Lake Quinsigamond.  Today it was me, Joe, Mike and Hayden, a young, tall, strong guy who rowed for Brown in College.  This was a fun lineup.  Hayden is an extremely strong rower and the boat felt really alive with him pushing it.We did a moderate workout of repeats of 3′ at head race rate and 1 minute of drills.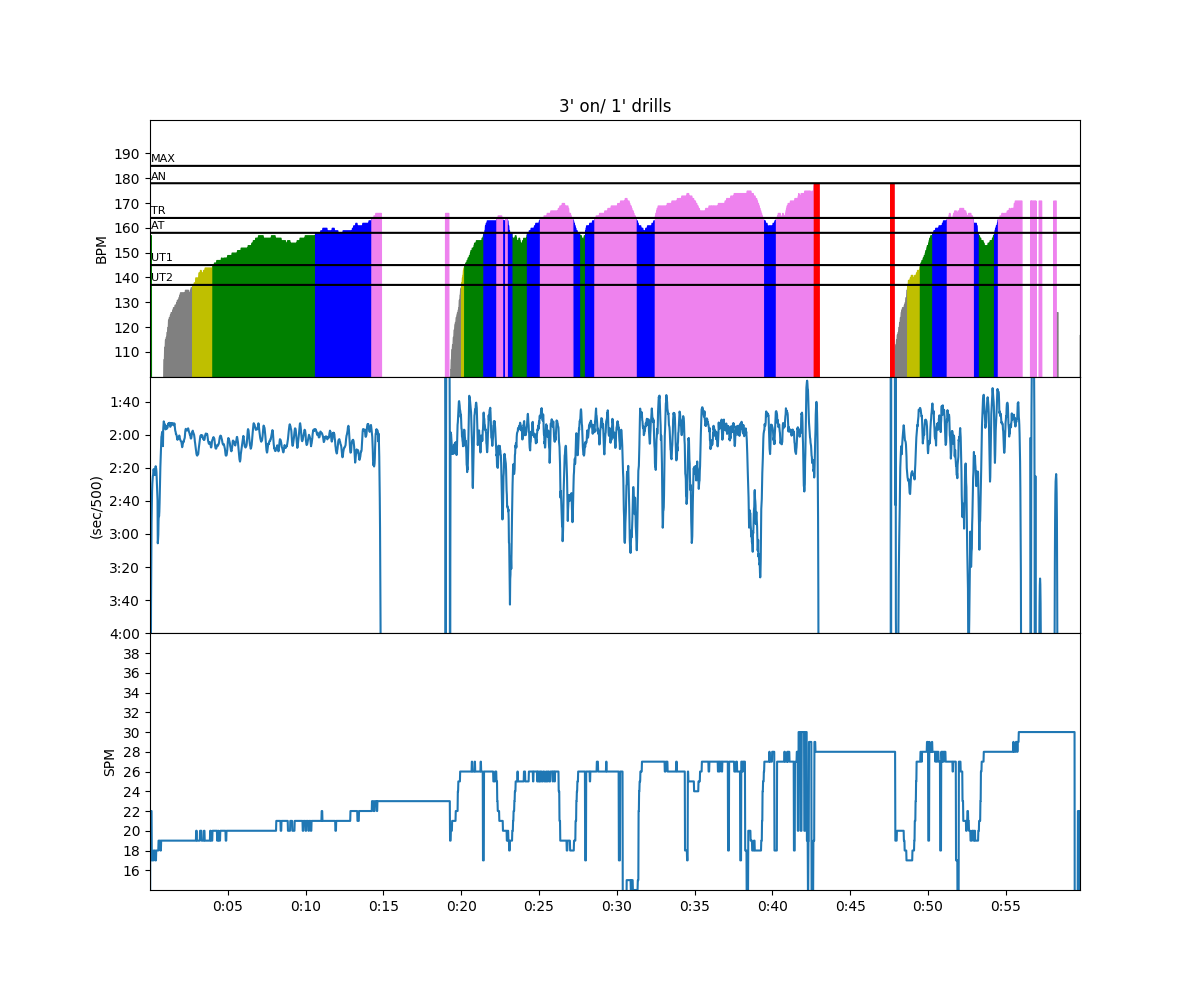 It was a blast!
Saturday – 28 Sept – No Training
We stayed in Hopkinton, and it looks like I didn't do much of anything!
Sunday – 29 Sept – 3 x 20′
In the afternoon, I went and did a boring steady state session.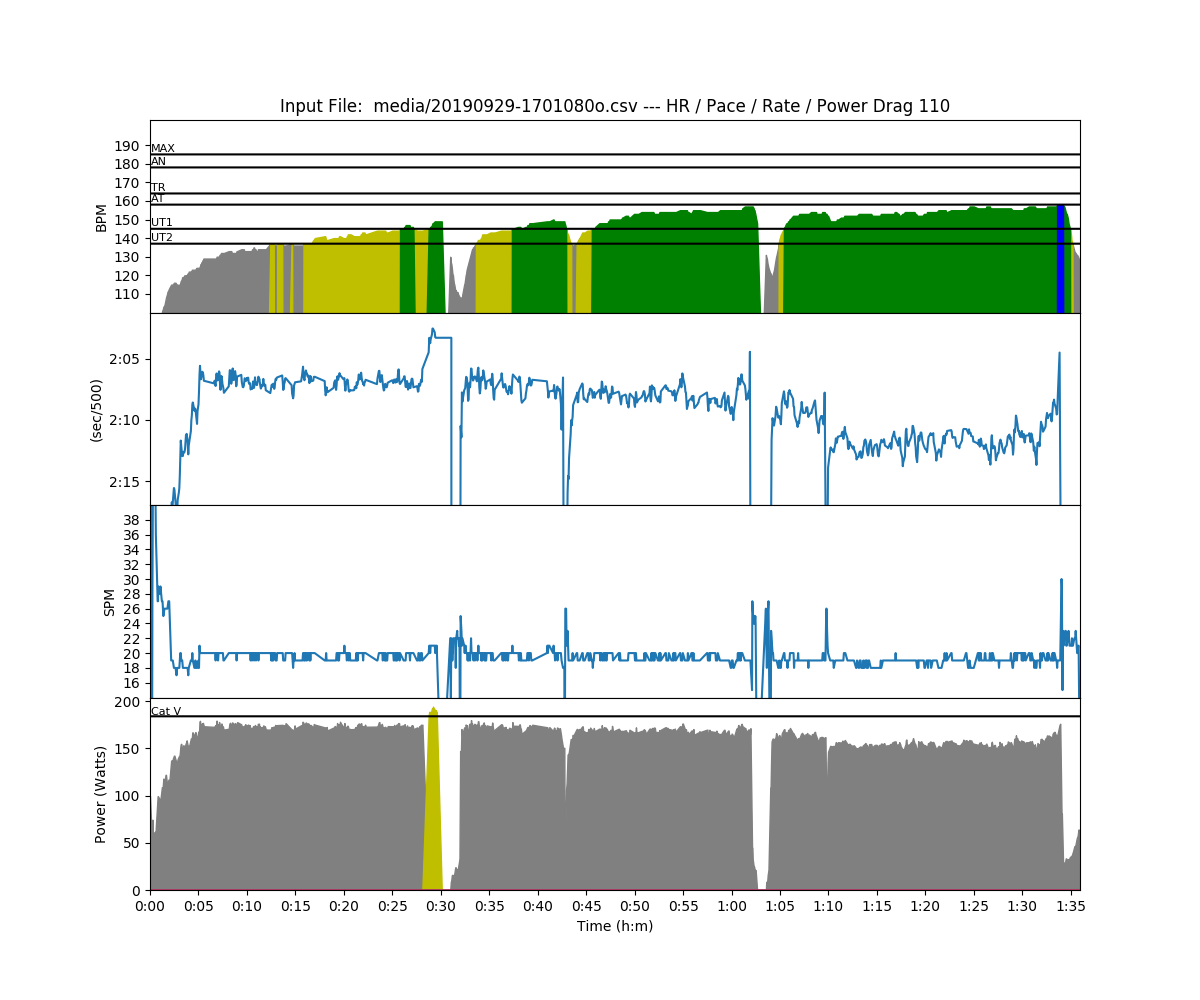 Monday – 30 Sept – 4 x 2k in the quad
With Joe, Mike and Hayden again.  Need to get some practice at head race intensity.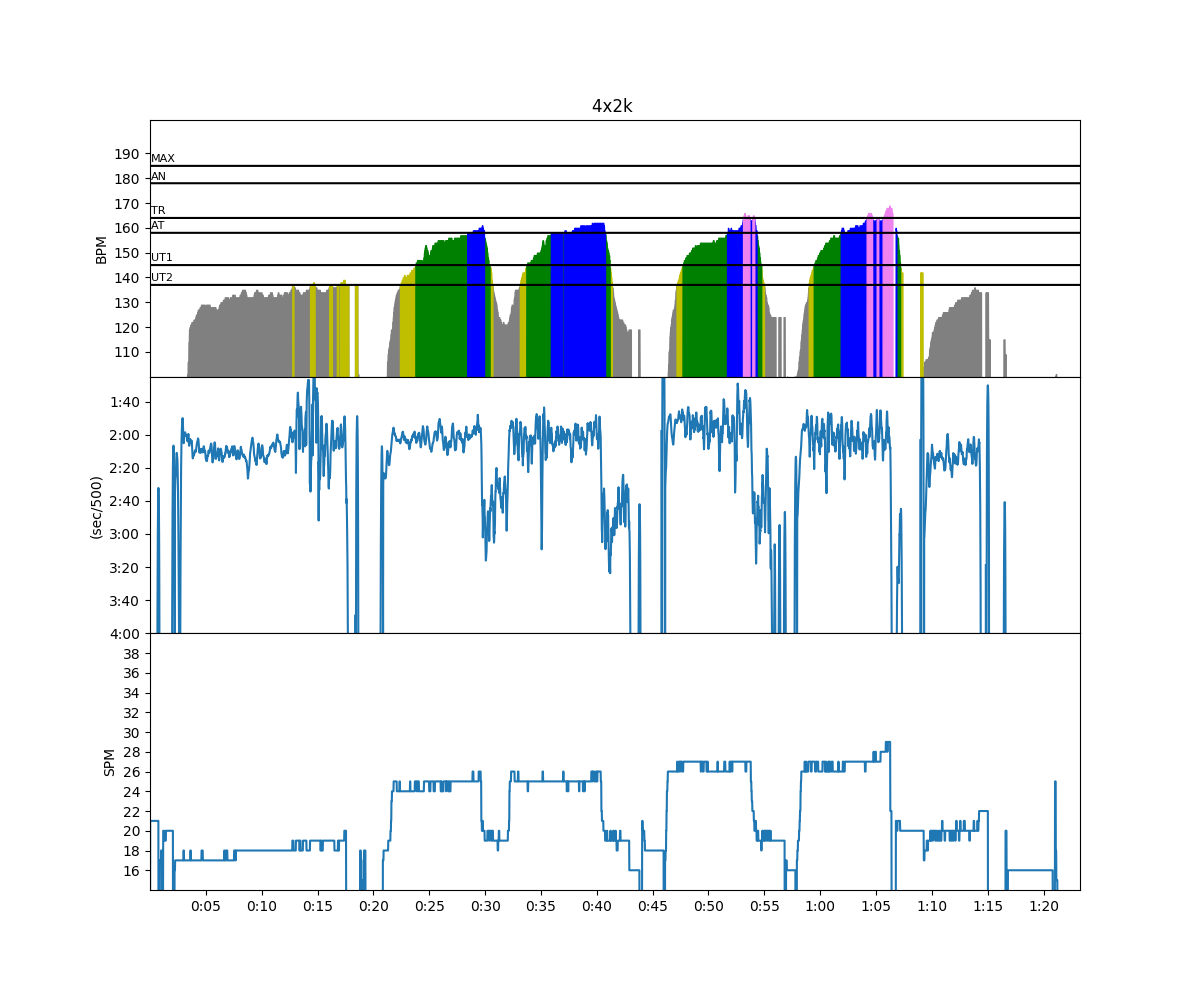 Workout Summary - media/20190930-1136120o.csv
--|Total|-Total----|--Avg--|-Avg-|Avg-|-Avg-|-Max-|-Avg
--|Dist-|-Time-----|-Pace--|-Pwr-|SPM-|-HR--|-HR--|-DPS
--|15480|01:23:16.0|02:41.4|000.0|20.2|132.0|169.0|09.2
W-|12935|00:52:45.0|02:02.3|000.0|22.9|142.9|169.0|11.0
R-|02552|00:30:31.0|05:58.8|000.0|15.5|113.1|169.0|01.9
Workout Details
#-|SDist|-Split-|-SPace-|-Pwr-|SPM-|AvgHR|MaxHR|DPS-
01|03558|14:48.0|02:04.8|000.0|17.9|130.4|139.0|13.4 -wu (tail)
02|02153|08:48.0|02:02.6|000.0|24.2|146.5|161.0|10.1 -1 (head)
03|02069|08:24.0|02:01.8|000.0|25.0|152.3|162.0|09.9 -2 (head)
04|02044|07:44.0|01:53.5|000.0|26.4|150.4|166.0|10.0 -3 (tail)
05|02031|08:13.0|02:01.4|000.0|26.7|154.2|169.0|09.3 -4 (head)
06|01080|04:48.0|02:13.3|000.0|19.9|126.8|136.0|11.3 -cd (tail)
I was has happy all day after this workout.
Tuesday – 1 October – Steady State 1x
In Newton.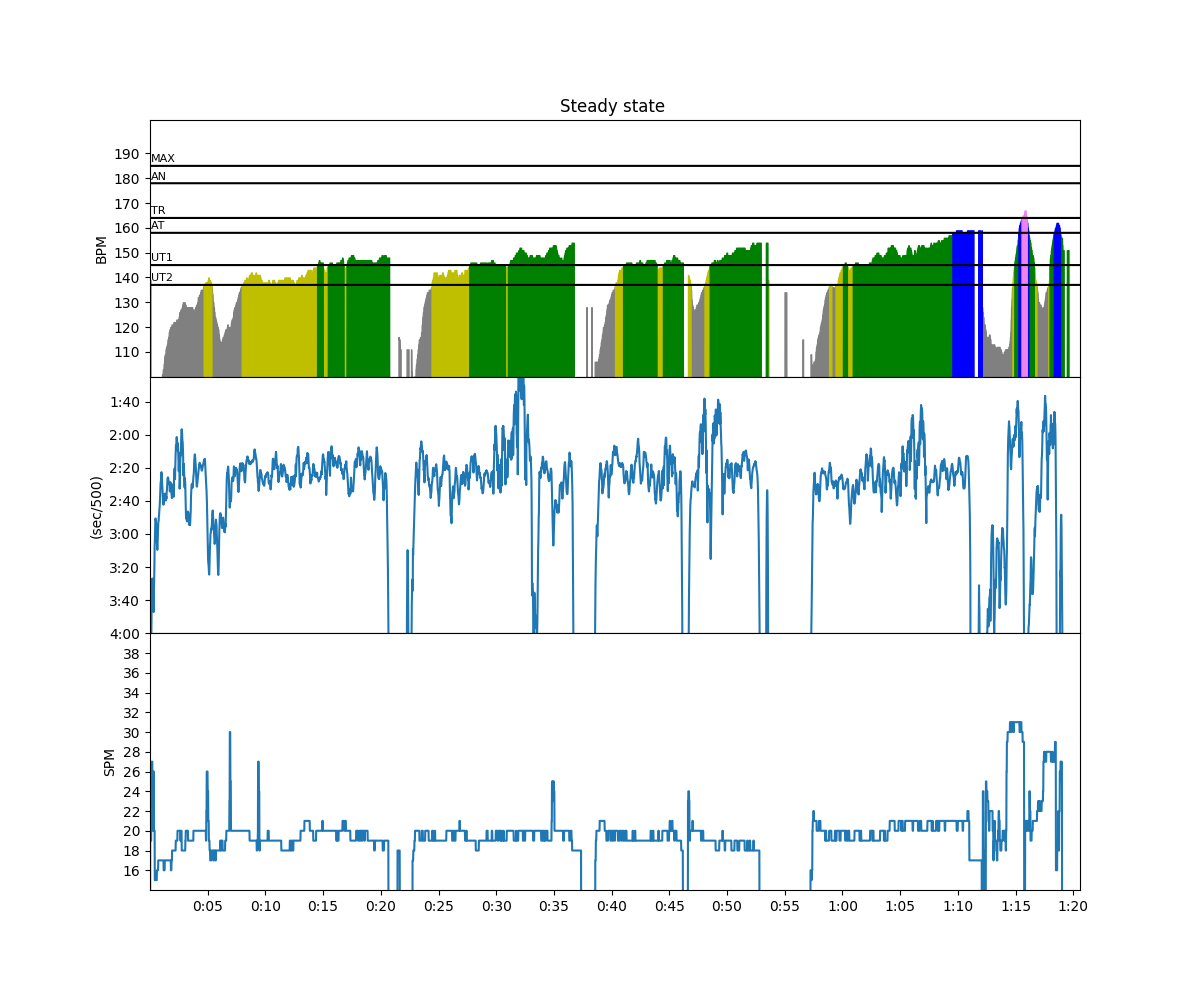 Wednesday – 2 October – Hard 5K in the quad
With Joe, Mike and Rob.  We have a race coming up, it was time to see what happens when we tried to row hard for a race distance piece.
Good news: Nothing bad happened.
Bad news:  We were not very fast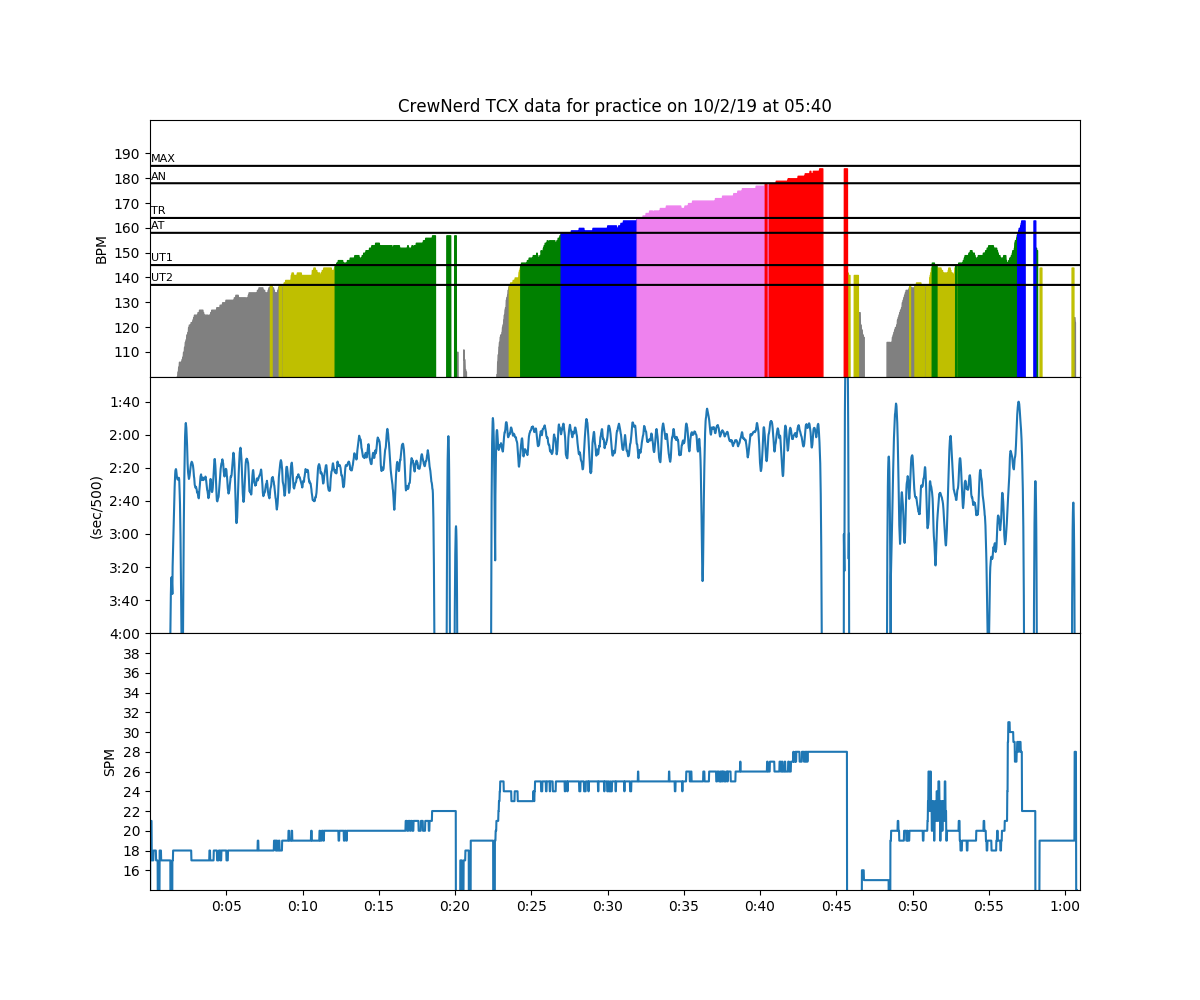 Workout Summary - media/20191002-1051100o.csv
--|Total|-Total----|--Avg--|-Avg-|Avg-|-Avg-|-Max-|-Avg
--|Dist-|-Time-----|-Pace--|-Pwr-|SPM-|-HR--|-HR--|-DPS
--|11230|00:60:59.0|02:42.9|000.0|21.1|146.6|184.0|08.7
W-|08089|00:34:42.0|02:08.7|000.0|23.3|157.1|184.0|10.1
R-|03146|00:26:17.0|04:10.7|000.0|18.3|132.7|184.0|02.0
Workout Details
#-|SDist|-Split-|-SPace-|-Pwr-|SPM-|AvgHR|MaxHR|DPS-
01|00585|02:50.0|02:25.3|000.0|18.0|132.5|136.0|11.5
02|02082|09:41.0|02:19.5|000.0|19.9|148.2|157.0|10.8
03|05194|21:15.0|02:02.7|000.0|25.3|164.6|184.0|09.7
04|00228|00:56.0|02:02.7|000.0|28.6|154.9|163.0|08.5
There was some good rowing in there and some rough patches.  I'm still amazed how much more fun rowing is when you do it with other people.
Thursday – 3 October – Steady State in the quad
With Joe, Mike, and Swifty.
Just a nice steady state row.  A little bit of hard stuff toward the end.  Then a few drills coming back to the boathouse.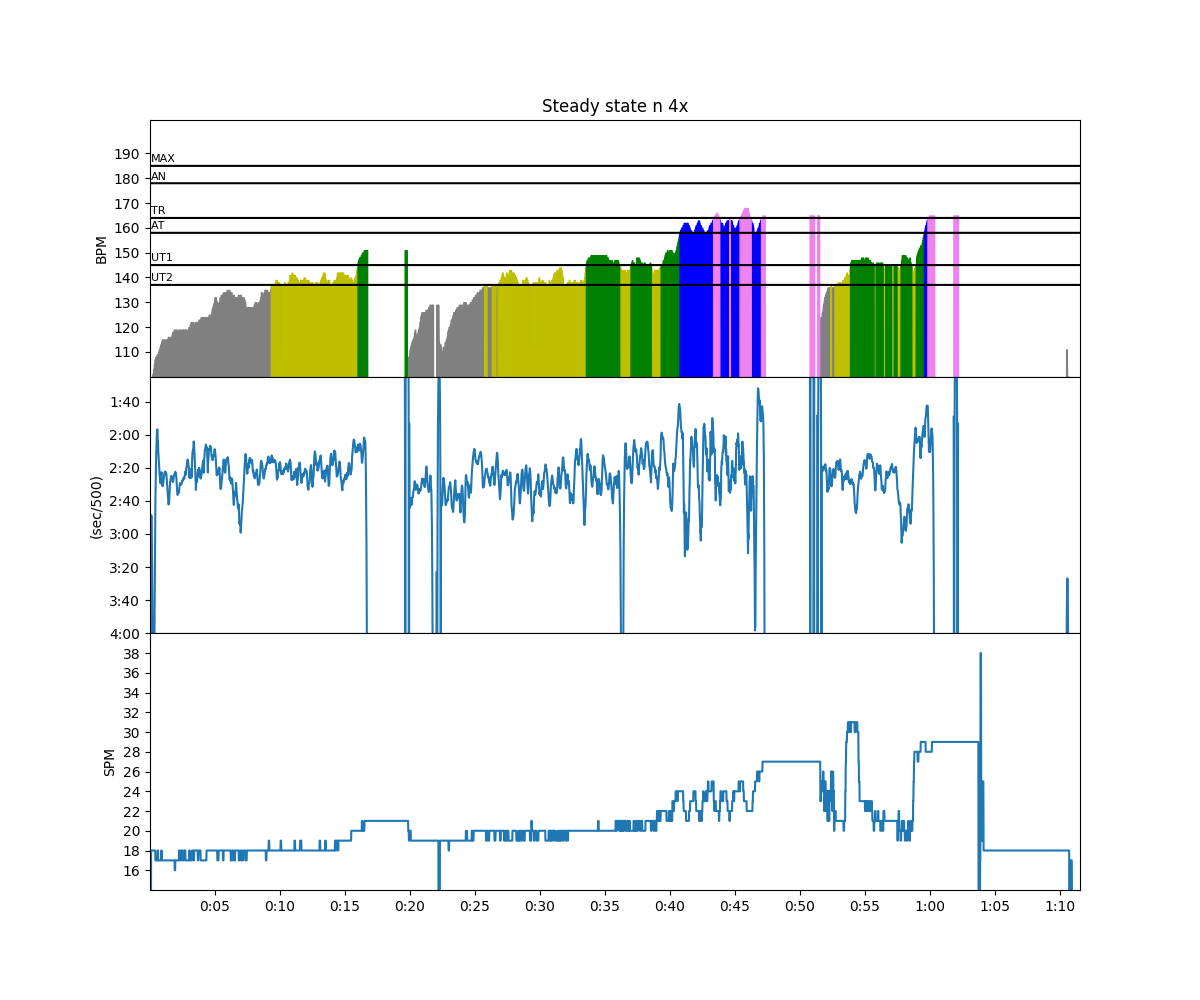 Friday – 4 October – No Training
Saturday – 5 October – Just a warm up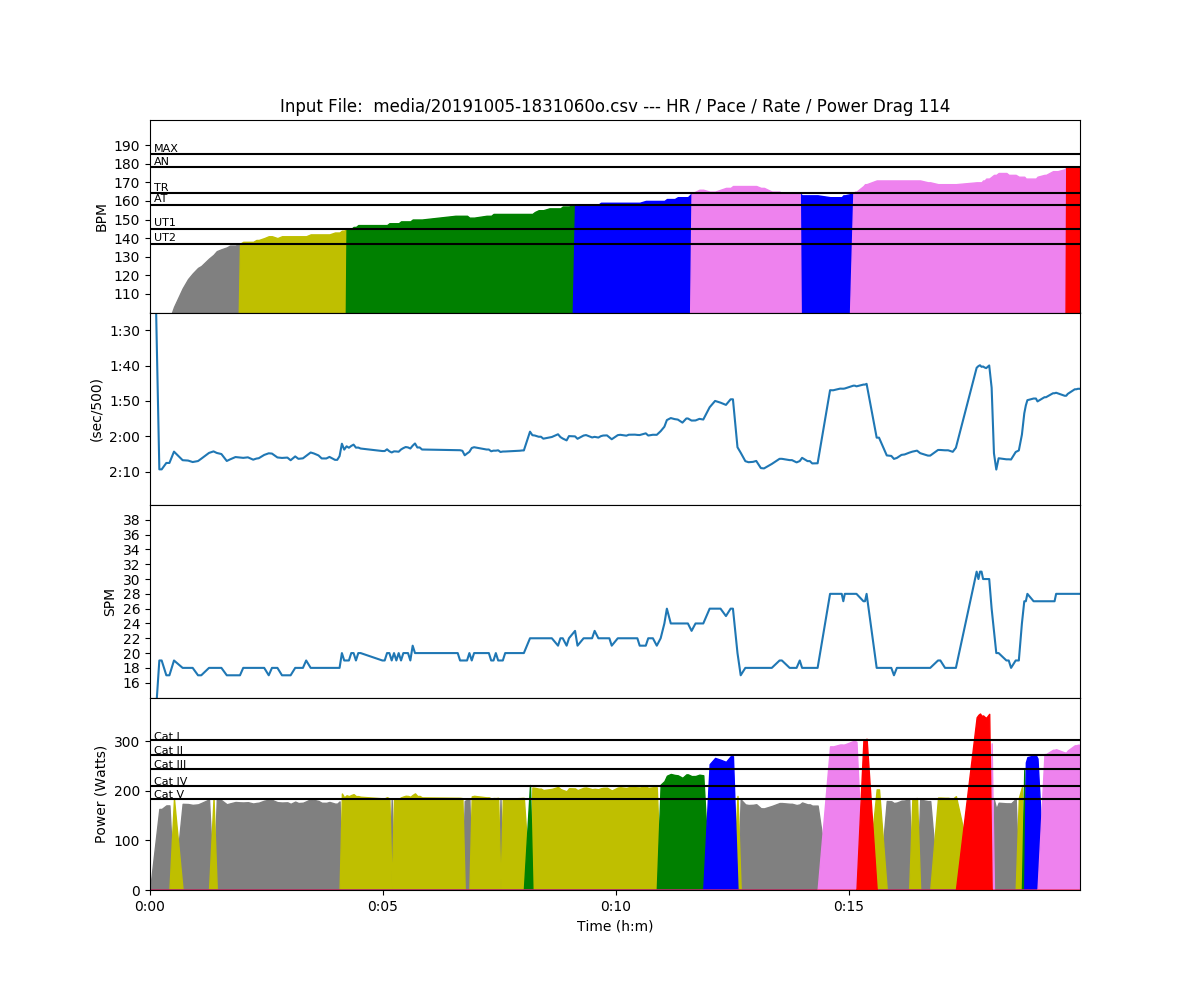 Sunday – 6 October – The Textile River Regatta
With Joe, Mike and Mike's Friend Dave.  I had never had the opportunity to row with Dave before this outing, but I was looking forward to it.  He is a tall, fit, former college rower.  He and Mike had rowed together at Holy Cross.They are both in their forties and have gotten back into rowing relatively recently.  I'm 56, and Joe is in his early sixties.  Average age in the boat was 52.
We launched early and spent some time doing drills and getting ourselves coordinated.  We arrived in the pre-start area on time, but the regatta was running about 20 minutes behind schedule so we sat for a long time.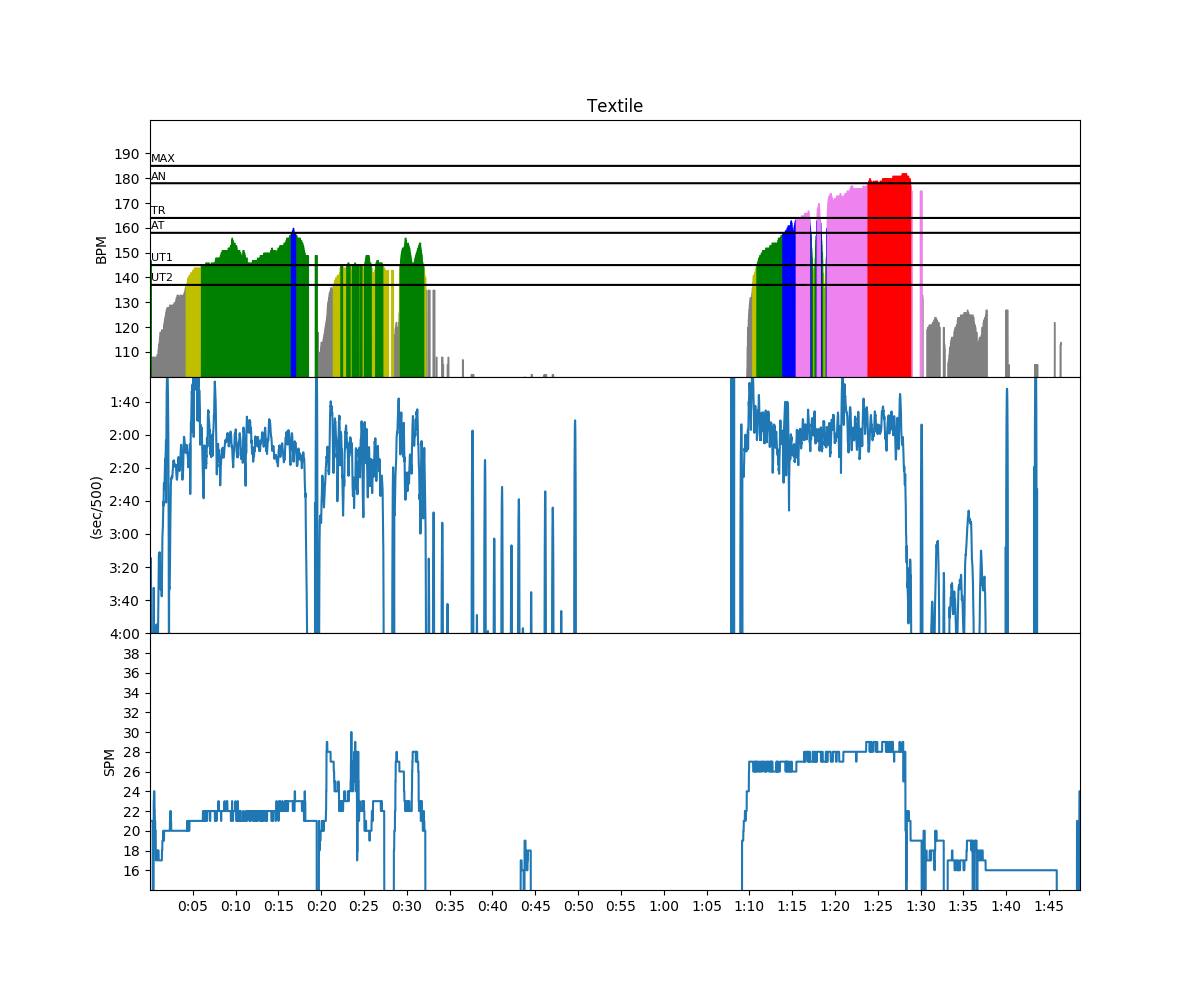 The race was downriver, with not a lot of flow.  It looks like the was a GPS glitch on the way up to the start, but the downstream path looks about right.
The race itself was a blast.  Our event started after a ladies 4+ group and so we caught up to them and even though were were not so fast, we got to row in traffic and did some passing.
On raw time, we were second to last.  After applying the handicap, though, we dropped to last.  We picked up one 10 second penalty because we missed a course buoy.  Without that, we would still have been 6th on raw time, but we would have also finished 6th on handicap as well.
Looking at the splits, I think we rowed about as fast as we should have.
       Workout Summary - media/20191006-1811480o.csv
--|Total|-Total----|--Avg--|-Avg-|Avg-|-Avg-|-Max-|-Avg
--|Dist-|-Time-----|-Pace--|-Pwr-|SPM-|-HR--|-HR--|-DPS
--|14317|01:48:37.0|03:47.6|000.0|15.6|127.6|182.0|08.5
W-|11047|00:44:42.0|02:01.4|000.0|24.5|153.2|182.0|10.2
R-|03275|00:31:48.0|04:51.3|000.0|14.0|120.4|182.0|04.4
Workout Details
#-|SDist|-Split-|-SPace-|-Pwr-|SPM-|AvgHR|MaxHR|DPS-
01|03850|15:37.0|02:01.7|000.0|21.6|147.5|160.0|11.4
02|01515|06:41.0|02:12.3|000.0|23.6|142.4|149.0|09.6
03|00813|03:30.0|02:09.2|000.0|24.5|145.4|156.0|09.5
04|04869|18:54.0|01:56.4|000.0|27.3|163.2|182.0|09.5
I think this lineup could probably be at least a minute faster over that course if we had been able to get a few good sessions in the boat together before the race.
Despite the results, I was pretty excited to be racing again, and racing a quad was a new experience for me, which I thoroughly enjoyed.  I hope I can do it again next season.
Monday – 7 Oct – Technique
Square blade, slow roll up and steady state. Nice easy session after the race.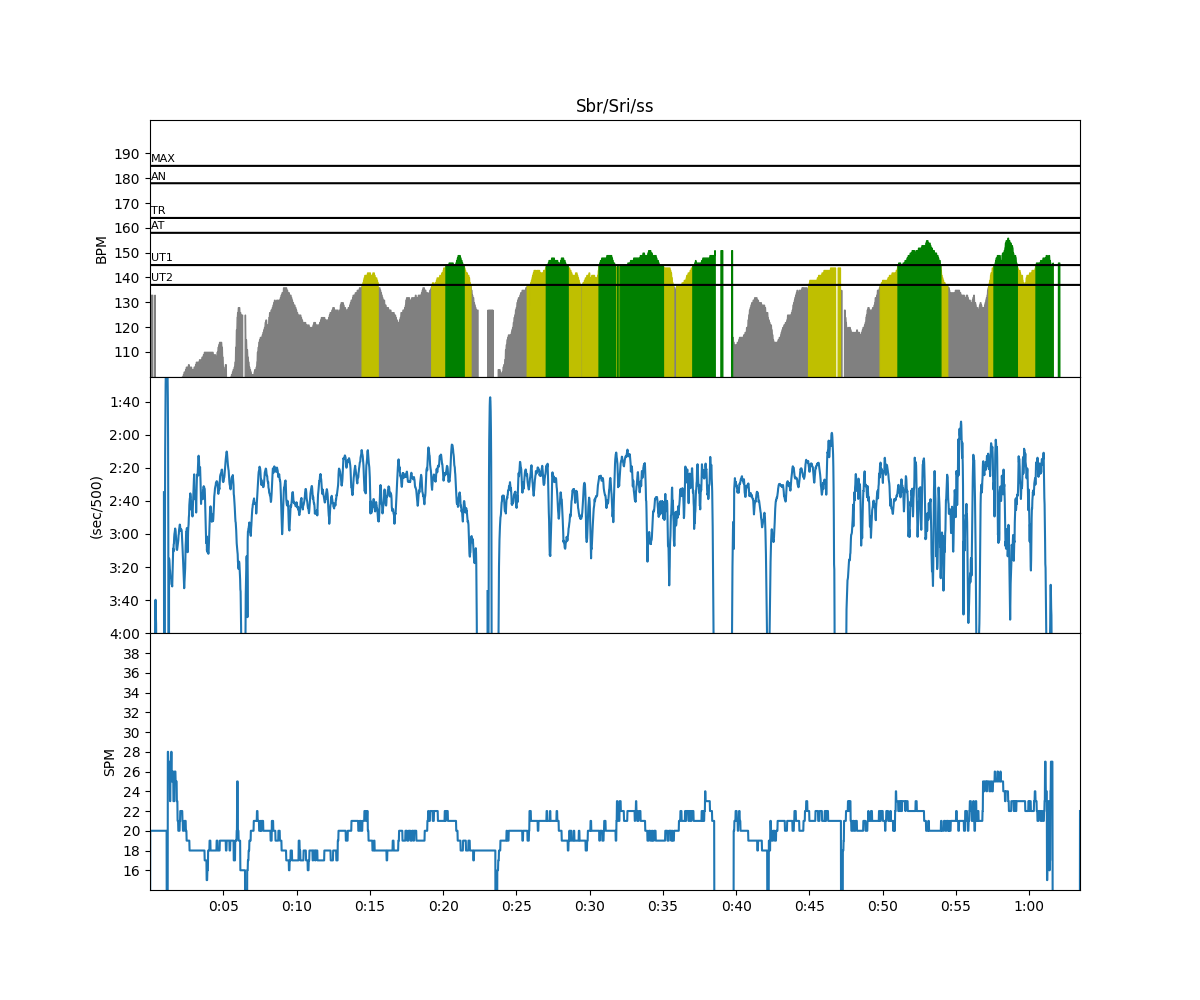 It was a bit windy, but on my sheltered little river, it wasn't a problem.
Tuesday- 8 Oct – No Training
I was up late with a work conference call, and I decided to sleep in.
Wednesday – 9 Oct – Quick Erg Session
I had brought my shell home with me on Tuesday night and I intended to go rowing out at Lake Quinsigamond in the morning.  But when I arrived at the lake, it was very dark, and very windy.  I got back in my car and drove to work.  I did a quick erg session in my socks, since I didn't have sneakers with me.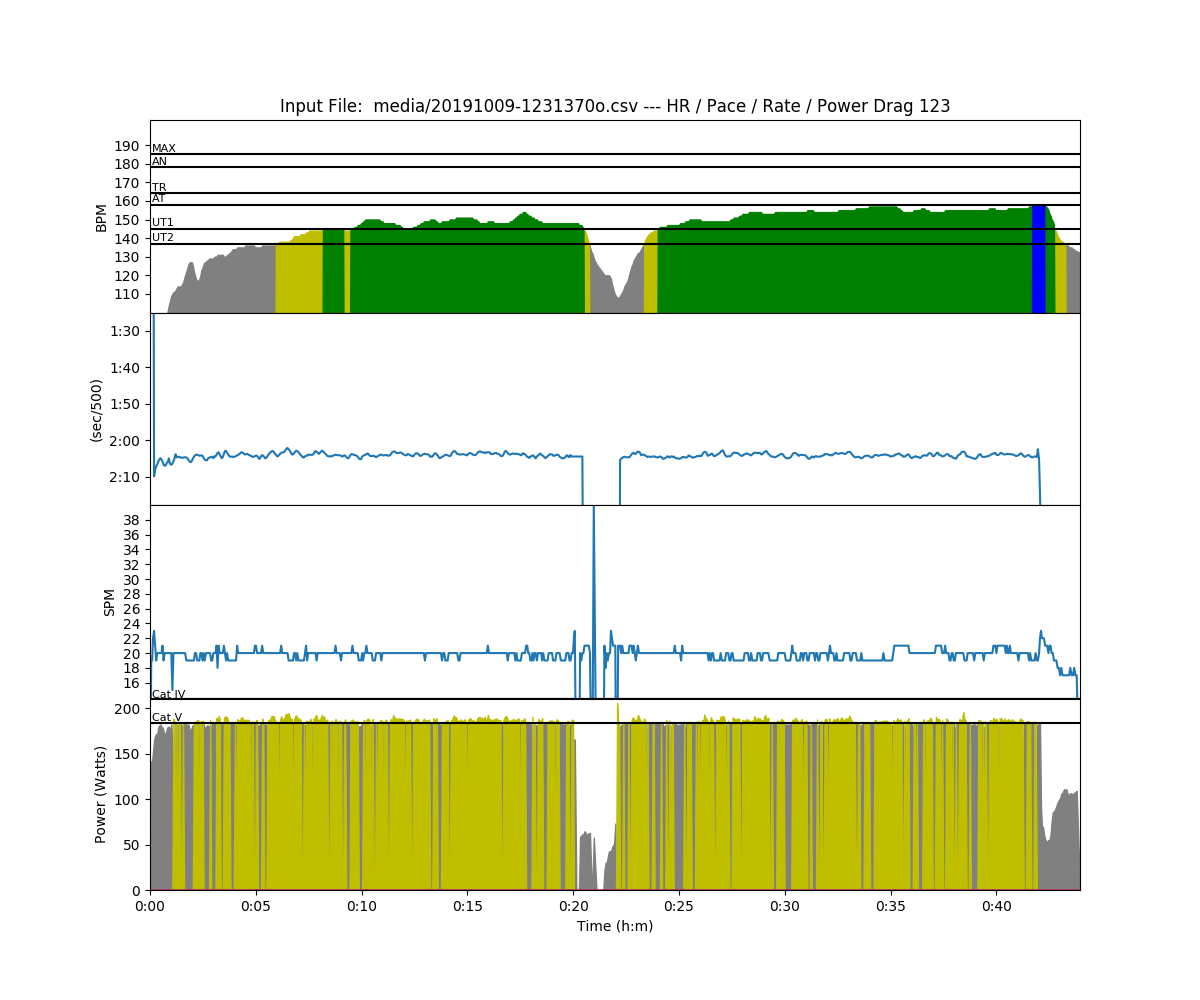 Workout Summary - media/20191009-1231370o.csv
--|Total|-Total----|--Avg--|-Avg-|Avg-|-Avg-|-Max-|-Avg
--|Dist-|-Time-----|-Pace--|-Pwr-|SPM-|-HR--|-HR--|-DPS
--|10342|00:43:56.9|02:07.5|173.8|19.4|144.5|158.0|12.1
W-|09686|00:39:57.0|02:03.7|184.7|19.8|145.2|158.0|12.3
R-|00658|00:23:34.1|17:55.2|084.3|17.1|142.6|158.0|01.0
Workout Details
#-|SDist|-Split-|-SPace-|-Pwr-|SPM-|AvgHR|MaxHR|DPS-
00|04836|19:55.5|02:03.6|184.9|19.8|139.4|154.0|12.2
01|04850|20:01.5|02:03.9|184.5|19.7|151.0|158.0|12.3
Thursday – 10 October – 15 x 3'/1′ static
Again, it was cold and windy, but on Thursday we added in a driving rain,  More erging. Today a short interval session.
I wasn't feeling very ambitious, so I started at a nice easy pace and sped up each interval until they really strung.  I ran out of oomph with 2 intervals to go.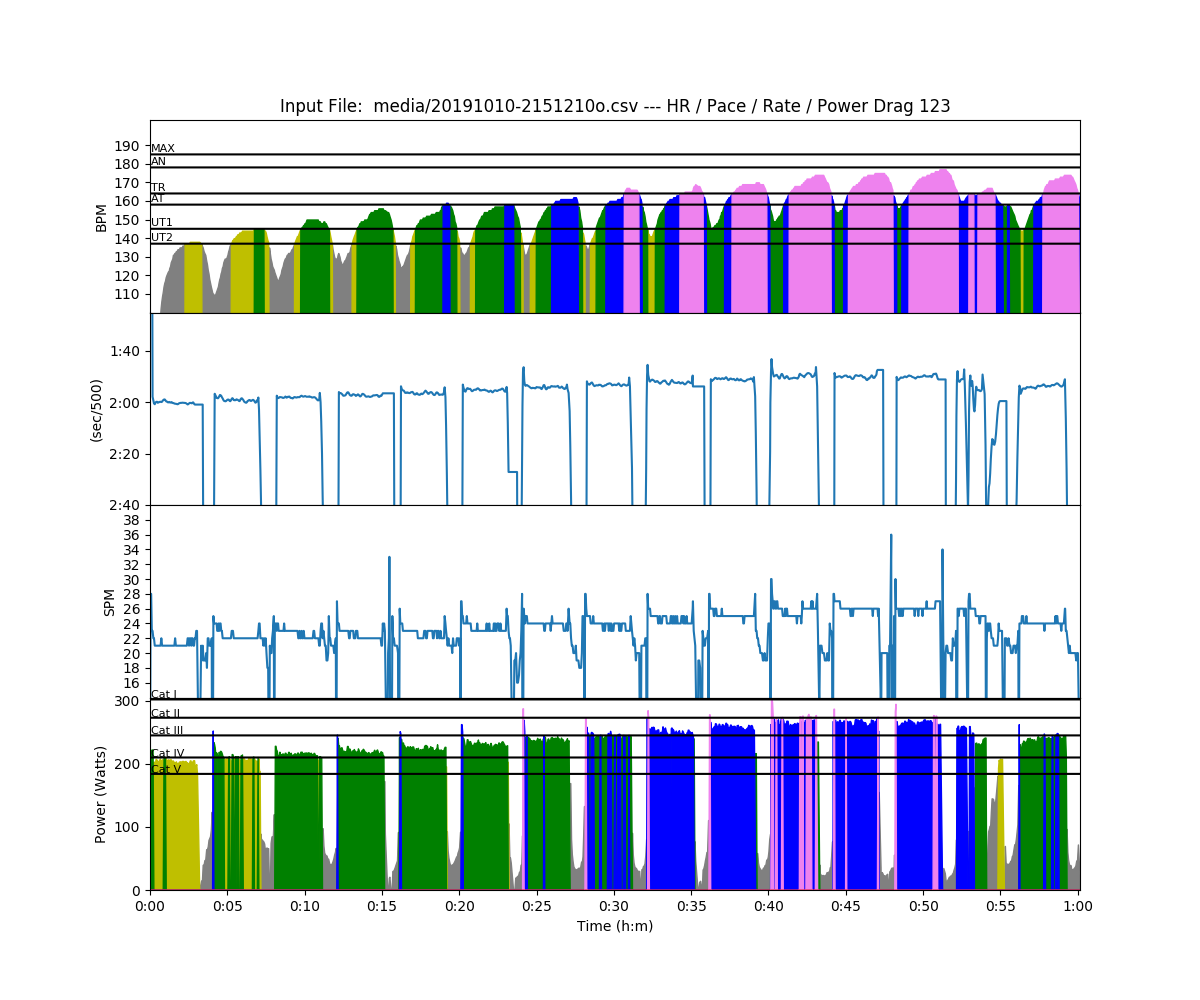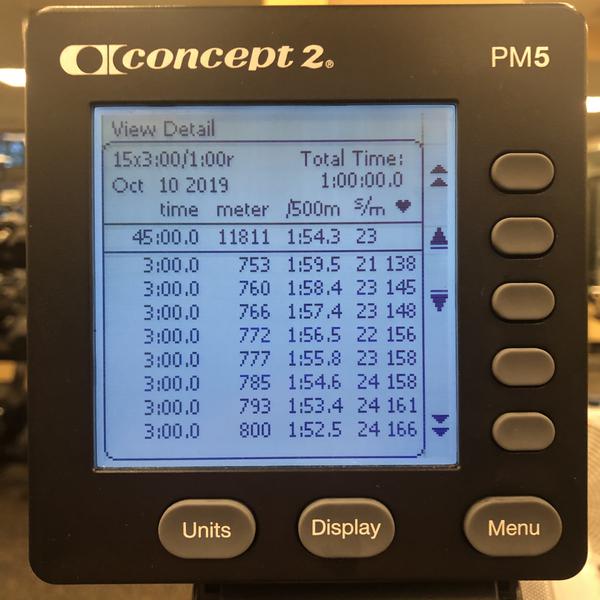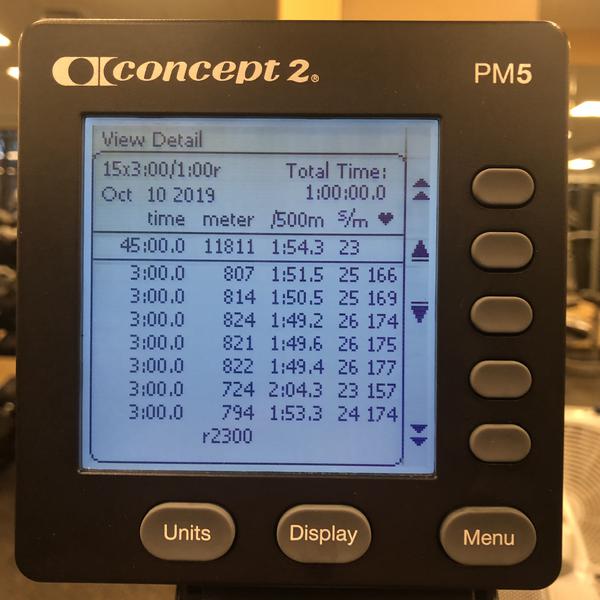 Good workout.
Friday – 11 October – 3 x 20'/2′ Static
Still stormy, so no OTW.  I intended to do an L4, but It got too hard.  I decided to back off and just row easy.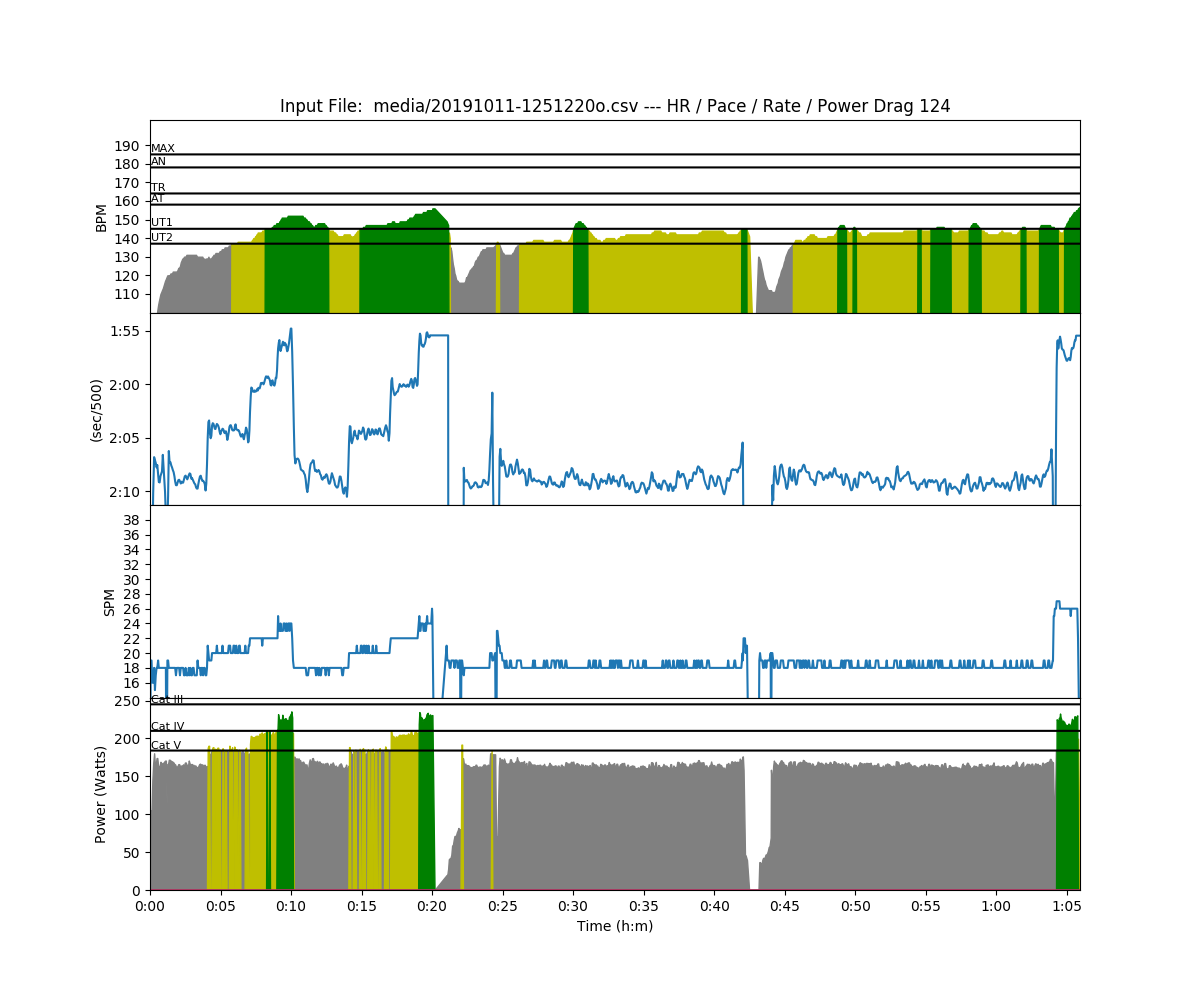 Saturday – 12 October – 10K on slides
Down on the cape.  Still too windy for rowing.  I really wanted to do a 10K without any breaks or bobbles.  I decided today would be the day.
First a 2k warmup.Looks like a lot of  missing data.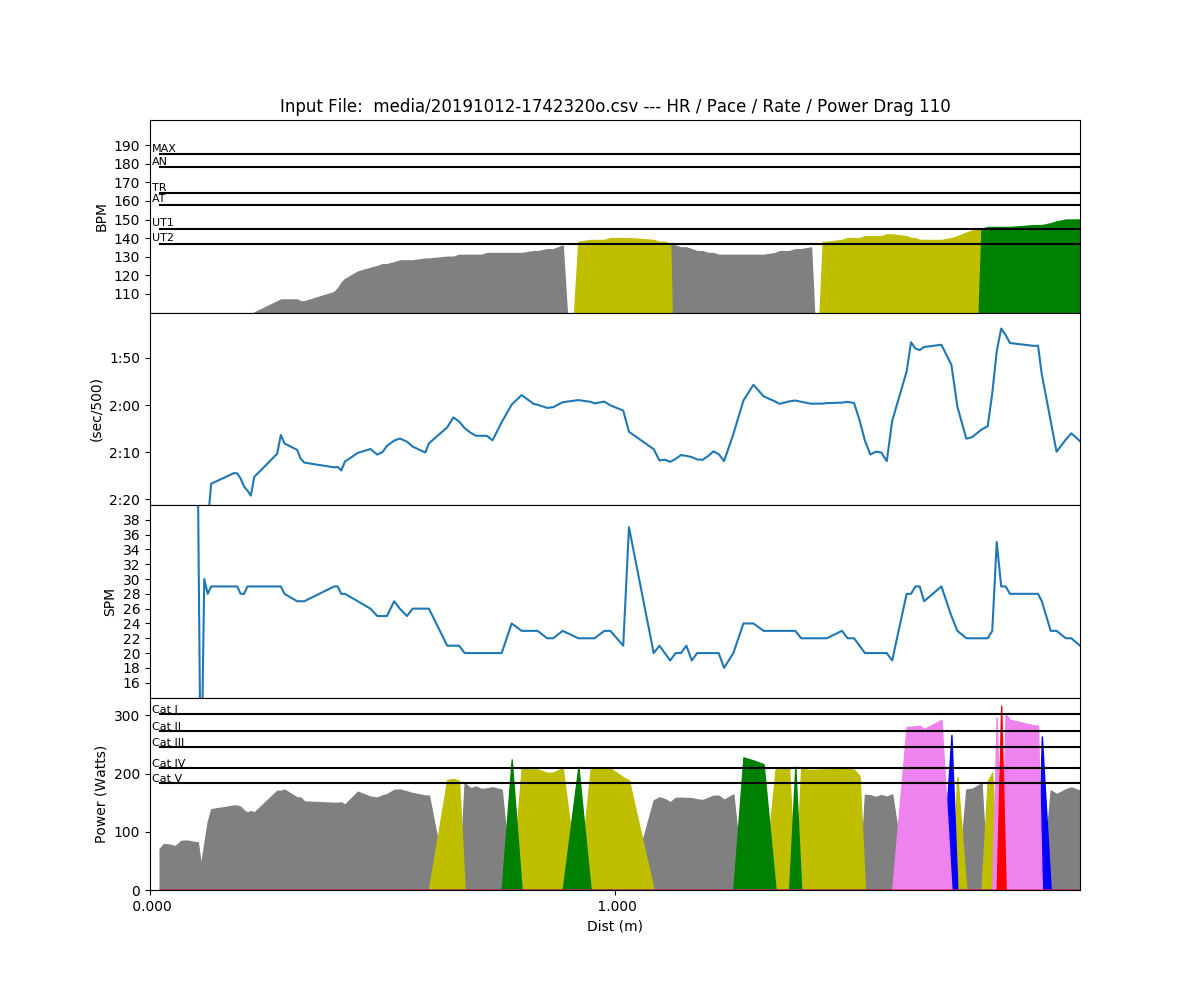 Then the main event.  Started nice and slow at 1:59 and stuck there through the whole thing.  I only sped up in the last 1K. It was a nice piece of rowing.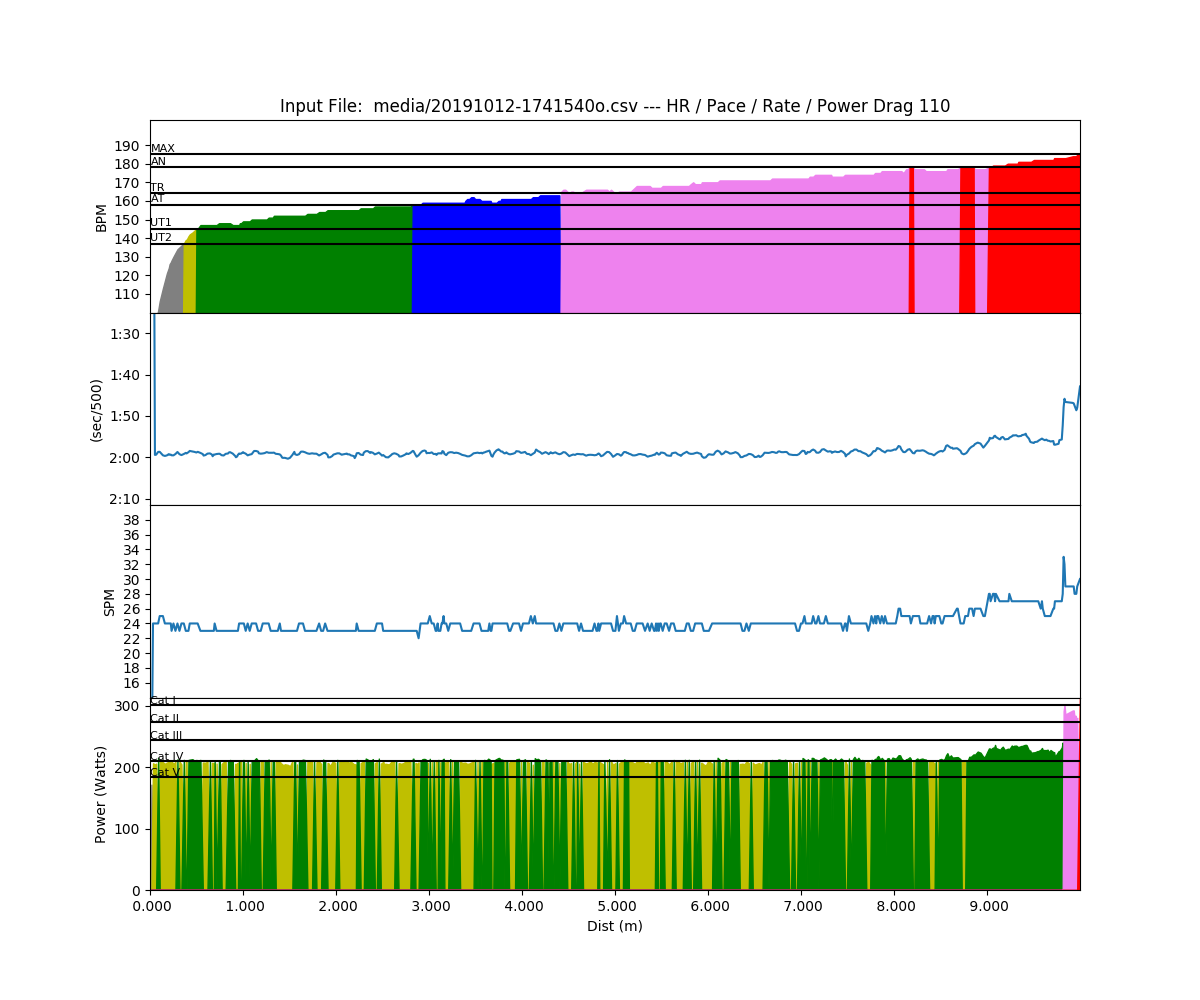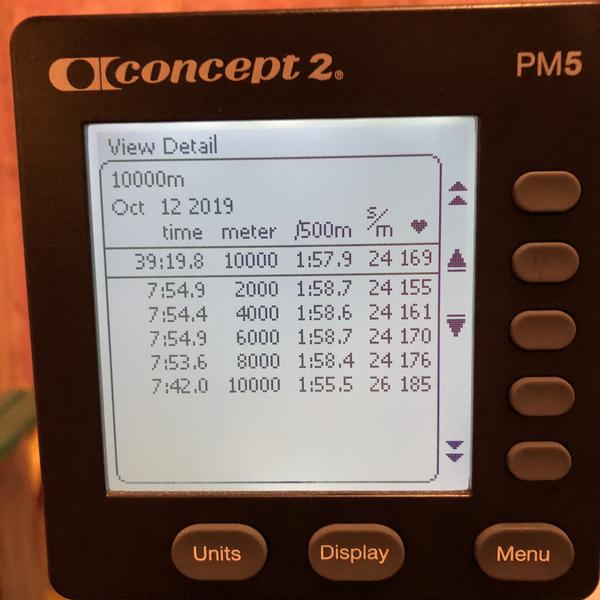 I love it when I can finish strongly.
Cool down.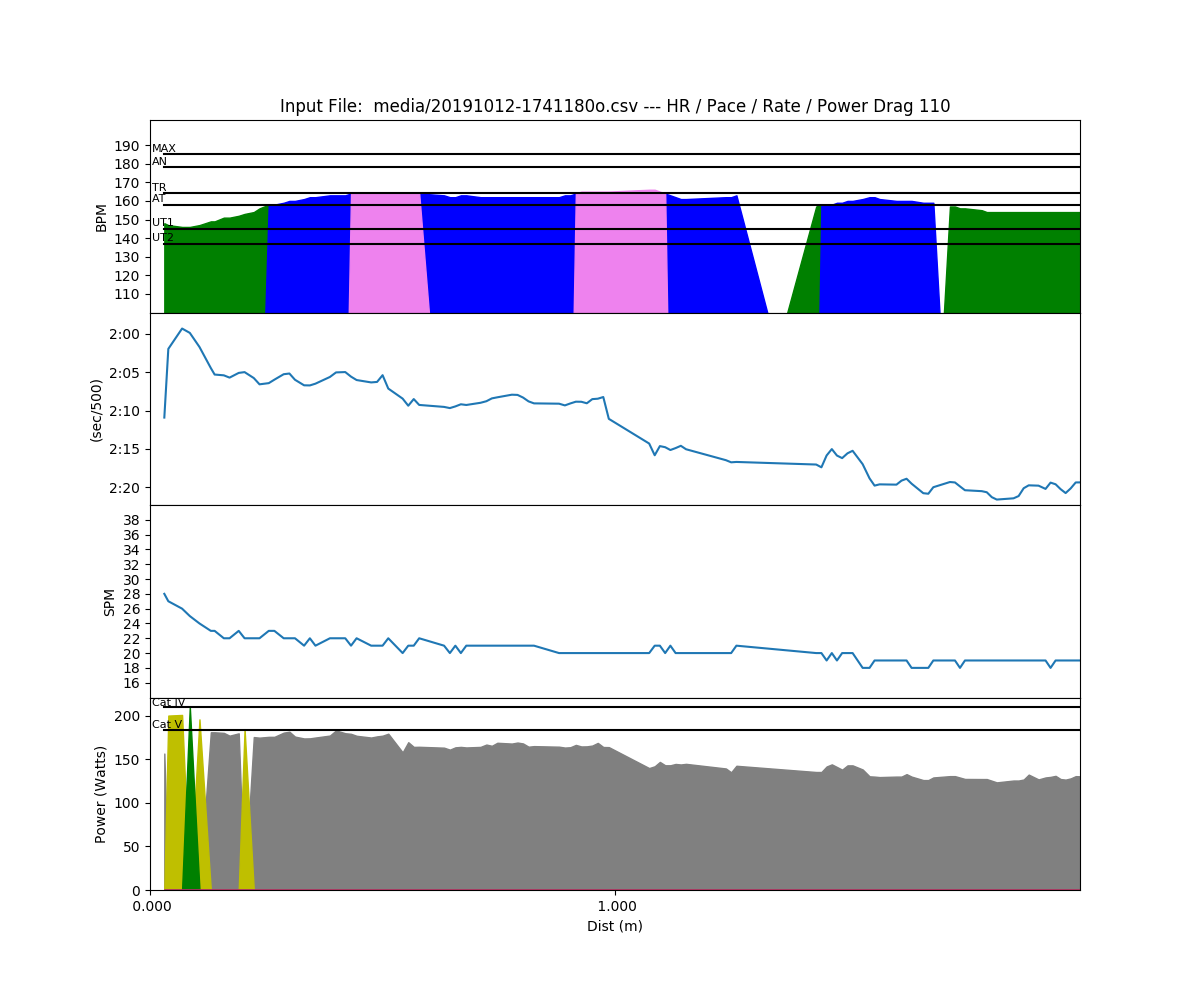 And that brings us up to date!