Well, I've lost a bit of momentum.  The past couple of weeks, I've been focused pretty intently on work.
Here's the damage
I've missed 3 training days in the past 8, and two of my workouts were less than stellar fitness center cross training sessions.
Sunday – 1/12/2020 – 4 x 30'/2′ Steady State
Glorious long steady state row on slides, listening to a good audio book.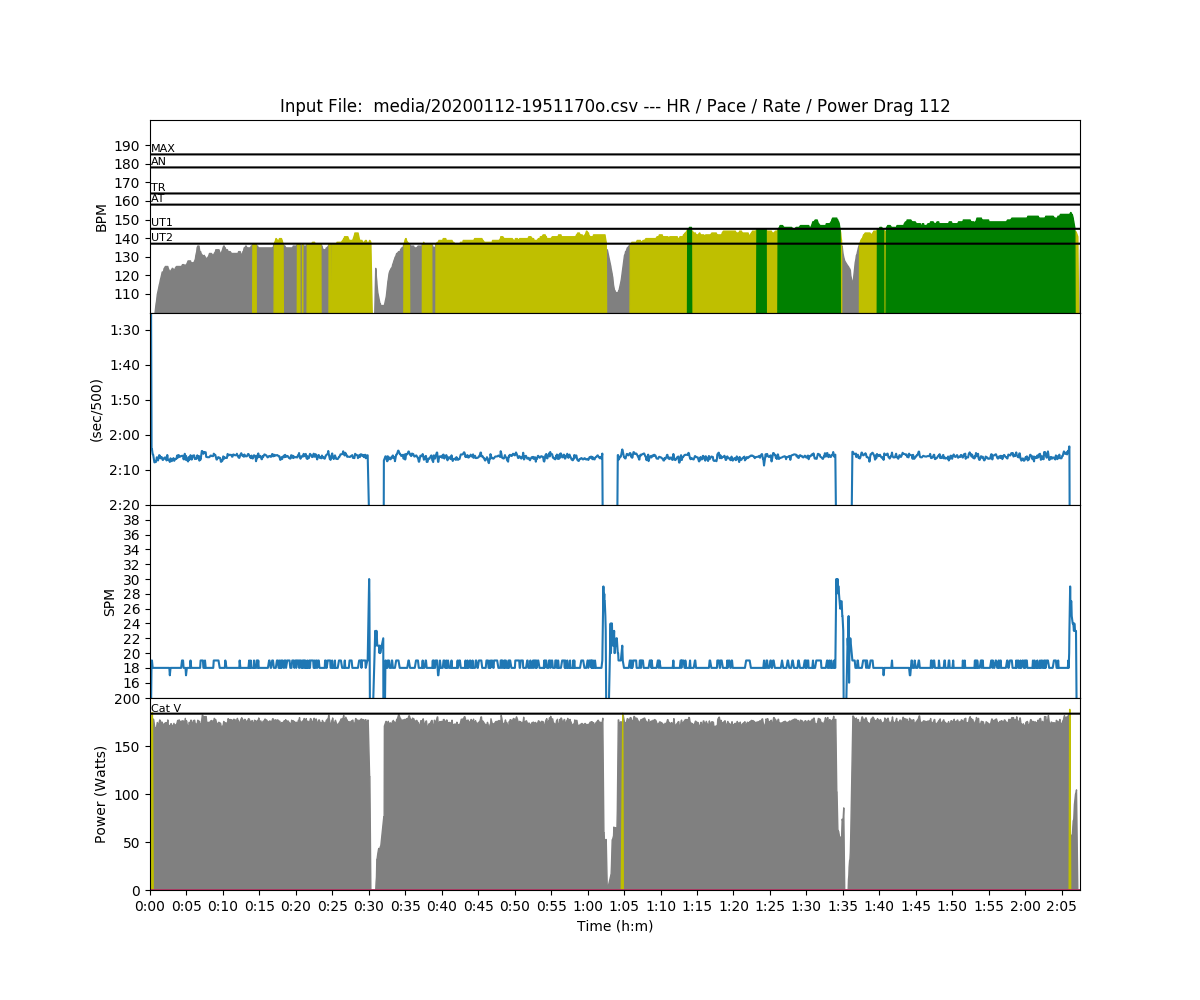 Workout Summary - media/20200112-1951170o.csv
--|Total|-Total----|--Avg--|-Avg-|Avg-|-Avg-|-Max-|-Avg
--|Dist-|-Time-----|-Pace--|-Pwr-|SPM-|-HR--|-HR--|-DPS
--|29536|02:07:59.9|02:10.0|167.4|18.4|139.6|154.0|12.6
W-|28579|01:59:50.8|02:05.8|176.0|18.3|140.3|153.0|13.0
R-|00960|00:08:00.0|04:10.0|041.2|19.5|129.9|153.0|09.1
Workout Details
#-|SDist|-Split-|-SPace-|-Pwr-|SPM-|AvgHR|MaxHR|DPS-
00|07126|29:50.8|02:05.7|176.2|18.3|132.4|143.0|13.0
01|07147|30:00.0|02:05.9|175.5|18.3|138.2|144.0|13.0
02|07149|30:00.0|02:05.9|175.8|18.3|142.6|151.0|13.0
03|07156|30:00.0|02:05.8|176.5|18.3|147.9|153.0|13.1

Monday – 1/13/2020 – 4×1000/5′ L1
At workout.  On a static erg.  Feeling pretty good.  Target pace 1:45.
Started with a quick warm up.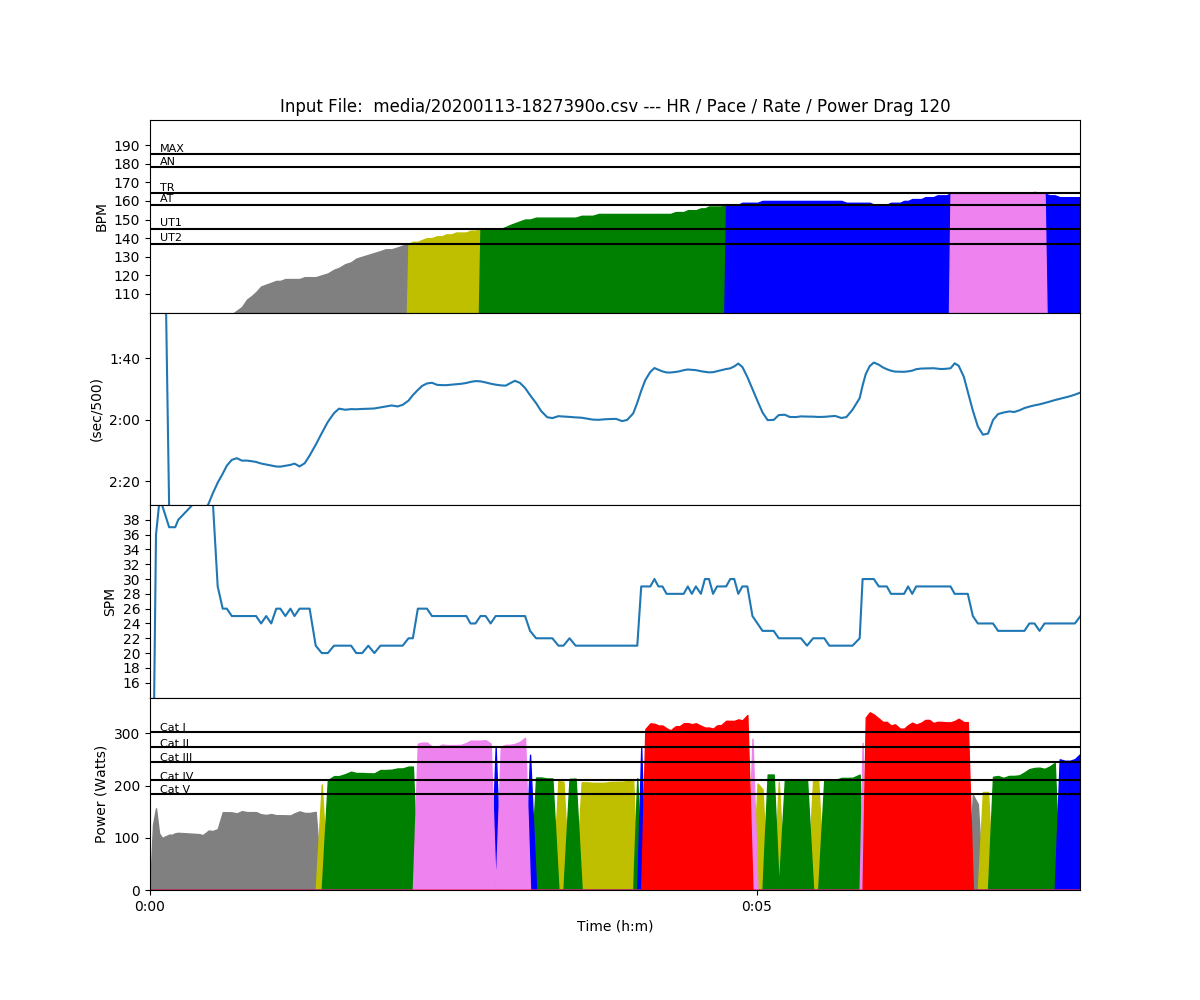 That was a bit over exuberant, so I paddled a 1000m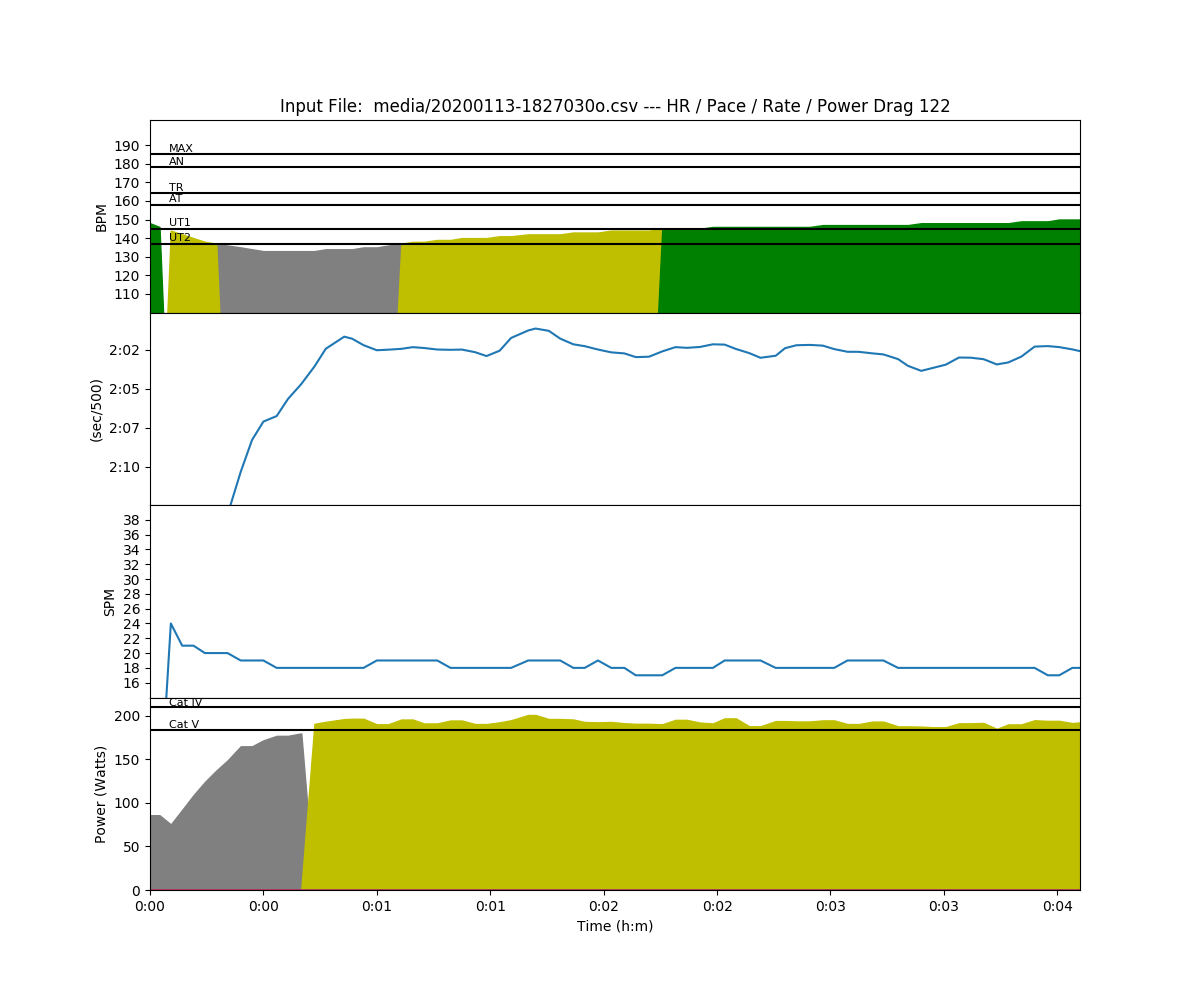 No avoiding it any longer.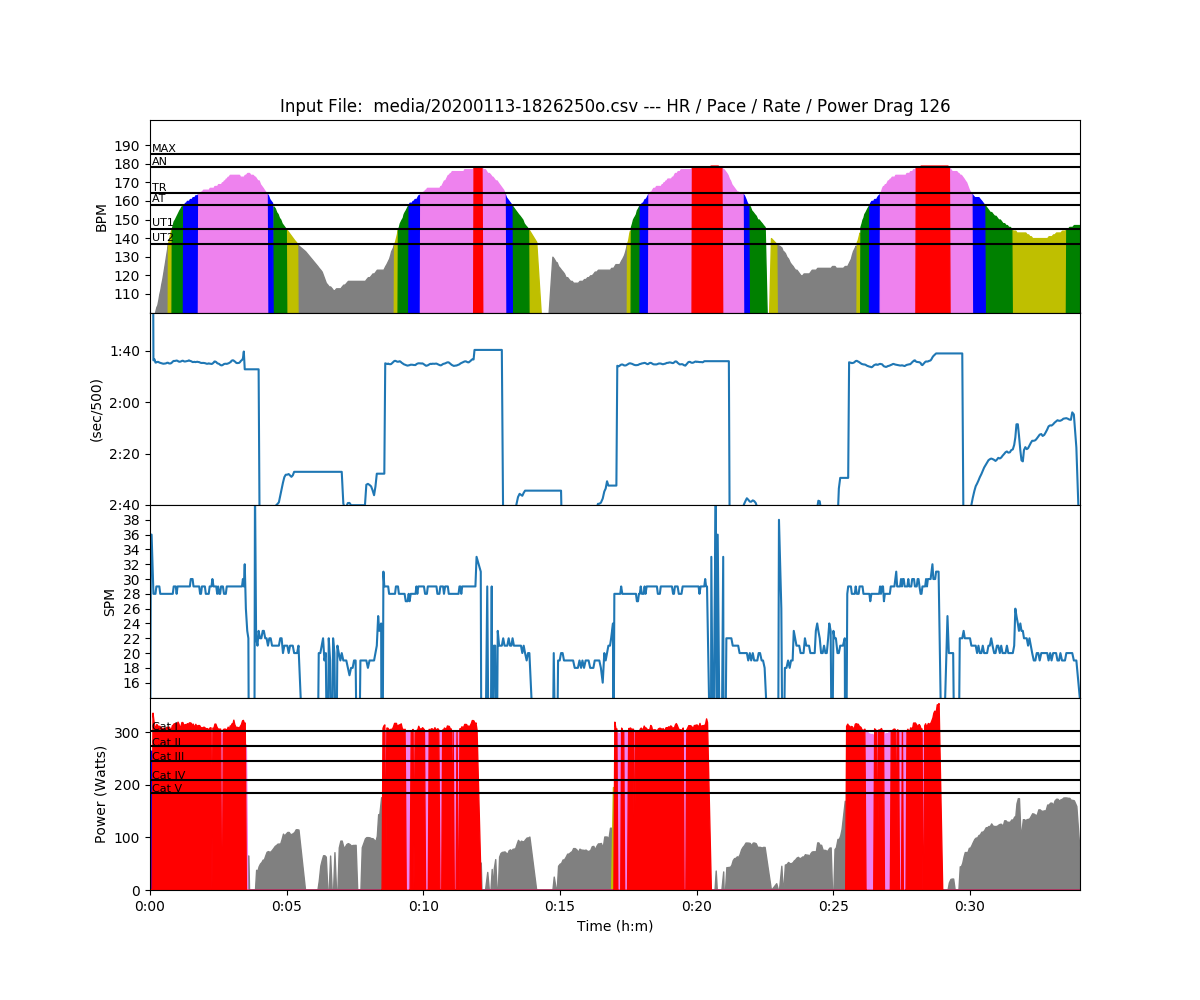 Wow!  That was great.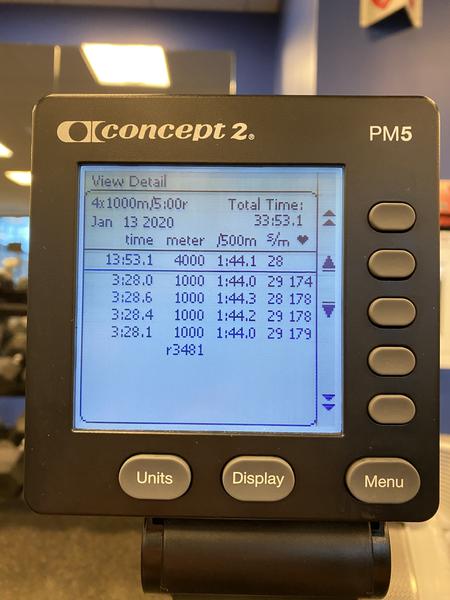 I am getting more comfortable at stroke rates around 30.
Tuesday – 1/14/2020 – 2×30'/2′ L4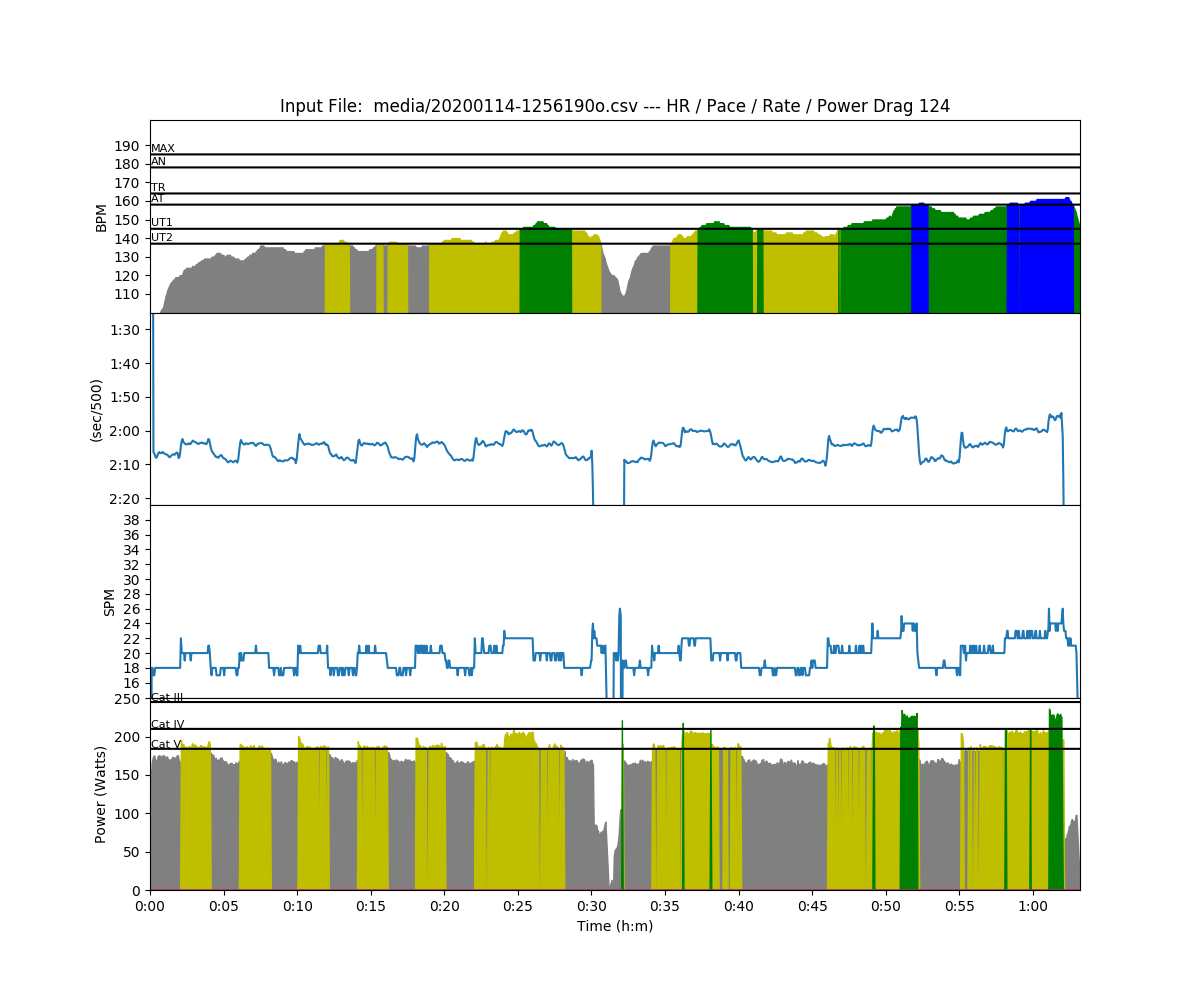 Wednesday – 1/15/2020 – 5×1500/5′ L2
Pressed for time so I did the first 1500 as a warmup.  My target was 1:48.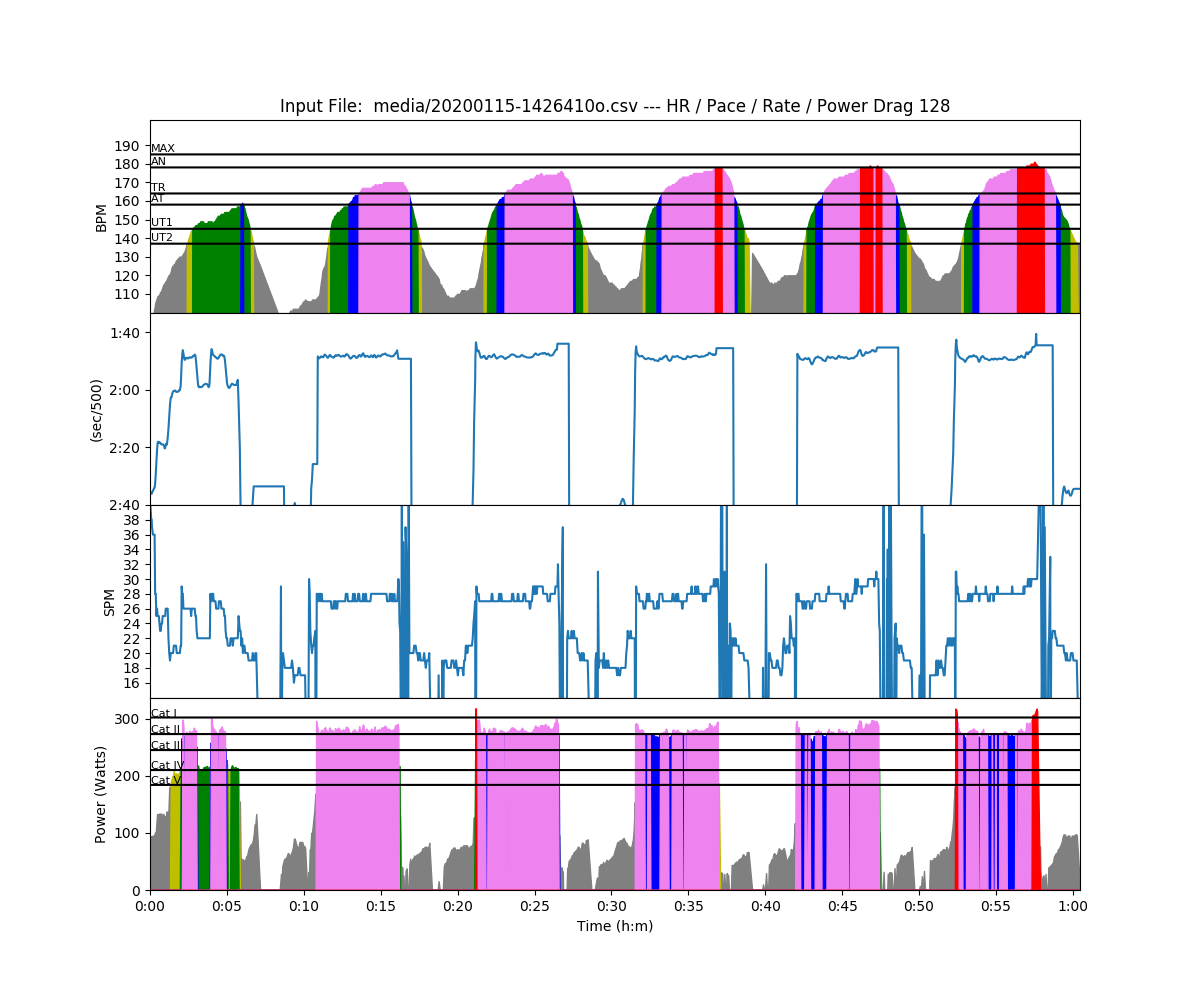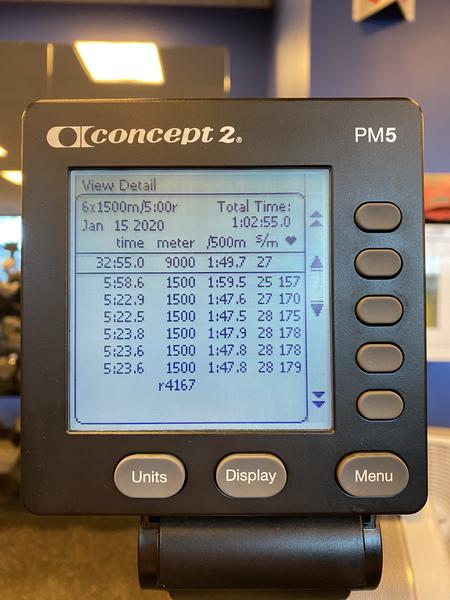 Leave off the warmup and that's a 1:47.7 pace vs my 1:48 target.  Tough work, but a big success.
Thursday – 1/16/2020 – No Training
Big day for quarterly business reviews.  They started at 8am and I felt like should spend time prepping for the meetings.
Friday – 1/17/2020 – 15 x 3'/1′ L3
This is a very intense workout.  Pretty grumpy that Painsled hung up on me.  My target was 800m per interval, which I think is about a 1:52.5 pace.
Here's the hear rate data from my apple watch (hooray for redundancy!)
And here are the old school monitor shots.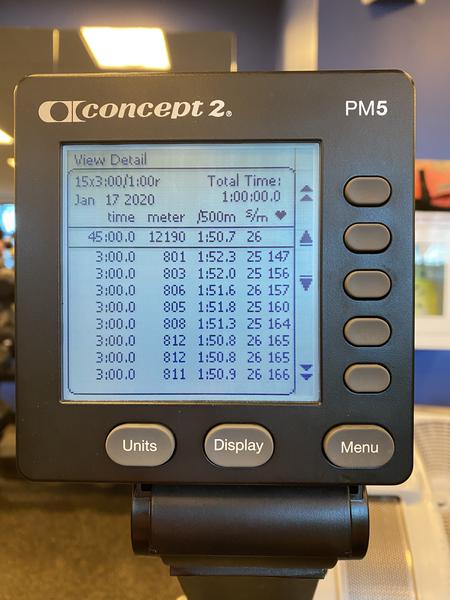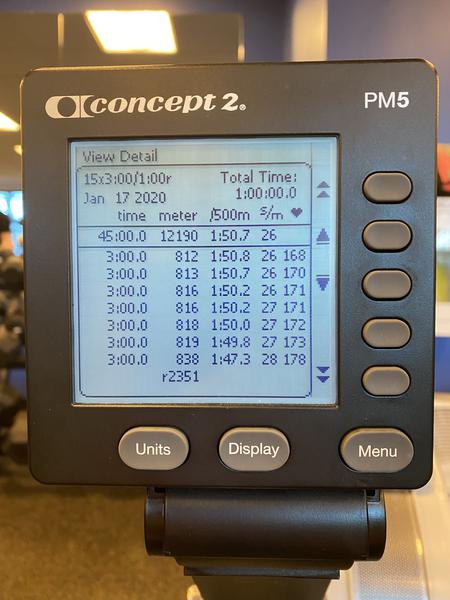 Actual: 1:50.7, and nearly a complete negative split.  I certainly layed out a really strong last rep.
Saturday – 1/18/2020 – Ergsana
I went out to Worcester to row with my friends.  There were two parts to the workout.  First was an erg session, then about an hour of yoga.  I have never done yoga before in my life and this was the seventh of eight sessions.  I was definitely the slow learner of the session.
But the erg session was fun.  I have never done any of the games that are built into the concept2 PM5.  It was very fun doing them as a group because for each game you could compete both on points, and on other things like distance covered.
First up was the fish game.  As far as I could tell, this game rewarded what I will charitably call unconventional technique.  You needed to make constant adjustments to stroke rate and stroke power to eat little fishes and avoid big fishes.  But, it definitely rewarded pushing yourself because the harder you go, the more of the screen you can cover to eat them fishies.
Each fish game is 4 minutes long and I found myself finishing each at about a 1:50 pace.  Since there was a lot of speeding up and slowing down, this was more challenging that you might imagine.  My scores ranged from 1170 to 1440.  I pretty much stunk at the game play, but after 4 games, I was pretty bushed.
After that, we tried the darts game.  This game was my jam.  It rewarded consistency, and I have done an awful lot of steady state rowing.  With the darts game, a "dart" comes on the screen at the left and at some point begins to drop down.  You must judge the trajectory of the dart and decide when to pull and how hard.  The drive sends the dart climbing and the rate of climb is rated to how hard you pull.  If you get it right, the dart lands in the center of the dartboard and you get 50 points.  A game is 300 darts, so a maximum of 15000 points.
You get 5 strokes to set a rhythm and I guess I was a bit amped up because I set out at a stroke rate of 24.  But I was also in a groove.  I was nailing the bullseye on most of my strokes.  But I couldn't ease up.  If I did, then the darts started to go low.  the game was incredibly reinforcing.  I kept digging deeper and deeper, and finished with 1:52.2 average over 3225 meters.  (13785 points in the game)  I also finished with a heart rate of 182.  Doing a 12 minute piece after the 4x4min was a pretty big ask.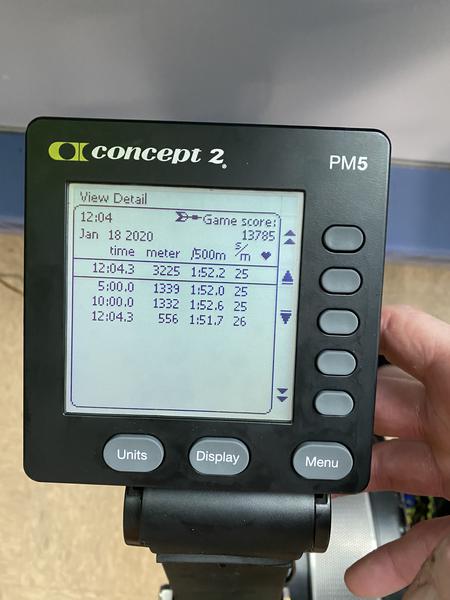 Sunday – 1/19/2020 – No Training
I flew out to California in the afternoon and arrived quite late.  I discovered there was a Furry Convention at my hotel.
Well, that was not what I expected!
Monday – 1/20/2020 – 2 x 30′ in the fitness center
30 minutes on the treadmill and 30 minutes on a recumbent stationary bike.
A cool thing is I discovered that the apple watch would link up magically to the exercise gear.  There is a little note on the screen of the treadmill or bike that says "Connects to Apple Watch", and you just put the watch close to the screen and a little bowtie symbol shows up.
After that, what ever the machine is recording shows up in the watch.
30 minutes at max incline on the treadmill at 3mph.  Then rolling hills on the stationary bike.
I had meetings all day, and then a business dinner in the evening.  Back at the hotel at a reasonable hour and right to bed.
Tuesday – 1/21/2020 – 9km run
I had a very important meeting in the morning and then a bunch of other meetings until mid afternoon.  We headed back to our hotel, now entirely devoid of furries and I decided to go for a run.
I decided to follow Guadalupe Park, and discovered there are a LOT of homeless people in San Jose.  There is so much wealth in silicon valley, but it has squeezed people on the margins out of their homes and into tents.  Profoundly depressing.
It was also a lot of running for someone who doesn't run.  I was sore for days afterward.
After a shower, I headed to meet up with my work friends.  We watched some basketball (and I drank a couple of beers), then we met some other work folks for an excellent greek dinner.
Another good night's sleep.
Wednesday – 1/22/2020 – 2×30′ fitness center
Feeling quite sore and not quite motivated.
30 minutes on the elliptical and 30 minutes on the bike.  Both magically connected to the apple watch!
Short intervals on the elliptical, Rolling hills on the bike
Pretty tame.
Meetings during the day and a business dinner that night with the unit of our company in San Jose.  They had a fantastic year, beating all targets and launching an important new product.  This was the dinner to congratulate them.
Thursday – 1/23/2020 – No Training
Up at 5am to drive to the airport.  Arrived in Boston around 5pm.
Friday – 1/24/2020 – 3×20'/2′ L4
At work in the fitness center.  HR a little high.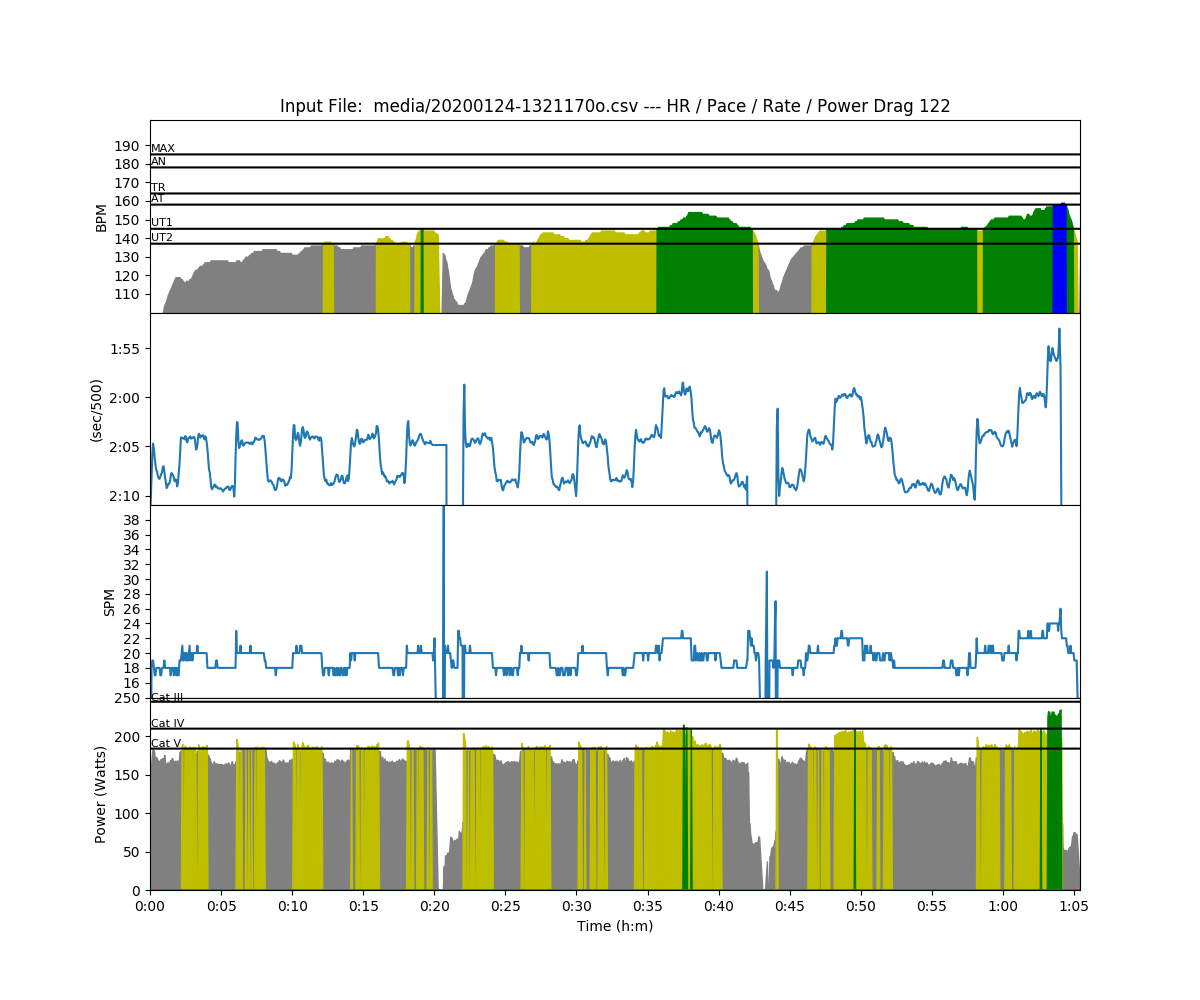 Saturday – 1/25/2020 – More Darts games and Boatcoach!
After Painsled betrayed me for my 15×3 workout, I decided that I wanted to check out boatcoach.  For rowing apps , there are three serious choices.  Ergdata, which is cheap and reliable, but it does a terrible job handling interval based workouts.  It doesn't record the rest times reliably and that messes up analysis in rowsandall.  Painsled is proving to be more and more annoying because of dropped strokes and workout hangups.  And then there is boatcoach.  Every one that uses boatcoach raves about it.  The only problem is that it runs only on Android, and until today, I was an iOS only kinda guy.  I broke down and bought a small Android Tablet.  A Samsung Tab (Model A).
I went and downloaded boatcoach.  That was easy.  Then I tried to get it hooked up to the erg.  This required a bit of fumbling around, but eventually I mastered that.  Then I took my inaugural row.  A "Just Row" of 501 meters.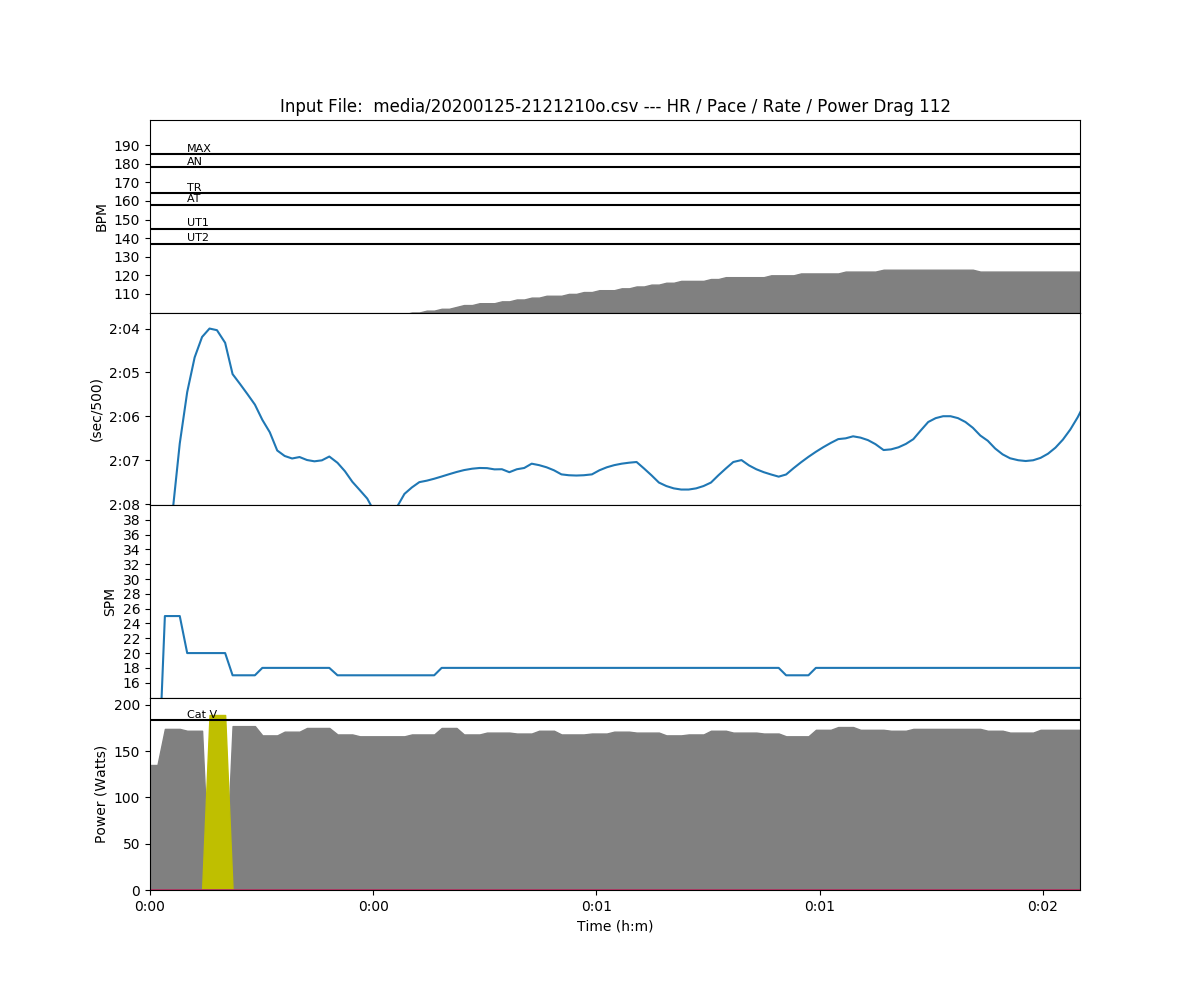 That out of the way, I was thinking that the darts game would be an excellent way to pass the time for steady state workouts.  300 strokes at 20spm would be a 15 minute piece and the game definitely rewarded good steady rowing.  So, I set it up and off I went.  My goal was 14000 points, and to keep my HR below 150.  I had time for 4 games.
       Workout Summary - media/20200125-2122030o.csv
--|Total|-Total----|--Avg--|-Avg-|Avg-|-Avg-|-Max-|-Avg
--|Dist-|-Time-----|-Pace--|-Pwr-|SPM-|-HR--|-HR--|-DPS
--|15131|01:04:40.2|02:08.2|182.3|19.6|139.4|152.0|12.0
W-|15131|01:04:40.4|02:08.2|182.3|19.6|139.4|152.0|11.9
R-|00000|00:00:00.0|00:00.0|000.0|00.0|000.0|152.0|00.0
Workout Details
#-|SDist|-Split-|-SPace-|-Pwr-|SPM-|AvgHR|MaxHR|DPS-
00|03739|15:01.2|02:00.5|201.0|20.3|137.2|152.0|12.2
01|00211|01:37.5|03:51.0|091.7|11.8|131.8|151.0|11.0 - abort!
02|03724|15:25.7|02:04.3|187.5|19.8|143.2|149.0|12.2
03|00281|02:36.3|04:38.1|076.9|09.6|110.1|131.0|11.2 - abort!
04|03634|15:05.6|02:04.6|184.8|20.3|141.7|147.0|11.9
05|03542|14:54.1|02:06.2|183.8|20.4|141.1|149.0|11.6
I got worse at the game each time!  First time, I score 14485, 515 away from a perfect score.  The second try was close at 14335, but then I seemed to lose the hang of it at the start of the third and it took almost 10 strokes to get into a consistent groove.  The same thing happened in the last game.
It was a fun and absolutely "in the zone" steady state workout.
Oh, and boatcoach worked perfectly!  One cool feature of boatcoach and rowsandall.  You can look at your force curves!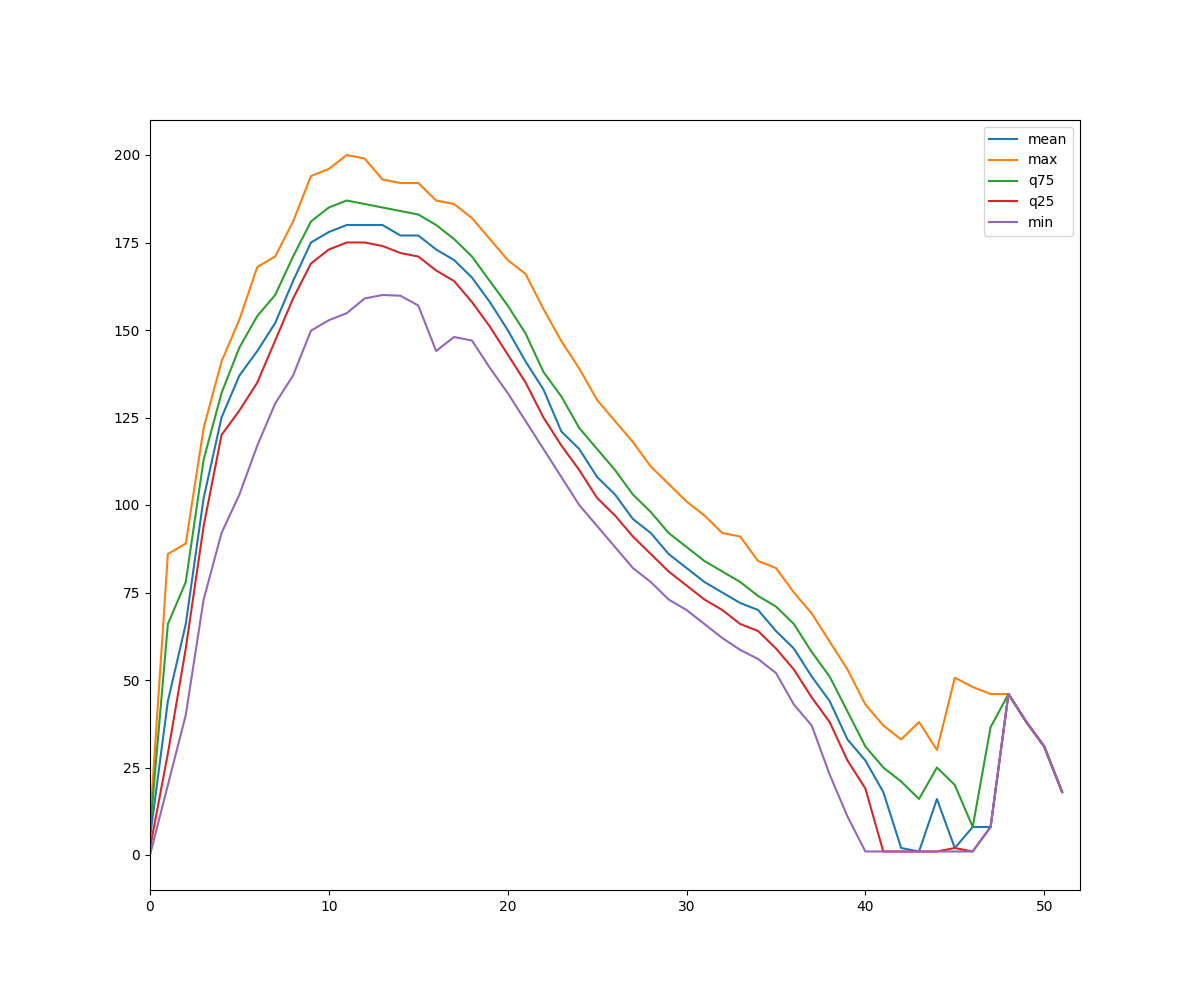 For a workout like this, it could be useful to look at how tight you can get the q25 to q75 band.
Tomorrow – I think I will do a long, slow steady state session.