Monday – Oct 21 – 5 x 1000 / 5′ 
My original thought was to do a 4 x 2000, but I didn't think I had the oomph for that workout.  I decided to go easy on myself and swapped in a 5 x 1000.  It was still a reasonably tough session.  I ran out of lake for the 4th interval.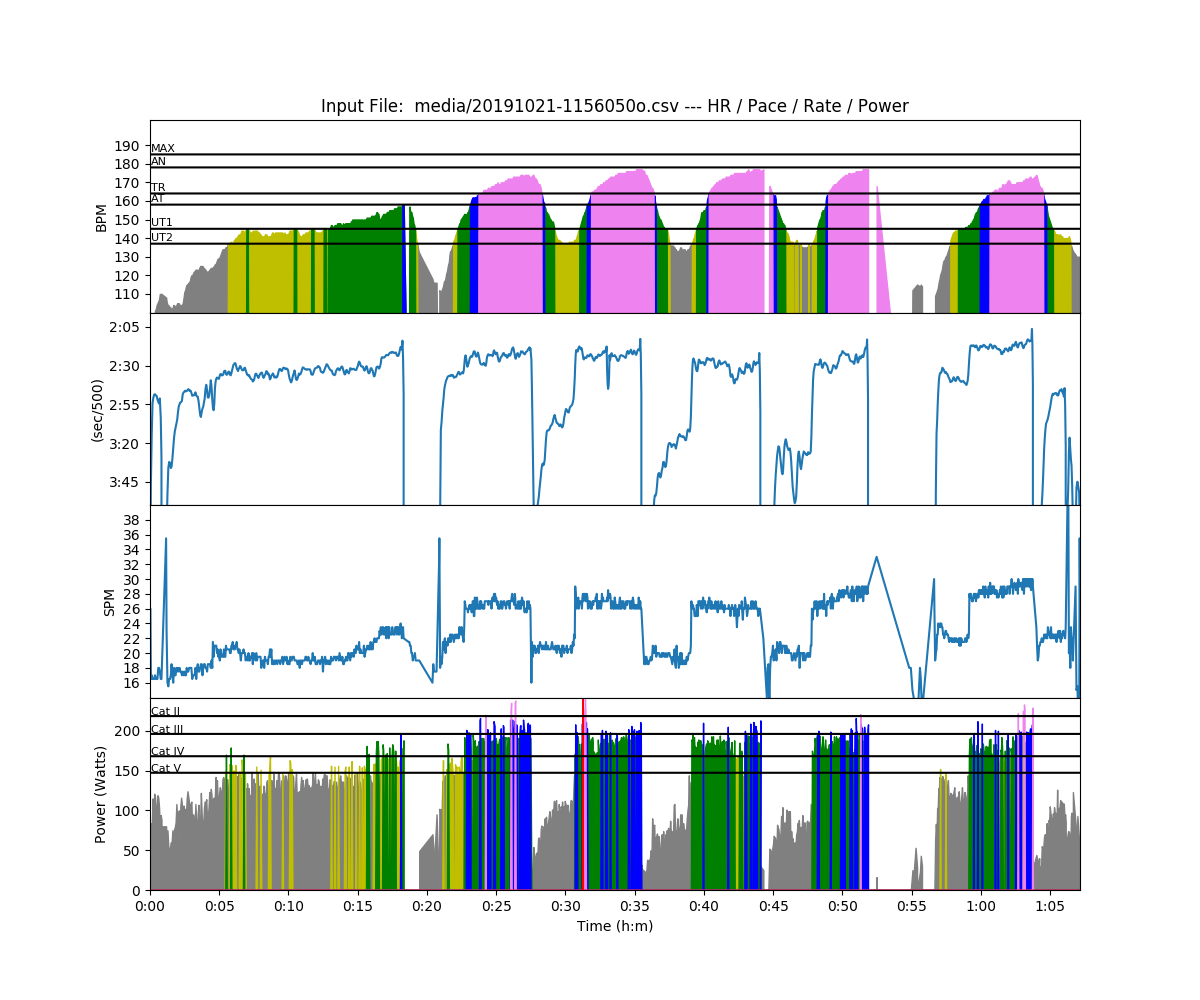 Looking at the paces, all I can hope is that there was a nasty headwind for the first 4 reps!
       Workout Summary - media/20191021-1156050o.csv
--|Total|-Total----|--Avg--|-Avg-|Avg-|-Avg-|-Max-|-Avg
--|Dist-|-Time-----|-Pace--|-Pwr-|SPM-|-HR--|-HR--|-DPS
--|11506|01:07:10.1|02:55.1|125.2|22.7|148.1|177.0|07.5
W-|08049|00:39:35.4|02:27.6|164.7|24.3|157.3|177.0|08.5
R-|03462|00:27:35.4|03:59.0|068.6|20.5|135.0|177.0|06.4
Workout Details
#-|SDist|-Split-|-SPace-|-Pwr-|SPM-|AvgHR|MaxHR|DPS-
01|02669|13:32.1|02:32.1|139.3|20.0|145.3|158.0|09.9
02|01272|06:11.8|02:26.1|179.9|25.5|161.7|174.0|08.1 - 1
03|01011|04:49.1|02:22.9|187.5|26.8|167.2|177.0|07.8 - 2
04|00972|04:51.8|02:30.1|177.1|26.1|167.7|177.0|07.7 - 3
05|00805|03:56.0|02:26.6|184.6|27.5|167.1|177.0|07.5 - 4
06|00292|01:31.3|02:36.6|124.5|22.3|135.4|145.0|08.6 
07|01027|04:43.3|02:17.9|177.8|28.4|164.3|173.0|07.7 - 5
I like rowing out in Worcester a lot.  But it adds about 40 minutes of driving to my morning.
Tuesday – 22 Oct – San Diego
Early flight to San Diego.  I had a spare hour after I checked into my hotel, so I went to the fitness center.  20 minutes on the treadmill and 20 minutes on the recumbent bike.
Wednesday – 23 October – No Training
I had early conference calls and then a 9:45 am flight back to Boston.  No chance to get to the gym.
Thursday – 24 October – The turn
The race that I did on Saturday features a big sweeping 180 degree turn around two islands.  I know the lake reasonably well, but I have never really taken this turn in a single.  I wanted to fix that on Thursday morning.
It was a nice morning to row.  Of course, it was totally dark when I launched, but there is enough light along the shores to pick out your course, and there is pretty good discipline among the rowers to use a bow light and stern light.  I was counting on this on Thursday morning because the turn cuts across the preferred uplake travel lane.  I really didn't want to run into anyone.
My plan was to basically to do 2 x 1500, but do them around the islands to practice the turn.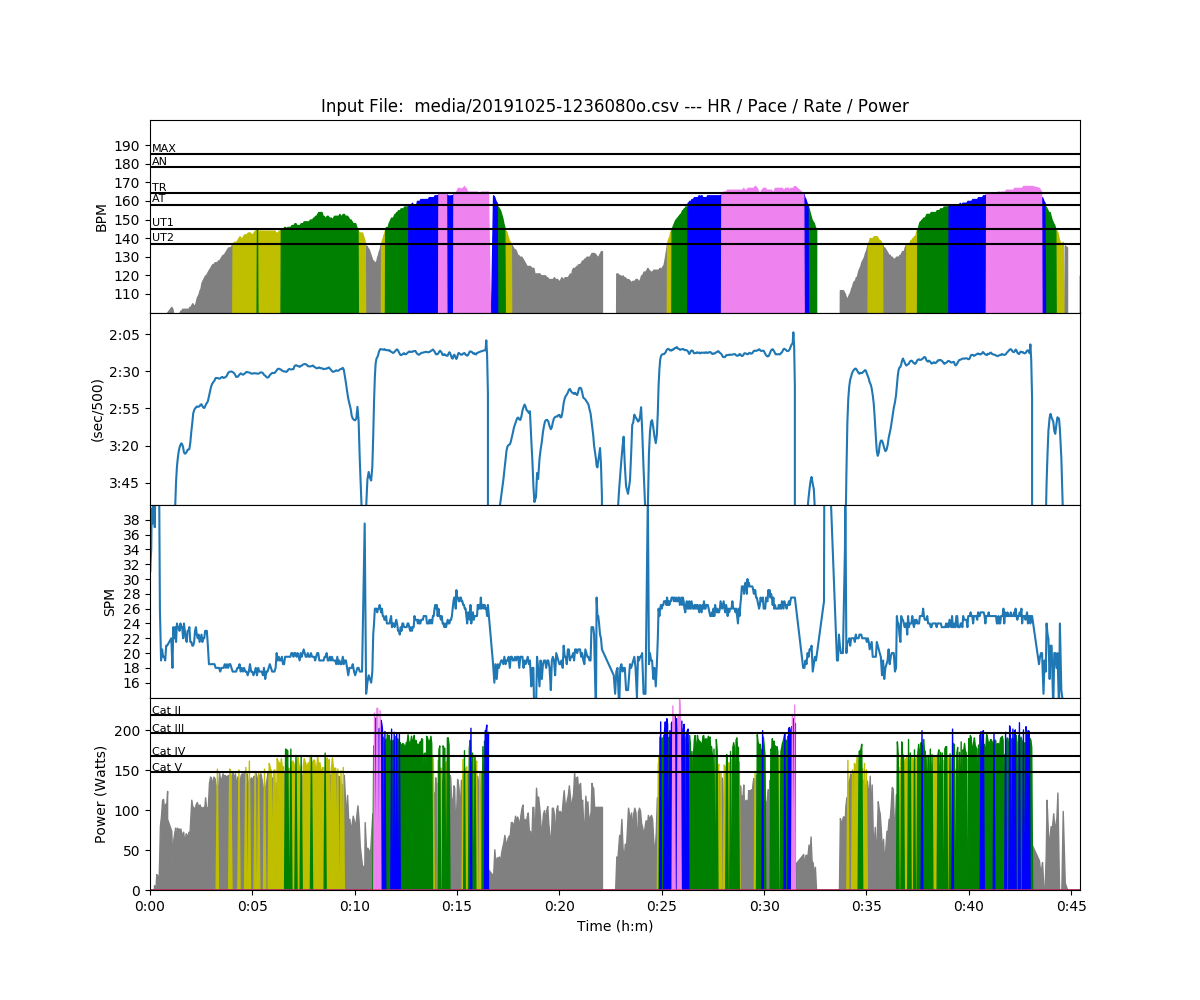 Workout Summary - media/20191025-1236080o.csv
--|Total|-Total----|--Avg--|-Avg-|Avg-|-Avg-|-Max-|-Avg
--|Dist-|-Time-----|-Pace--|-Pwr-|SPM-|-HR--|-HR--|-DPS
--|08103|00:45:25.7|02:48.2|128.1|22.1|143.1|168.0|08.1
W-|05586|00:26:23.2|02:21.7|167.2|23.6|153.7|168.0|09.1
R-|02523|00:19:02.8|03:46.4|073.9|20.1|128.4|168.0|06.3
Workout Details
#-|SDist|-Split-|-SPace-|-Pwr-|SPM-|AvgHR|MaxHR|DPS-
01|01316|06:35.1|02:30.1|149.8|18.6|144.3|154.0|10.7
02|01205|05:31.4|02:17.5|171.1|24.9|158.4|168.0|08.7 - turn 1
03|01450|06:37.5|02:17.1|173.8|26.7|160.5|168.0|08.2 - turn 2
04|00208|01:03.0|02:31.4|148.8|21.9|125.7|140.0|09.1 
05|01407|06:36.2|02:20.8|177.7|24.5|156.8|168.0|08.7 - the 4+
Here's the whole row.  The turn is down at the south end.
Here's the view of the whole turn.  The start of the race is by the beach in the upper left corner.  Then you row down past the first small island, turn around the second, and then around the outside of the third.  You row up past a projecting point, and then up to the narrows.  Fun thin I learned about the point in this row.  They put a big white buoy off of it.  My plan had been to hug up really close to it to try to minimize distance.  I just missed it on my first go round, and got it caught on my oar the second time around.  I didn't do that in the race, so I guess the practice paid off.
Here's a close up of the turn,  The key thing I was trying to figure out was how to minimize the distance rowed without unnecessarily slowing down.  The key was how to handle the southern tip of the bigger island.  Starting the turn too late at that point results in swinging wide.  That's what happened in my second go.  In the first one, I felt like I was too far away from the first island and western point of the second when I started my turn.  So, on try number two, I hugged the first island, and hit the western point just right, but I took one stroke too many at the south point and swung wide.
I'm very glad I tried out the turn.
I finished my turns, and took a bit of a breather for a drink.  A coxed four came up lake and we ended up nearly side by side.  I increased pressure to stay ahead of them through the narrows, and then basically matched them for pace up through the bridge.  It was good sub-threshold rowing.
What a blast!
Friday – 25 – No Training
I was planning to do just a 20 minute warmup on the erg, but a busy schedule a work messed that up for me.