A great week of training.
Sunday – Oct 13 – 90′ Coastal row
Long and slow.  A really beautiful day!  Might have been my last coastal row of the year, if so, it was a great way to finish up.
I launched about 2 hours before high tide and I didn't have much of a plan beyond rowing at low intensity for about 90 minutes.  I started off with the tide, and then turned to head out into the bay.  I hugged the shore for a little bit, and then headed out, picking a house on the top of a hill as my point.  I decided to row on that heading until I had a straight shot up to Wellfleet harbor, through the buoyed channel.  I thought it would be fun to ride the current.
It was.  I just paddled along, enjoying the sunshine and watching the boats and birds.  I turned in the harbor and paddled through the anchorage, around the jetty, and then up along the boat slips.  I had a nice drink of water, turned around and headed for home.
When I reached the buoy at the entrance of the harbor, I turned to the south, picked another house on the shore and kept it as my point the whole row back down to Lt Island.  Looking at the map, you can see how straight this section was.  It was also getting very close to high tide by this point, so there wasn't much current pushing me around.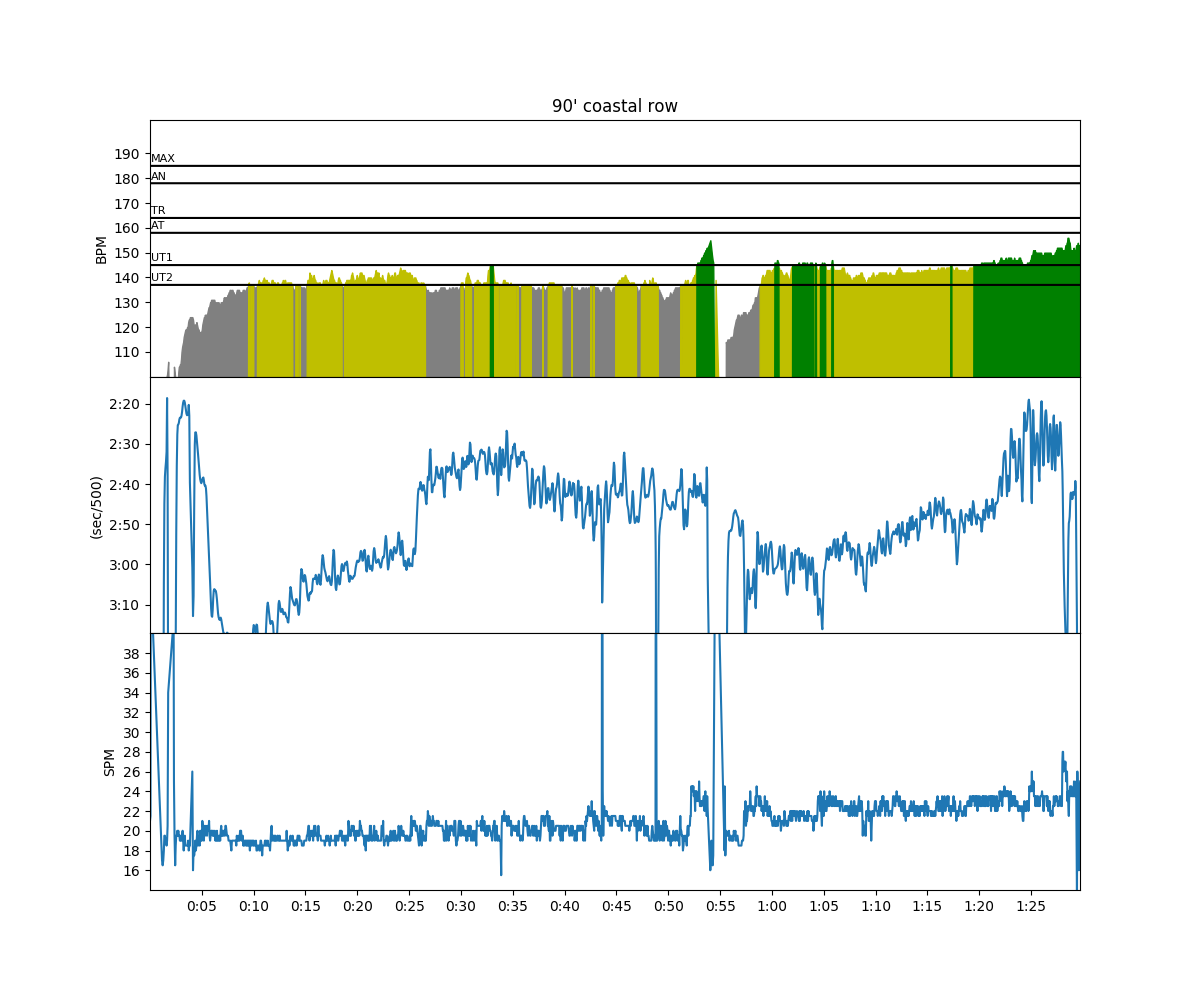 Workout Summary - media/20191013-1856250o.csv
--|Total|-Total----|--Avg--|-Avg-|Avg-|-Avg-|-Max-|-Avg
--|Dist-|-Time-----|-Pace--|-Pwr-|SPM-|-HR--|-HR--|-DPS
--|15361|01:29:43.5|02:55.2|000.0|21.0|137.4|156.0|08.1
W-|14880|01:24:52.9|02:51.1|000.0|20.9|137.9|156.0|08.4
R-|00486|00:04:51.0|04:59.2|000.0|22.9|128.5|156.0|00.0
Workout Details
#-|SDist|-Split-|-SPace-|-Pwr-|SPM-|AvgHR|MaxHR|DPS-
08|00922|05:09.0|02:47.6|000.0|19.6|122.4|134.0|09.1
09|07850|43:57.3|02:48.0|000.0|20.1|137.7|152.0|08.9
10|05996|34:04.7|02:50.5|000.0|22.3|142.7|156.0|07.9
Monday – 14 October – Technique work on Quinsig
I needed a nice easy row on Monday.  I basically did steady state, square blades, and slow roll ups in 2 minute chunks.  I managed to stop my speedcoach with my water bottle after the first 4K of my row (Arghhh!), so I tried to reconstruct the data using the speed and position data from CrewNerd and hear rate from my watch.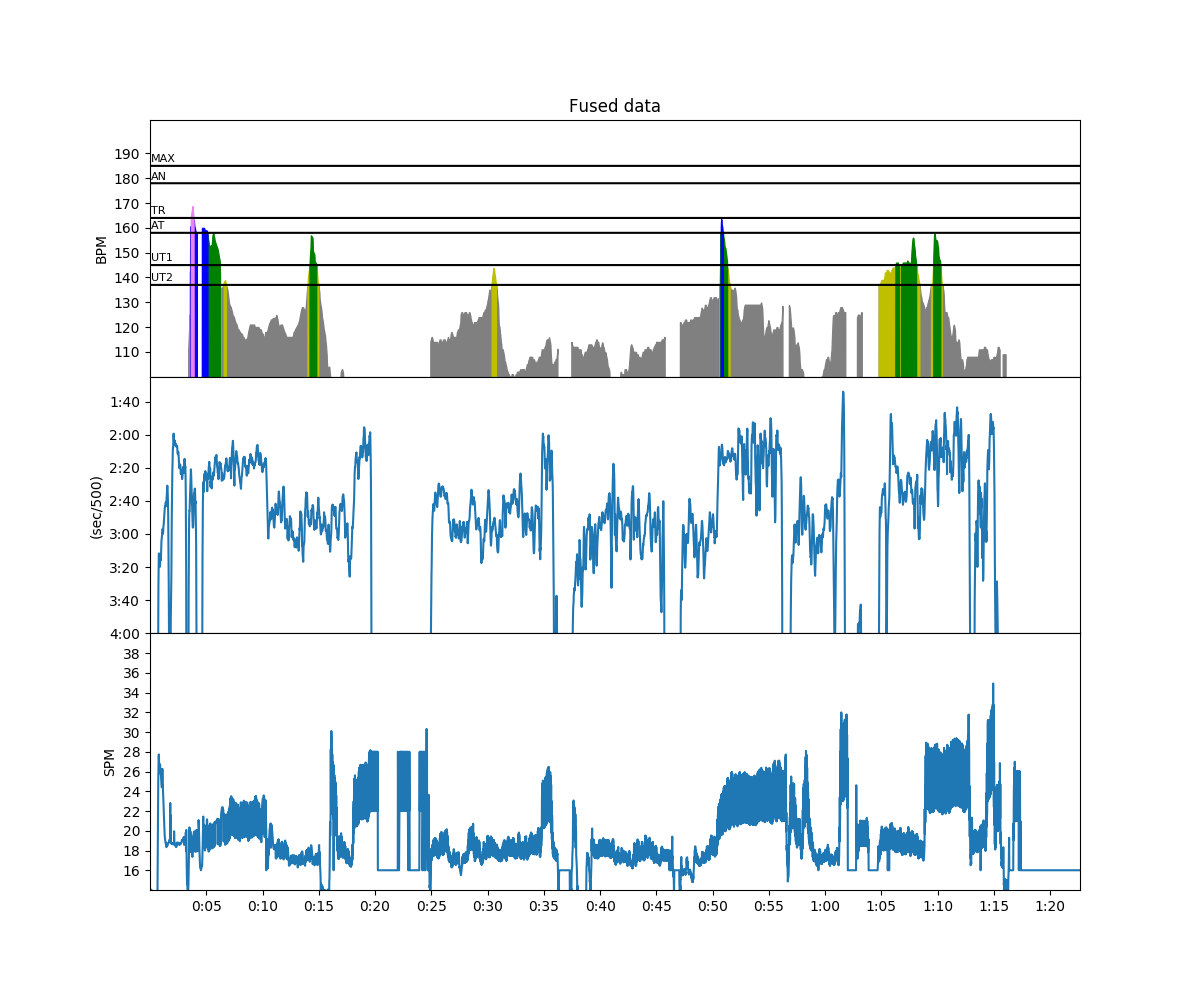 The heart rate readings were a bit erratic, but it was a very easy row.
Tuesday – 15 October – 2K/1.5K/2K/1.5K
I was short on time, and I was not really in the mood for a hard workout.  But this is a critical prep week for the race coming up on the 26th, so I stuck with the plan, sort of.  The plan was for a 4 x 2K.  As it turned out, I shortened the 2nd and 4th intervals.  The second, I got confused on stroke counts and basically just gave up.  On the fourth, I started a bit too close to the boathouse, and I was running out of time to get to the office in time for my first meeting.
The first interval felt great.  I felt fast and crisp.  After that, it was not much fun.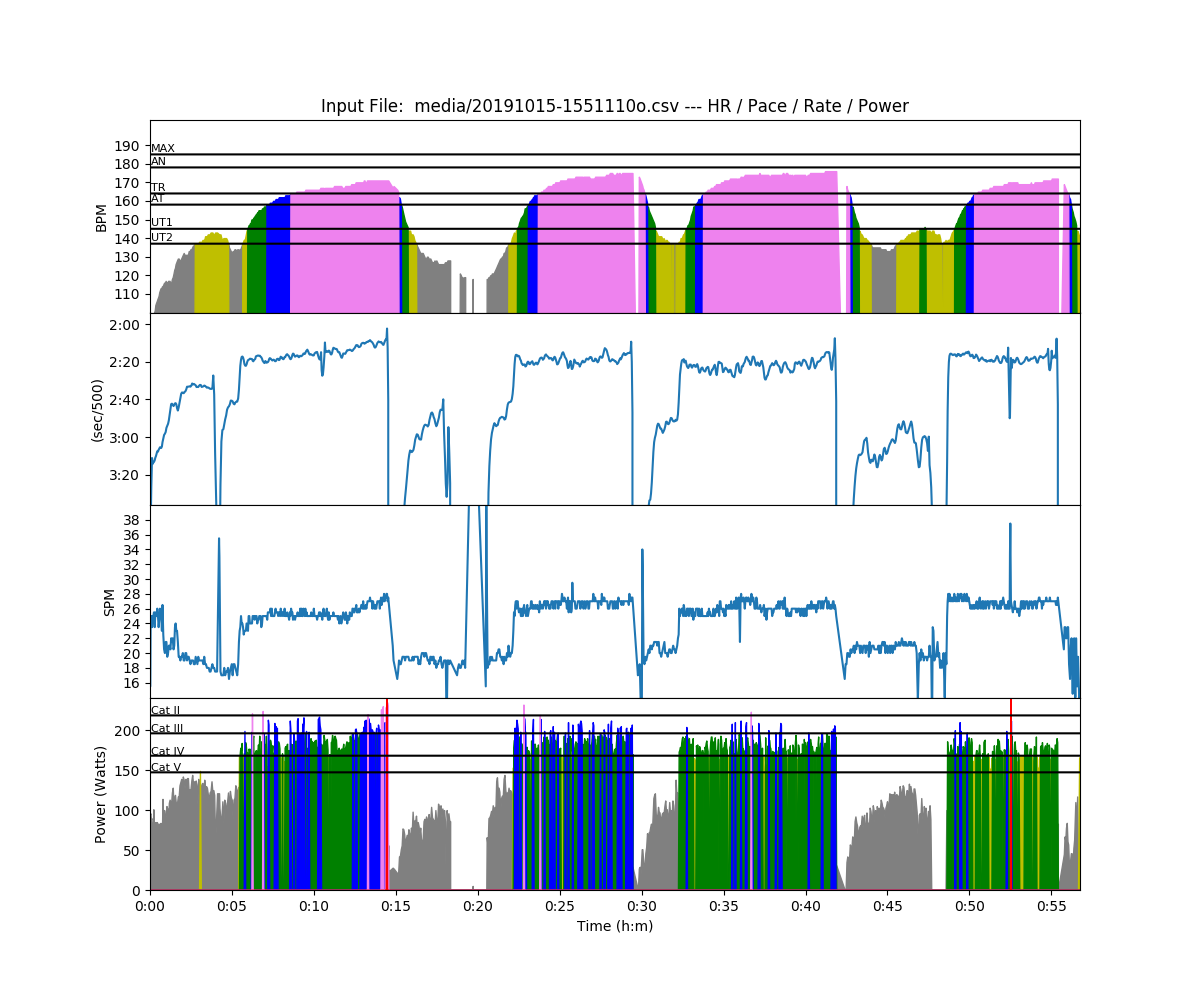 Workout Summary - media/20191015-1551110o.csv
--|Total|-Total----|--Avg--|-Avg-|Avg-|-Avg-|-Max-|-Avg
--|Dist-|-Time-----|-Pace--|-Pwr-|SPM-|-HR--|-HR--|-DPS
--|10612|00:56:45.6|02:40.5|139.0|23.7|154.7|176.0|07.9
W-|07024|00:32:24.4|02:18.4|181.7|26.1|166.6|176.0|08.3
R-|03592|00:24:21.5|03:23.5|082.3|20.5|138.8|176.0|06.1
Workout Details
#-|SDist|-Split-|-SPace-|-Pwr-|SPM-|AvgHR|MaxHR|DPS-
01|02013|09:04.5|02:15.2|187.5|25.3|163.3|171.0|08.8 - tail
02|01556|07:11.4|02:18.6|186.5|26.6|168.3|175.0|08.1 - head 
03|02009|09:29.6|02:21.8|178.6|26.0|169.7|176.0|08.1 - head
04|01445|06:38.9|02:18.0|172.8|26.8|164.9|172.0|08.1 - tail
Wednesday – 16 October – Steady State – Quinsig
Really foggy and dark.  Felt very alone, especially during the first half of the row before sunrise.  Pushed a bit too hard because I was trying to keep the split below 2:30.  I didn't succeed.  For some reason, my HR sensor dropped connection for a few minutes towards the end of the trip up the lake.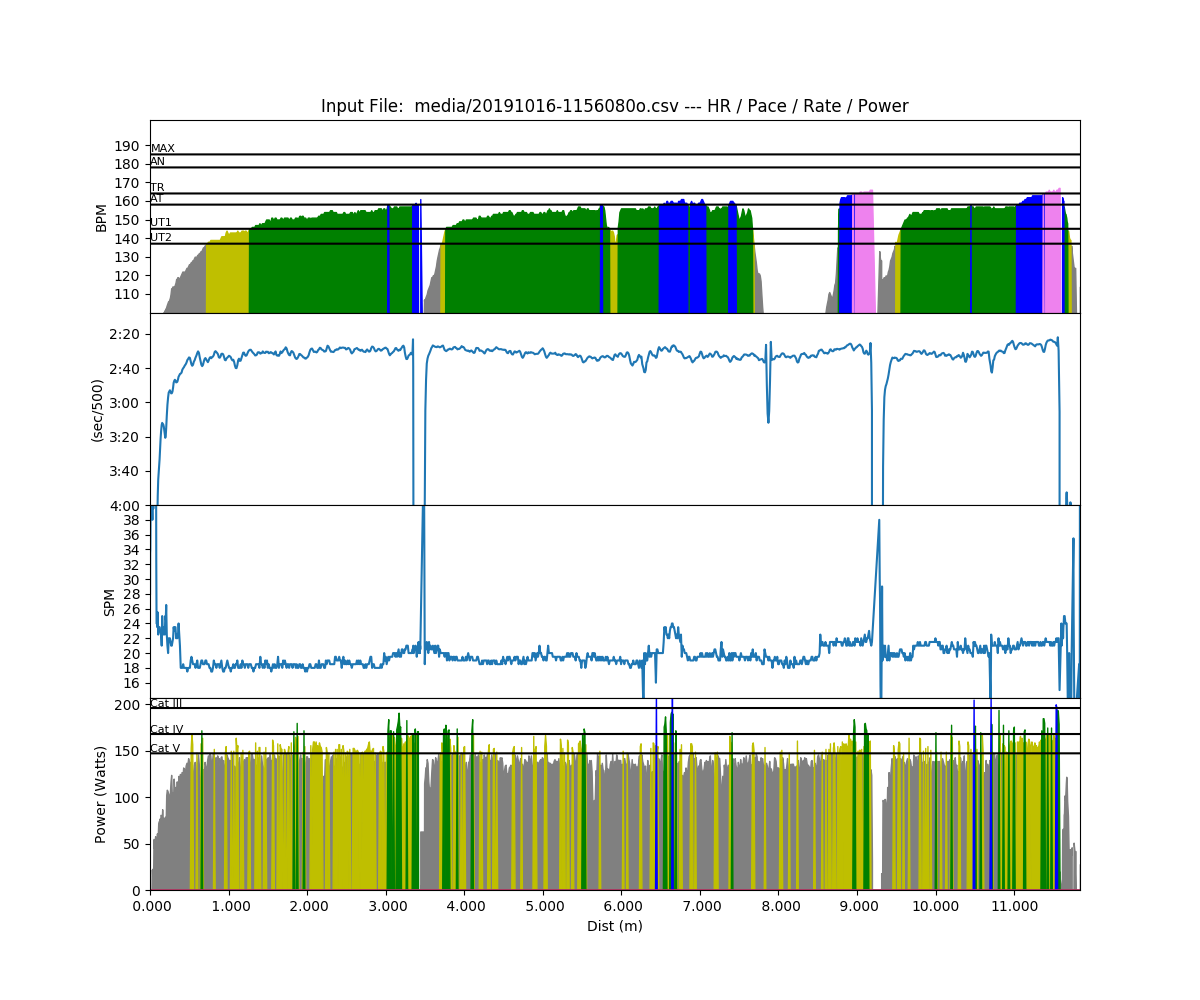 Workout Summary - media/20191016-1156080o.csv
--|Total|-Total----|--Avg--|-Avg-|Avg-|-Avg-|-Max-|-Avg
--|Dist-|-Time-----|-Pace--|-Pwr-|SPM-|-HR--|-HR--|-DPS
--|11835|01:07:51.2|02:52.0|128.2|21.8|142.0|167.0|08.0
W-|10727|00:54:04.8|02:31.2|144.9|19.6|147.2|166.0|10.1
R-|01111|00:13:46.6|06:12.1|062.4|30.7|121.9|166.0|04.8
Workout Details
#-|SDist|-Split-|-SPace-|-Pwr-|SPM-|AvgHR|MaxHR|DPS-
01|02926|14:45.5|02:31.3|147.9|18.6|148.2|158.0|10.7
02|05657|28:34.4|02:31.5|141.9|19.7|143.4|166.0|10.1
03|02145|10:44.9|02:30.3|148.9|20.7|155.8|166.0|09.6

Thursday – 17 October – 15 x 3′ / 1′ Threshold
There was a massive Nor'easter that blew through New England on Thursday.  I decided to sleep in and grab a quick workout in the fitness center at work.
Because I am not in the kind of shape I want to be right now, I took the easy way out in the workout and started slow (2:00 splits), and took a second in each interval, until I was around a 1:52 pace.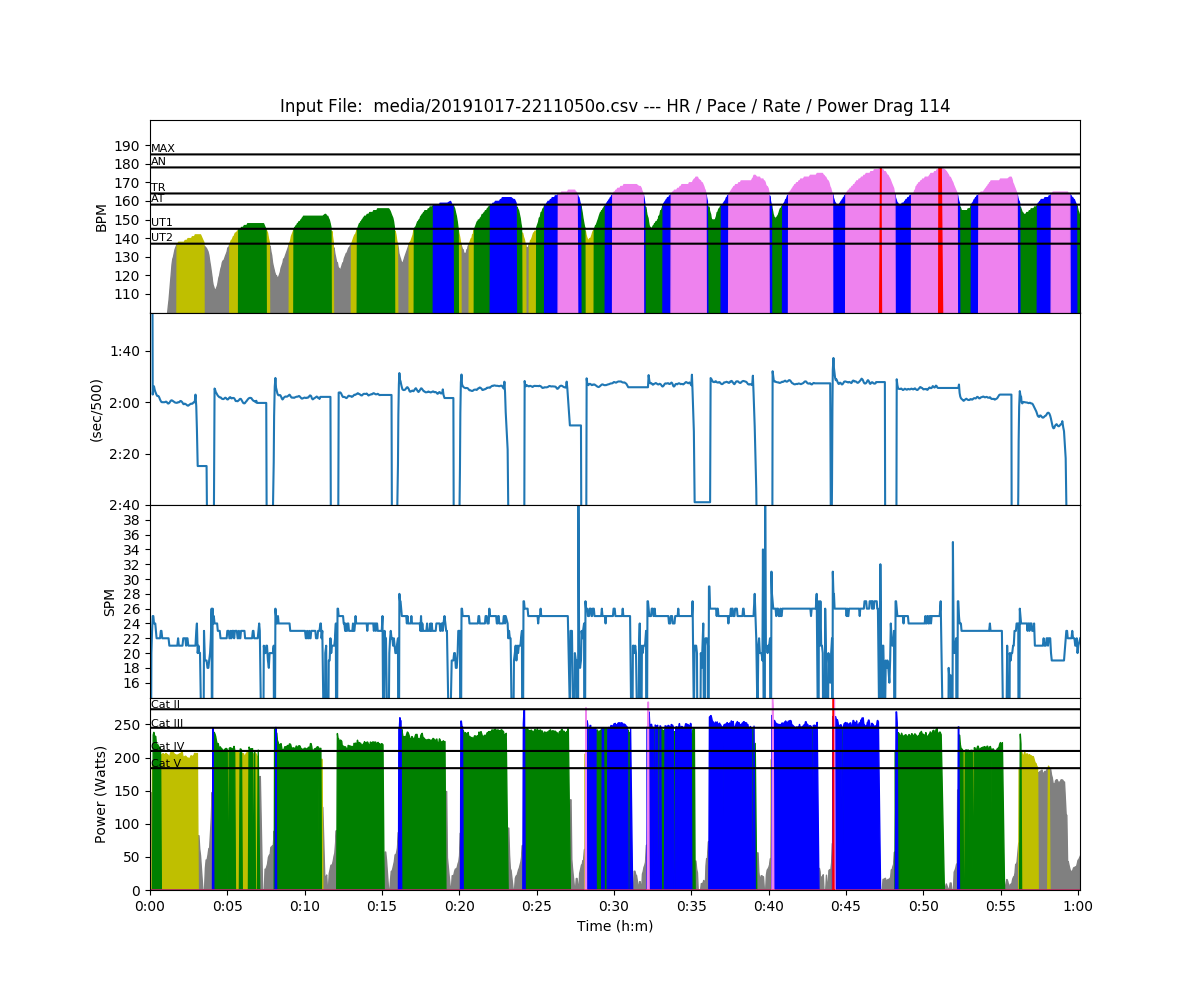 Then I slowed a bit in the last 3 as well.
Friday – 18 October – Steady State
On Quinsig.  The forecast said that there would still be a bit of wind left over from the storm, but it would be coming from the west, so it would be a cross wind and the lake is pretty narrow.  I saw that some other folks had signed up, so I decided to give it a try.  When I got to the lake, I discovered that they had all cancelled on me, but the conditions were actually really nice.  Light cross wind, and nice flat water.
I really just wanted to row, and it was a great morning to do that.  Again, I pushed a bit too hard chasing splits.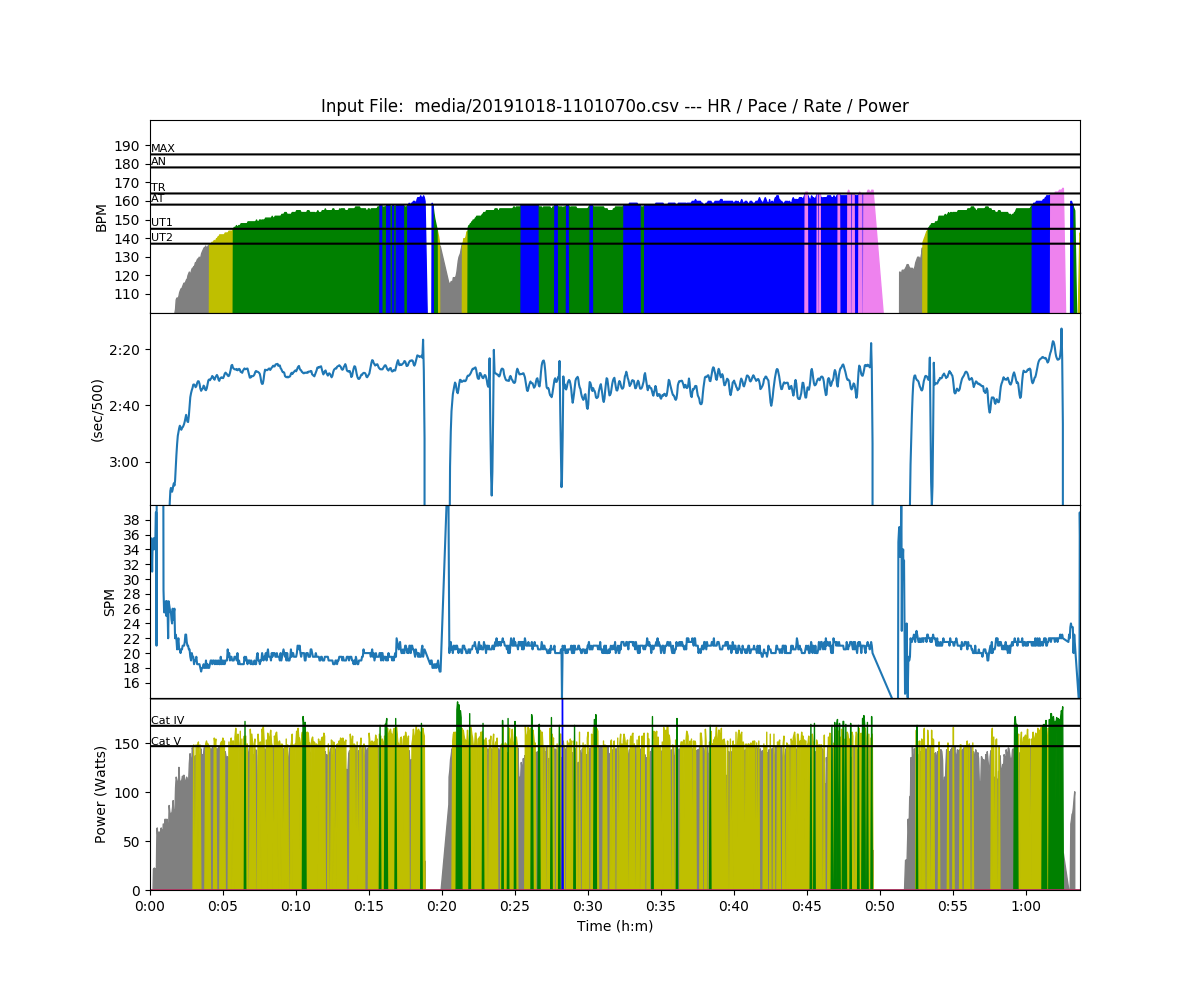 Workout Summary - media/20191018-1101070o.csv
--|Total|-Total----|--Avg--|-Avg-|Avg-|-Avg-|-Max-|-Avg
--|Dist-|-Time-----|-Pace--|-Pwr-|SPM-|-HR--|-HR--|-DPS
--|11841|01:03:42.5|02:41.4|135.5|20.9|150.9|167.0|08.9
W-|10982|00:55:04.8|02:30.5|149.7|20.5|155.0|167.0|09.8
R-|00864|00:08:38.0|04:59.8|045.3|23.5|124.6|167.0|04.7
Workout Details
#-|SDist|-Split-|-SPace-|-Pwr-|SPM-|AvgHR|MaxHR|DPS-
01|03246|16:02.7|02:28.3|150.6|19.4|151.1|163.0|10.4
02|05678|28:44.5|02:31.9|150.2|20.8|157.7|166.0|09.5
03|02058|10:17.6|02:30.0|146.8|21.3|153.6|167.0|09.4
A little faster than Wednesday, but not very impressive.
Saturday – 19 October – Bad 10K
I needed some sleep, so I did not attempt to get out on the water on Saturday.  Around noon, I set myself up to do my weekly long threshold piece.  It did not go well.
I did a 2K warmup, and my HR was sky high.  It also felt like very hard work.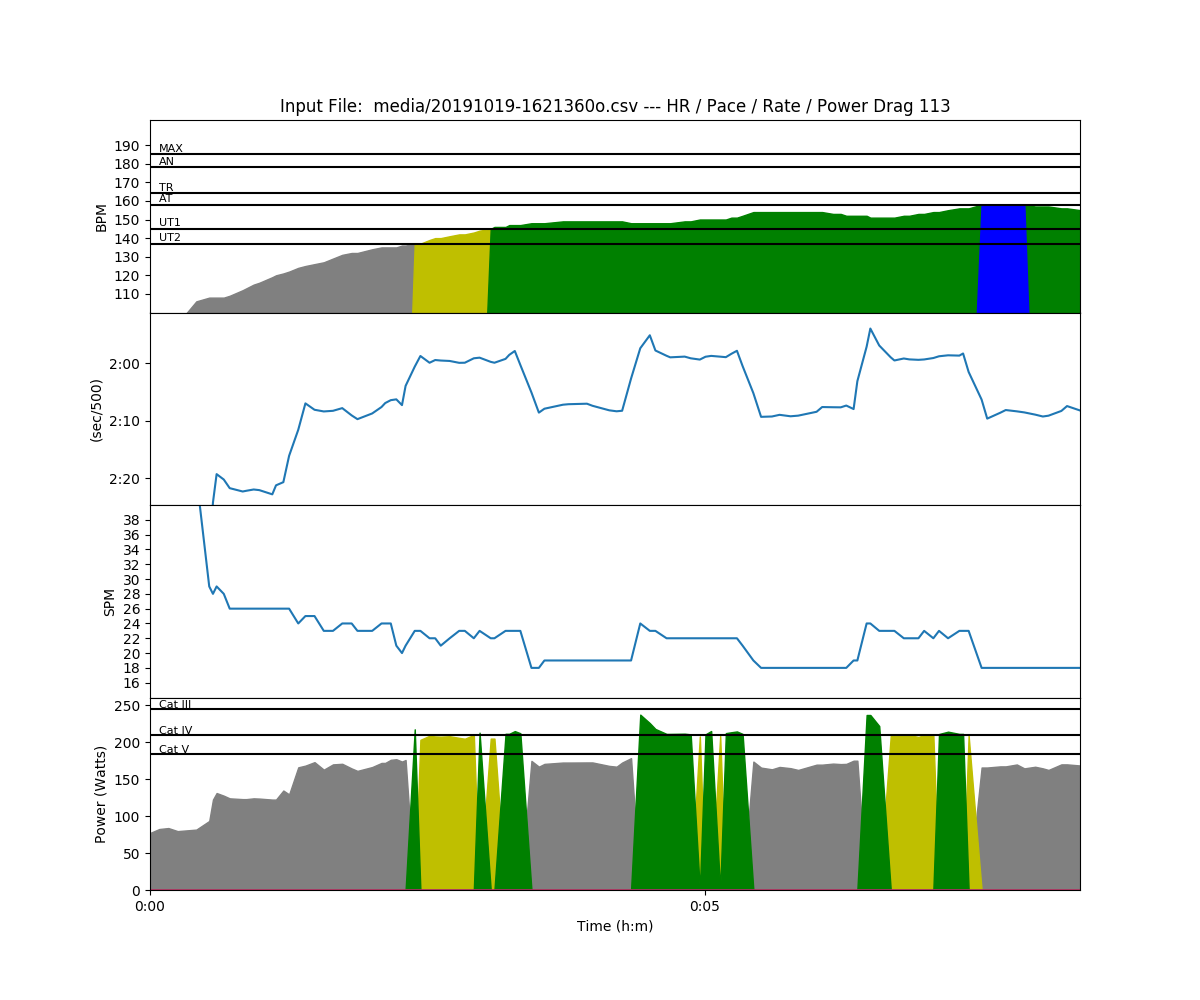 I started the 10K once, but decided that I needed better music and quit after about 500m.  I started again and tried to hold 1:59 splits.
For some reason, Painsled stopped recording after about 20 minutes.  But that was enough time to see the point where I knew I was not going to be able to hold my split.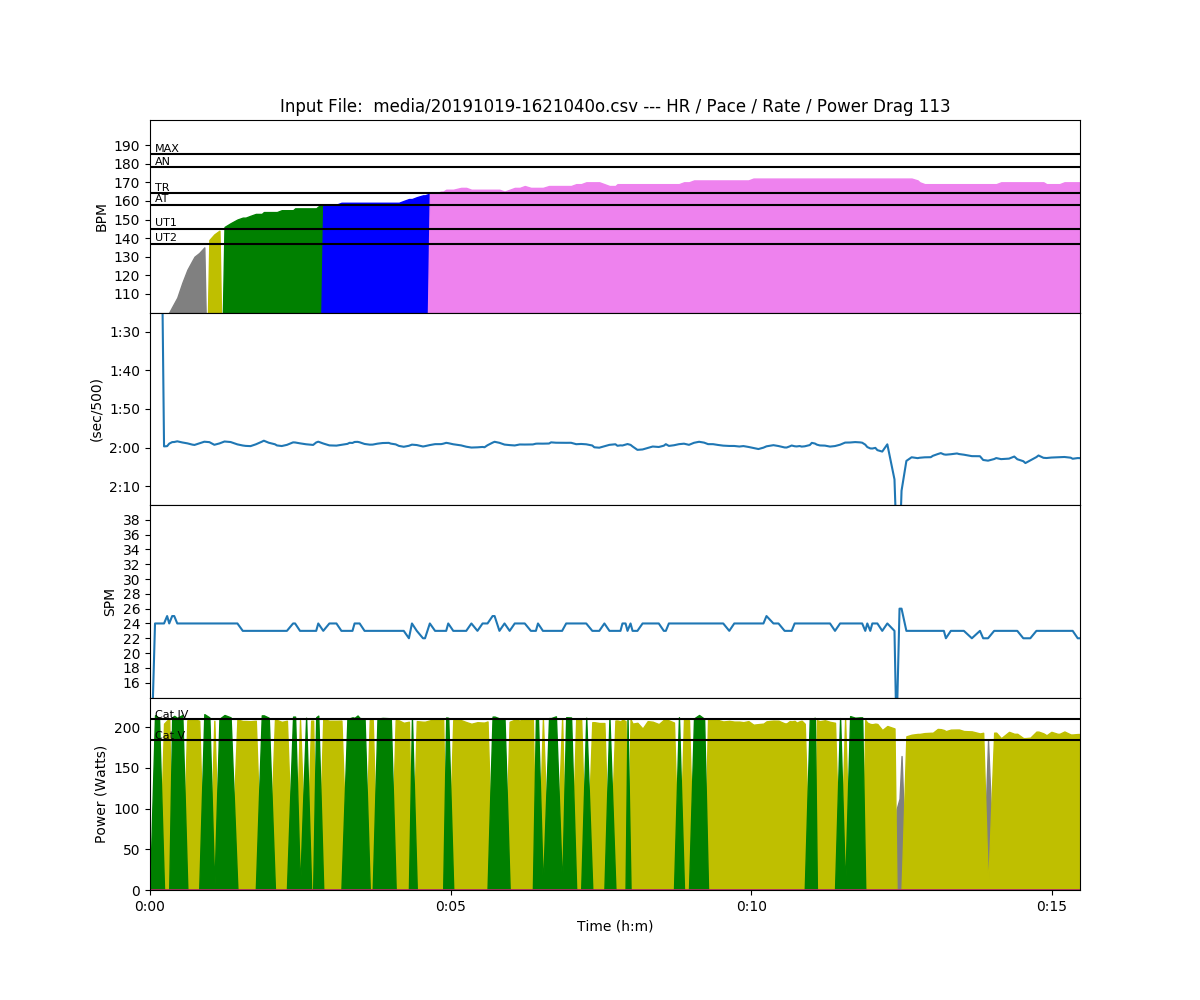 But this close to a race, there is no way that I am going to quit on a training piece, so I just slowed down and watched my HR go up and up.  Here's the HR data from my watch.  My MaxHR is about 185.  Even though I was rowing at a sedate 2:02 pace, my HR was with 5% of my max for the last 5 minutes.
Not sure what was wrong with me.  It might be training load, This was my 12th workout day in a row.  Anyway, I'm coming into a taper week, so I'm not gonna worry about it.
Sunday – 20 October – Drills on the fives on Quinsig
Really cold this morning, only about 34F when I launched and the dew droplets had frozen into ice on docks.  There was a little bit of wind from the North, but it was barely enough to kick up a ripple.  There was a power boat out, and they managed to wake me about 4 times.  None too severely, but enough to make balance drills a lot tougher.
There was also a ton of debris in the water.  Clumps of leaves, sticks, a soccer ball, multiple floating fenders, and a few mostly submerged thick branches.  Generally not too much of a problem, but it slowed me down at times.
I was doing 4 minutes of hardish steady state, then a minute of drills
Square blades
Delayed feather
Pause at body over
Open hands on recovery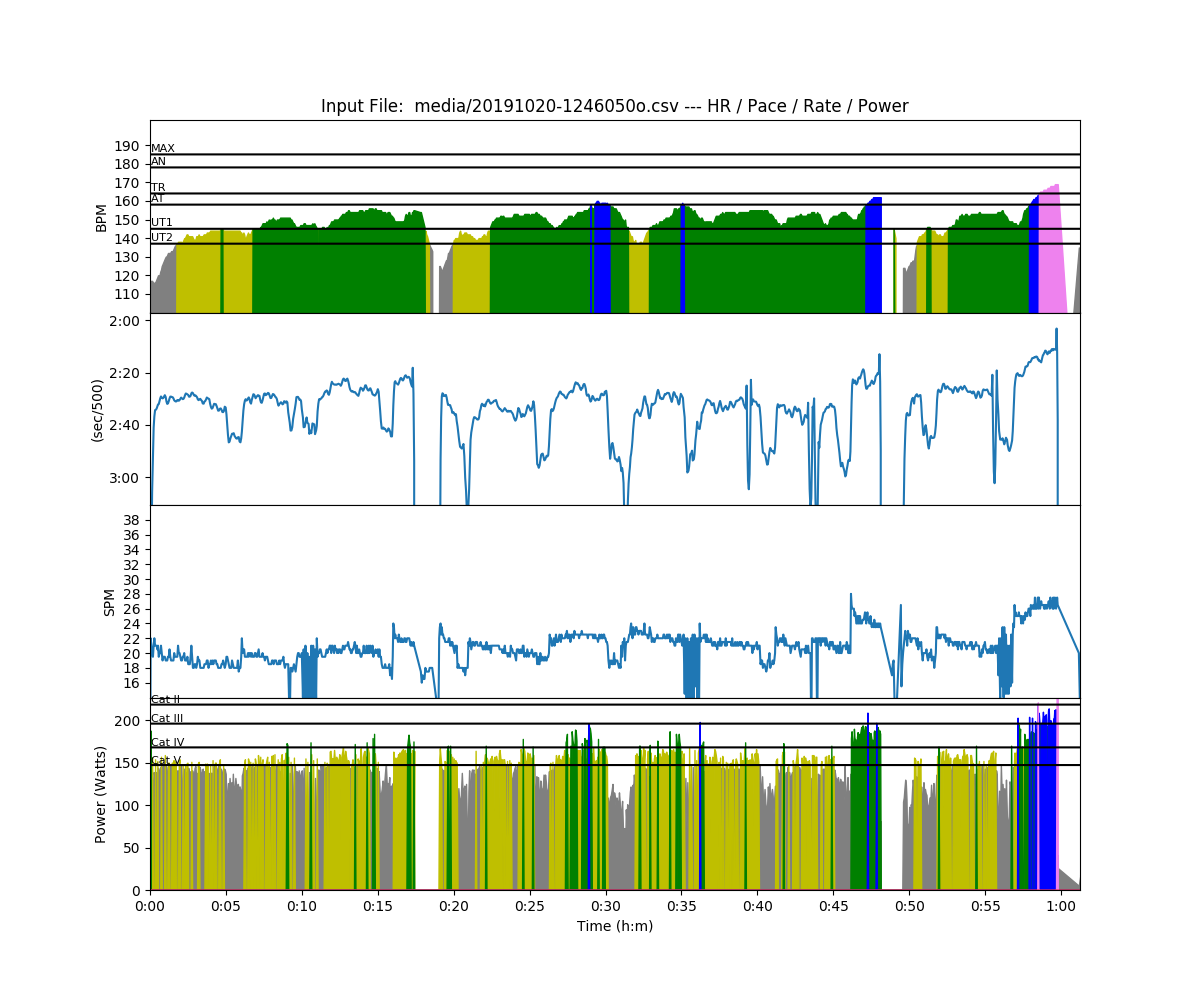 A lovely morning.
     Workout Summary - media/20191020-1246050o.csv
--|Total|-Total----|--Avg--|-Avg-|Avg-|-Avg-|-Max-|-Avg
--|Dist-|-Time-----|-Pace--|-Pwr-|SPM-|-HR--|-HR--|-DPS
--|11464|01:01:14.3|02:40.3|135.7|20.5|148.1|169.0|09.1
W-|08730|00:43:17.8|02:28.8|154.1|21.2|148.7|169.0|09.6
R-|02752|00:17:57.9|03:15.9|091.4|18.9|146.4|169.0|04.7
Workout Details
#-|SDist|-Split-|-SPace-|-Pwr-|SPM-|AvgHR|MaxHR|DPS-
01|00008|00:01.3|01:22.3|188.0|09.5|115.0|115.0|38.4
02|00006|00:01.3|01:50.2|161.0|22.0|117.0|117.0|12.4
03|00007|00:02.8|03:32.1|111.0|21.0|117.0|117.0|06.7
04|00008|00:03.0|03:02.9|156.0|20.0|117.0|117.0|08.2
05|00009|00:03.2|02:52.0|124.0|19.5|116.0|116.0|08.9
06|00009|00:02.8|02:37.3|139.0|21.0|116.0|116.0|09.1
07|00954|04:47.7|02:30.8|143.4|19.1|137.3|145.0|10.4
08|00786|03:58.3|02:31.6|146.1|18.8|147.4|151.0|10.5
09|00864|04:13.4|02:26.6|151.2|20.3|151.9|156.0|10.1
10|00286|01:22.1|02:23.5|160.6|21.8|150.7|154.0|09.6
11|00193|00:58.6|02:31.9|153.3|21.5|131.8|140.0|09.2
12|00744|03:48.7|02:33.7|150.1|20.4|149.4|153.0|09.6
13|00764|03:46.5|02:28.3|161.8|22.2|153.2|160.0|09.1
14|00652|03:16.6|02:30.9|157.5|22.2|147.7|159.0|09.0
15|00761|03:51.4|02:32.0|150.9|21.3|152.7|155.0|09.3
16|00387|01:59.6|02:34.6|146.7|21.0|150.3|153.0|09.2
17|00184|00:56.6|02:33.6|148.6|21.3|149.4|152.0|09.2
18|00404|01:55.3|02:22.7|183.0|24.5|156.9|162.0|08.6
19|00217|01:06.0|02:31.9|120.0|21.6|131.6|142.0|09.1
20|00841|04:07.2|02:27.0|148.9|21.1|149.9|154.0|09.7
21|00646|02:55.4|02:15.7|188.1|25.9|159.8|169.0|08.5
Tomorrow:  4 x 2K on Quinsig, then in the afternoon, I head out to California.