It's been a busy week.  My last journal entry was on Oct 9 when I did a terrific 5 x 1500.
The rest of the 9th was a blur.  I worked out, then a day full of meetings, then rushed off to go a wake (One of our best friends lost his brother to a sudden illness), then ate dinner, then to the airport to catch a ten o'clock flight to Geneva.
I slept really well on the flight.  I probably got 5 hours of sleep.  We landed in Zurich and then connected to Geneva, finally getting in around 2pm.  I had meetings all afternoon, and then we went to dinner.  I finally got back to the hotel around 10:30pm and had hoped to get right to bed.  Unfortunately a time critical work issue came up and I spent the next 90 minutes on the phone.
My plan had been to do a short workout in the morning before my 10am flight home, but I decided that sleep was more important.  I slept until 7:30, had a nice breakfast, called an Uber and went to the airport.  The flight home was very uneventful.  I did work most of the way, took a short nap, and then I was home.  The worst part of the whole thing was the traffic home from the airport.
Friday – Oct 12: Drills and a little bit of race pace
My usual taper is to do a shrinking number of 500m pieces over the week before a race, and then just do a warmup on the day before.  This time, I had two complete rest days but lots of inert travel time.  I decided that it would be best to do some work on the day before the race to try to make sure that the race pace strokes felt OK.
I also wanted to do a lot of drill work.  I find it quite calming, and it really engages my brain in the session.  So the plan for the day was to do about 20 minutes of light rowing and drills, then a couple of 2′ race pace pieces, then more drills.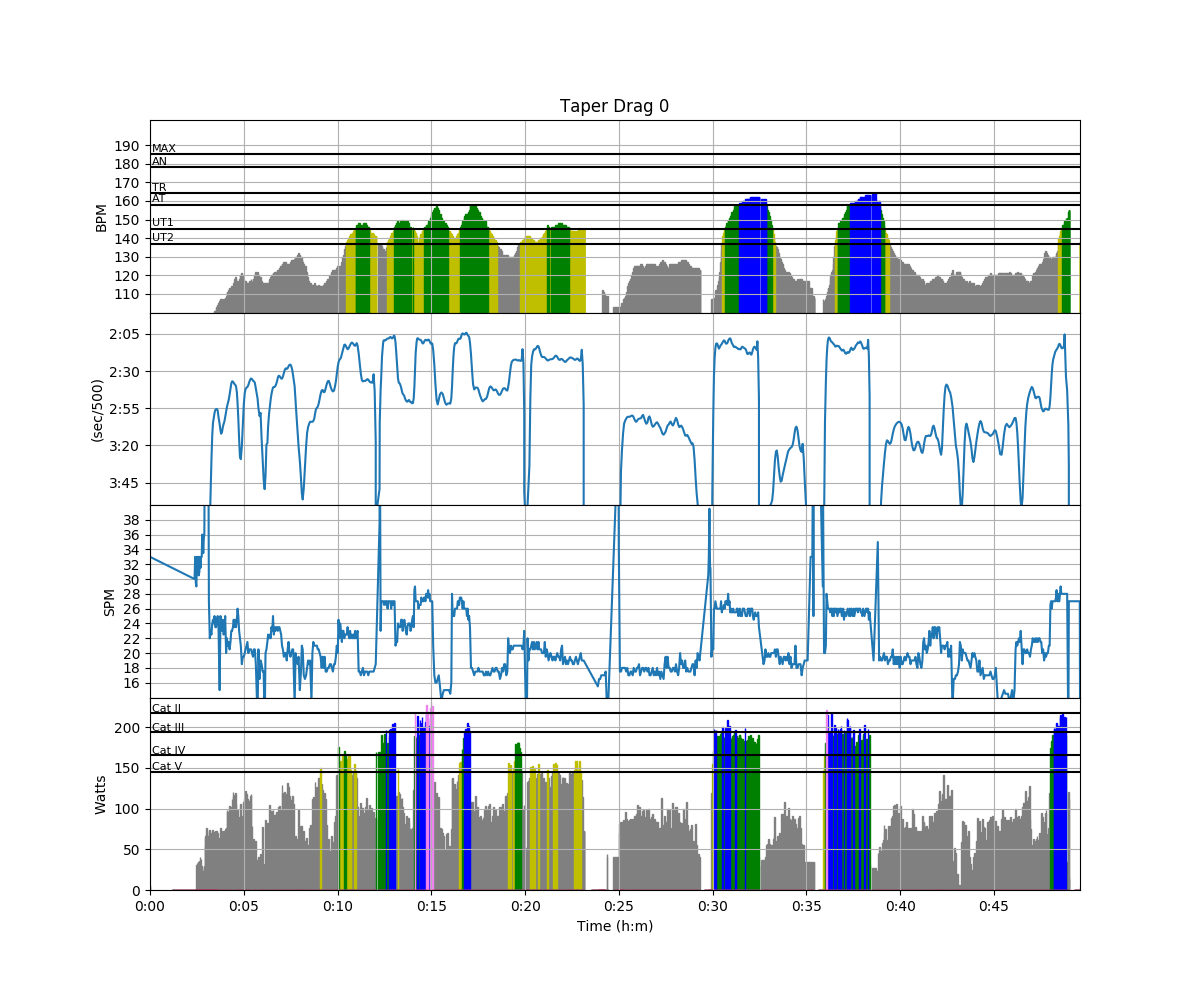 The summary shows the 4 – 1 minute pieces and 2 60 stroke pieces.  Plus a little bonus sprint to the dock at the end.  Notice the difference in power between the first 4 and the last three.  The last three are against the current, so it takes a lot more watts to get the same splits.
          Workout Summary - media/20181012-1145320o.csv
--|Total|-Total-|--Avg--|-Avg-|Avg-|-Avg-|-Max-|-Avg
--|Dist-|-Time--|-Pace--|-Pwr-|SPM-|-HR--|-HR--|-DPS
--|08125|49:34.0|03:03.1|097.9|22.1|127.3|164.0|07.4
W-|02106|09:14.0|02:11.7|178.9|25.4|146.2|163.0|09.0
R-|06029|40:20.0|03:20.8|079.4|21.4|123.0|163.0|04.3
Workout Details
#-|SDist|-Split-|-SPace-|-Pwr-|SPM-|AvgHR|MaxHR|DPS-
01|00217|00:56.6|02:10.2|146.6|22.2|140.2|148.0|10.4 
02|00178|00:45.8|02:08.7|177.7|26.1|139.9|148.0|08.9
03|00226|00:58.2|02:08.6|199.4|26.9|145.8|155.0|08.7
04|00217|00:56.1|02:09.4|151.2|25.6|148.4|157.0|09.1
05|00119|00:31.7|02:13.1|141.7|20.9|138.7|140.0|10.8
06|00513|02:16.8|02:13.4|186.9|25.8|150.5|162.0|08.7
07|00499|02:13.0|02:13.4|190.0|25.6|149.5|163.0|08.8
08|00137|00:36.5|02:13.5|202.6|27.7|139.4|149.0|08.1
Pretty easy session, only 18 minutes above a <ut2 level.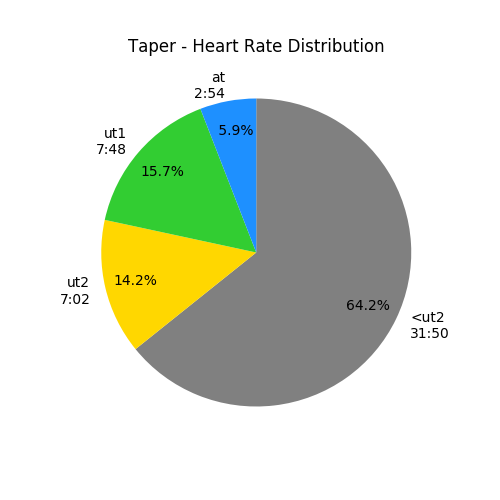 Then I loaded my boat on my car and went to work.
Saturday – 13 October: The Snake Race
This may be my only race of the season, and I hadn't raced since my disappointing outing at last year's Head of the Charles.  I was nervous as hell before I launched, even though this was a low stakes local race.  My competition was.
The rowers from Anchorage and Community scratched.  As for the rest.
Maldari is a good rower from Lawrence, he's beaten me and I've beaten him in other events, we are about the same speed.
Kisarale is a rower from Uganda.  He's 38, but he was in the 2015 Olympic qualifying regatta for Africa in the 2x.  I'd never met him, but I suspected he was a lot faster than I am.
Haddon is a rower in my club.  He was rowing this as a tune up for next weekend when he will be in the HOCR.
Krupnick was a 1st boat varsity rower at WPI and graduated in 2017.  He was going to be MUCH faster than me.
Byrnes is in the other main club on the lake.  I am usually faster
Sturges.  Same story
Sontgerath was the guy that I wanted to beat.  I had beaten him in the HOCR in 2015 and then returned the favor last year, beating me pretty badly.  This may sound silly or immature, but I saw the race as between him and me.
The way the bow numbers were handed out, I was starting second to last, and Sontgerath was starting last behind me.  So, it was simple, I just needed to keep my eye on him and maintain the spacing.
Bob and I launched around 8:30 for a 9am start.  We warmed up going down to the start.  For some reason, my speedcoach decided to stop soon after launching and I didn't notice it until I was getting ready for the start.  So, most of the warmup is missing.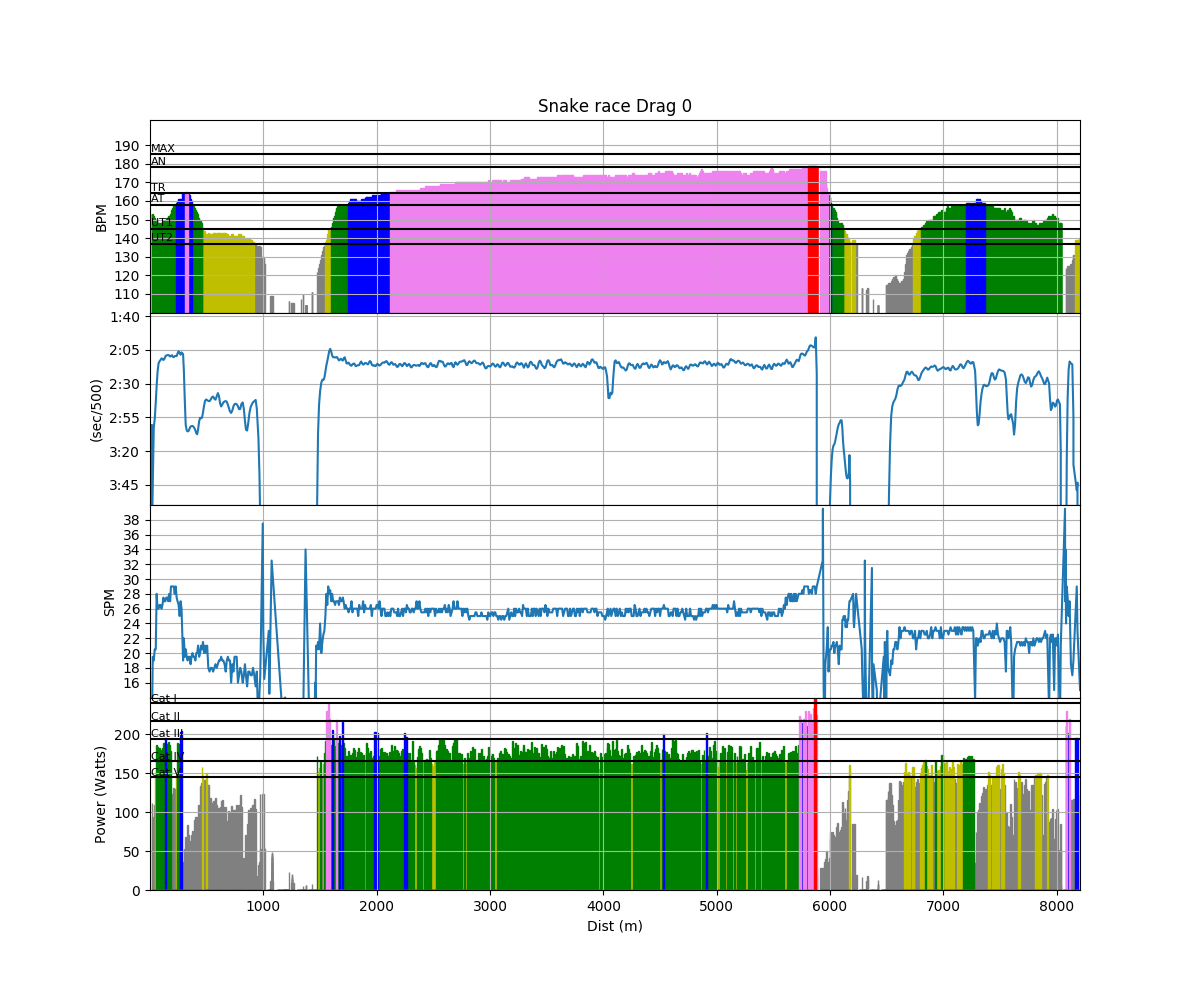 It was cold and rainy, around 48F.  There was a light and variable wind that seemed to be from  the northwest, which is a cross/head wind.  I only noticed it a couple of times during the race when I felt like I was working harder and the splits slowed down.  I was quite glad to have the power meter.
Anyway, we were all at the start, and so the officials decided to move the start time up a few minutes so we wouldn't just sit there getting cold and wet in the rain.  We were called up to the start in order and off we went.  The starting line was at the southern end of larger island, right about even with the label "Pinecrest".  My first target was Sturges.  I saw him off my starboard side.  You go up the western shore of the lake, and soon after the start is a beach that juts out.  I decided that I could pass him to the shore side and still have enough room to steer out from the beach.  It worked out fine and I was well clear of him by the time I steered a bit out from shore for the beach.  The guy who started in from of Sturges was Kisarale, but when I looked around I saw no sign of him.  I did see Byrnes, so he became my next target.  He was also off my starboard side, and we had the narrows coming up.  I just held my line and we slowly moved toward the buoy line that marked the starboard side of the course. I passed him right around the narrows and when I looked around I could spot anyone close enough to focus on.
Now it was time to just row.  This is about where the video picks up.  There is bit more than 1km from the narrows to the bridge.  I was starting to feel the pain, so I started counting strokes.  I got to about 130 when I got to the bridge.  The whole time I was keeping my eyes on Heri (Sontgerath).  At times, he seemed like he was closing the distance, and other times it seemed like I was stretching it out.  Frankly, I didn't even really remember how far back he was at the start, so I had no clue if I was ahead or not.
From the bridge to the end should be about another 200 strokes.  Which I counted off as I went.  It seemed like it took a lifetime to get from the bridge to the Gazebo.  I thought it was almost another 1000m from the gazebo to the finish and so I just settled in and tried to avoid blowing up while I started scanning for the finish.  I saw it, but in retrospect, I wish I had seen it sooner.  I started my sprint later than I should have.  But I finished strong.  I thought the finish was going to be marked with white buoys.  It was marked by a pair of oranges, which I thought represented the start of a finish chute.  I continued my kick for another 100m beyond the finish to a white buoy.
That extra kick brought be me up to be close enough to chat with Maldari.  Apparetly, he was trying to keep his seperation with me, like I was trying to with Heri.  We had a nice chat about boats and stuff as we paddled to the docks.  They I cooled down from the QRA docks to our club at regatta point.
The results
Third place, but first place amongst the old guys.  I walked around 10 feet tall the rest of the day.
Here's a video of the last 9 minutes of the race.  The first 10 minutes were basically useless because of water on the lens.
Looking at the video, as always there is a lot of stuff that I need to work on.  The most obvious is that I have re-established my habit of digging way too deep and rowing over a barrel.  I also need to work on making the body and arms part of the stroke more powerful.
          Workout Summary - media/20181013-1355320o.csv
--|Total|-Total-|--Avg--|-Avg-|Avg-|-Avg-|-Max-|-Avg
--|Dist-|-Time--|-Pace--|-Pwr-|SPM-|-HR--|-HR--|-DPS
--|08201|58:05.0|03:32.5|097.1|21.0|140.9|179.0|06.7
W-|05624|25:27.0|02:15.8|169.3|25.2|166.3|179.0|08.8
R-|02583|32:38.0|06:19.2|040.9|17.7|121.2|179.0|03.7
Workout Details
#-|SDist|-Split-|-SPace-|-Pwr-|SPM-|AvgHR|MaxHR|DPS-
01|00240|01:03.0|02:11.0|155.2|26.5|154.7|164.0|08.6
02|04363|19:36.7|02:14.9|176.1|25.8|170.7|179.0|08.6 - the race.
03|00632|02:55.2|02:18.6|151.6|22.6|150.2|159.0|09.6
04|00142|00:40.4|02:22.2|143.5|22.3|155.9|157.0|09.4
05|00247|01:12.0|02:25.8|128.4|21.6|148.8|151.0|09.5

My pace was 2:14.9 this year.  I did this race in 2015 in similar conditions and my pace was a 2:12.9.  Here is a link.  2015 was my best year at the HOCR.  Comparing the two races, I pushed hard in 2015, with the last 5 minutes above 178 bpm.  My rowing looks very similar.  I am probably about 15 lbs heavier now.  I am ever the optimist and when you put all that together, I come to the conclusion that I can get back to and even exceed where I was in 2015.  As always, it comes down to weight, technique and fitness.
Well, enough for now.  I think I will go do some easy rowing on the dreaded dynamic.