Friday: I needed to get ready for an important meeting in the morning, so I skipped my workout.
After work we headed down to the Cape and settled in.  It was a blustery stormy night, but I slept like a baby
Saturday:
I worked a bit around the house and put the outside furniture in the basement for the winter.  In the mid-afternoon, I headed to the basement to do my 75′ test.
I've done this test twice before.  In October of last year, I pulled 207w (1:59.2).  In December, I pulled 214w (1:57.8).  I decided to try to use 1:58 as my target and see how it went.
It went great.  I was able to hold 1:58 comfortably at 22spm and I just counted out sets of 110 strokes to mark 5 minute periods.  I would push a little and then coast a little.  Things started to get a bit more serious in the last 30 minutes.  By 15 minutes to go, I felt like I had the session well in hand and I started to push a bit more seriously.  My heart rate started pushing up into the mid-170s and I eased the rate up to 24.  Then in the last 5 minutes I nudged it further to 26 spm and tried to count out the last 130 strokes.
Results, 220W (1:56.7).
That was fantastic!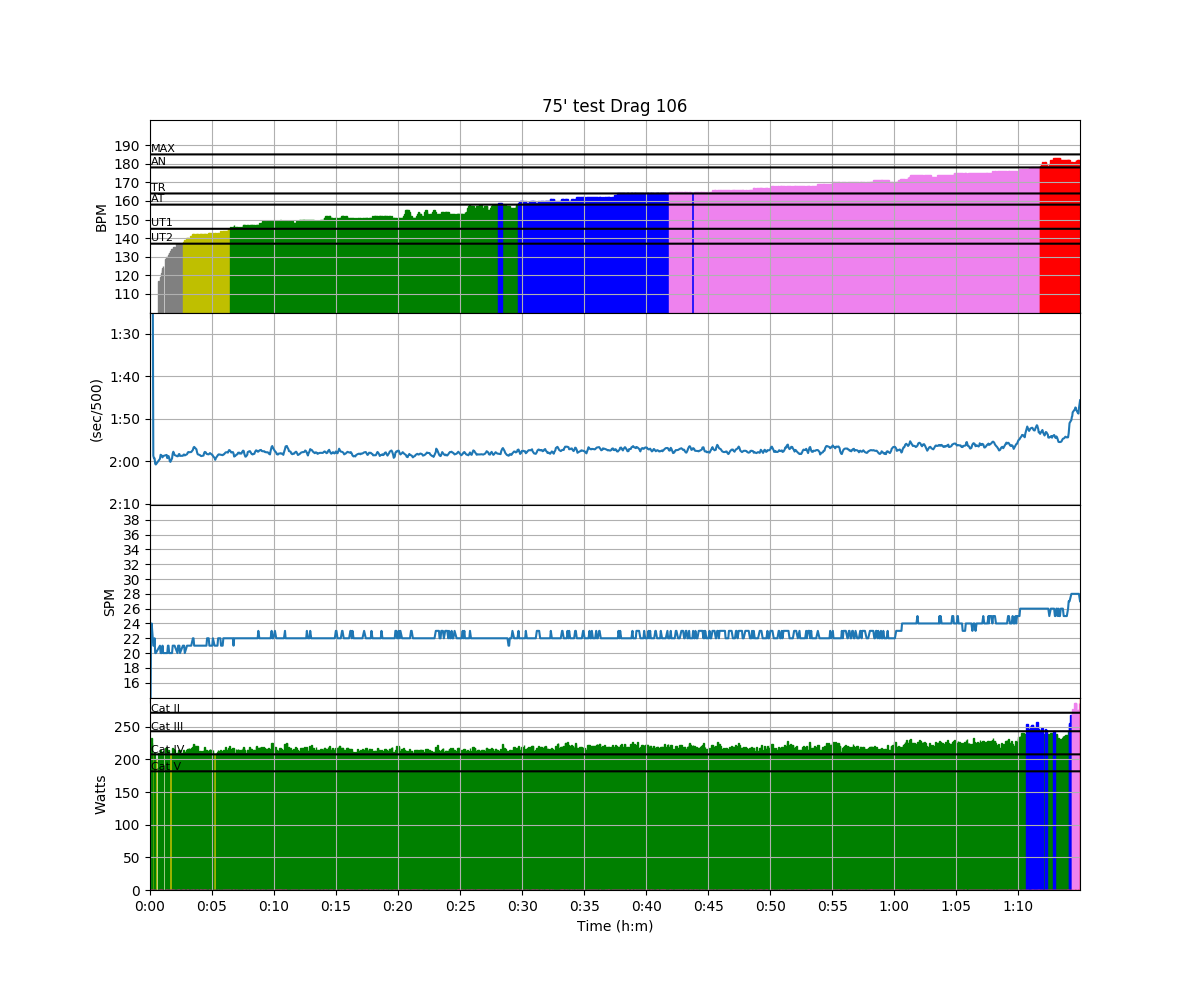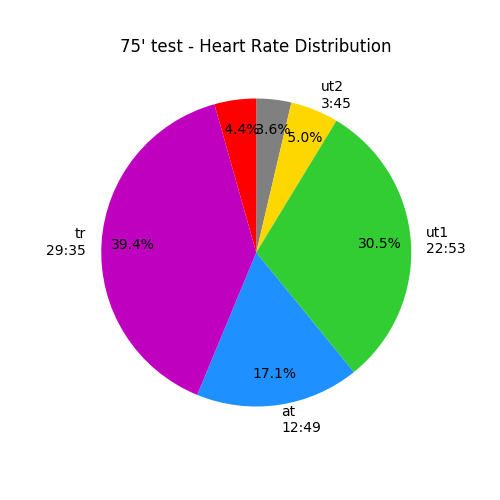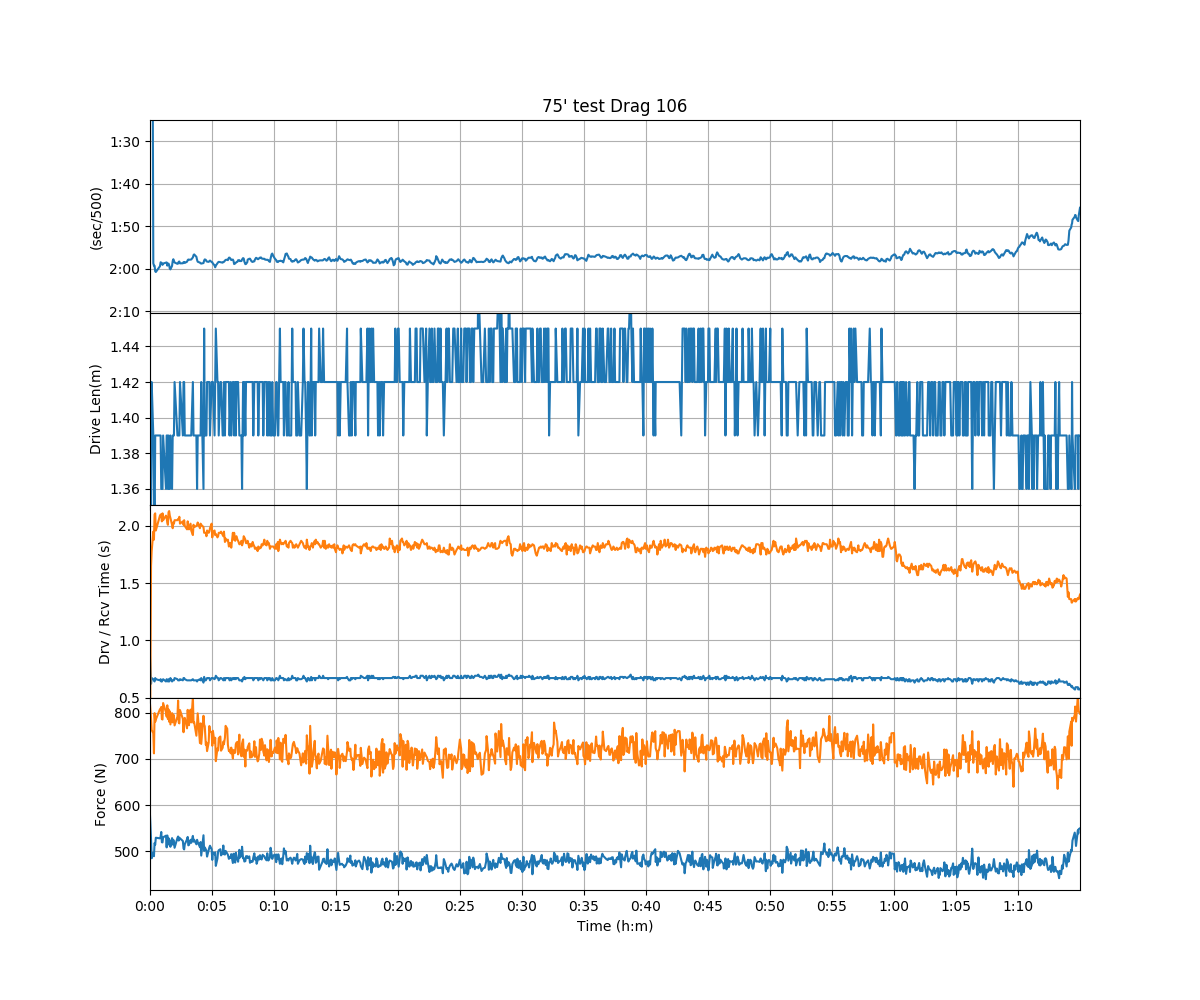 Workout Summary - media/20181020-1820320o.csv
--|Total|-Total-|--Avg--|-Avg-|Avg-|-Avg-|-Max-|-Avg
--|Dist-|-Time--|-Pace--|-Pwr-|SPM-|-HR--|-HR--|-DPS
--|19278|75:00.0|01:56.7|220.1|22.6|160.7|183.0|11.4
W-|19281|75:00.0|01:56.7|220.1|22.6|160.7|183.0|11.4
R-|00000|00:00.0|00:00.0|000.0|00.0|000.0|183.0|00.0
Workout Details
#-|SDist|-Split-|-SPace-|-Pwr-|SPM-|AvgHR|MaxHR|DPS-
00|03831|15:00.0|01:57.5|215.0|21.6|142.2|152.0|11.8
01|03824|15:00.0|01:57.7|214.7|22.2|153.8|160.0|11.5
02|03853|15:00.0|01:56.8|219.5|22.2|162.7|165.0|11.6
03|03848|15:00.0|01:57.0|218.8|22.4|168.3|171.0|11.4
04|03925|15:00.0|01:54.6|232.7|24.8|176.3|183.0|10.6
Tomorrow:  1′ and 1000m tests.