Well, I guess it makes sense to look at my training plan.  I was so sure that I was supposed to do a 5 x 1500 today, that I didn't bother to look.  Afterwards, I saw that, in fact, I was supposed to do a 4 x 2k.  Oh well, it was a hell of a workout.
It was a nice morning.  Grey skies, a bit misty, but around 60F.  There was a light and variable headwind heading up river.  I passed a few boats as I headed out and they were heading in.  I had the river to myself.  With the high level of the river and the high flow, There is a fair amount of debris.  I scared myself to death when I hit a stick poking up from the water with my oar.  It was only about an inch in diameter, but it must have been attached to a really big submerged log because it nearly took the oar out of my hand.  This happened on the first rep, so I was working hard to spot the stick on the four next reps as it slowly floated downstream on the current.
I am still having issues sleeping and I didn't feel so great when I got to the river.  It was tiring sweeping he goose crap off the dock.  But once I was in the boat and doing my pick drill, I started feeling a bit better.
I stopped and relaxed and had a drink when I got to the fun part of the river and then I started my first rep.  As usual, I was careful with rate at first. Today, I tried to keep the power on the speedcoach display in the 180 to 190W range.
The first rep was blazing fast.  2:06.4 and 176W.  Thanks to the tail wind and the current, I was flying.  The second rep was a rude shock.  Almost 11W higher average power for an average pace of 2:17.8.  I was a bit more conservative in the third rep, but it was stil pretty damn hard by the last 500m.  The fourth was higher watts than #3, but lower than #2 and it really stung at the end.  Then it was a cruise down the river for the fifth, 16W lower than the second interval.  A bit more fade than I would have liked.  But, I'm happy with my execution on the workout.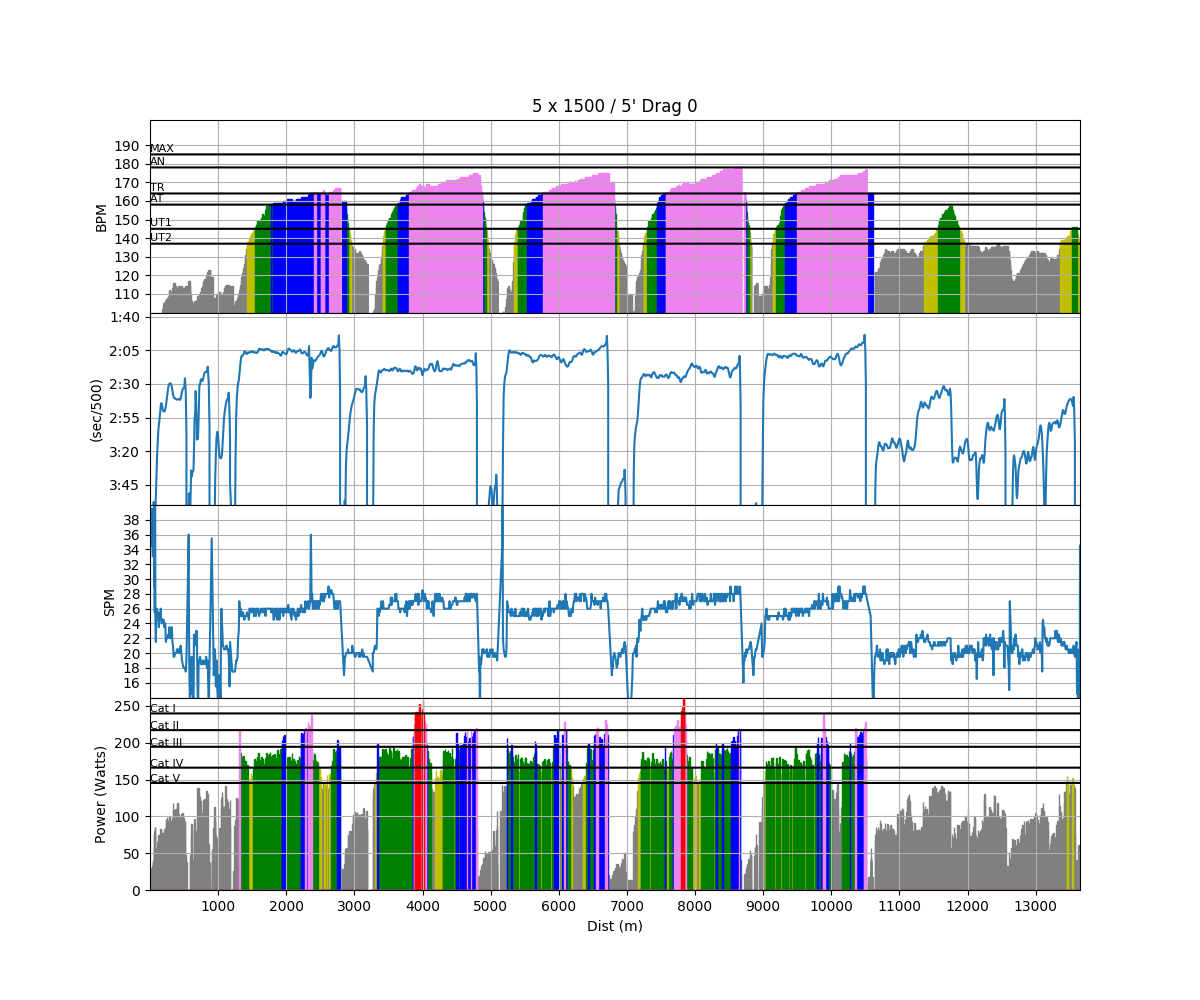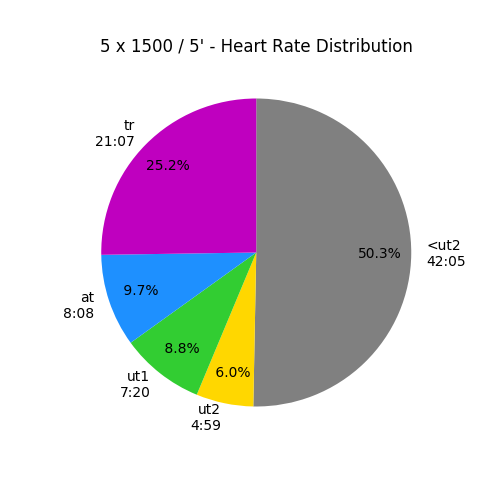 Workout Summary - media/20181009-1340300o.csv
--|Total|-Total-|--Avg--|-Avg-|Avg-|-Avg-|-Max-|-Avg
--|Dist-|-Time--|-Pace--|-Pwr-|SPM-|-HR--|-HR--|-DPS
--|13644|83:39.0|03:03.9|115.7|22.8|139.8|178.0|07.2
W-|07540|33:19.0|02:12.6|176.4|26.3|161.1|178.0|08.6
R-|06111|50:20.0|04:07.2|075.6|20.5|125.7|178.0|07.3
Workout Details
#-|SDist|-Split-|-SPace-|-Pwr-|SPM-|AvgHR|MaxHR|DPS-
01|00111|00:32.0|02:23.6|117.6|18.7|116.9|122.0|11.2
02|01496|06:18.2|02:06.4|175.9|26.1|155.3|167.0|09.1
03|01471|06:45.3|02:17.8|186.5|26.7|163.3|175.0|08.1
04|01514|06:28.4|02:08.3|173.5|26.0|161.0|175.0|09.0
05|01462|06:52.7|02:21.2|179.7|26.8|166.5|178.0|07.9
06|01486|06:22.5|02:08.7|170.5|26.3|162.7|176.0|08.9
Tonight, I fly to Geneva.  I have meetings on Wednesday afternoon and evening, and fly home on Thursday.  If I can find a gym to do a quick taper workout on Thursday morning, that would be a bonus.  Then I will do a quick technique row on Friday.  I race Saturday.