I spent a couple of hours outside putting up the Christmas lights.  Then around 4pm, I suited up and headed back to the dreaded dynamic erg for a hard workout.  I was very worried about pacing for this one.
The plan:
2 x 20′ / 1′
Each 20 broken into 2 sections, 10′ each

5′ at Cat III (28 spm, 1:51 pace)
5′ at Cat VI (18 spm, 2:06 to 2:11 pace)
My paces are derived from testing that I did on the static erg, and it seemed like I was a couple seconds slower for the Cat VI stuff.  But then yesterday, when I was doing the 20 stroke bumps, it felt much, much harder.  Like 5 to 10 seconds off what I could do on a static.
I decided to try to hold the original targets.  It was a very hard.
I started with a 5 minute warmup.  This was a minute easy, then a minute at r24, then a minute easy, then a minute at r28.  The minute at r28 was a bit scary because I discovered that it was far from easy to hold a 1:51 split.  It was actually quite hard.  Oh well.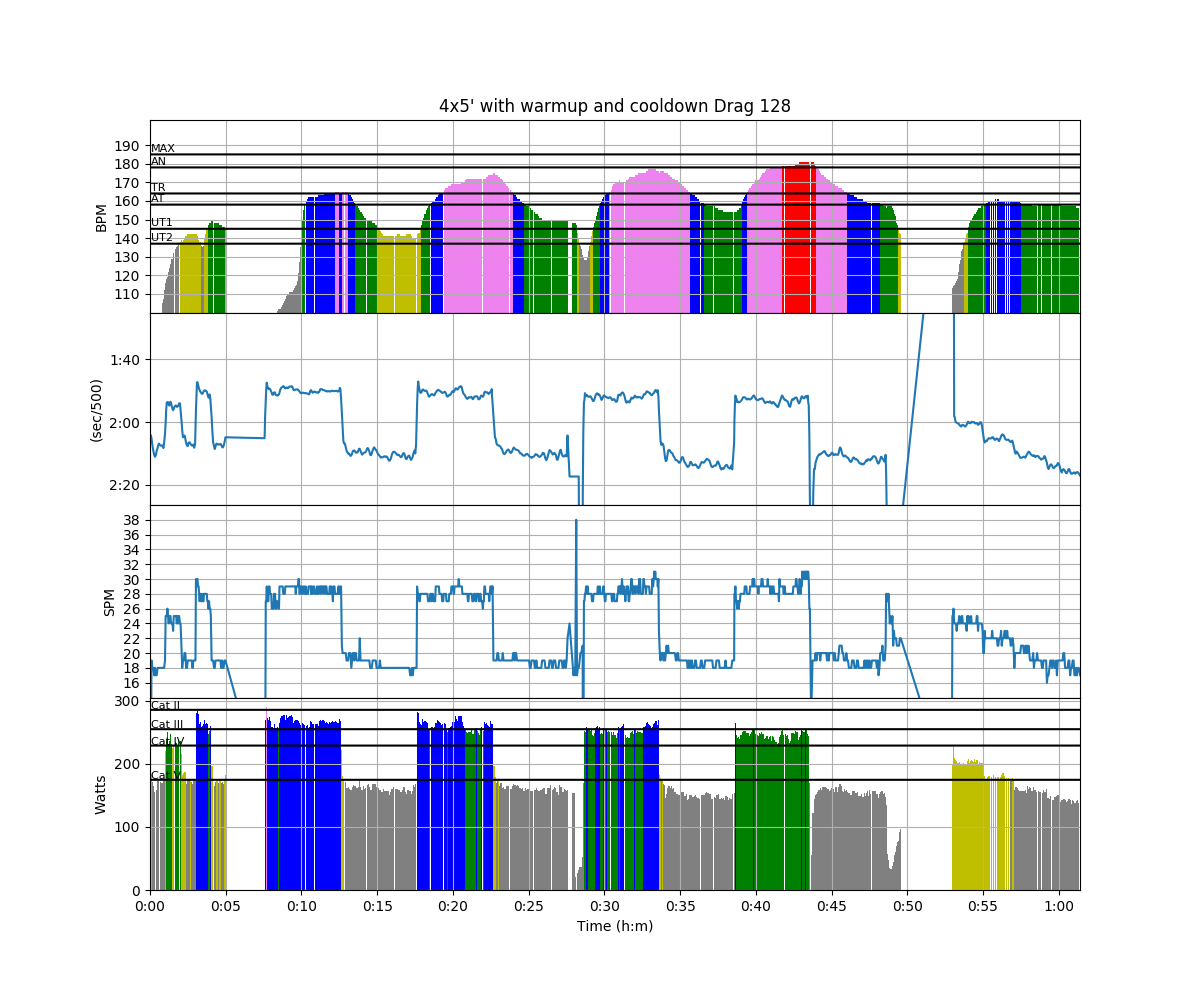 Then I pushed on into the workout.  The first one was OK, but I was annoyed that my HR sensor seemed to be lagging.  It finally got with the program about 2 minutes into the first interval and was fine after that.  But I was really tired by the end of it.  I shifted down to the r18 and 2:10ish pace and recovered well.  But the second one came around pretty soon and I found myself counting strokes with my eyes closed to try to get through it.  I slowed down, just a little about halfway through and that helped me keep the wheels on.
I gasped my way through the 5 minutes at Cat VI, and then had a quick drink.  My legs were shot, but I gave it a go.  I told myself that 1:52 or 1:53 would be good enough and again counted strokes with my eyes closed.  The slower pace seemed to help.  The Cat VI section flew by and it was time for another 5′ sojourn in hell.  Now my legs were pretty useless, and even 1:53 was hard to hold.  But I counted strokes and got through it.  It really felt like I was rowing through mud (despite a very reasonable 128 drag factor).
After I finished the main set, I did a happy ending 2k cool down.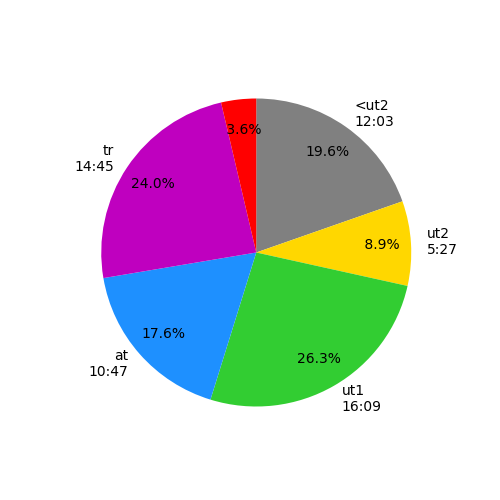 This is a bit depressing. The workout should have 20 minutes of Cat III, but I had less than 12.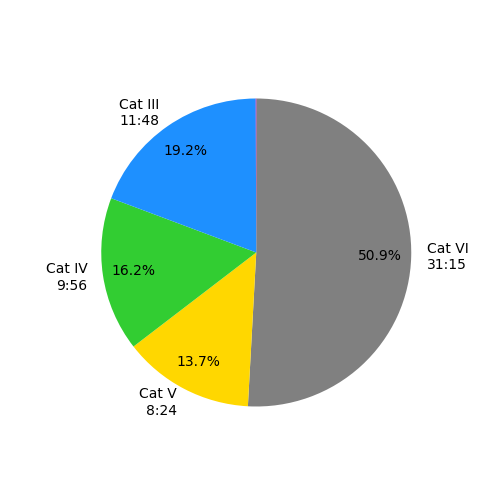 Over time, I am supposed to extend this workout from 4x to 6x the 10 minute sequence.  I hope I can do it next time on a static erg.  I'm very interested to see the difference in outcomes.
Sunday:  The plan is an hour of power at r22.  Cat V pace.