The goal for today was to fine tune my aerobic training power.  Despite the lousy workout on Thursday, I thought 180W was about right.
In the basement in the house on the cape.  Nice and cool.
I settled in to a groove at 183W.  My HR did about what is should do.  At the end of the first interval, my lactates were a bit high 2.3mmol/l.  I really wanted to see something way below 2.0.  But I was interested in seeing what would happen from this point forward at this power.  So I kept going at 183W through the second interval.  Still my HR was fine and I was feeling good.  At the end of that one, 2.8.  Way too high, but science compelled me to keep going at the same power.  In the third interval, things suddenly felt a little easier.  I'm not sure why, but my HR stabilized and it was easy to hit the power.  At the end of this one, my lactates were 1.4.  Well, that was unexpected.  So, 20 more minutes at 183W and now it was 1.6.
During the row, I tried to focus on fast hands away, and keeping my knees down during the first part of the recovery.  I'd do that for a little while and then my mind would wander and I'd fall back into to old habits.
Conclusions?  183W is about right, but I think I need to get back to the habits that I was doing when I started doing lactate based training.  Which are:
Train in a fasted state.  Today I trained soon after lunch.  There is research that says that if you have eaten recently, especially carbs, that it impedes fat metabolism.
Warm up.  When I started doing this before, I found that my HR would rise more slowly and my lactates would be lower at the end of workout if I started at a low power and ramped it up over the first 10 minutes to the target power.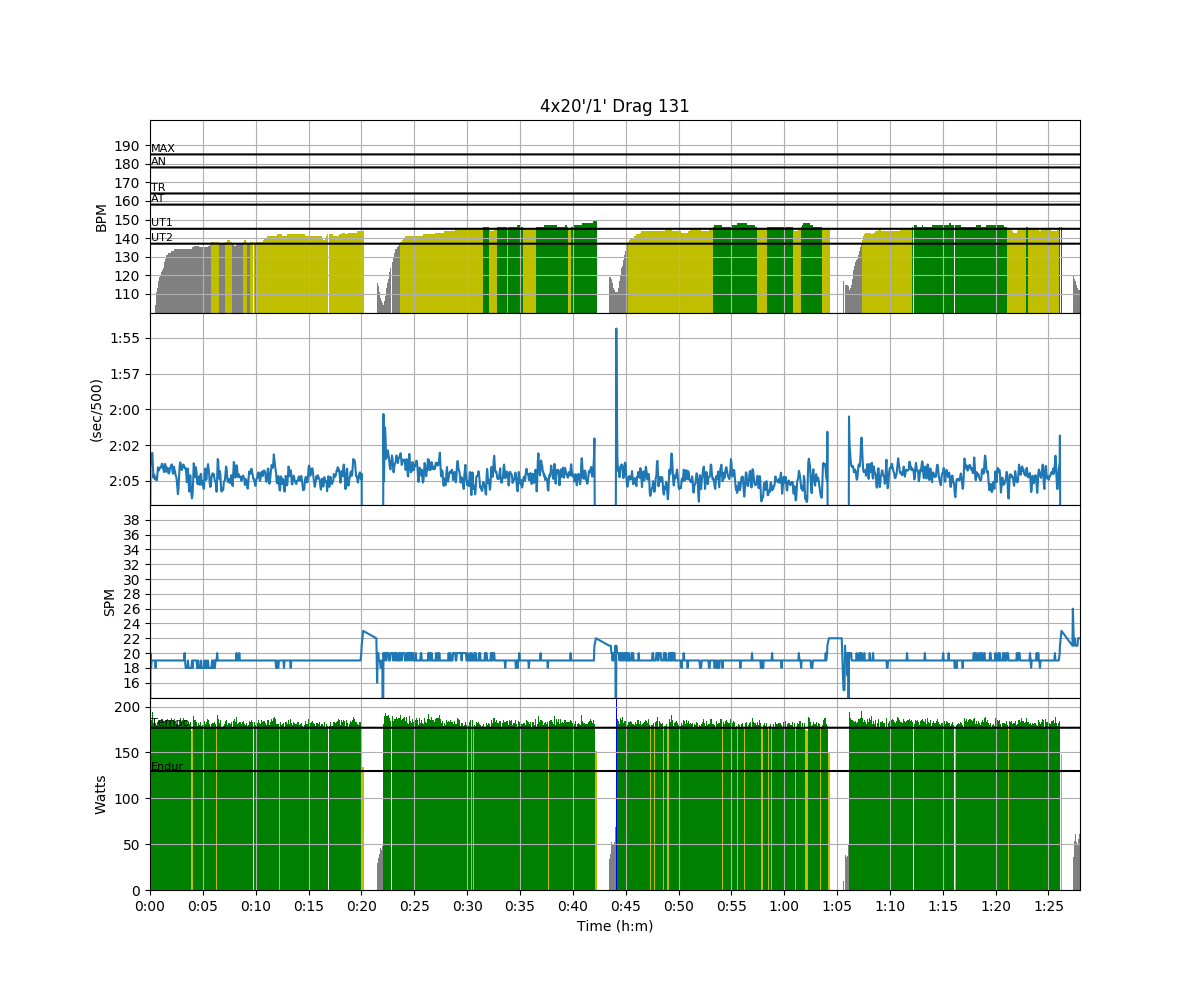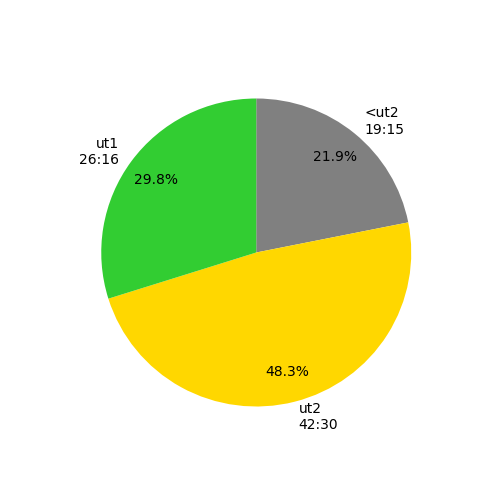 Workout Summary - media/20171111-2245290o.csv
--|Total|-Total-|--Avg--|-Avg-|Avg-|-Avg-|-Max-|-Avg
--|Dist-|-Time--|-Pace--|-Pwr-|SPM-|-HR--|-HR--|-DPS
--|19813|88:00.0|02:13.2|178.7|19.1|141.1|149.0|11.8
W-|19306|80:00.0|02:04.3|182.8|19.0|141.8|149.0|12.7
R-|00512|08:00.0|07:49.0|064.3|20.2|120.8|149.0|03.7
Workout Details
#-|SDist|-Split-|-SPace-|-Pwr-|SPM-|AvgHR|MaxHR|DPS-|-lac
00|04836|20:00.0|02:04.1|182.7|18.9|136.6|144.0|12.8 - 2.3
01|04822|20:00.0|02:04.4|183.7|19.2|143.0|149.0|12.6 - 2.8
02|04816|20:00.0|02:04.6|181.5|19.0|143.8|148.0|12.7 - 1.4
03|04833|20:00.0|02:04.2|183.1|19.0|143.9|148.0|12.7 - 1.6
Then, after finishing that, I did a couple of 1 minute intervals.  Not as good as the first ones, but a nice little blast to finish things off.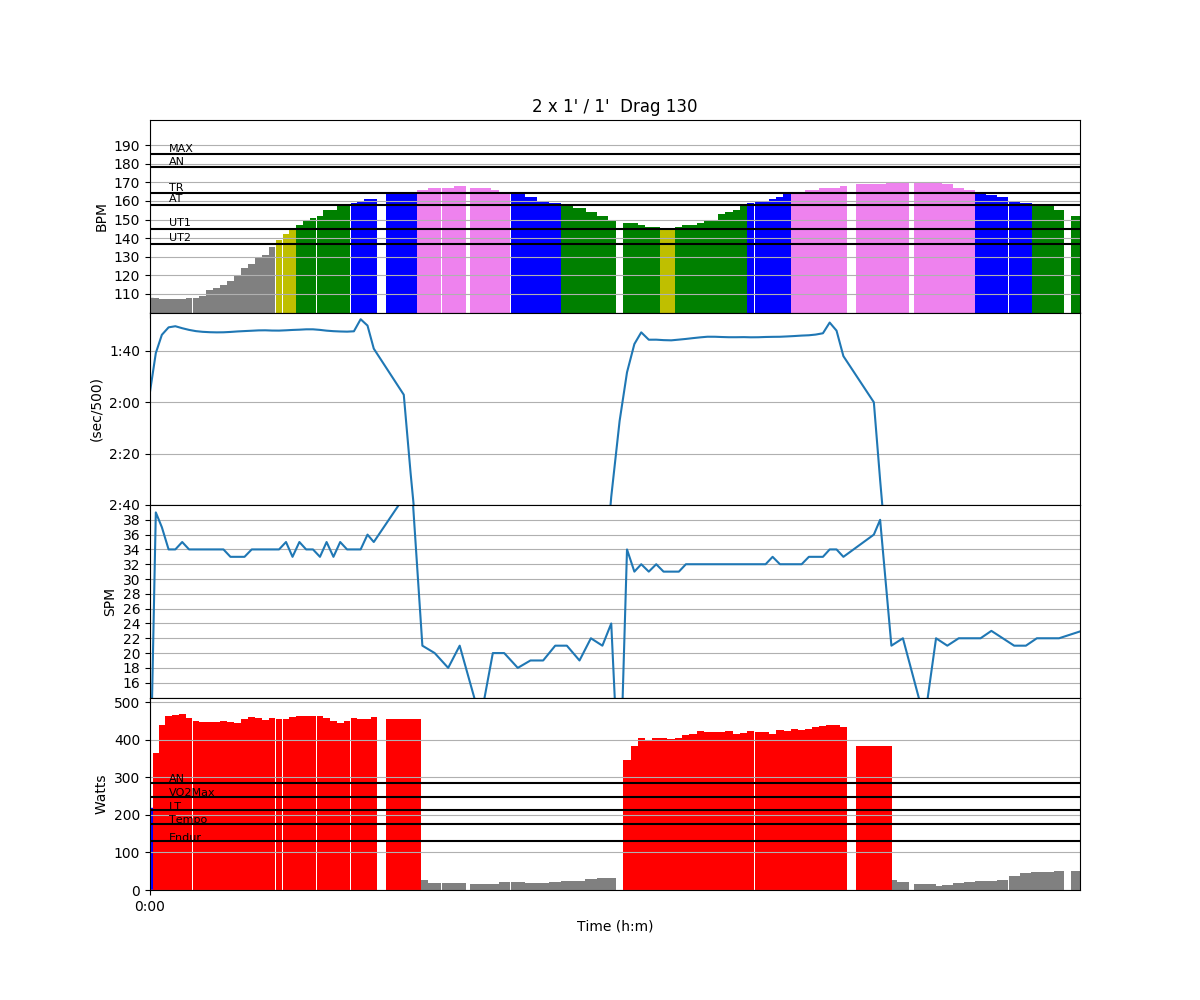 Tomorrow:  Same thing, but in a fasted state and with the warmup.  I'll do a lactate test just at the end.