Monday:  The test protocol called for a rest day, and that was a good thing.  I was in meetings from 7am to 7pm.
Tuesday:  Today's goal was a 1K test.
This test measures your VO2 max. Row 1000 meters at racing pace at your absolute best effort. Record your average watts. Stroke rates may range from 26-28 up to above 34. Also note in your data the average 500-meter split, total time, and stroke rate for future reference. Make sure to warm up properly and do a cool down row for at least 15 minutes easy after the test to help recovery.
So, scary words…absolute best effort.  The question is what is my pace or power target.  The CP pace predictor said that I should target about 300W.  This is about a 1:45 pace.  I felt pretty sure that I could do better than that.  Looking at the test results so far.
Peak power:  1:18.6 vs 1:16.9 PR in 2015 ( 721W vs 770W – 94% of PR)
75′ test: 1:59.2 vs 1:53.6 HM PR in 2016 ( 206.7W vs 238W – 87% of PR)
So, it I thought it would be reasonable to look at targeting something like 90% of 1K PR watts.  That PR dates from 2014 and was 3:10.5, 1:35.2 pace, 406W.  90% of that would be 365W which translates to 1:38.6 pace.  That, frankly was a little bit scary for me.  So I decided to start off around 1:41 and see if I had the oomph to speed up in the second half.
So, that was my plan.  I started off with an aggressive Fletcher warmup.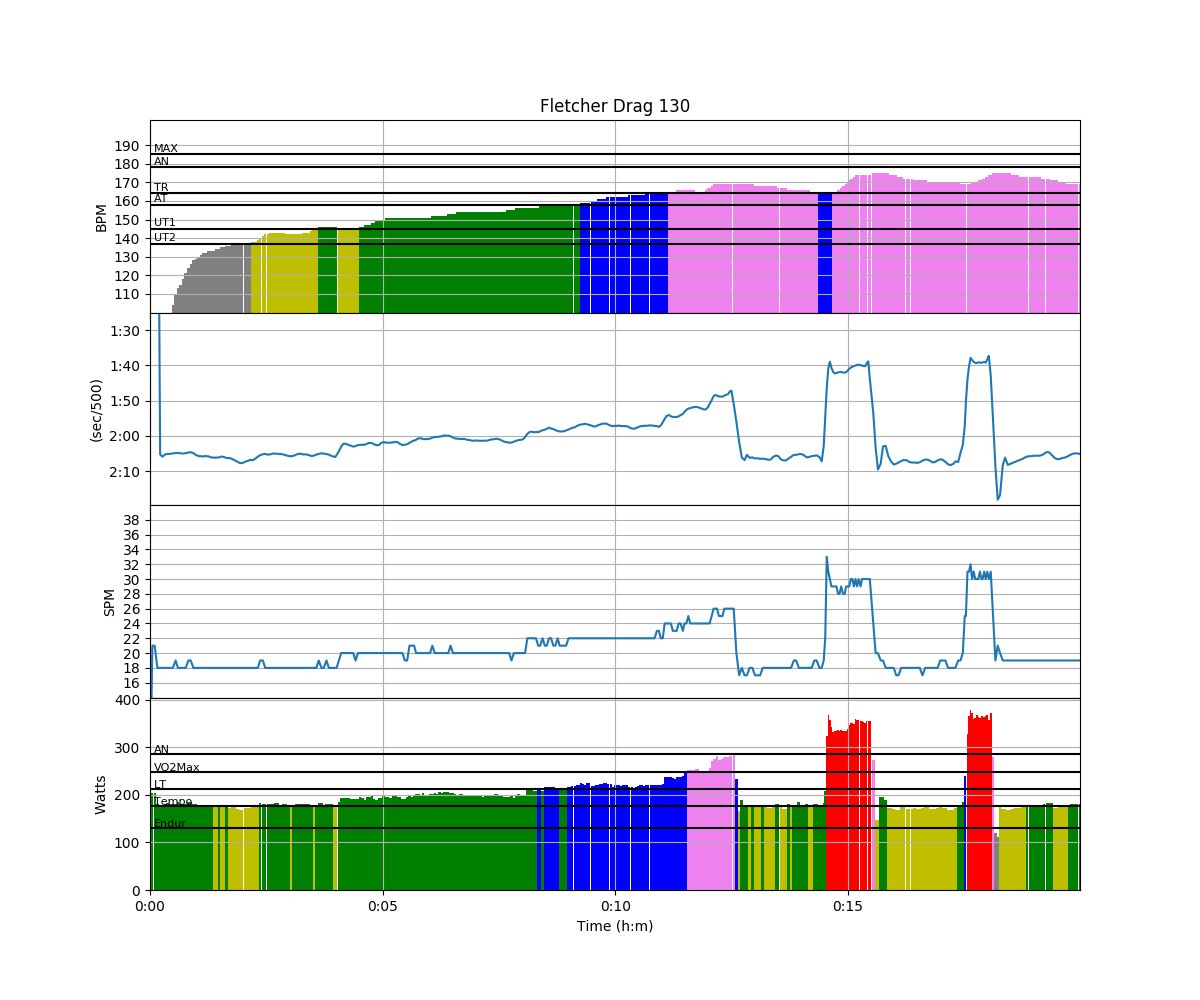 Workout Summary - media/20171031-1140300o.csv
--|Total|-Total-|--Avg--|-Avg-|Avg-|-Avg-|-Max-|-Avg
--|Dist-|-Time--|-Pace--|-Pwr-|SPM-|-HR--|-HR--|-DPS
--|05011|19:59.0|01:59.7|213.7|21.0|157.4|175.0|11.9
W-|05013|19:59.0|01:59.7|212.2|20.9|156.7|175.0|12.0
R-|00000|00:00.0|00:00.0|000.0|00.0|000.0|175.0|00.0
Workout Details
#-|SDist|-Split-|-SPace-|-Pwr-|SPM-|AvgHR|MaxHR|DPS-
00|00940|03:54.0|02:04.5|176.7|17.9|129.7|146.0|13.4
01|00995|04:01.0|02:01.1|196.8|19.9|151.1|156.0|12.4
02|01040|04:01.5|01:56.1|223.9|22.3|161.3|166.0|11.6
03|01036|03:58.5|01:55.1|250.0|23.2|168.9|175.0|11.3
04|01001|04:04.9|02:02.3|212.7|21.2|171.5|175.0|11.6
This was a bit disconcerting.  It seemed like my HR was a bit too high, and I was breathing hard.  I decided this was nerves.  I waited a bit more than 5 minutes after finishing to get set up for my 1K.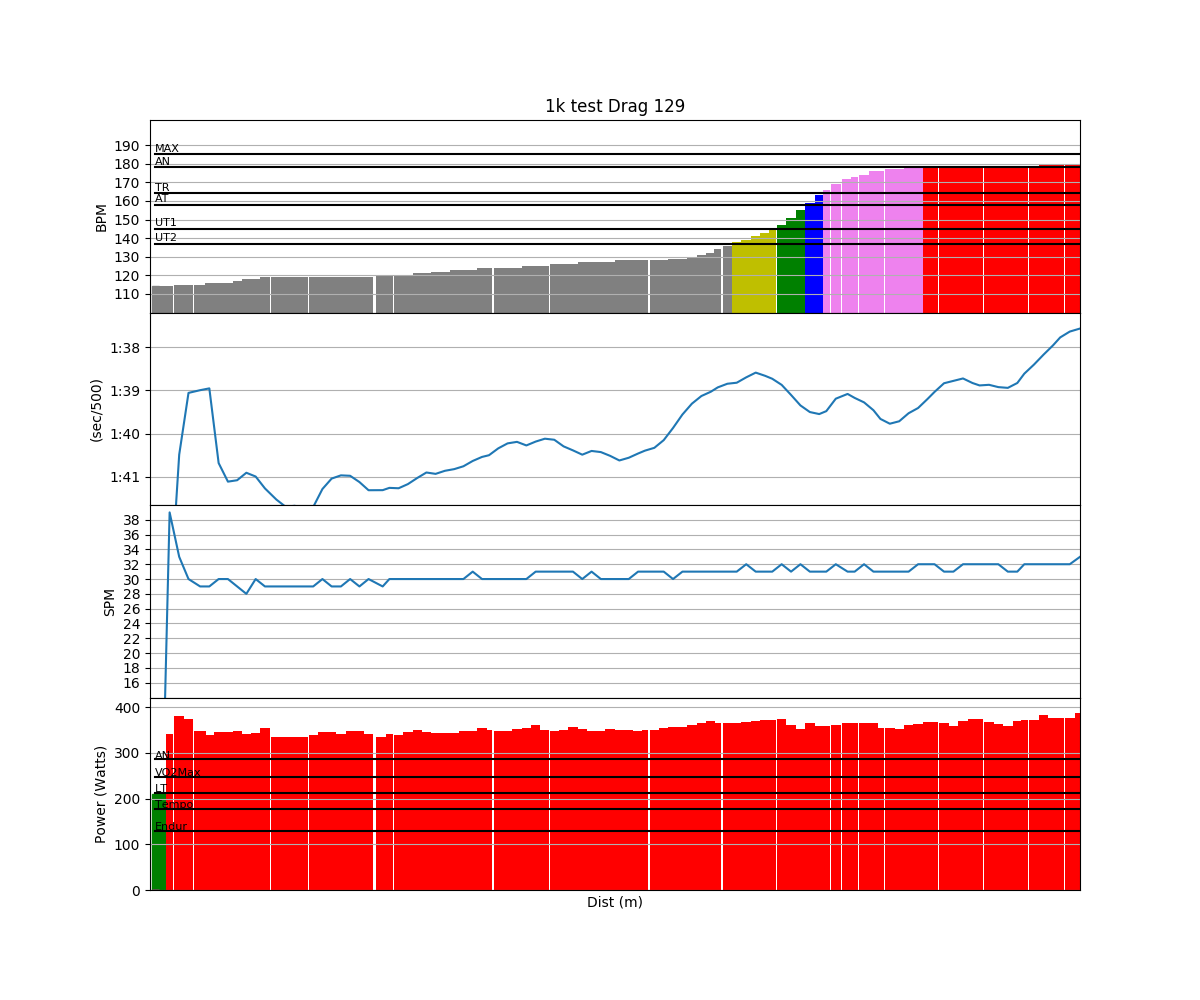 For some reason, the HR monitor lagged significantly.  Not sure why.  I've seen that with the Wahoo, but I hadn't yet for the Polar OH1.
As for the row, it basically went to plan.  I focused on just hitting 30 spm and 1:41 at first and counted strokes.  I felt good at 250 and I pushed a bit.  At 500, it was stinging, but I started to feel ambitious and I pushed the rate up a bit and managed to work the splits down so 1:38 and 1:39 were dancing on the screen.  I did pretty well, because I thought the world was ending around the 750m mark.  But I kept counting my strokes and knew that I had about 30 to go.  I just closed my eyes and counted down.  With 5 to go I opened my eyes and finished it off.  3:18.9.  356W.  Not so bad.  I guess the stretch target wasn't far off.
I was pretty well shattered by that.  It took a couple of attempts to get going with a cool down and an hour to stop sweating.  Now I have a nasty erg cough and a glimmer of pride.  This workout ranked in the 93rd percentile (31st of 429 for my age bracket).
Tomorrow: Scheduled rest day.
Thursday:  20′ Test.  Gotta figure a pace for that one too!