Tuesday was a bit of a jumble.  I had to be at an offsite meeting at 8am to give some opening remarks, so no morning workout.  Then by 9am, I was on my way the office.  I couple of meetings brought me to around 12:45pm, when I headed off to the gym to do my planned session.
5 x 2000m / 2′ rest

1500m: r22, 2:01
500m: r24, 1:55
Before that, I did the ever expanding set of corrective exercises from the PT.  These are starting to be a real time sink.  I hope the benefit is worth the training time that I am devoting to it.  The exercises have 3 purposes.  First to correct the imbalance between my hips and glutes.  Second to work a bunch of adhesions out of my quads and IT bands and improve hip flexibility.  Third to strength the helper muscles in abdomen to improve my ability to rock over and hold a strong position at the catch and finish with a very stable back.  I guess this is the perfect time of year to work on these issues, but I find it to be maddening drudgery.  I have to look at it as if it was a standard medical prescription and take my medicine.
I noticed that I felt more fatigued from my PT exercises , and I wondering if I was either coming down with the cold that was going through my family last week at Thanksgiving, or just worn out from my battles with the dynamic erg.  At any rate, I thought the erg session would be a struggle, and it was.  This is the same session that I did on 11/17 and 11/21.  The one on 11/21 was remarkably good.  This was a lot more like the one on the 17th.  High heart rates, but otherwise entirely manageable.
I started with a 2000m warmup, basically starting around 2:15 and speeding up to do the last 500m at my target 2:01 pace.
Then into the intervals.  I still want to pull a bit faster at r22 than a 2:01 pace, so I really needed to focus on light strokes, limited layback, and fast hands away to keep from either pulling 1:59s at r22, or 2:01s at r21.  This was actually a really good way to keep my brain engaged in the technique notes that I've been getting from Marlene.
As I said above, my HR was high, but I felt good through the session and pleasantly tired, but not beaten up at the end.
I finished with a 2000 happy ending cool down.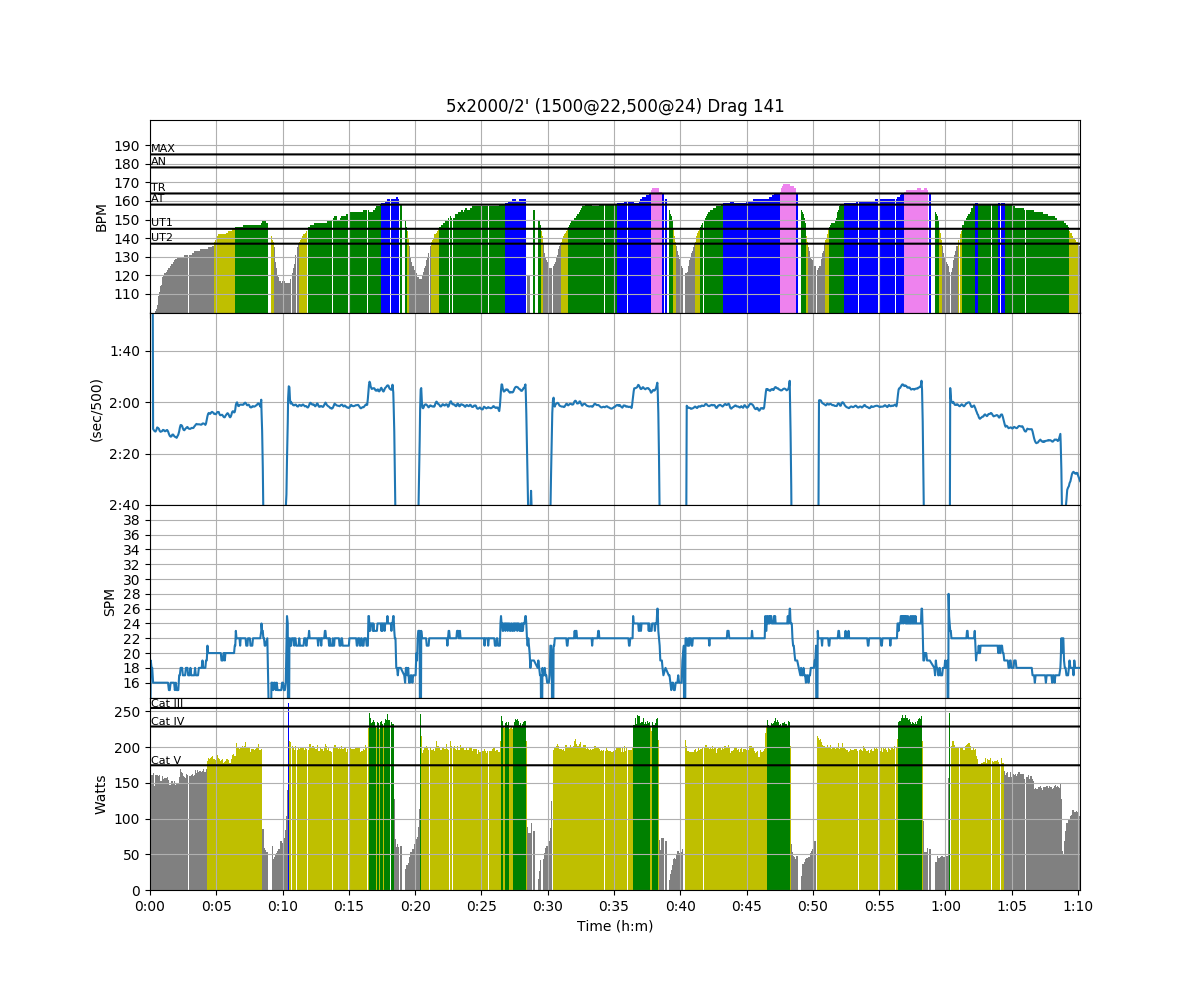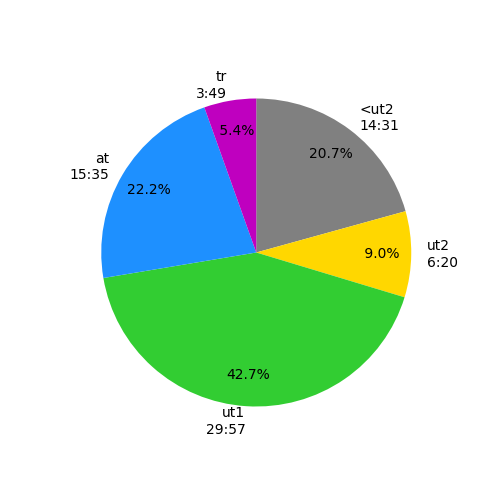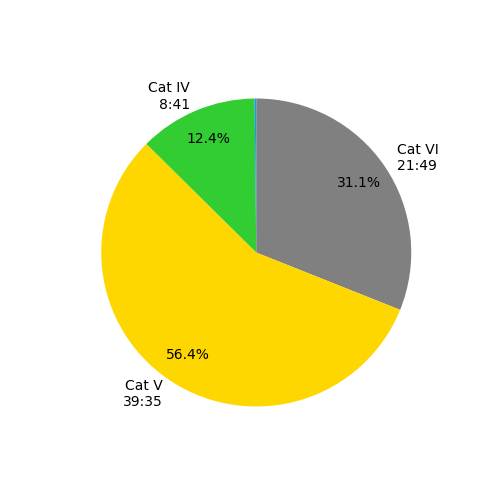 Workout Summary - media/20171128-1920330o.csv
--|Total|-Total-|--Avg--|-Avg-|Avg-|-Avg-|-Max-|-Avg
--|Dist-|-Time--|-Pace--|-Pwr-|SPM-|-HR--|-HR--|-DPS
--|15954|70:39.0|02:12.9|180.5|21.0|149.1|169.0|10.8
W-|10000|39:46.0|01:59.3|206.6|22.2|153.7|169.0|11.3
R-|05957|24:51.0|02:05.2|127.6|18.7|140.0|169.0|15.5
Workout Details
#-|SDist|-Split-|-SPace-|-Pwr-|SPM-|AvgHR|MaxHR|DPS-
01|01500|06:03.7|02:01.2|199.4|21.5|146.6|155.0|11.5
02|00500|01:54.4|01:54.4|235.6|23.8|158.0|161.0|11.0
03|01500|06:02.8|02:00.9|198.3|21.8|149.4|158.0|11.4
04|00500|01:54.4|01:54.4|232.7|23.7|159.9|161.0|11.1
05|01500|06:02.7|02:00.9|199.0|21.8|152.7|160.0|11.4
06|00500|01:54.0|01:54.0|234.2|23.8|162.6|167.0|11.0
07|01500|06:03.5|02:01.2|195.7|21.7|152.7|161.0|11.4
08|00500|01:54.4|01:54.4|232.5|24.2|164.8|169.0|10.8
09|01500|06:02.8|02:00.9|197.6|21.6|154.2|161.0|11.5
10|00500|01:53.8|01:53.8|235.5|24.2|165.1|167.0|10.9
Wednesday is a planned rest day.  I'm flying down to Texas for a couple of meetings.  I'm going to try to find a crossfit box for a workout tomorrow morning. The planned session is a nice easy endurance workout.
3 x 20′ / 3′
Cat VI (r18, 2:06)
I'm pretty pleased with how things are going lately.  November is going to be my highest monthly training time in almost 2 years. Here is training time per month going back to May of 2013.  The last time a set a PB was January of 2016.  Do you notice something different in the graph before January of 2016 and after?  I sure do.
By a strange coincidence, I got a promotion just about 2 years ago and the amount of travel and work hours ramped up at that time.  If I look closely at the months with low training totals, some of them correlate to months with a ton of travel (Feb-17, July-17), but other correlate with injuries (12-16 – knee surgery, 9-17 – back injury).
So, my conclusion is that I can probably manage about 30 training hours a month.  This would include rowing hours plus aerobic cross training.  It does not include PT stretches and exercises.  If I am traveling heavily, there will be more cross training hours and fewer rowing hours, and most likely a couple of extra "no training" days.
I think one adjustment that makes sense to is approach my schedule to do longer "easy" sessions when I have a time window to do it, and even extend them from 80 minutes to up to 2 hours, if I have the time.  I think there is a strong correlation between total training time and results.