Plan:
4 x 12′ / 1'30″
rate: 22
pace: 2:01 to 2:05
HR limit: 157
The main point of this workout is precision.  Hitting exactly the target split at exactly the target rate.  In addition, it's a good chance for me to work on recovery sequence (keeping my knees down)
I did the workout in the fitness center at work around 11 am.  This was about 18 hours after yesterday's awful 60′ session.  I sure felt sore this morning and I suspect that I was not sufficiently recovered even by my late morning start.
My HR was a higher today than last week, but was only a little high relative to the HR limit.  It plateaued pretty much around 157-159.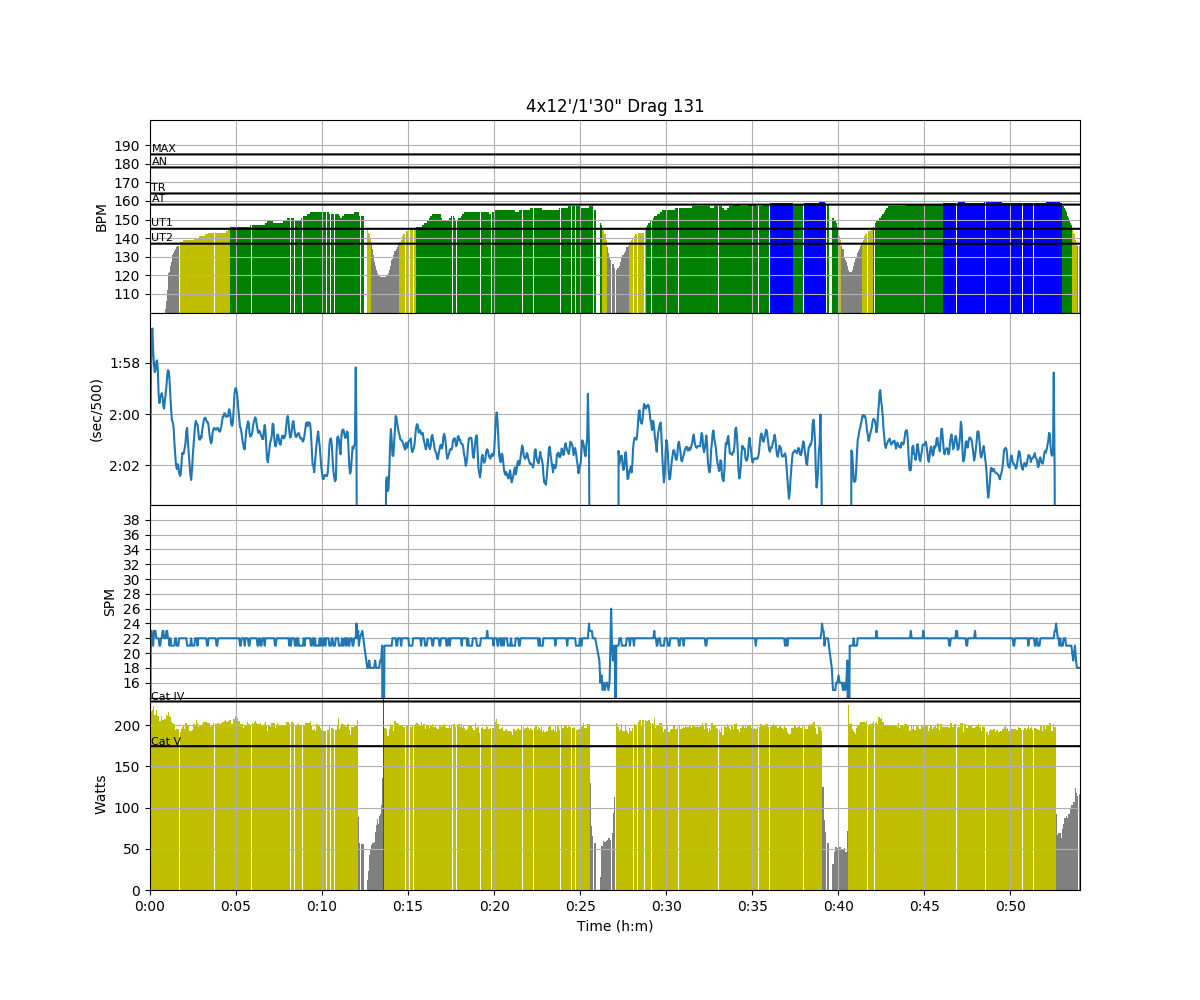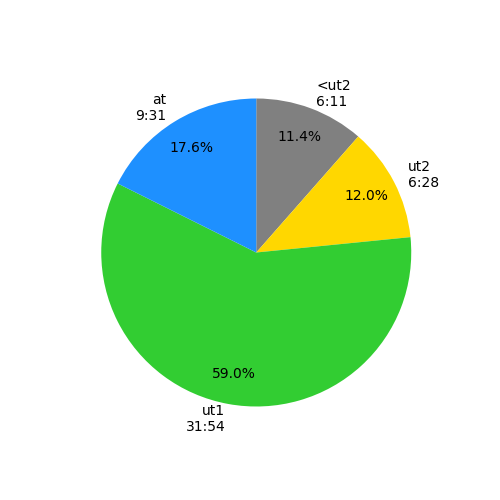 Workout Summary - media/20171127-1720300o.csv
--|Total|-Total-|--Avg--|-Avg-|Avg-|-Avg-|-Max-|-Avg
--|Dist-|-Time--|-Pace--|-Pwr-|SPM-|-HR--|-HR--|-DPS
--|12865|54:03.0|02:06.1|188.5|21.5|149.5|160.0|11.1
W-|11917|48:00.0|02:00.8|198.1|21.7|150.0|160.0|11.4
R-|00953|06:03.0|03:10.8|081.6|19.5|144.2|160.0|09.3
Workout Details
#-|SDist|-Split-|-SPace-|-Pwr-|SPM-|AvgHR|MaxHR|DPS-
00|02999|12:00.0|02:00.0|201.4|21.7|140.4|154.0|11.5
01|02973|12:00.0|02:01.1|197.0|21.6|150.7|157.0|11.5
02|02974|12:00.0|02:01.1|197.1|21.8|153.6|160.0|11.4
03|02971|12:00.0|02:01.2|197.0|21.8|155.1|160.0|11.4
Comparison of HR to last time.
I like this workout.  It's pretty short and not too taxing.
Tomorrow:
5 x 2000m / 2′

1500m at r22 and 2:01
500m at r24 and 1:55
This is a redo of the workout I did last Tuesday.