Thursday:  Rest day.  Thanksgiving.  We went up to Woodstock, Vermont and spent the day with my wife's relatives.  We had two cars full.  My wife and I, our three adult children, and two significant others.  Good food and good company.
Friday:  We spent the night up in Vermont and had a nice brunch at the Woodstock Inn on Friday morning.  Then we packed back into our cars and drove home.  In the late afternoon, I settled in for an erg session.
The Plan:
3 x 15′ / 1′
Cat VI Pace: 2:06 to 2:11, r18-20
Every 5′ – 20 strokes at r32  (Cat I)
Also, insert 5 strokes of a pause at rocked over on recovery every 5 minutes or so.
My technique objective was to work on correcting my problems with breaking my knees too early and also maintain the right back posture.  I did the pause drill as the first 5 strokes of each 5 minutes to get myself setup right, then rowed continuously until there was 2:50 seconds left in the 5 minute segment, then I would do 40 seconds of rowing at r32.  This ended up being about 23 or 24 strokes.  Then I would finish out the last 2:10 seconds at r18.  After three sets of that, I took a quick swig of water and did the pause drill during the rest of the break.
It was a very enjoyable workout.  I was happy to see my HR coming back down nicely at the Cat VI pace.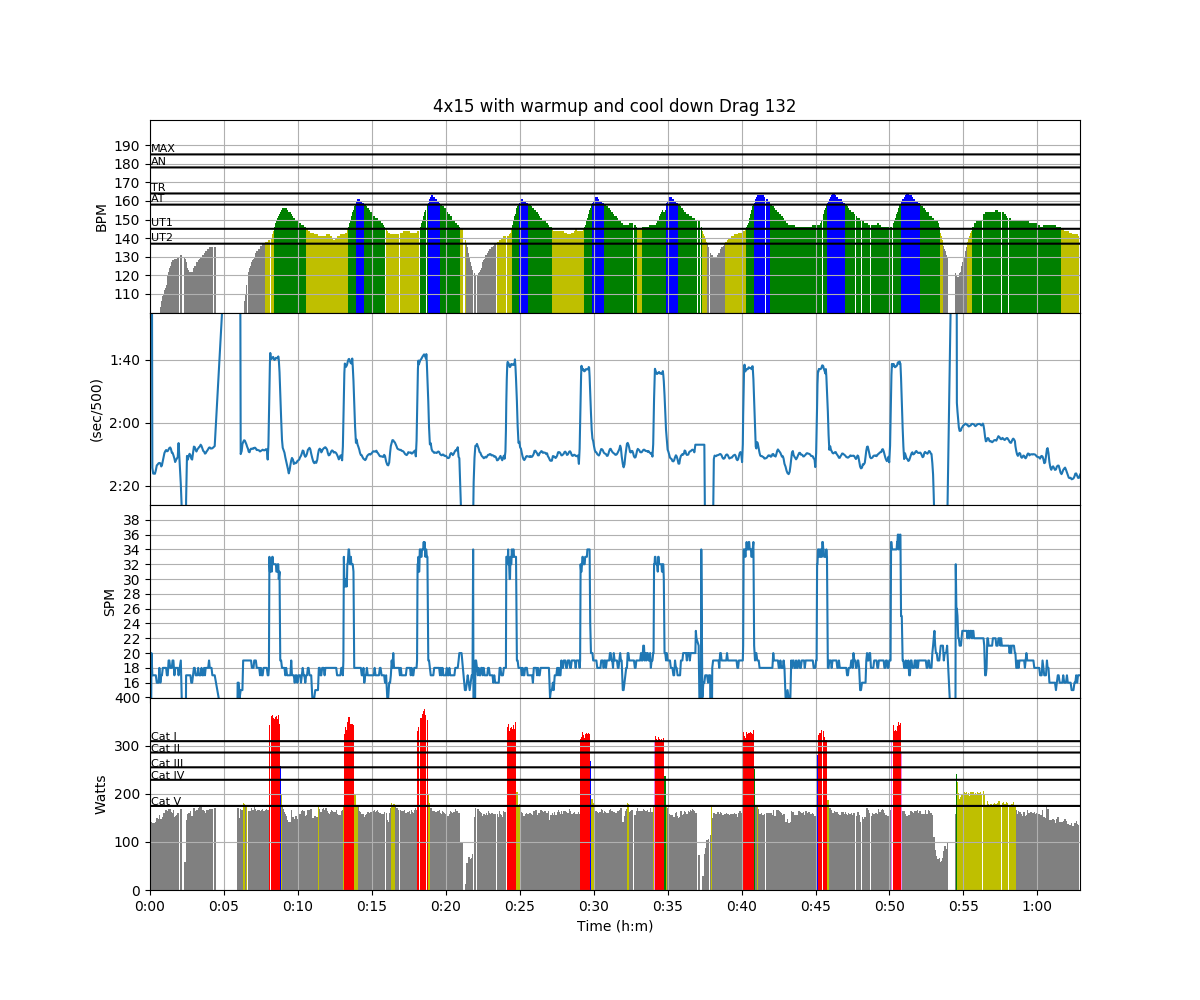 One thing I did not enjoy was doing this workout on the dynamic erg.  When I crank up to a 32 rate on the static erg (or on slides), the pace tumbles easily down to 1:35 or below.  On the dynamic, I was pulling as hard as I could at 32 and it was a massive struggle to get down below 1:45.
After I finished the main set I did a 2k happy ending cool down.