Tuesday:  Up at 4:45am and off to the airport to catch a 7:00am flight to San Diego.  Arrive in San Diego around 11am pacific time.  Meetings from 12 to 4:30, then an early work dinner.  Back at the airport at about 7pm and on a flight back to Boston at 9pm.
I managed to get about 3-4 hours of fitful sleep on the plane.  I arrived in Boston at about 5am and I was home before 6am.  I crawled in bed and slept another 3 hours or so.
Let's call that a rest day.
Wednesday:  Up at 9:30, and straight onto the erg.  I didn't feel up to doing the more intense session scheduled for today, so I opted to do the Tuesday session that I missed.
4 x 12′ / 1'30"
Cat V: Rate 22, pace 2:01
I had low expectations because of the quality and quantity of sleep that I got last night.  My HR was a bit high, but I felt pretty good once I was going.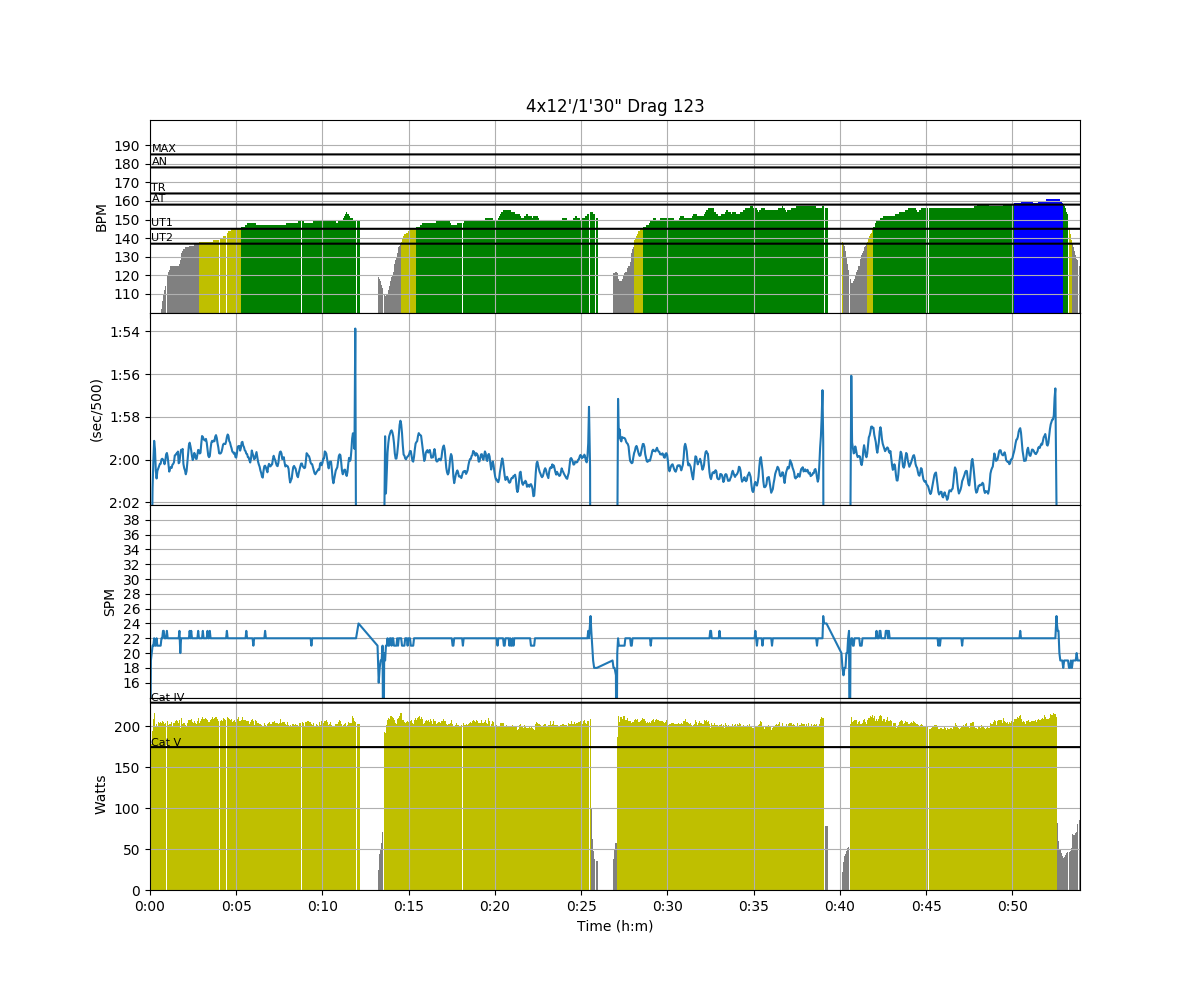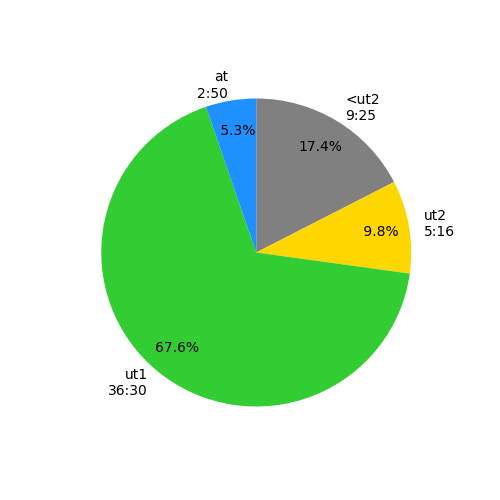 Workout Summary - media/20171220-1630300o.csv
--|Total|-Total-|--Avg--|-Avg-|Avg-|-Avg-|-Max-|-Avg
--|Dist-|-Time--|-Pace--|-Pwr-|SPM-|-HR--|-HR--|-DPS
--|12529|54:00.0|02:09.3|197.4|21.8|147.4|161.0|10.7
W-|12020|48:00.0|01:59.8|203.8|21.9|147.6|161.0|11.5
R-|00512|06:00.0|05:51.3|070.6|20.1|138.2|161.0|08.4
Workout Details
#-|SDist|-Split-|-SPace-|-Pwr-|SPM-|AvgHR|MaxHR|DPS-
00|03016|12:00.0|01:59.4|204.9|21.9|139.5|154.0|11.5
01|03001|12:00.0|01:59.9|203.9|21.8|147.2|155.0|11.5
02|03001|12:00.0|01:59.9|202.7|21.8|150.5|157.0|11.4
03|03002|12:00.0|01:59.9|203.8|21.9|153.2|161.0|11.4
Results were similar to past sessions of this type.  A bit higher watts.  HR in the same range.  More consistent stroke rate.  Interestingly, there is a significant increase in peak power for my most recent two sessions.  This is coupled with a significant reduction in drive length.  I think this is a sign that I am limiting the amount of layback that I am getting and spending less time dwelling at the finish.  I'll have to do a video to look at the comparison. but for now I think that this is purposeful.  Time will tell if it is a good thing.  I am doing it to be better in the boat, and to reduce the likelihood of re-injuring my back.  I expect that it actually increases the amount of energy I need to expend to hold a certain pace.
I'd love to hear people opinions about this.  It's kind of a subtle point.
Tomorrow:  4 x (1500m @ 22, 500m @ 24) / 2′  Target pace: 2:00 for r22, 1:55 for r24