You might be noticing a trend by now.  I'm looking at it as a rebuilding period.  In this period I have a few goals
Get competent medical advice about lower back pain and fix any issues with flexibility or imbalances.  This includes stretches and exercises
Get competent coaching to improve my rowing form for better efficiency and injury prevention.  This includes drills.
Rebuild my base aerobic fitness by doing lots of easy rowing
Today, I got to work on all three.
I started by doing my normal pre-rowing routine.
10 SI exercises on  my left leg
foam roll my quads
use a lacrosse ball to get after trigger points around the front of my hips and pelvis
2 x 40 sec glute bridges on an exercise ball
4 x 10sec torso twists
After that, I did a couple of drills that were recommended to try to improve my posture at the finish.  Here are links to the drills.
Since I wanted to review it after, I taped my attempt at doing it and took a few easy strokes afterward trying to maintain the posture.
I found the drill to be very useful.  I was able to remember what the position felt like and try to hold it during the row.  By sitting the erg next to a mirror and looking at the hands back position, and then a proper finish position, I was get that picture in my mind and then look every once in a while during the row.
After that, I did my 4 x 20.  Today, I started off aiming at 175W, but HR was really high, so I backed off slightly to try to keep it under 150.  Remarkably, just a few watts was enough to do that.  I did a lactate test at the end, and it read 5.3, which I thought had to be a mistake.  I retook it and it was 3.0.  Still much higher than I would have expected, but at least plausible. Rowing while focusing so much on posture was a lot harder and felt very unnatural.  I imagine it will take weeks to start feeling natural.  I think next time I will stick at this 170W-175W range.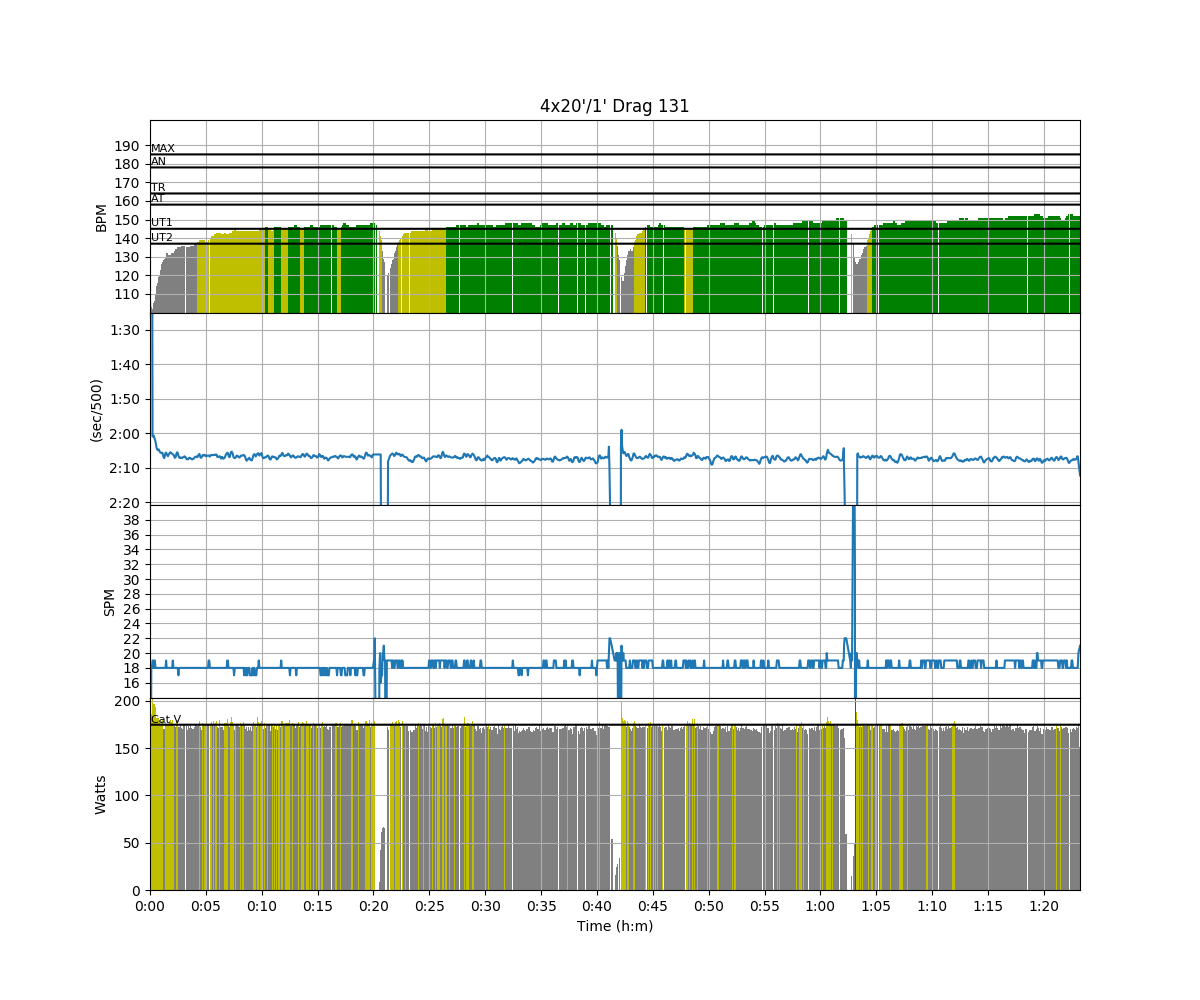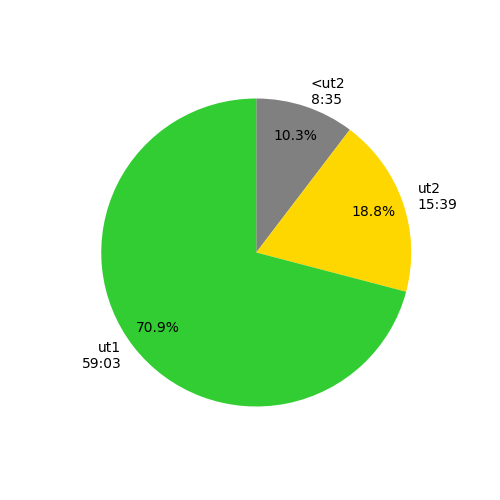 Workout Summary - media/20171114-2005300o.csv
--|Total|-Total-|--Avg--|-Avg-|Avg-|-Avg-|-Max-|-Avg
--|Dist-|-Time--|-Pace--|-Pwr-|SPM-|-HR--|-HR--|-DPS
--|19314|84:00.0|02:10.5|169.2|18.2|145.2|153.0|12.6
W-|18926|80:00.0|02:06.8|171.8|18.2|145.2|153.0|13.0
R-|00392|04:00.0|05:05.7|096.1|19.6|144.4|153.0|02.3
Workout Details
#-|SDist|-Split-|-SPace-|-Pwr-|SPM-|AvgHR|MaxHR|DPS-
00|04753|20:00.0|02:06.2|174.3|17.8|141.2|148.0|13.3
01|04725|20:00.0|02:07.0|171.3|18.1|145.2|148.0|13.0
02|04730|20:00.0|02:06.8|171.7|18.2|145.7|151.0|13.0
03|04718|20:00.0|02:07.2|169.7|18.6|148.7|153.0|12.7 - 3.0
Tomorrow:  I'm getting tired of all this base building, I need a little bit of intensity, so I think I will return to an old classic, 8×500.  Pace target around 1:45.