Busy day.  I did a couple hours of raking and cleaning out the flower beds early this afternoon.  Then, around 5:30 I settled down for a long easy Cat VI workout.
The only tricky part was I was at home with my nemesis, the dynamic erg.  For those of you who have not followed the saga.  I have not been a fan of this piece of equipment, and I was convinced that it was defective in some way.  I am less convinced since I sat on a dynamic erg at the HOCR and it felt basically exactly the same.  Also, since then, I have received with less enthusiasm, pretty direct feedback about possible flaws in my technique that could explain why I can hammer out better times on the static erg, but not on my nemesis.
This situation gives me hope.  If I can get better on the dynamic, maybe that will translate better to the boat too.  So, it is time to embrace the suck.  No better session to embrace the suck with than a nice easy Cat VI workout.  The guidelines are simple.
4 x 20′ / 3′ rest
rate: 18-20 (the lower the better)
pace: 2:06 to 2:11
HR limit: 145,150,155,155
On the static erg, I am doing these just about at the fast edge of the band.  On my nemesis, I figured I should go out slow, maybe 2:10 and see what happened.
I started and things felt good between 2:08 and 2:09.  Rate felt good between 20 and 21, so I had to work on keeping it at 20, with mixed success.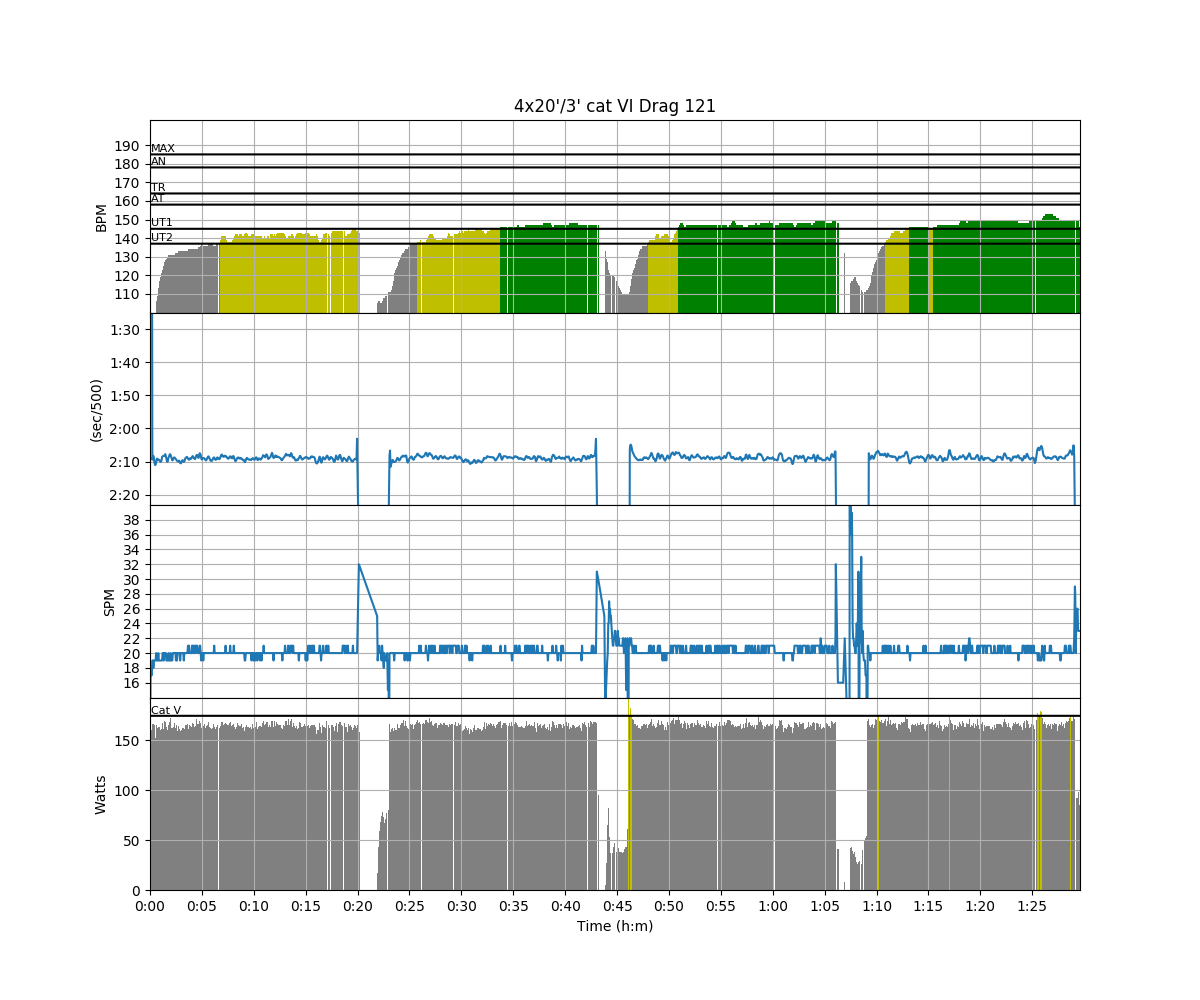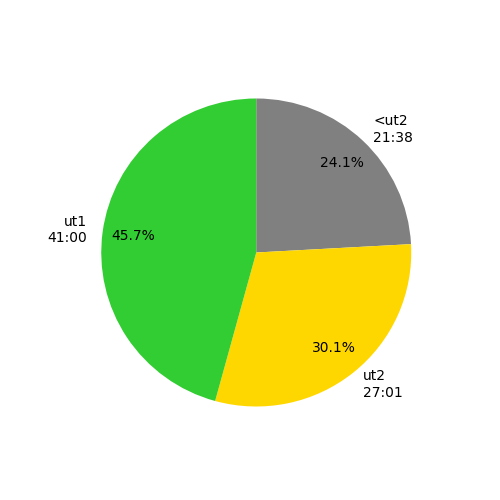 Workout Summary - media/20171120-0000300o.csv
--|Total|-Total-|--Avg--|-Avg-|Avg-|-Avg-|-Max-|-Avg
--|Dist-|-Time--|-Pace--|-Pwr-|SPM-|-HR--|-HR--|-DPS
--|19668|92:00.0|02:20.3|157.4|20.3|140.9|153.0|10.5
W-|18693|80:00.0|02:08.4|165.1|20.1|142.5|153.0|11.6
R-|00978|12:00.0|06:08.2|065.0|22.7|124.1|153.0|01.5
Workout Details
#-|SDist|-Split-|-SPace-|-Pwr-|SPM-|AvgHR|MaxHR|DPS-
00|04673|20:00.0|02:08.4|164.4|19.9|136.9|145.0|11.7
01|04667|20:00.0|02:08.6|165.1|20.1|142.5|148.0|11.6
02|04675|20:00.0|02:08.3|165.4|20.3|144.4|149.0|11.5
03|04679|20:00.0|02:08.2|165.7|20.1|145.9|153.0|11.6
So, I think right now I have about a 2 split difference between dynamic and static, maybe 10-15 watts.
Monday's session:
4 x 12′ / 1'30"
Rate: 22
Pace: 2:01 – 2:05
HR Limit: 155