I got up around 9 and wasted time until around 11.  Then I thought it would be a good idea to get my training out of the way.  So, down to the basement.
I haven't been mentioning it, but most days, before I erg I am doing the corrective exercises that my PT prescribed for me.  Today that meant.
10 x 10 sec of this…
The this one…
Then this…
Then this…
Then this…but with a 4 pound medicine ball.
I should have, but didn't do the exercises for my oblique abdominals.  In addition, during the rests between the 20′ pieces, I did 10 reps of an abdominal exercise that he showed me.  With feet unstrapped and at the finish, assume a hands away and body over position.  Then hinge back at the hips and bring your arms over your head until you feel your feet start to become unweighted.  Hold for a second, then bring hands back down and hinge back to body over.  It's a really good way to remind myself of good hip motion and back position during a ling session.
The session itself was not at all notable, and that's kinda the whole point. Respected a 155 cap all the way along until the last minute when I want to finish with an even 4800m for the piece.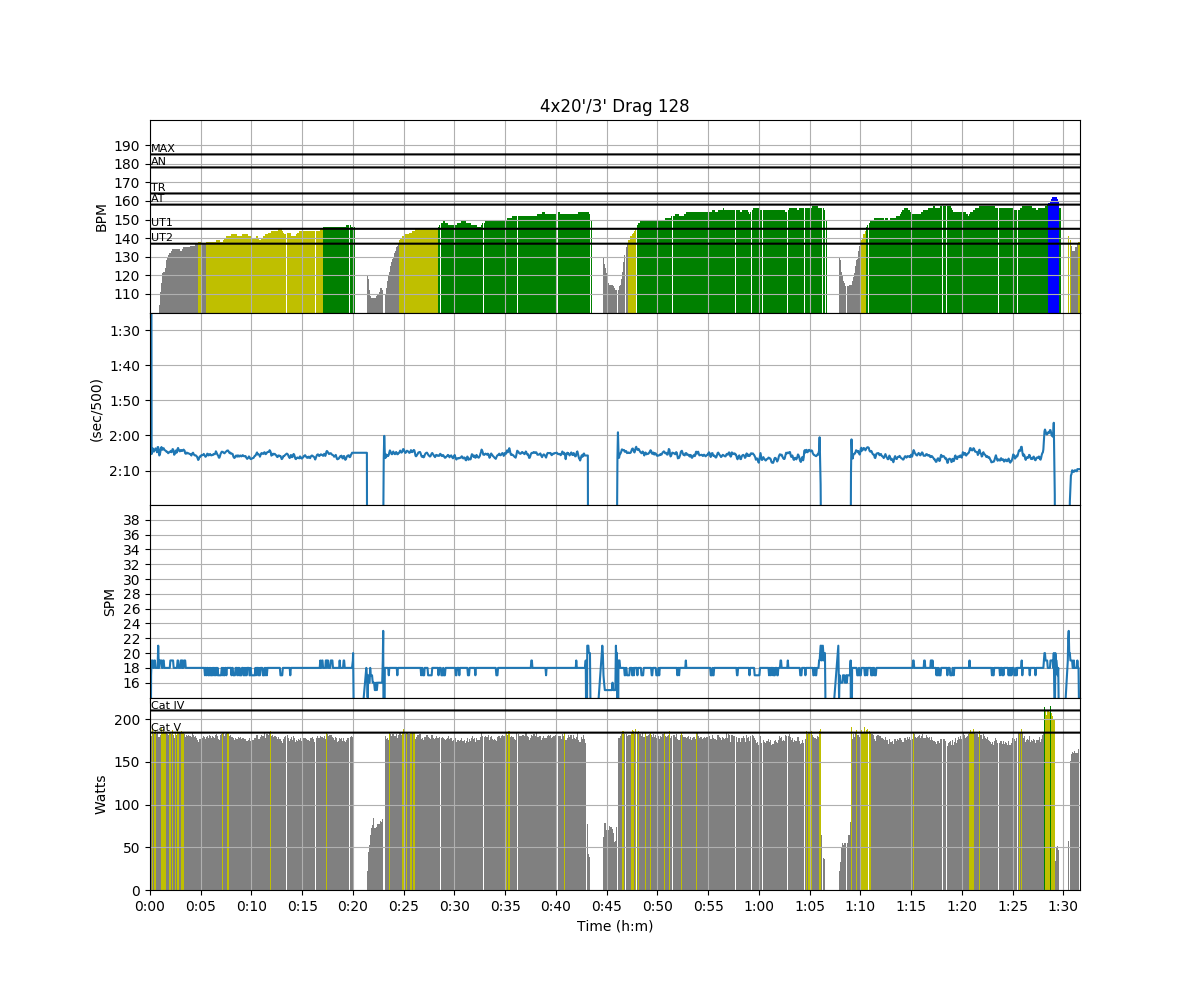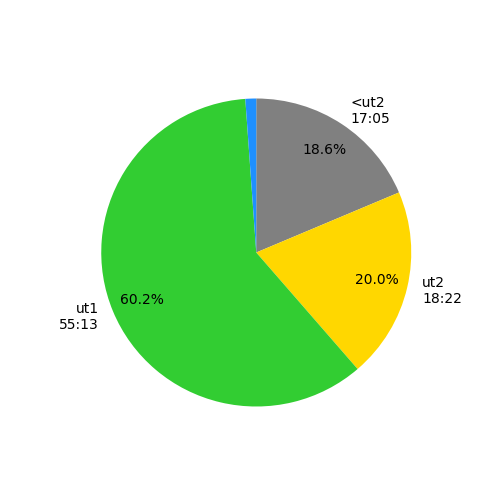 Workout Summary - media/20180106-1745330o.csv
--|Total|-Total-|--Avg--|-Avg-|Avg-|-Avg-|-Max-|-Avg
--|Dist-|-Time--|-Pace--|-Pwr-|SPM-|-HR--|-HR--|-DPS
--|20505|92:00.0|02:14.6|170.9|17.7|146.0|162.0|12.6
W-|19187|80:00.0|02:05.1|179.1|17.8|147.3|162.0|13.5
R-|01323|12:00.0|04:32.2|072.8|16.5|129.9|162.0|07.3
Workout Details
#-|SDist|-Split-|-SPace-|-Pwr-|SPM-|AvgHR|MaxHR|DPS-
00|04806|20:00.0|02:04.8|178.8|17.9|137.5|147.0|13.5
01|04794|20:00.0|02:05.1|179.4|17.8|147.3|154.0|13.4
02|04792|20:00.0|02:05.2|179.0|17.8|151.5|157.0|13.5
03|04794|20:00.0|02:05.2|179.0|17.8|152.9|162.0|13.4
One other note, I received a new PM5 from Concept2 as a warranty replacement for the one that was constantly throwing errors.  It worked perfectly.
Tomorrow:  I'm scared of this session.  I haven't succeeded with it yet.
Session:
1 x 40-60'
Rest between: n/a only briefly to rehydrate
Rating/Pace: Shift every 3' Cat III; SR 28+/7' @ Cat VI; SR 18
I'm hoping to do this as 6 x 10′ / 1′  The Cat III is at 1:48 and the Cat VI is at 2:06.  Seems like it should be doable, but it really kicked my ass last week.