Since I didn't feel particularly bad yesterday, just really tired, I wasn't sure if I was better today.  I went to bed at 11 and slept until 9.  When I woke up, I certainly didn't feel like erging.  So, I hung out, wrote up my journal, did some grocery shopping and some chores around the house.  Finally, around 2, I decided that I should get it done.
The workout on the agenda for today is a regular old 3 or 4 x 20′ / 3′ at Cat VI.  That means rate at 18 and pace between 2:03 and 2:08.  I have been thinking about getting back on the dynamic erg for a while.  Since I am making changes in my stroke, I was wondering if it would be a less unpleasant experience with better technique.
I decided today was a good day to try it out.
Most folks rate up a bit on the dynamic, so I decided r20 was the target instead of r18.   And since I have had such struggles with it, I decided that a target above 2:05, maybe 2:07 might be a good idea.  In any case, I would go by a HR limit.  Keep it at or below 155.
And that's what I did.  It seems that deleting and reloading painsled fixed my issues, it worked fine today.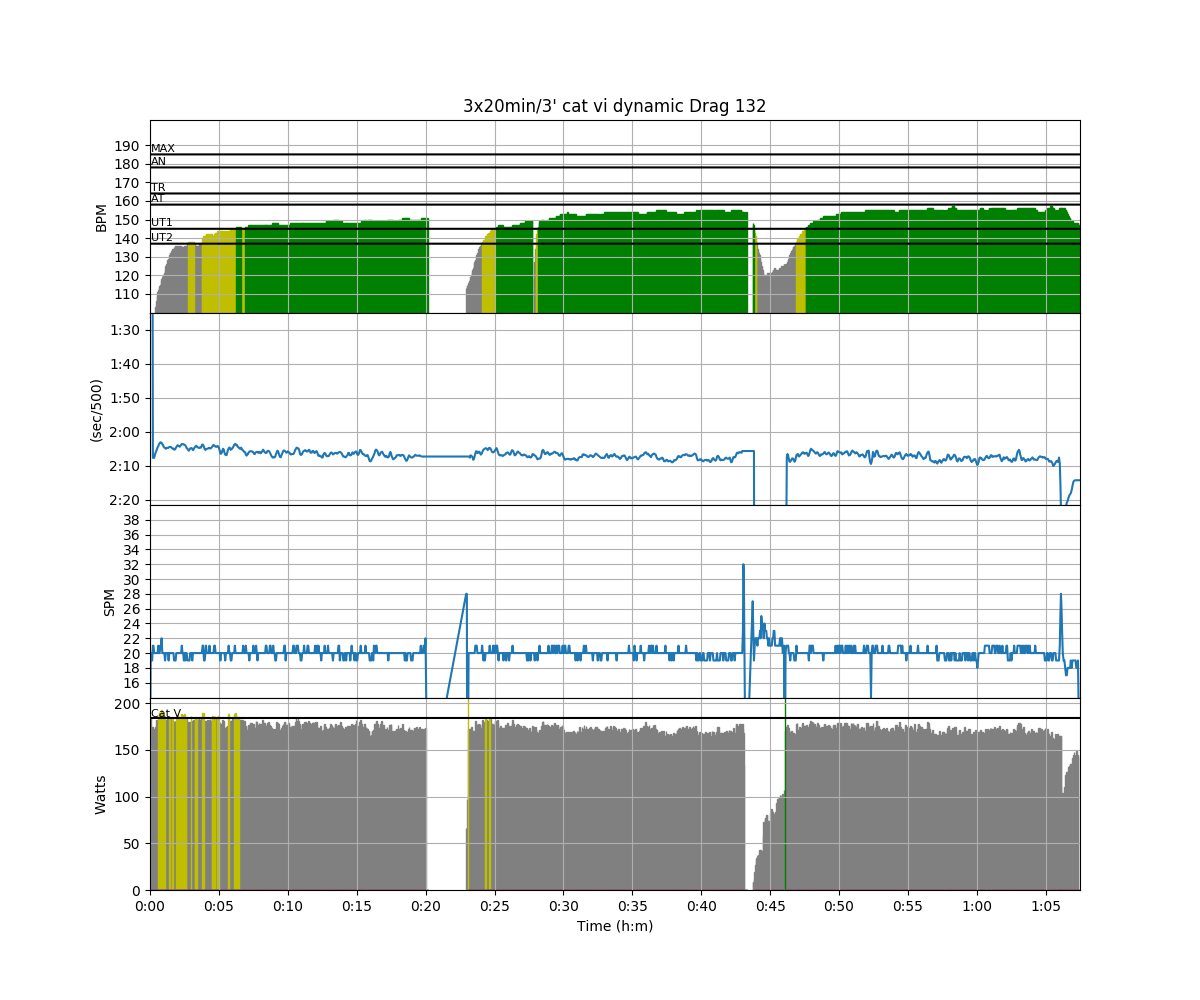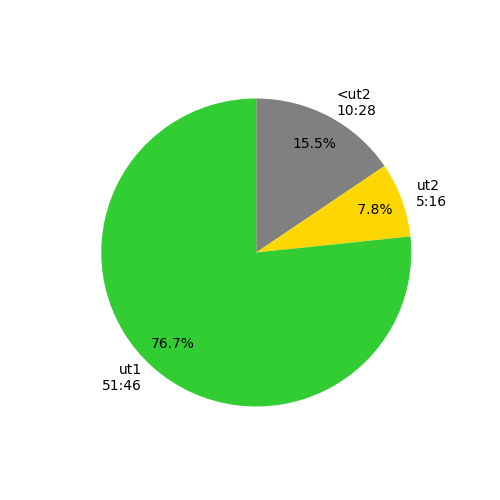 Workout Summary - media/20180128-2010330o.csv
--|Total|-Total-|--Avg--|-Avg-|Avg-|-Avg-|-Max-|-Avg
--|Dist-|-Time--|-Pace--|-Pwr-|SPM-|-HR--|-HR--|-DPS
--|15008|69:00.0|02:17.9|167.8|20.0|147.9|157.0|10.9
W-|14229|60:00.0|02:06.5|173.1|19.9|148.6|157.0|11.9
R-|00782|09:00.0|05:45.3|083.5|19.9|135.5|157.0|05.5
Workout Details
#-|SDist|-Split-|-SPace-|-Pwr-|SPM-|AvgHR|MaxHR|DPS-
00|04784|20:00.0|02:05.4|176.6|20.0|143.5|151.0|12.0
01|04734|20:00.0|02:06.7|171.8|19.9|149.5|155.0|11.9
02|04712|20:00.0|02:07.3|170.9|20.0|152.9|157.0|11.8
It was a lot more work than on the static, but it felt a bit better better than before.  It was certainly easier to maintain proper form, at least I thought so.  After I finished, I set up to take a short video so I could see I was actually doing the right things.
I watched the video and yes, it looks like I was doing a pretty good job on recovery.  I was a bit more slumped than I should have been, but not so bad.
Here's the video, judge for your self.
I was interested to compare doing steady state on the dynamic to the static.
Power:  About 5 watts lower
Rate: 2 beats higher.  Also note how much less consistent my rate is.
HR: About 5 beats higher
Drive length: 10 cm shorter on the dynamic.  I will have to do a video compare to figure out what's going on there, but I suspect that I am compressing less at the catch on the dynamic and that's probably a good thing.
Peak force:  just about the same
Average force: lower, which makes sense since I am doing less power at a higher rate
Peak/avg ratio: follows logically.
Tonight:  I am flying to Korea via Hong Kong.  My flight leaves at about 1:30 am.  I get to Korea Tuesday morning.  I'll be there through Friday.  More crosstraining!