Cool and wet this morning (and dark!).  After working my way around a few boats on my way out, I had the river entirely to myself.  There was a little bit of a head wind for the down river sections.
The plan was to focus on race rate and slightly higher than race pace / power.  My pace target was to get as close to the 2:13.4 that I averaged for the 2′ interval session that I did last time.  This session is a lot harder.  The last minute lasts a loooong time in each interval.
I also wanted to really work on trying to get my releases to be clean and crisp.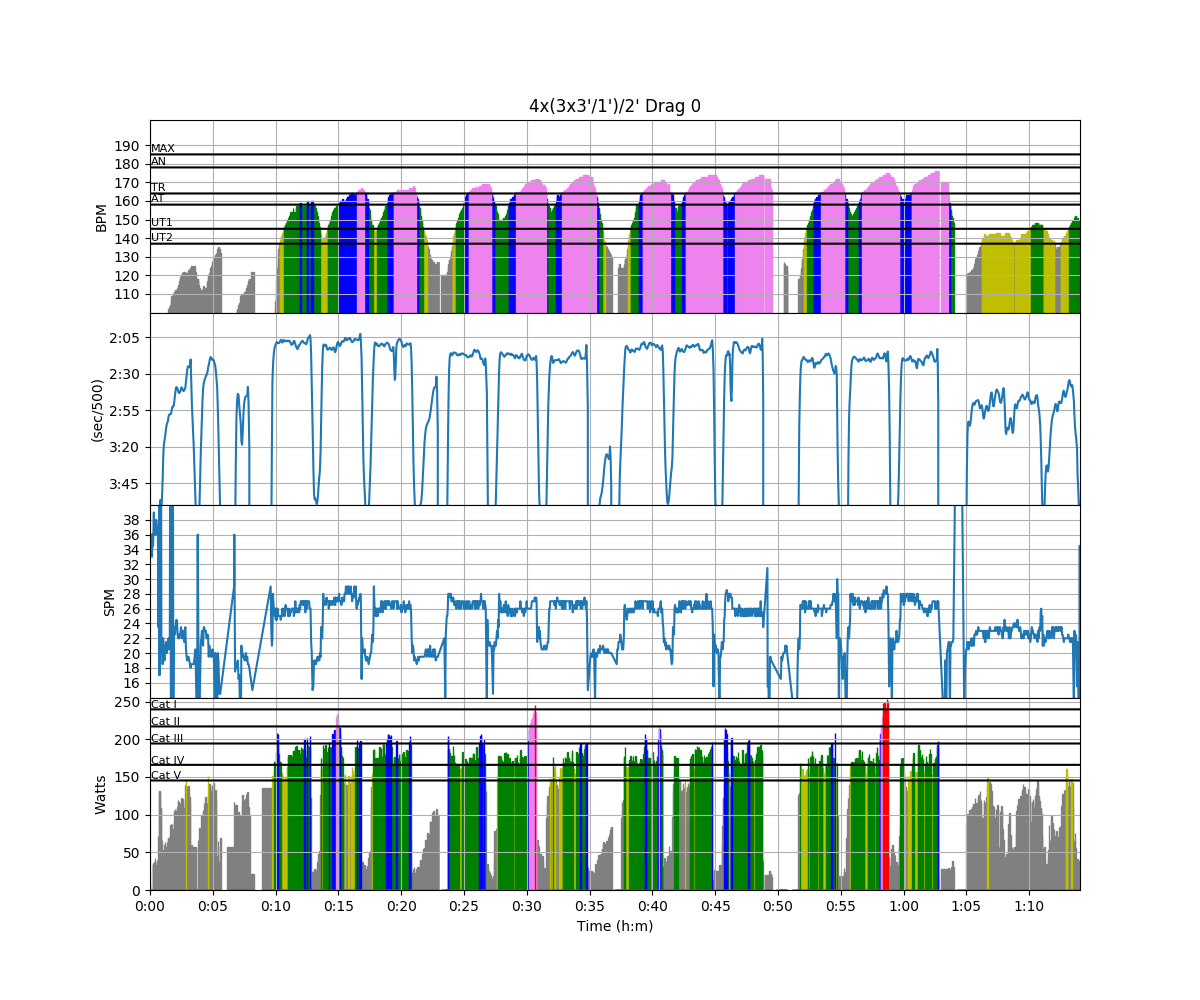 The workout went very well.  I was in control for all the reps.  The high power readings at the end of the 5th and 11th reps are because I finished both of those reps going into the big s-turn and really leaning on the port oar (where my empower oarlock is).
I was working really hard in these reps, but my HR didn't really max out.
Here's a bit closer detail on pace and power.  You can see the power is reasonably consistent across all the reps and the upstream and downstream paces vary with the current and wind.
It was a fair amount of hard rowing.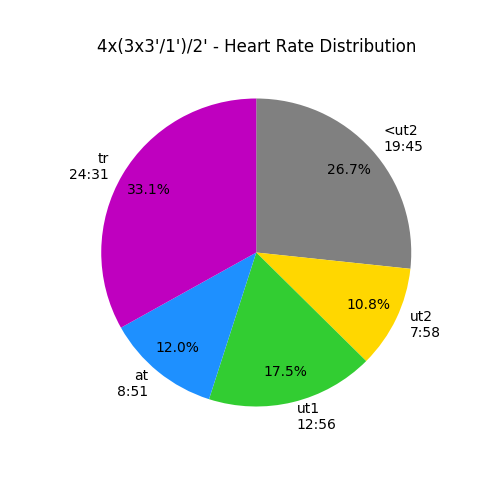 Workout Summary - media/20181003-1200300o.csv
--|Total|-Total-|--Avg--|-Avg-|Avg-|-Avg-|-Max-|-Avg
--|Dist-|-Time--|-Pace--|-Pwr-|SPM-|-HR--|-HR--|-DPS
--|13144|74:02.0|02:49.0|117.4|24.2|148.7|176.0|07.3
W-|08088|36:08.0|02:14.1|169.3|26.3|160.9|176.0|08.5
R-|05066|37:55.0|03:44.6|067.9|22.2|137.0|176.0|06.5
Workout Details
#-|SDist|-Split-|-SPace-|-Pwr-|SPM-|AvgHR|MaxHR|DPS-
01|00112|00:31.9|02:21.8|125.3|19.0|125.5|130.0|11.1 - wu
02|00712|03:02.8|02:08.3|169.4|25.9|146.6|160.0|09.0 - downstream
03|00729|03:08.1|02:09.0|171.2|27.1|157.1|167.0|08.6
04|00704|03:02.4|02:09.5|175.5|26.3|159.3|167.0|08.8
05|00629|02:52.6|02:17.2|171.4|26.7|158.0|169.0|08.2 - upstream
06|00648|02:57.0|02:16.6|182.0|26.1|162.8|172.0|08.4
07|00632|02:55.0|02:18.4|163.2|26.7|166.5|174.0|08.1
08|00709|03:06.2|02:11.3|170.4|26.1|158.7|171.0|08.8 - downstream
09|00694|03:02.8|02:11.7|158.8|26.3|167.3|174.0|08.7
10|00673|02:57.0|02:11.5|173.0|26.0|167.7|174.0|08.8
11|00597|02:47.0|02:20.0|164.4|26.2|157.9|171.0|08.2 - upstream
12|00630|02:53.7|02:17.8|181.1|26.9|166.4|175.0|08.1
13|00617|02:52.0|02:19.3|159.1|26.8|169.2|176.0|08.0
So, I was happy with the workout.  Happy enough that I did some comparisons.
First, I wanted to compare today to last week 20×2 session.  Very similar stroke profiles.  Looks like my peak and avg force was higher, which makes sense since my stroke rate was at least 1 spm lower.
Next I took all the hard sessions that I've done over the past month and did some box charts.
About a 4 sec improvement on pace
stroke rate all over the map
Power up about 15-20 watts
eff drive length about 2-3 deg longer
catch angle up about a degree.
Tomorrow:  70′ steady state at r20.