Big day today.  Back in my Fluid, back on the upper Charles River.
It took me a little to get my boat reassembled, and I took my time.  The last thing I wanted to was to screw something up and flip when the air temp was 35F and the water was around 45F.
The despite it being a bit cold.  The weather was beautiful.  There was very little wind and it was nice and sunny.  It had warmed up to the mid forties by the time I had finished.
The water was nice and flat and I was able to just focus on trying to remember how to row.
The plan was pretty simple:
4K to the dam just rowing steady state to reacclimate
3K back upstream working on technique

500m Square blades
500m alternating SBR and feathered
500m trying to row feathered without touching water
repeat

Same thing 3K down stream
4K back to the dock rowing steady state to see if I made any progress
It's funny, the first few outings in  the spring, my heart rate is quite high and my boat speed is quite slow.  After a couple weeks in the boat, I seem to get back in the groove.  Today was much the same.  In addition, there was a reasonable amount of current flowing, so I was about 5 sec faster downstream and 5 sec slower upstream on pace.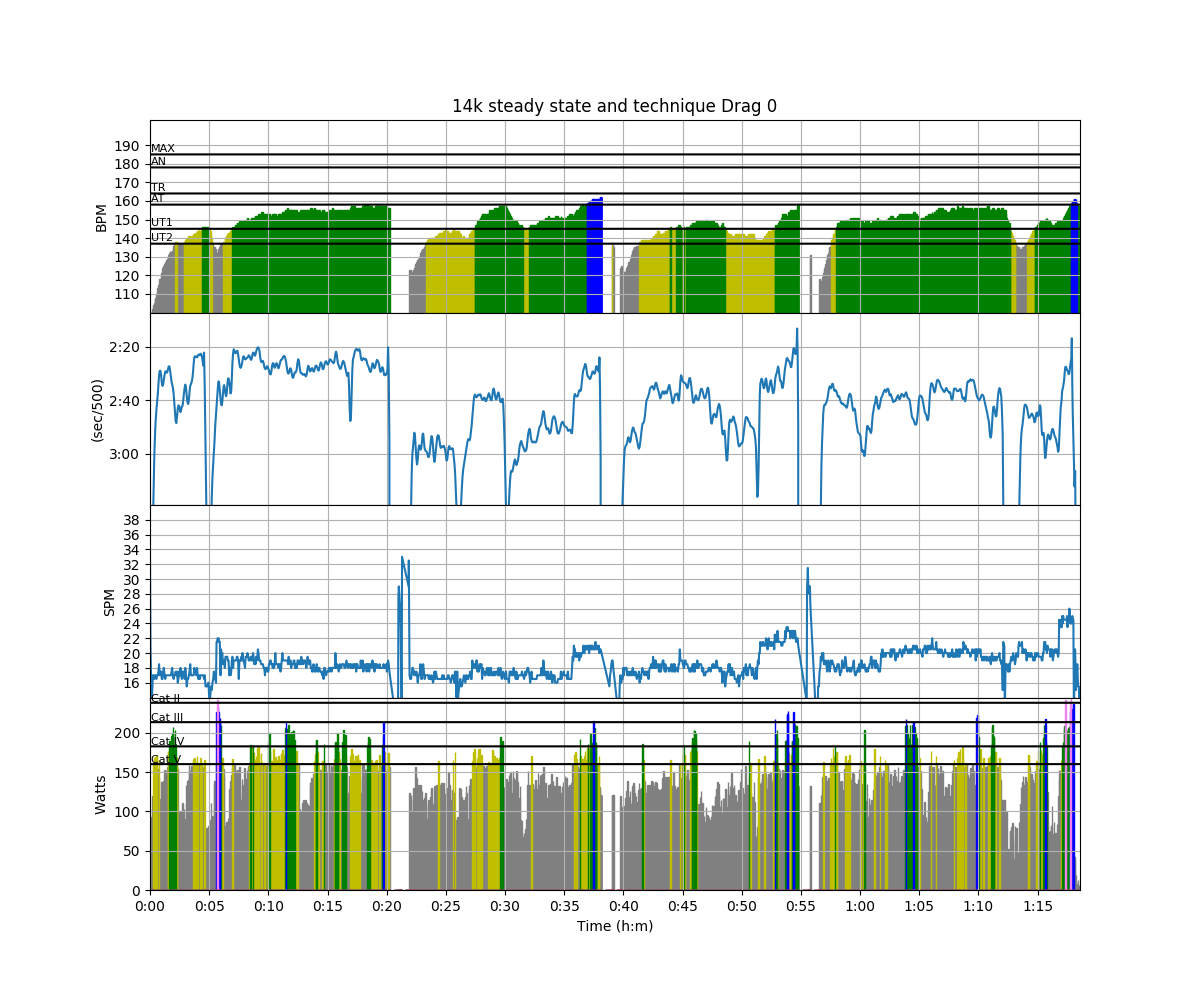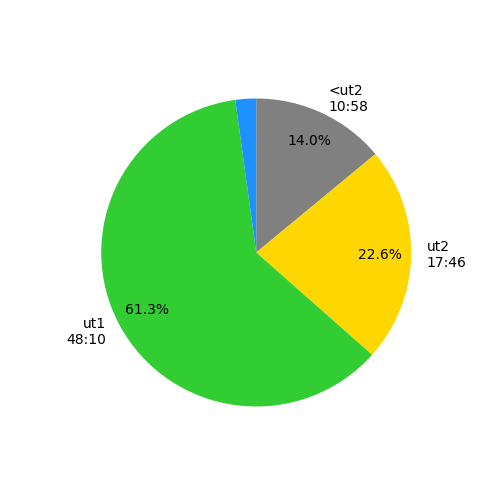 Workout Summary - media/20180329-1335260o.csv
--|Total|-Total-|--Avg--|-Avg-|Avg-|-Avg-|-Max-|-Avg
--|Dist-|-Time--|-Pace--|-Pwr-|SPM-|-HR--|-HR--|-DPS
--|13974|80:00.0|02:51.8|134.7|18.2|146.8|162.0|09.6
W-|12923|68:20.0|02:38.7|142.9|18.6|147.8|161.0|10.2
R-|01058|11:40.0|05:31.2|086.8|16.0|141.2|161.0|03.1
Workout Details
#-|SDist|-Split-|-SPace-|-Pwr-|SPM-|AvgHR|MaxHR|DPS-
00|00889|04:34.2|02:34.3|144.2|17.0|131.5|146.0|11.4 to the cut
01|02735|13:15.0|02:25.3|157.2|18.4|154.1|158.0|11.2 downstream ss
02|02815|15:54.0|02:49.5|136.3|17.5|148.1|161.0|10.1 drills
03|02768|14:43.2|02:39.5|133.5|18.6|143.7|155.0|10.1 drills
04|02881|15:22.2|02:40.1|145.0|19.4|151.0|157.0|09.7 upstream ss
05|00835|04:31.8|02:42.7|146.4|21.2|147.2|160.0|08.7 cut back to dock
I'm nursing a nice set of blisters on both hands, and I'm sore in lots of places.  And I'm happier than I've been in months!
Tomorrow:  Low Intensity day.  OTW 1x.  Depending on time and fatigue, somewhere between 60 and 80 minutes of rowing.  Main intent is to get in some ss meters, but I want to do some side video to see where I am from a technique perspective.  So that means I will probably throw in a few short rate ladders.