A couple of days ago, I looked at the weather forecast for the week and decided that it was time to get back on the water.  I sent a text to my friend Joe and asked if he wanted to go out any morning this week.  I needed to retrieve my boat from winter storage on in Worcester, and I thought it would be great to get a first row in out there with Joe at the same time.
He suggested Wednesday morning.  I was a bit worried this morning when I woke up and heard sleet on the windows, but I'm glad that we weren't deterred.  The weather cleared up and the water was amazing!  There was basically no wind and the lake was glassy smooth.
One of Joe's finest qualities is that he is willing to do just about any kind of training session.  So, today, I just brought the session that Marlene has scheduled for Wednesday's
The Plan:
3 x 1500m / 1′ rest
3 x 500m / 2′ rest
To work with the constraints of the lake, we did a nice long warmup down to the south end of the lake.  Then we did the 3 1500s going north.  Instead of 1 minute rests, we just paddled 200m between intervals.  It looks like that was actually about 1:20 of rest.  And between the 1500s and the 500s, we took a longer break so that we could get up to the north end of the lake.
I was really pleased with how the outing went.  Even in the warmup, I felt like we were in synch and rowing pretty cleanly.
The 1500s at r24 were really enjoyable.  They started to bite a bit at the end of each, but the rowing was good.
The 500s were a bit more hectic, and by then my hands were pretty torn up, so I wasn't as happy with how I was rowing.  But for r28 in a first outing, I'm not gonna get too grumpy about it.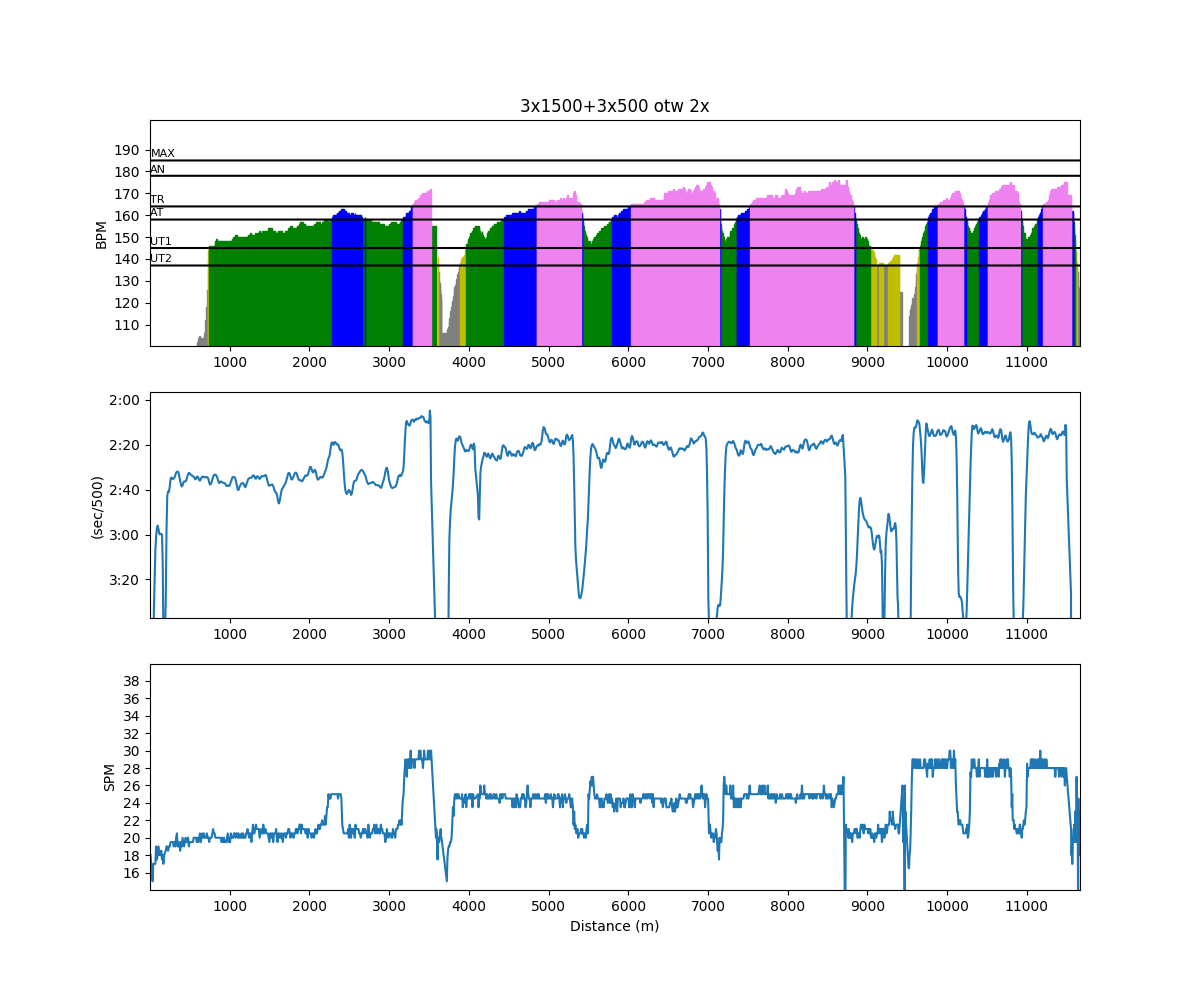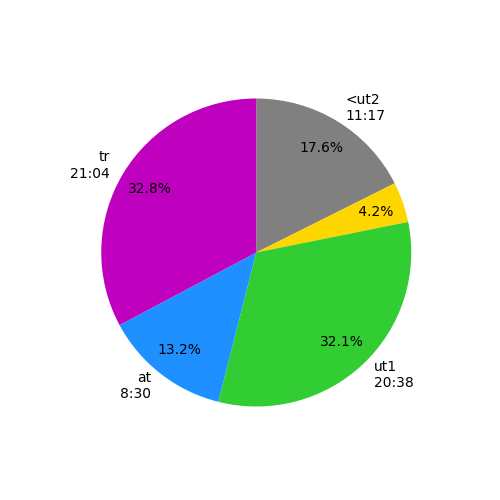 Workout Summary - media/20180328-1600330o.csv
--|Total|-Total-|--Avg--|-Avg-|Avg-|-Avg-|-Max-|-Avg
--|Dist-|-Time--|-Pace--|-Pwr-|SPM-|-HR--|-HR--|-DPS
--|11668|63:58.0|02:44.5|000.0|22.7|151.3|176.0|08.0
W-|09319|44:36.0|02:23.6|000.0|23.9|156.6|176.0|08.8
R-|02349|19:22.0|04:07.4|000.0|19.9|139.0|176.0|04.6
Workout Details
#-|SDist|-Split-|-SPace-|-Pwr-|SPM-|AvgHR|MaxHR|DPS-
01|03319|16:42.9|02:31.1|000.0|21.4|146.2|172.0|09.3
02|01500|07:07.3|02:22.4|000.0|24.6|157.8|169.0|08.6
03|01500|07:02.0|02:20.7|000.0|24.4|164.6|175.0|08.7
04|01500|07:01.1|02:20.4|000.0|24.8|167.4|176.0|08.6
05|00500|02:13.4|02:13.4|000.0|28.4|154.5|168.0|07.9
06|00500|02:14.6|02:14.6|000.0|28.0|166.0|175.0|08.0
07|00500|02:15.3|02:15.3|000.0|28.1|164.7|175.0|07.9
Tomorrow:  OTW in my single.  Cat VI session r18-20 total rowing time ~ 60 minutes.