I was working from home yesterday.  We had a massive snow storm.  About 17″ in Hopkinton.
Here's the snow totals for the area.
Despite the snow, I had a full schedule.  I was on calls constantly from 9 am to 4:30pm.  Then I had a bit of a break, then on the phone again from 6pm to 7:30.
During the break I had enough to squeeze in an abbreviated workout.
The planned session:
Easy warm up 5-10'
Peak Power Test

Set your erg on watts. Set drag factor at 200. Then test your 10-second peak power.
Note your peak watts then subtract 10%, write that number down so you know what to aim for the workout

Peak Power Training:

1 set of 10 x 10-seconds, 1' rest between.
Repeat 10-second all out sprints, full slide with 1' rest between. Each sprint should begin from a start position at the top of the slide.. Secure the handle during the 1' rest so the flywheel slows down.
If the peak watts falls below 90% of your peak power value for two 10- second sprints stop the set..

Session: 2 x 20' / 1'

Rating/Pace: Cat VI; target SR 18-20, regular drag factor (Pace: 2:03 to 2:08)
Because of time constraints, I used the first sprint as my peak power test benchmark.  I also did not have time for the 2×20 afterward, so I just did a 10 minute cool down.
Here's the whole thing.  During the warmup, I did 4 little 5 stroke bursts with the wheel spinning.  During the peak power session, I let the wheel stop between each and set the drag to max (DF = 171, I guess I need to do a little cleaning).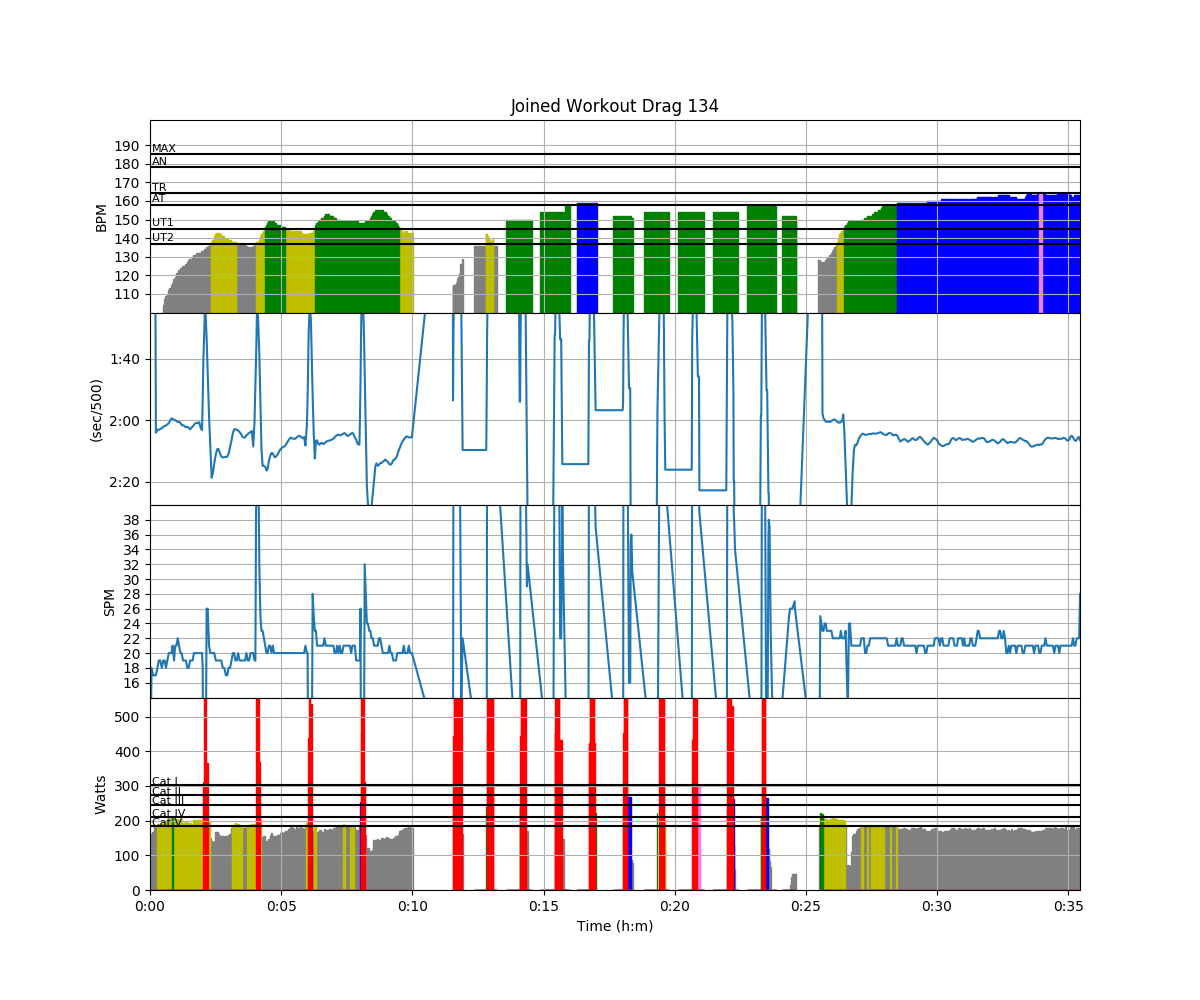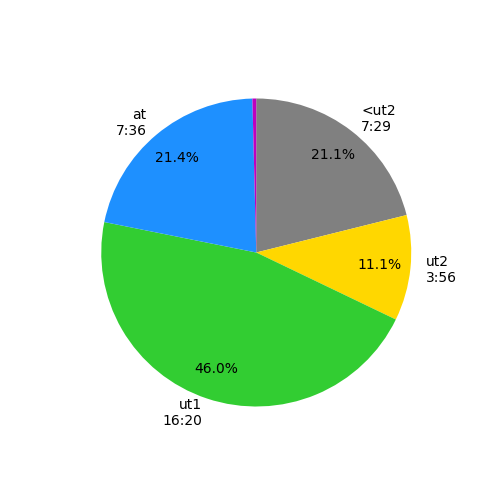 I had set up the session as 100m/1′ intervals.  100m takes about 13 strokes at these rates.  For the first couple of intervals, I held the power through the full 100m.  After that, I trailed off after 10 seconds because I wanted to retain  the intent of the workout.  It was basically 10 or 11 strokes.  I ended up at about 55 strokes per minute, and I wasn't shortening the stroke much.  For the bursts my drive length was 1.21m vs 1.29m when rowing with full power at r24.
The peak power session was a bit strange to do on the dynamic.  I was expecting it to be terrible.  I've had trouble with interval sessions on the dynamic and I've struggle to rate up.  But with the drag set to max and such a short interval, I could really hammer it.  The load comes on so fast at the catch compared to the static erg that I was able to get higher power than I have seen in years.
My all time low pull split was 1:16.9, which is 770W.  My first burst peaked at 786W (1:16.6).  So I guess I have a new low pull PB. The first interval is also a clear PB for my fastest 100m ever.  I don't remember the display, but my old mark was 17.6 seconds and I think both the first and second were faster than that.
I guess I have found the one thing that the dynamic is good for.
Here's a plot of the peak power bursts plotted versus strokes
You can see that the power really didn't fade all that much.  I guess that means that I should have been able to get a higher peak power initially.  Here it is plotted against the 10% limit.
I'm interested to try the same session on slides and on a static machine to get a comparison.
Today:  A bit tougher session
3 x 1500m / 1'

Rating: Cat IV pace; target SR 23-24 (Pace: 1:52)

3 x 500m / 2' easy

Rating: Cat II pace: target SR 28-30 (Pace: 1:45)

Notes: Stay on the target paces, no faster, no slower.