We came back from the cape last night, and I had a choice to make this morning.
I needed to be at work, showered and ready for a 8 am meeting, so I could either head straight to work and do a 60 to 80 minute steady state session on the erg, or I could do an shorter session on the water.
I decided to row on the water.  Here's why.
With a race this weekend, I want to taper down volume a bit anyway
Also because of the race, getting in a technique session this week would be good reinforcement for good mechanics
It's too late to do much to improve my aerobic fitness, so doing just enough to maintain what I have is enough.
It was dark when I got to the boathouse.  Very dark.  And cool,  around 55F.  And there was a noticeable breeze blowing as a headwind when going down stream.  Did I mention it was dark!  With the overcast and the later sunrise, I couldn't see across the lagoon when I arrived.
By the time I had swept the goose poop off the dock, and got my boat rigged and in the water, the sky was starting to lighten up.  I felt irresponsible that I don't have working lights though and I was glad that there was no one else on the river today.  I've ordered a new pair of lights, hopefully they will be delivered today.
Today's session was drills on the fives.  4 minutes of steady state, and then 1 minute of a drill.  The drills were
Half slide: working on clean releases and blades off the water
delayed feather:  Working on releasing on the square, and then feathering without touching water
Pause at body over:  Working on keeping my knees downwith my body over and arms extended.
Open hands on recovery:  Working on outward pressure against the oarlocks on recovery and clean catches after regripping the oars.
As usual, with this session, I felt like I was rowing better at the end than the beginning.  Today, it was even more the case because the wind seemed to be dying down a during the session and the water was a bit flatter at the end.
I had time for one lap down to the dam and back.  I was pretty surprised at how low my heart rate was today.  My RPE felt like it was in line with this session, but my HR was a good 10 beats lower.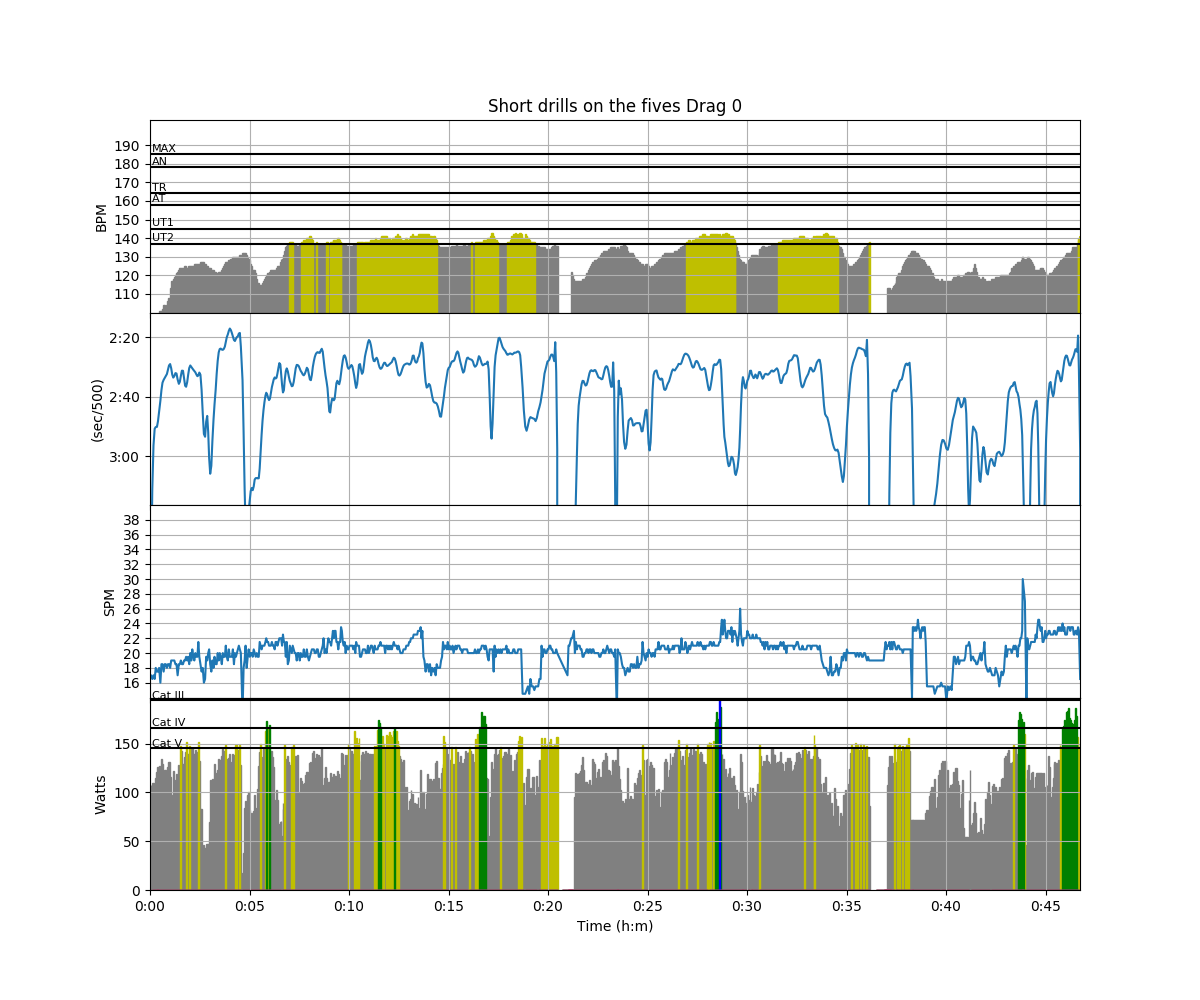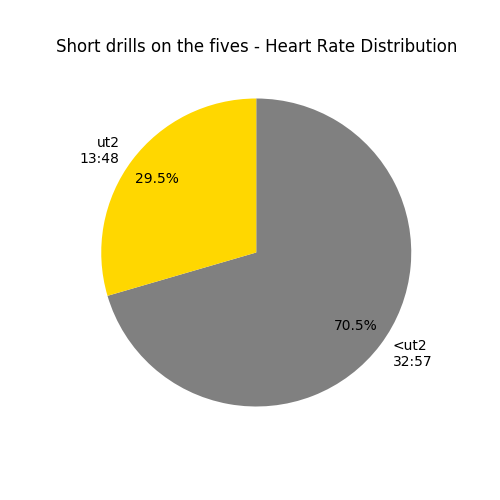 Here is a summary of the steady state bits.  It cuts out the drills and the turns.
          Workout Summary - media/20181008-1700310o.csv
--|Total|-Total-|--Avg--|-Avg-|Avg-|-Avg-|-Max-|-Avg
--|Dist-|-Time--|-Pace--|-Pwr-|SPM-|-HR--|-HR--|-DPS
--|08689|46:43.0|02:41.3|116.3|20.0|130.7|143.0|09.3
W-|05153|25:33.0|02:28.8|131.8|20.6|134.5|143.0|09.8
R-|03548|21:11.0|02:59.2|097.6|19.4|126.1|143.0|10.6
Workout Details
#-|SDist|-Split-|-SPace-|-Pwr-|SPM-|AvgHR|MaxHR|DPS-
01|00365|01:51.0|02:32.1|129.4|18.9|119.8|126.0|10.4
02|00270|01:15.9|02:20.8|134.9|19.7|126.9|131.0|10.8
03|00529|02:39.0|02:30.3|117.0|20.4|135.1|141.0|09.8
04|00887|04:23.3|02:28.4|130.3|21.0|139.2|142.0|09.6
05|00782|03:49.9|02:27.1|136.6|20.4|138.1|143.0|10.0
06|00129|00:38.2|02:27.7|148.6|20.4|134.9|137.0|10.0
07|00256|01:17.2|02:31.1|121.2|20.2|130.0|135.0|09.8
08|00680|03:23.8|02:29.9|132.4|20.9|136.4|142.0|09.6
09|00744|03:44.2|02:30.7|127.1|21.1|137.4|141.0|09.4
10|00179|00:51.6|02:24.1|144.1|19.8|129.7|136.0|10.5
11|00098|00:29.2|02:28.8|142.7|20.4|127.1|131.0|09.9
12|00236|01:10.0|02:28.4|157.3|23.1|131.1|139.0|08.8
Tomorrow:  Last hard workout…5 x 1500 / 5′ target pace 2:15.