Last Thursday night, I picked up an Oartech DX rowing machine from the Riverside Boat Club in Cambridge.  The local rep for Oartech offer to let me try for a few sessions if I agreed to write up what I thought of it.
Those impressions are coming soon.  Right now, I just want to jot down the details on the session I did yesterday afternoon.
My wife and I got home from the Cape around 3.  I did some chores and errands and finally sat down to work out around 5.
The session:
2 x 2000m / 2'

Rating: Cat V pace; target SR 22 (1:58 – 2:02)

2 x 1000m, rest 3' easy

Rating: Cat IV pace: target SR 24-26 (1:52)

2 x 500m, rest 2' easy

Rating: Cat III pace: target SR 26-28 (1:48)
I added another 2K (r18-20, 2:03-2:08) to the beginning as a warmup.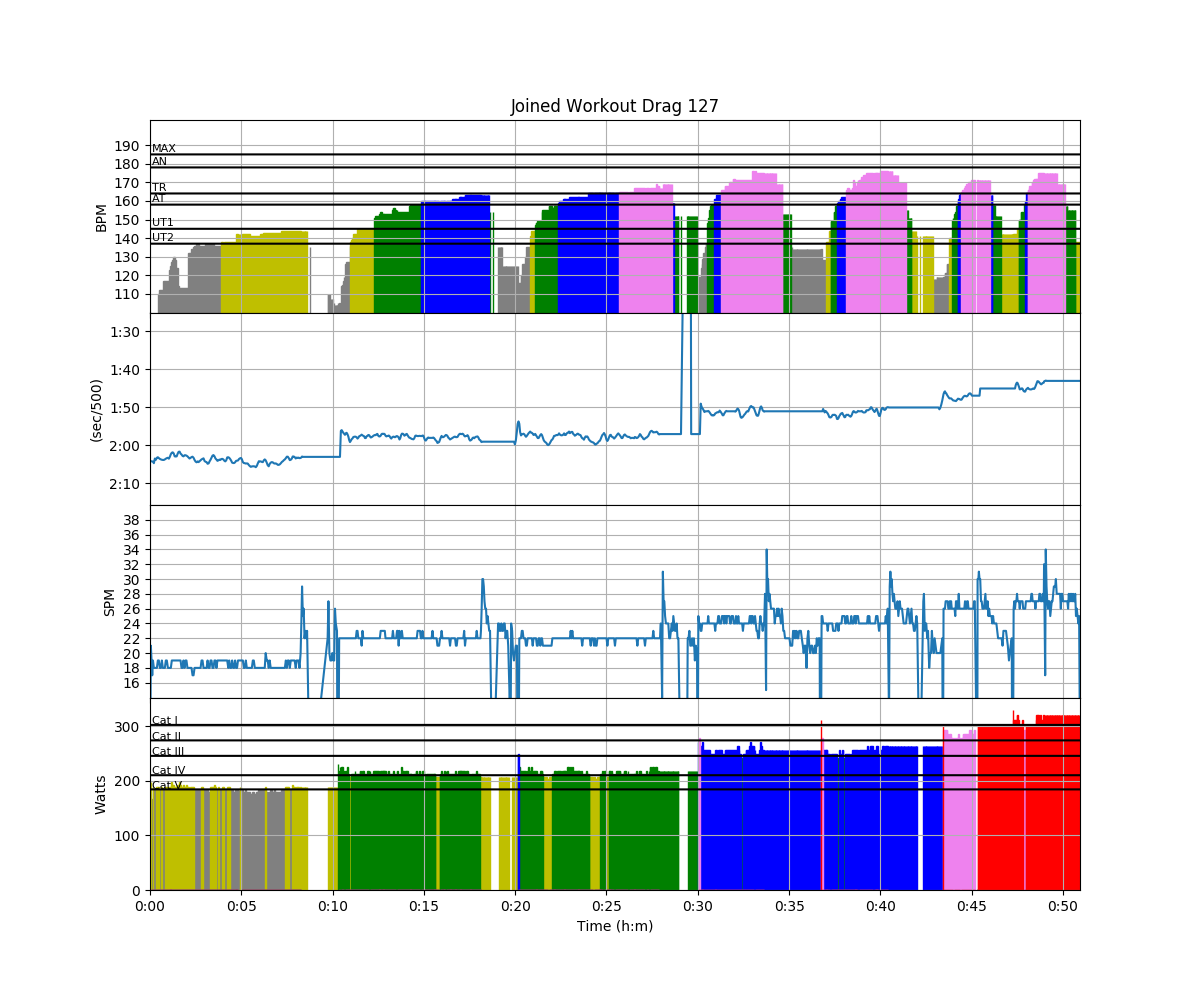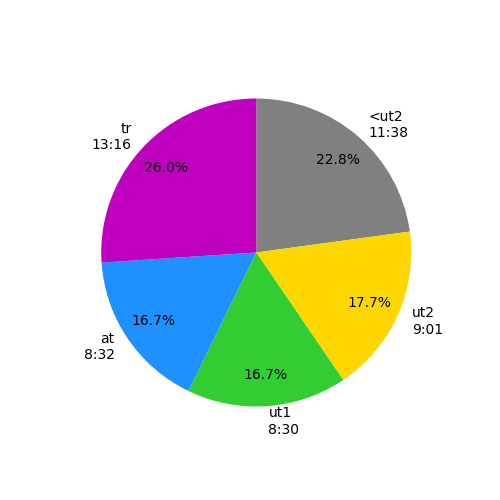 Workout Summary - media/df_20180325-231815.csv
--|Total|-Total-|--Avg--|-Avg-|Avg-|-Avg-|-Max-|-Avg
--|Dist-|-Time--|-Pace--|-Pwr-|SPM-|-HR--|-HR--|-DPS
--|11170|50:57.0|02:16.9|222.2|21.9|150.3|176.0|10.0
W-|09000|34:52.0|01:56.3|224.4|22.0|151.7|176.0|11.8
R-|02174|16:04.0|03:41.9|217.3|21.7|147.1|176.0|06.1
Workout Details
#-|SDist|-Split-|-SPace-|-Pwr-|SPM-|AvgHR|MaxHR|DPS-
00|02000|08:14.4|02:03.6|184.4|18.4|130.8|144.0|13.2
01|02000|07:51.0|01:57.7|214.7|22.1|152.8|163.0|11.5
02|02000|07:50.6|01:57.6|215.2|21.8|158.9|169.0|11.7
03|01000|03:42.0|01:51.0|255.8|24.2|163.2|176.0|11.2
04|01000|03:42.5|01:51.3|254.5|24.0|163.5|176.0|11.2
05|00500|01:47.8|01:47.8|284.3|26.3|154.6|171.0|10.6
06|00500|01:44.6|01:44.6|307.3|26.4|161.7|175.0|10.9
So, I managed to hit all targets, but it was hard work!  I compared it to the two prior times I did this workout, both on the static erg.
The power was basically identical in all sessions.
My heart rate was higher today.  I think this is mostly a machine difference, not a difference in how I was feeling.
The drive length was basically identical between static and the Oartech DX.  I was expecting a slightly shorter drive length.
Here is power and WPS versus stroke rate.  I was working hard to stick to the stroke rates and so it is showing an increase for the higher rates.
Plan for Monday:
Combined strength / endurance
3 x 20′
Between each 20′ do 20 KB swings and pull ups.