Yesterday, I did my session around 5pm and it was a hard one.  This morning, after a rather lousy night's sleep,, I was up at 5:15 and off to work.
I headed to the fitness center at 7 and this was my plan:
Full PT exercise suite (I haven't done it for a couple weeks and I'm noticing that my back hurts and my legs are starting to splay at the catch again.)
Then 3 x 20′ / 3′ with one arm KB swings during the rests. (15 each side during each rest)
I did my PT exercises and then the first set of KB swings.  Then I setup on the rowed and did the first 20 minutes.  Between the session last night and the first of KB swings, my legs felt empty and it was hard work from the start.
I finished the first 20's and then did another set of the KB swings.  Which brought my HR up to 165, and then sat down for the next 20 minutes.  This was pretty hard work.  I slowed down to keep my HR below 155.
I finished rep 2 and did another set of KB swings, then started rep #3 on the erg.  I was struggling along for about 6 minutes and then decided that I had had enough for today.  I'm disappointed that I didn't finish the session, but I think the idea of doing the KB swings is a good one.  I need to do more strength work.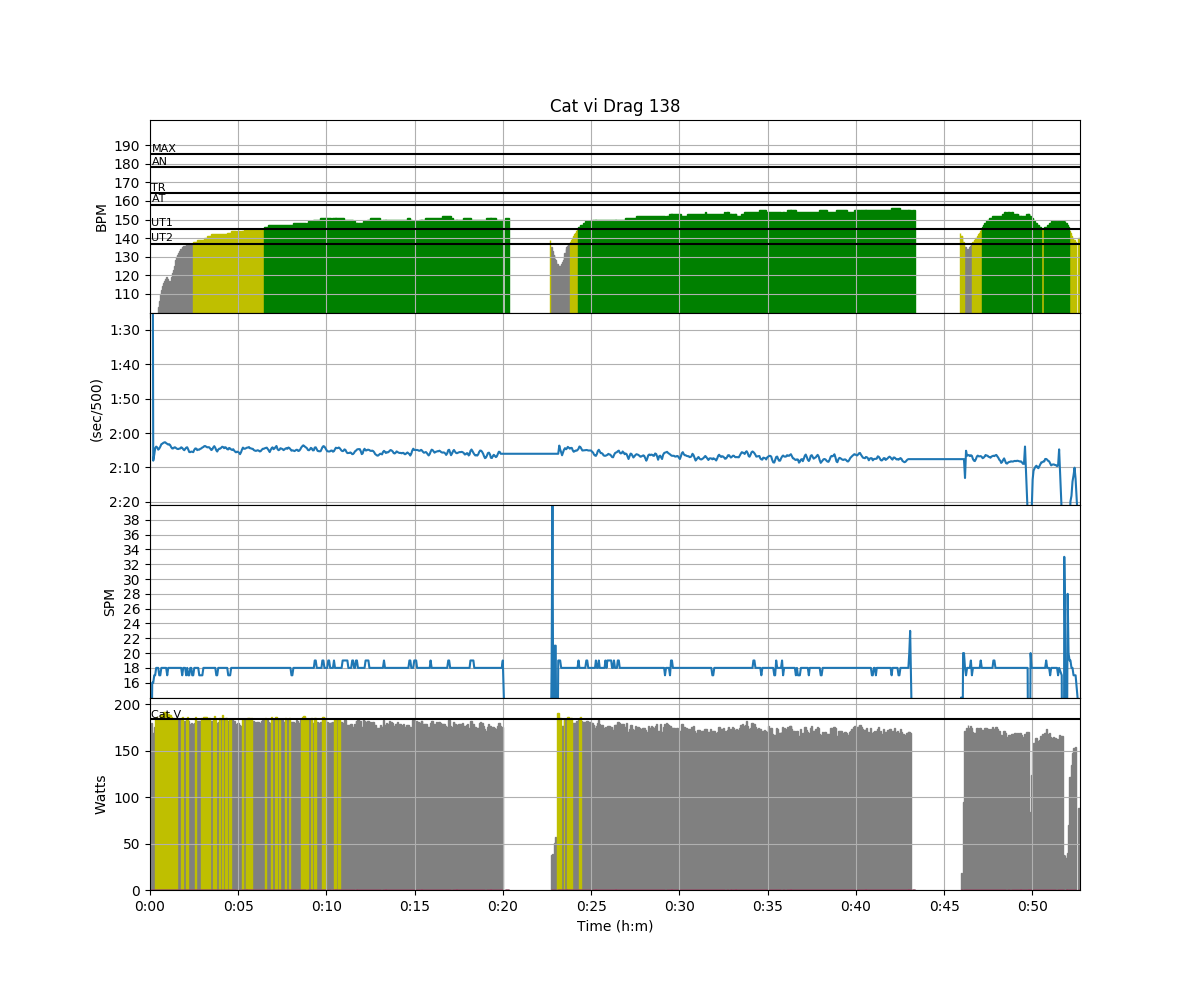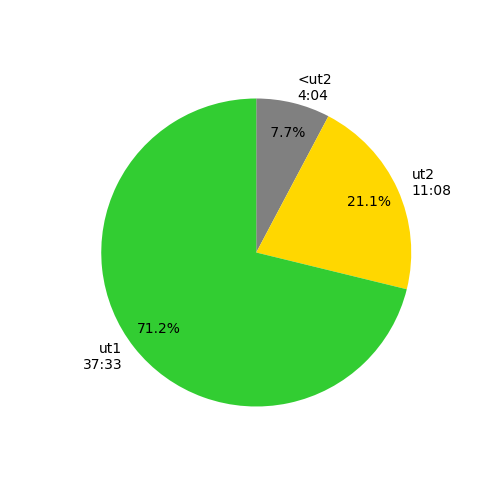 Workout Summary - media/20180326-1225310o.csv
--|Total|-Total-|--Avg--|-Avg-|Avg-|-Avg-|-Max-|-Avg
--|Dist-|-Time--|-Pace--|-Pwr-|SPM-|-HR--|-HR--|-DPS
--|11202|53:30.0|02:23.3|153.5|15.8|147.3|156.0|13.2
W-|11036|46:30.0|02:06.4|174.1|17.8|148.2|156.0|13.3
R-|00168|07:00.0|20:53.5|016.3|02.7|141.3|156.0|03.0
Workout Details
#-|SDist|-Split-|-SPace-|-Pwr-|SPM-|AvgHR|MaxHR|DPS-
00|04820|20:00.0|02:04.5|180.9|18.0|144.7|152.0|13.4
01|04749|20:00.0|02:06.3|173.8|17.9|152.0|156.0|13.2
02|01467|06:30.0|02:12.9|154.2|17.1|147.4|154.0|13.2
Tomorrow:
10 minute warmup
Peak Power training (10 x 10″ / 1′ rests) max drag
2 x 20'/1′ Cat VI (r18,2:03-2:08)