In brief, things are hectic.  I last posted on Friday, February 16, 19 days ago.  A lot has happened since then, but it has been tough to maintain a reasonable training schedule.  I've been on four continents, and slept in my bed at home 5 times in the past 19 days.
Saturday, Feb 17:  4 x 20 / 3′ Dynamic
Maybe the best, most relaxed session I've ever had on the dynamic.  It still felt sluggish and heavy, but by focusing on the HR cap and allowing the rate to be at r20 instead of r18, it was kind of OK.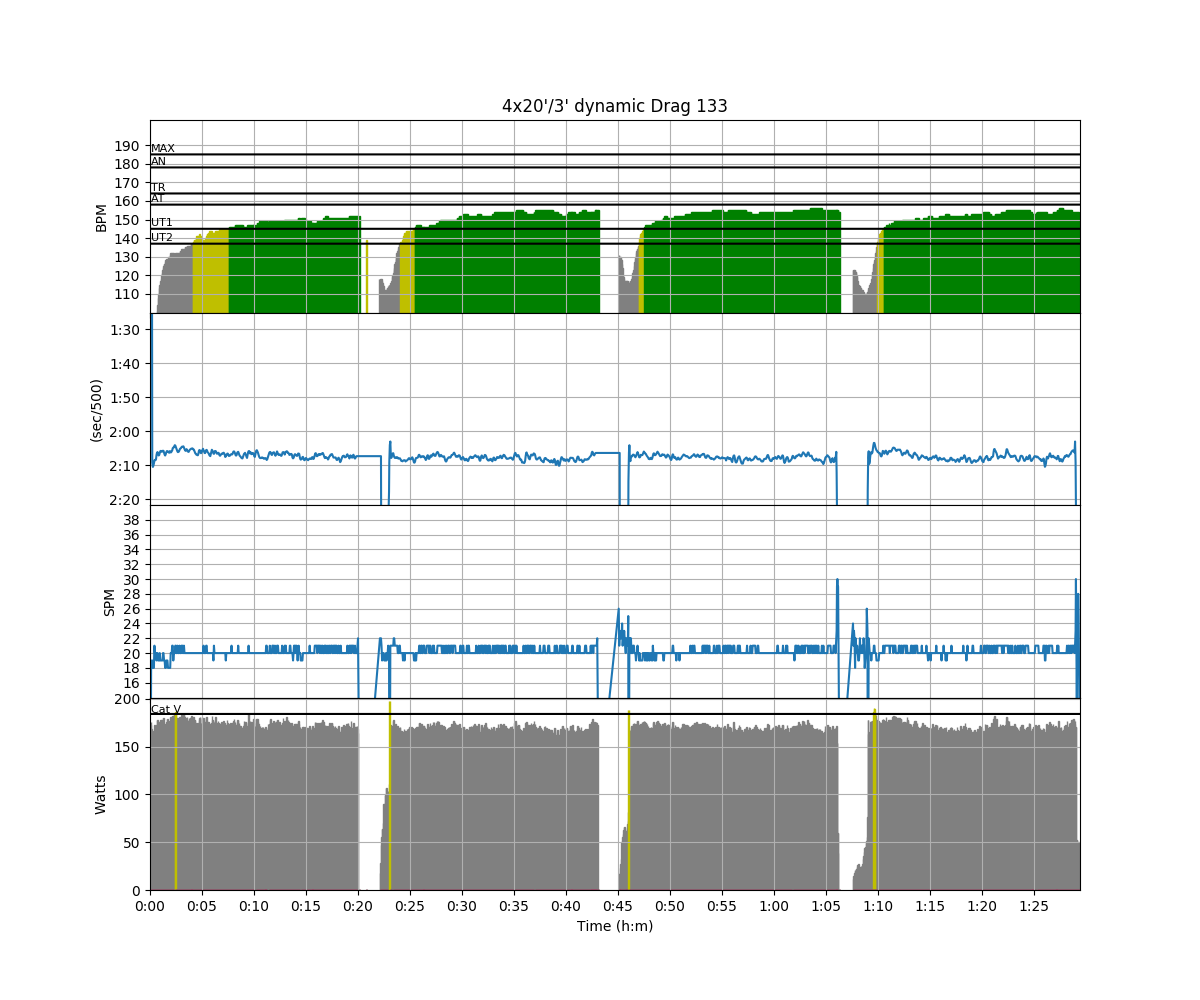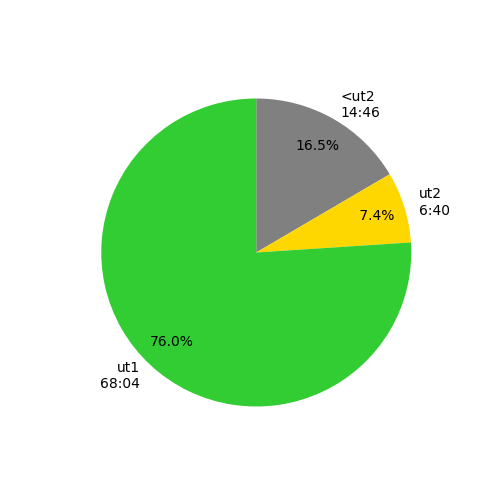 Workout Summary - media/20180217-2015360o.csv
--|Total|-Total-|--Avg--|-Avg-|Avg-|-Avg-|-Max-|-Avg
--|Dist-|-Time--|-Pace--|-Pwr-|SPM-|-HR--|-HR--|-DPS
--|19586|92:00.0|02:20.9|165.0|20.1|147.7|156.0|10.6
W-|18897|80:00.0|02:07.0|170.7|20.1|148.8|156.0|11.7
R-|00693|12:00.0|08:39.3|059.4|20.3|130.7|156.0|01.2
Workout Details
#-|SDist|-Split-|-SPace-|-Pwr-|SPM-|AvgHR|MaxHR|DPS-
00|04752|20:00.0|02:06.3|173.1|20.0|142.7|152.0|11.9
01|04708|20:00.0|02:07.4|169.4|20.2|150.2|155.0|11.6
02|04713|20:00.0|02:07.3|169.7|20.1|151.7|156.0|11.7
03|04724|20:00.0|02:07.0|170.8|20.2|150.7|156.0|11.7
Sunday, Feb 18:  No Training.
My wife and I flew to Aruba for some fun in the sun.
Monday – Feb 19:  5km run on the beach
Barefoot, right along the water line where the sand was the firmest.  It was hot, and I was going slow.
Tuesday – Feb 20: 6km run
My feet were a bit beaten up from the barefoot run, so I wore shoes and ran the foot path along the back of the beach.  Lots of twists and turns and people to avoid.
Wednesday – Feb 21:  No training – rest day
My legs were really sore from two days of running.  I don't run much!
Thursday – Feb 22: Fitness Center
30 minutes on stationary bike
Treadmill – max incline (15%). 6 x (4:30 walk, 0:30 sec sprint)
Friday – Feb 23: Run on the beach
About 4.4km.  Not too taxing
Saturday – Feb 24: Quick run on the beach
We had to clear out of the hotel by 11, so I went for a final quick run on the beach.   I pushed the pace a little quicker.
We got home around 8pm that night.
Sunday – Feb 25: 8 x (4:30 @ r20, 0:30 @ r32+)/30″ – Dynamic
I got up early to do this workout.  I was departing in the early afternoon for Italy.  It seems that my happy times for the Cat VI session on the dynamic do not extend to sprinting.  Unlike rowing on slides, where rating up is, frankly, a blast, sprinting on the dynamic is pretty miserable.  I suffered through the and came close to the targets, but this session is usually a breeze and it certainly wasn't.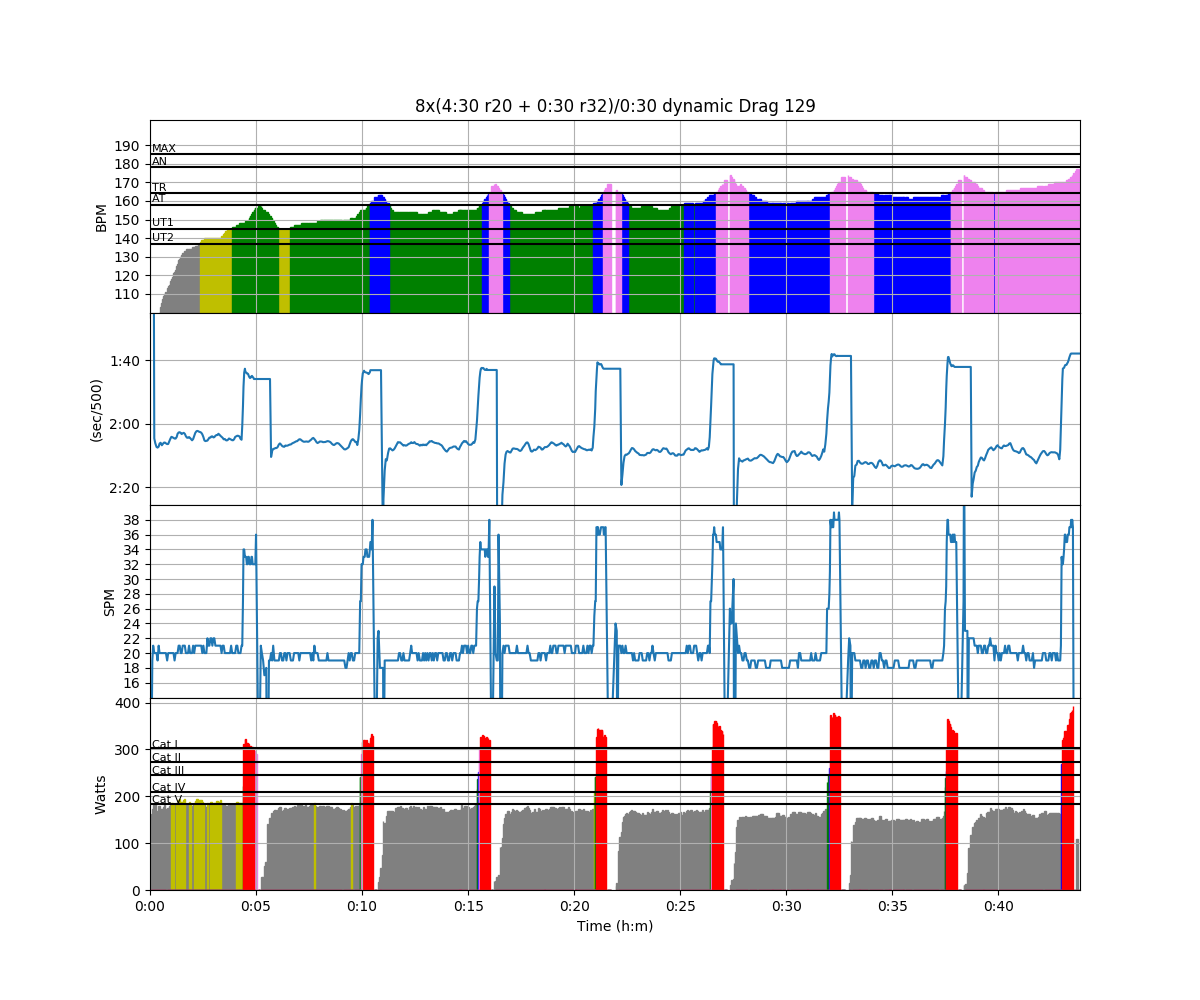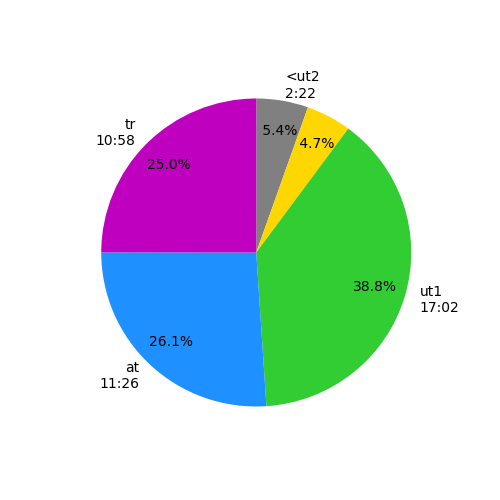 Workout Summary - media/20180225-1610370o.csv
--|Total|-Total-|--Avg--|-Avg-|Avg-|-Avg-|-Max-|-Avg
--|Dist-|-Time--|-Pace--|-Pwr-|SPM-|-HR--|-HR--|-DPS
--|10067|44:00.0|02:11.1|169.1|20.7|156.9|177.0|11.0
W-|09602|40:00.0|02:05.0|184.2|21.3|155.8|174.0|11.5
R-|00479|04:00.0|04:10.7|018.9|15.3|168.6|174.0|20.7
Workout Details
#-|SDist|-Split-|-SPace-|-Pwr-|SPM-|AvgHR|MaxHR|DPS-
00|01100|04:30.0|02:02.8|187.0|20.6|129.9|149.0|11.9
01|00143|00:30.0|01:45.0|303.9|32.6|152.4|156.0|08.8
02|01075|04:30.0|02:05.5|177.2|19.5|148.9|155.0|12.3
03|00146|00:30.0|01:42.9|319.5|34.0|157.2|160.0|08.6
04|01073|04:30.0|02:05.8|174.8|19.8|154.5|162.0|12.0
05|00146|00:30.0|01:42.4|322.2|34.0|160.5|165.0|08.6
06|01061|04:30.0|02:07.2|169.2|20.1|156.0|165.0|11.8
07|00148|00:30.0|01:41.5|331.2|36.4|162.6|167.0|08.1
08|01039|04:30.0|02:09.9|163.6|20.1|158.2|166.0|11.5
09|00150|00:30.0|01:40.1|348.5|35.0|165.7|169.0|08.6
10|01023|04:30.0|02:11.9|158.3|19.0|161.6|172.0|12.0
11|00152|00:30.0|01:38.8|358.4|36.9|166.5|170.0|08.2
12|01009|04:30.0|02:13.8|149.8|18.7|163.7|173.0|12.0
13|00149|00:30.0|01:40.8|333.9|35.2|165.0|168.0|08.5
14|01037|04:30.0|02:10.2|160.5|20.2|167.2|172.0|11.4
15|00151|00:30.0|01:39.5|351.6|35.7|171.4|174.0|08.5
Here is a comparison of the same workout
Static rower
Slides
Dynamic
The first plot shows average power.  The first session on a static erg was pretty typical for this workout.  The second one, on slides is 10 watts higher because I was having such a blast rating up on slides that I really kicked the sprints hard.  I tried to rate up in a similar way on the dynamic, but the stroke was so heavy that I could get the rate.  Even though the drag factor was only 129, it felt like the gearing was much much heavier.  And I was so gassed from the short sprints that I couldn't maintain Cat VI power in the slow sections.
Then it was off to Milan for business.
Monday – Feb 26: No Training.
I arrived in Milan at 6am, went to the hotel, napped for an hour, then started my day.  We prepped in the office until mid-afternoon when we headed to our customer's facility for meetings.  These lasted until 6:30.  Then we out to dinner.  I wasn't back to my hotel until around 11pm.  I slept well.
Tuesday – Feb 27:  No Training
I needed to be in the office by 9, and I needed to catch up on sleep, so I skipped training.
Wednesday – Feb 28: 50′ in the Fitness Center
The hotel had a tiny, claustrophobic fitness center in the basement.  It had 2 treadmills and two stationary bikes, plus one of those useless combination weight machine things.  I did a 30 minute max incline fast walk thing and then 20 minutes on the stationary bike on a rolling hills program.  I wanted something easy, and it was.
Then I headed off to the airport to fly home.  I barely made my connection in Munich, and I guess that added about 20 minutes of very brisk walking to my exercise total for the day.  I arrived home around 9pm that night.
Thursday – March 1: No Training
I decided to no try to get up at 5am and I intended to try to sneak to the gym during the day, but things got hectic and I never made it.  Bummer.
Friday: March 2: 3 x 20'/ 3′
Just an easy session.  At work on the static rower.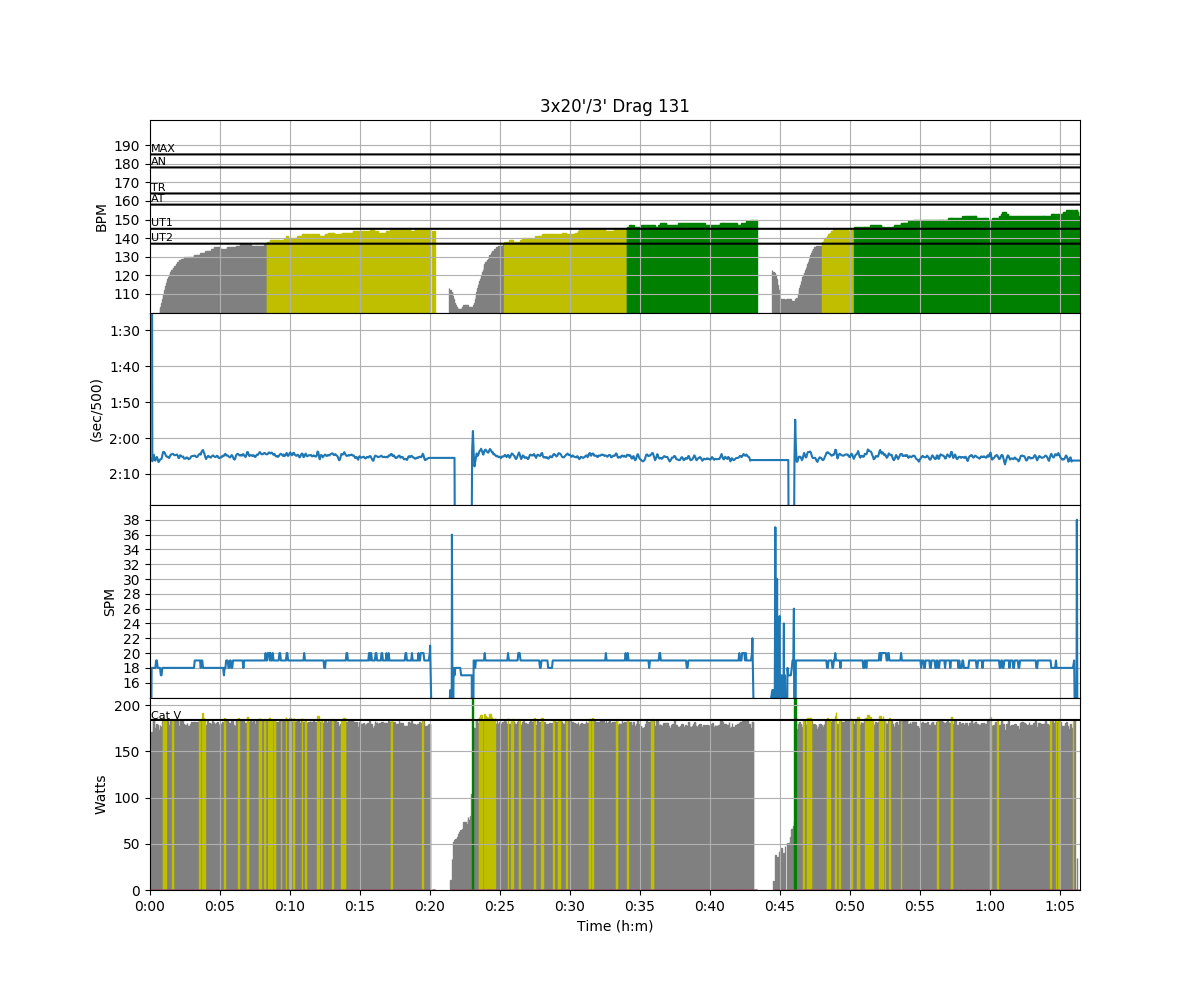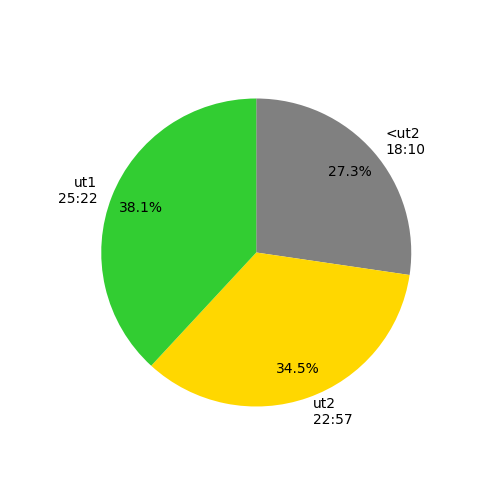 Workout Summary - media/20180302-1325350o.csv
--|Total|-Total-|--Avg--|-Avg-|Avg-|-Avg-|-Max-|-Avg
--|Dist-|-Time--|-Pace--|-Pwr-|SPM-|-HR--|-HR--|-DPS
--|15083|69:00.0|02:17.2|159.7|17.6|140.1|155.0|12.4
W-|14442|60:00.0|02:04.6|180.9|18.8|142.0|155.0|12.8
R-|00643|09:00.0|06:59.6|018.2|09.4|127.2|155.0|36.8
Workout Details
#-|SDist|-Split-|-SPace-|-Pwr-|SPM-|AvgHR|MaxHR|DPS-
00|04823|20:00.0|02:04.4|181.2|18.8|136.2|145.0|12.9
01|04810|20:00.0|02:04.7|180.7|18.9|142.7|150.0|12.7
02|04809|20:00.0|02:04.8|180.8|18.8|147.0|155.0|12.8
Honestly, I was expecting that it was going to be a lot worse!
Saturday – March 3 – 10 x 500 @ 22 / 2′ rest
At home on the dynamic rower.  Another epic battle with a supposedly easy workout.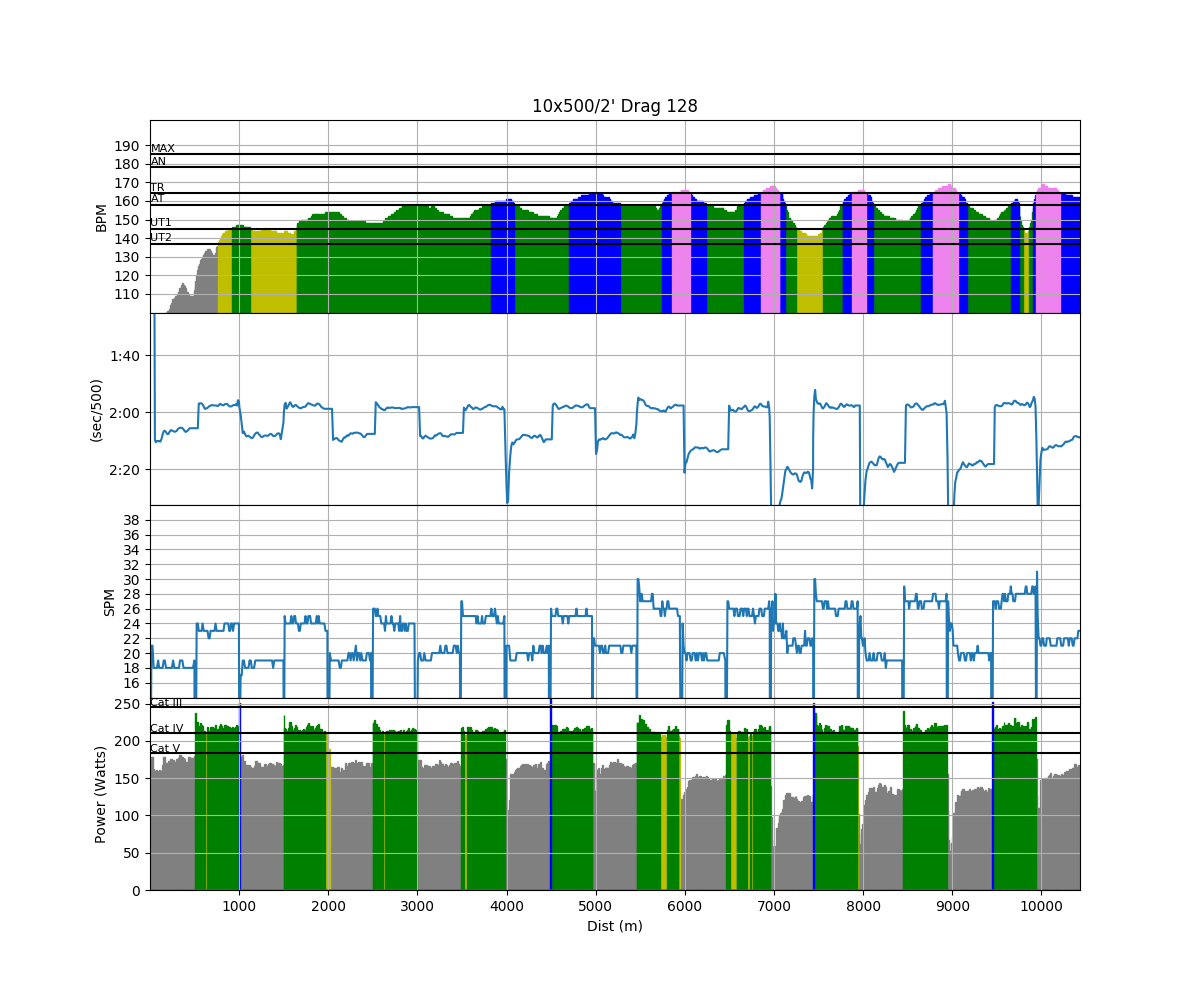 The weird HR thing at the beginning of the last interval is a glitch.  I was working my ass off and watching the HR reaing slowly drop down and the rise up again.
You can see how I gave up on trying to hold Cat VI pace during the rests in the second half of the workout.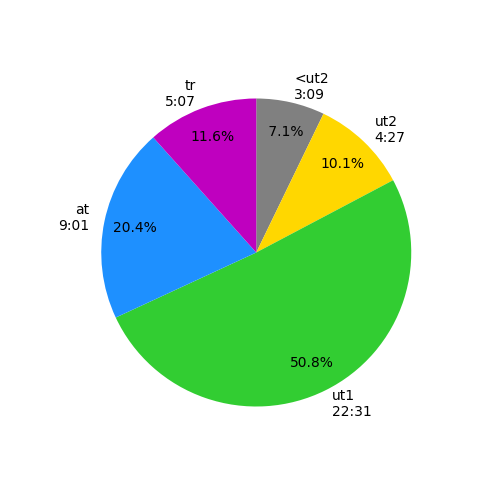 Then I rushed around madly to get ready for my trip to Shanghai and Shenzhen.  My flight took off around 2am Sunday morning.
Sunday – March 4:  Effectively did not exist. 
I started flying at 2am, and arrived in Hong Kong at 5am on March 5th with the time zone change.
Monday – March 5: 8 x (4:30 @ 18, 0:30 @32+)
I'm staying at Kerry Hotel in Shanghai which is a great hotel.  They have a great fitness center with 2 Concept2 model D rowers.  One of them has a PM5, and it linked up fine with painsled.  Unfortunately, for some reason the export of the data from this specific rower does not work.  I've put out a call for help from Rick Terrell, and he said that this particular PM5 is appending some weird stuff at the end of the workout.  Anyway, I did the workout.  It went pretty well, considering I was on a plane for about 20 hours prior to doing it.  And I felt a lot better once I was done.
Each of the 5′ intervals are 4:30 at about 2:05, and 0:30 at about 1:35. It was fun to try to make sure that the total for 5 minutes was just above 1250m.
Tuesday – March 6: 10 x 500@r22 / 2′ rest
Another good workout, considering the road miles.  The 2′ rests were just 500m intervals rowed at Cat VI pace.
Wednesday – March 7: 3 x (5 x 500 @ r24/1′)/5′
This was hard work.
500m warmup at cat vi
5 x 500 @ 24 / 1′ rest
for the 5′ rest, 1′ rest/500′ at 2:45 ish/1′ rest
repeat twice more
I felt pretty tired after the first set, but I kind of got into a groove for the rest of the workout.
The rest f the day was pretty busy.  I had a lunch with a customer, and then a group of us fly from Shanghai to Shenzhen in the evening.  We got to the hotel in Shenzhen around 11pm.
Thursday – March 8: 60′ Fitness Center LIT
Nice Westin hotel.  Reasonably equipped fitness center, but no rowing machines.
30 minute cross trainer random program, level 16
30 minute max incline (15%) fast walk.  Adjusted speed to maintain < 155HR.
Friday – March 9: Strength Session plus 30 minutes cross trainer
The hotel had kettle bells!
Strength session
PT stuff (SI joint stretch, archer stretch, med ball twists on swiss ball)
KB swings (with 20kg bell)

10 both arms
2 x 2 x 20 singe arm swings (alternating arms by set)

Chin ups:  4, 3, 3, 2
(the bar was really high, I had to jump up to it.  It's a lot harder starting from such a low position.
Dumbell Deadlifts: 30 kg.  3 x 10 deadlifts
Then I did a 30 minute random program level 14 on the cross trainer.
I wore my HR strap during the strength session just to get an idea of what was going on.
Whew.  That brings us up to the present.  I have checked out of my room and I'm about to take a car from here to the Hong Kong Airport, which I am told is a long drive.  I catch a flight at 6pm tonight fly for 15 hours and magically arrive in Boston around 8pm Friday night.
Tomorrow:  I have a new workout plan from Marlene.  I can't wait to get going.  I have decided that I need some competition to get myself focused and motivated.  So, I'm aiming to do the Cromwell Cup in July, a 1km sprint race.  So, she has put together a plan to start me down the road for that event.
The first session….looks a lot like a pretty classic rate ladder session.  Might be a bit tough on the dynamic, but that's OK.
3 x 15' / 4′

5'@ Cat VI; SR 20 –> 2:03 to 2:08
4' @ Cat V; SR 22 –> 1:58 – 2:02
3' @ Cat IV; SR 24 –> 1:52
2' @ Cat III; SR 26 –> 1:48
1'@ Cat II; SR 28 –> 1:45
If you've made it this far, congratulations.