I'm traveling on business to Newport Beach, California.  I posted a message on Facebook to find out if there was a way for me to go for a row while I was out there.  Within minutes, a member of the rowing club at Newport Sea Base had sent me a message, and offered to connect me to the coaches.
Yesterday I heard back and they told to come on over this morning.  They meet at 5:30 and they could get me into a seat.  As it turned out, they put me into the stroke seat in a quad.  All together we had a men's quad, a mens double, a women's double and women's coxed four, plus the coach Kristine in a launch.
Newport Harbor is busy in the morning.  There are a bunch of clubs and schools all running practices at the same time.  In addition to rowing shells, there were stand up paddle boards, outrigger canoes and, I am told, dragon boats.  The locale is amazing.  The entire shoreline on both sides is basically small beaches and boat slips in front of multi-million dollar homes.
There is a nice long stretch for rowing.   The channel from the turning basin to the end of the breakwaters is over 6km.
The workout planned for today was a rate ladder
3′ @ r20
2′ @ r24
1′ @ r28
2′ @ r24
3′ @ r20
We started with a reverse pick drill by pairs and headed from the dock up to the turning basin.
I have to salute the patience and tolerance of my boat mates.  Since I spend almost all my time in a single, I am a lousy stroke.  My ability to hit precise rates is not so good.  I have an annoying bit of a pause before hands away, and I am sure that I was splashing the guys behind me.  But they were all speaking to me when we got back to the dock and that says way more about their disposition than my rowing.
The rate ladder was a good format for us, and there was a pair of good rowers in the men's double that were a little bit faster than we were in the quad.  Since the coach sent them off a few seconds behind us, it provided a lot of motivation to maintain good pressure throughout the piece.
Often times, our rowing was choppy and ugly, but at times were got it together and the boat really ran nicely.  All in all, it was a delightful row.  I asked if I could come back tomorrow and they seemed willing to have me.  This might turn out to be the best sales conference I've ever attended.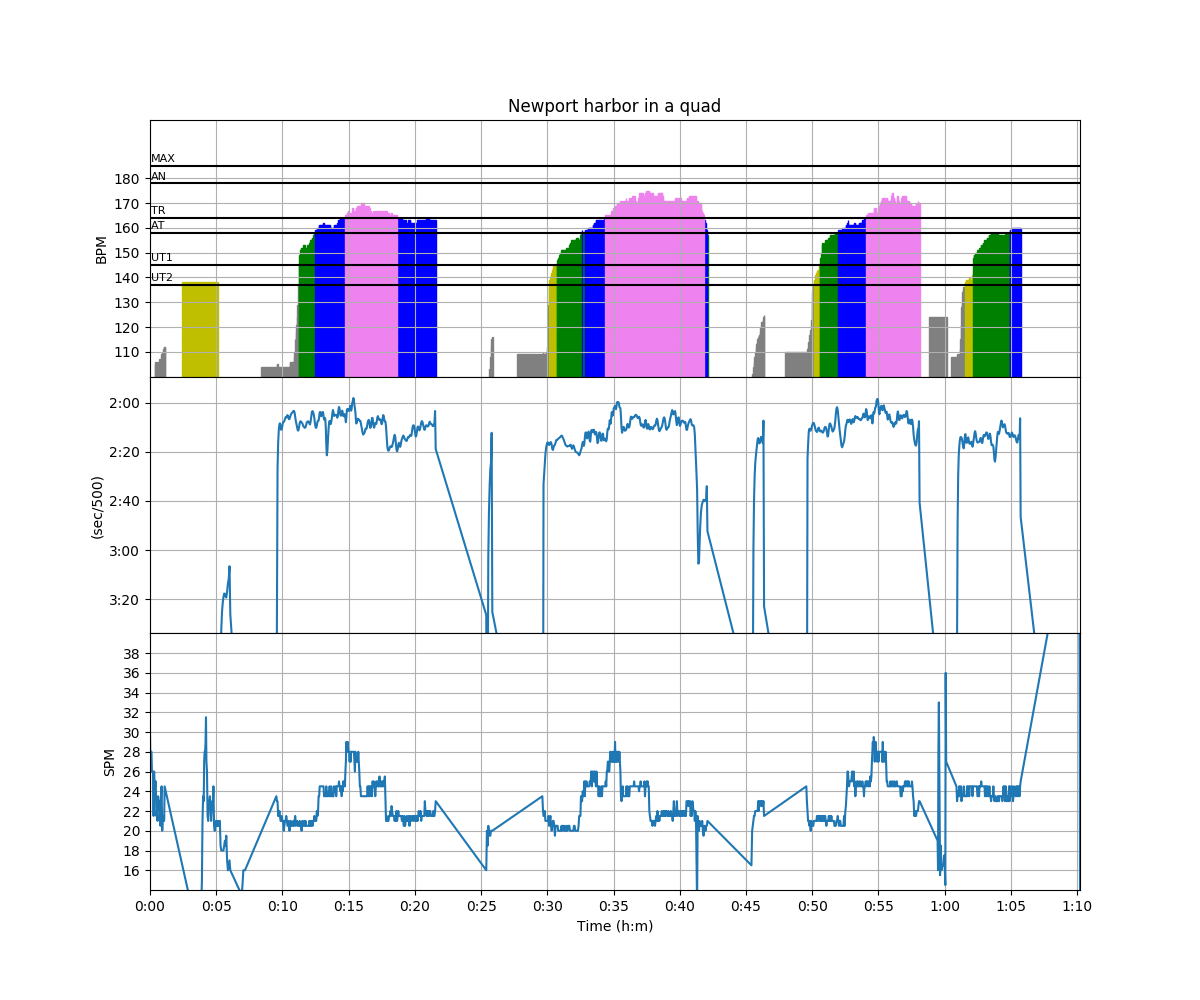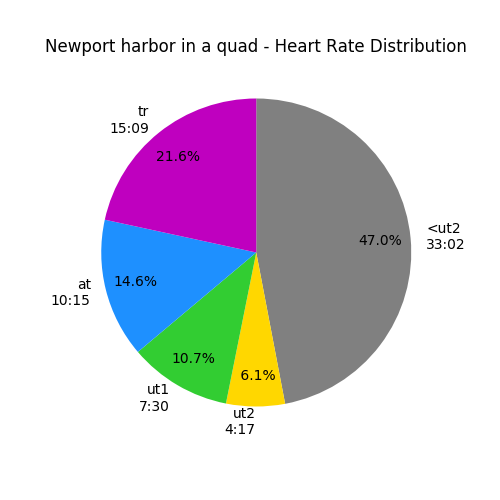 Workout Summary - media/20180522-1505230o.csv
--|Total|-Total-|--Avg--|-Avg-|Avg-|-Avg-|-Max-|-Avg
--|Dist-|-Time--|-Pace--|-Pwr-|SPM-|-HR--|-HR--|-DPS
--|10579|70:13.0|03:19.1|000.0|22.8|137.6|175.0|06.6
W-|08266|35:44.0|02:09.7|000.0|23.2|158.6|175.0|10.0
R-|02322|34:29.0|07:25.7|000.0|22.3|115.8|175.0|00.5
Workout Details
#-|SDist|-Split-|-SPace-|-Pwr-|SPM-|AvgHR|MaxHR|DPS-
01|00708|03:00.0|02:07.1|000.0|20.8|129.7|160.0|11.3 - r20
02|00475|02:00.0|02:06.2|000.0|24.1|161.5|164.0|09.9 - r24
03|00244|01:00.0|02:02.9|000.0|27.4|166.5|169.0|08.9 - r28
04|00468|02:00.0|02:08.3|000.0|24.4|167.8|170.0|09.6 - r24
05|00869|03:50.0|02:12.3|000.0|21.5|163.6|167.0|10.5 - r20
06|00604|02:45.0|02:16.5|000.0|20.5|145.5|157.0|10.7 - r20
07|00447|02:00.0|02:14.1|000.0|24.5|161.2|165.0|09.1 - r24
08|00242|01:00.0|02:04.2|000.0|27.3|167.4|170.0|08.8 - r28
09|00502|02:09.0|02:08.5|000.0|24.3|172.2|175.0|09.6 - r24
10|00821|03:31.0|02:08.5|000.0|21.7|172.2|175.0|10.7 - r20
11|00652|02:50.0|02:10.4|000.0|21.0|149.1|160.0|11.0 - r20
12|00475|02:00.0|02:06.4|000.0|24.8|162.6|166.0|09.6 - r24
13|00245|01:00.0|02:02.5|000.0|28.0|169.0|172.0|08.8 - r28
14|00474|02:00.0|02:06.6|000.0|24.7|171.4|174.0|09.6 - r24
15|01039|04:39.0|02:14.2|000.0|23.9|150.9|160.0|09.4 - r24