Tuesday night:  After my afternoon workout, I headed to the office for prep meetings and then to Cardiff by the Sea for a very nice diner at the Pacific Coast Grill.  I got back from dinner around 10pm and by the time I had caught up with email, it was around midnight.
Wednesday – March 21:  Rest Day
I had planned to get up at 5:30 to go to Crossfit near the hotel, but when my alarm went off, I couldn't find the motivation to get out of bed.  I slept until around 7:30, showered and headed off to the airport.
I flew up to San Jose. Again I had a prep meeting in our office and then a customer meeting at 3pm.  I was done by  around 5pm and headed to SFO for my flight home, a red eye departing ay 8:45pm.  I wasn't sure if it would actually depart because another snow storm was forecast in Boston.
As it turned out, we left on time and arrived early, about 4:45am.  I slept maybe an hour on the flight.  I guess it was a "rest day"
Thursday – March 22:  3 x 1500@24 + 3 x 500 @ 28+
Since it was so early, I drove home and crawled into to bed.  I slept from 6:30 to 10:30 and then went to work.  I had a couple of meetings and then headed to the gym.  The plan for today was…
3 x 1500m / 1'

Rating: Cat IV pace; target SR 23-24 + (1:52)

3 x 500m / 2' easy

Rating: Cat II pace: target SR 28-30 (1:45)
I had low expectations because of my travels, but the session turned out well.  I added a 1500 @ Cat VI at the beginning as a bit of a warm up.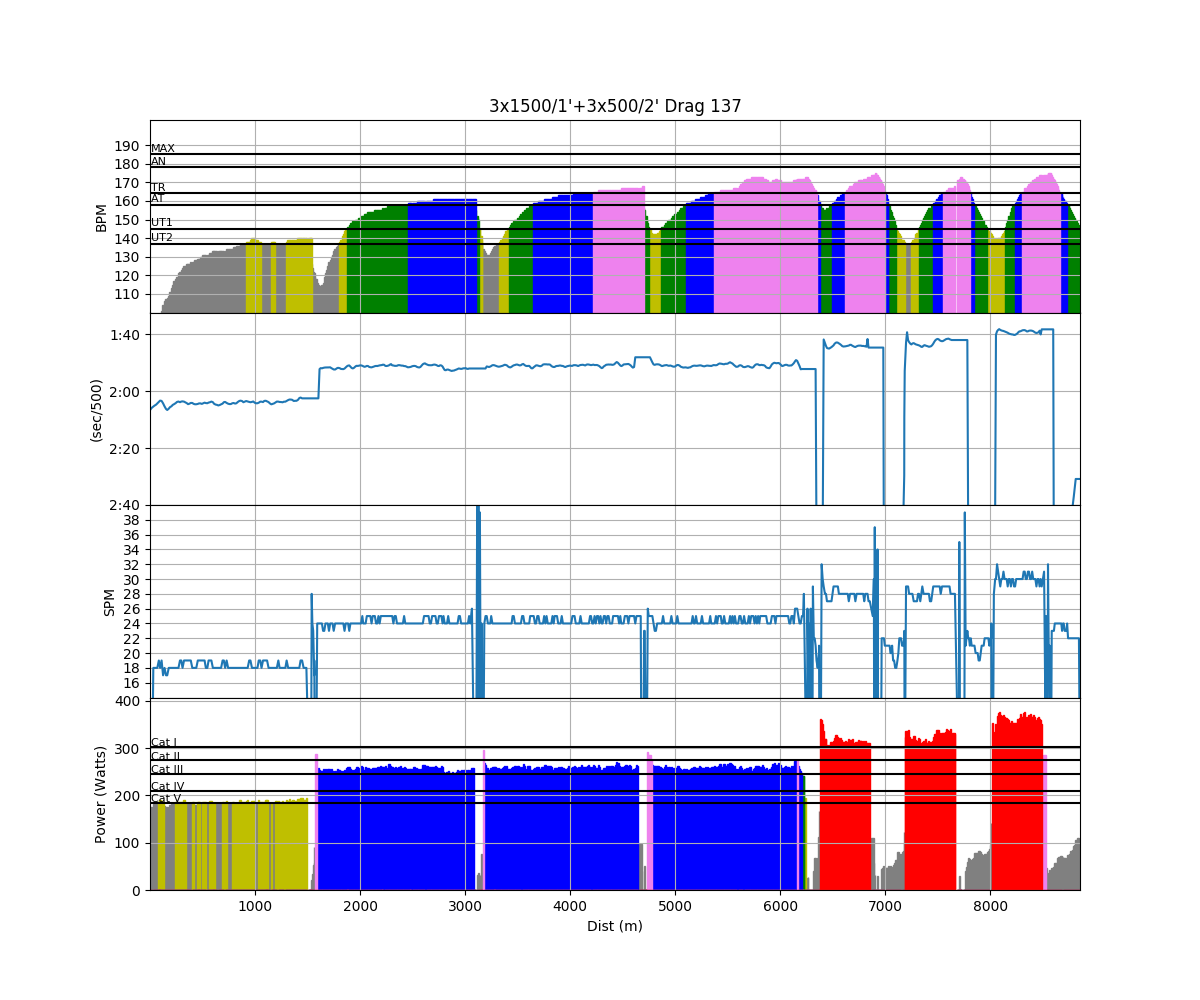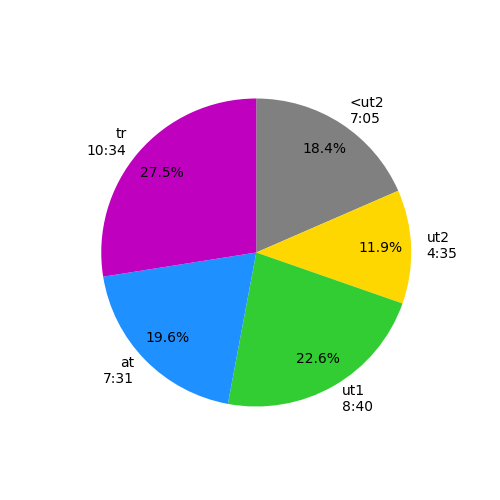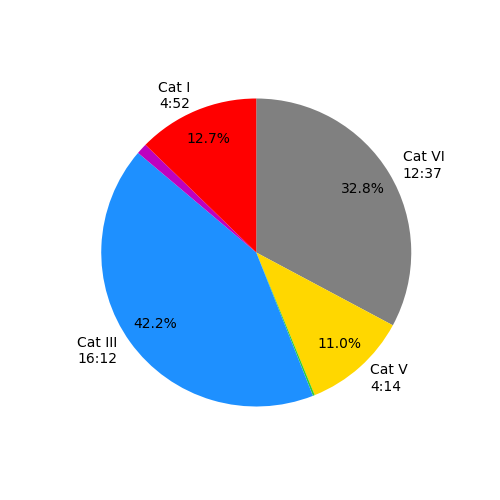 Compared to the first time I did this workout last week, this was a much better effort.  I blew up in the 3rd 1500 last time and I had no oomph for a sparkly last rep.  You can see the dip in power in the third rep (green was last time), and  the much higher heart rate in the right plot.
Friday – 23 March:  30 minutes with bumps.
Although it feels like the world is conspiring to make it impossible for me to maintain reasonable consistency in training, I realize that it is just a product of the choices that I am making.  The consequence of wanting to remodel the master bathroom in our house is that I had to meet a contractor this morning during my usual workout time.  I thought that meant that wouldn't get in any kind of a session, but as it turned out, I had a brief window in the evening, once we had come down to Cape Cod.
I popped down to the basement for a quick 30 minutes session.  I decided the main intent was to just work up a sweat and go to bed feeling a bit more relaxed.  So, I invented a session on the spot.
30 minutes
6 x 5′ splits
each split 4′ at Cat VI pace, 1′ at Cat II pace.
I was on slides, and I gotta say, with the slides aligned and level, I love rowing this way.  The Steady state stuff was smooth and it was a pleasure to rate up.  I pushed the 3rd bump a bit too hard and took the 4th slow bit a little slower than plan, but overall this was just a really nice little workout.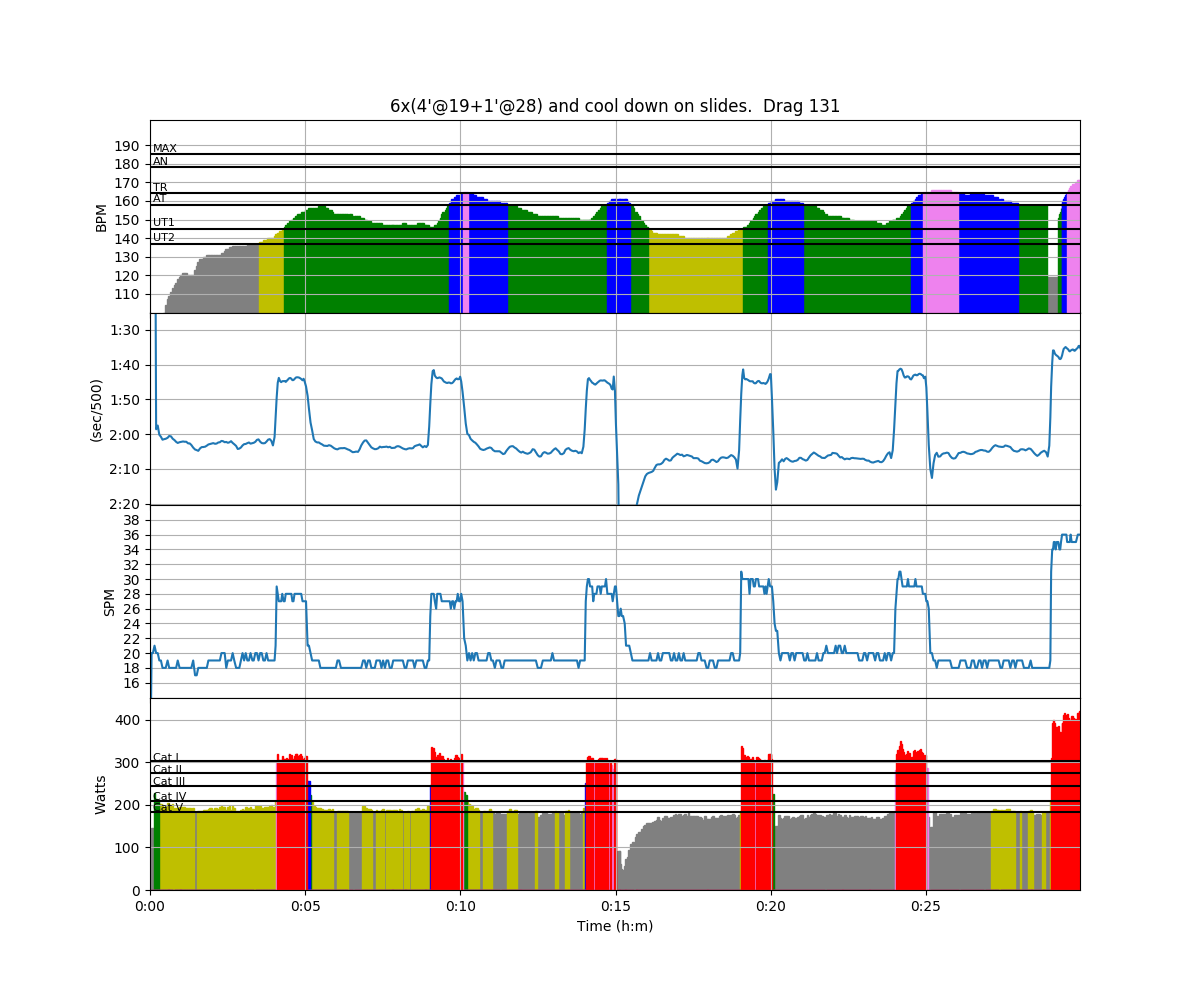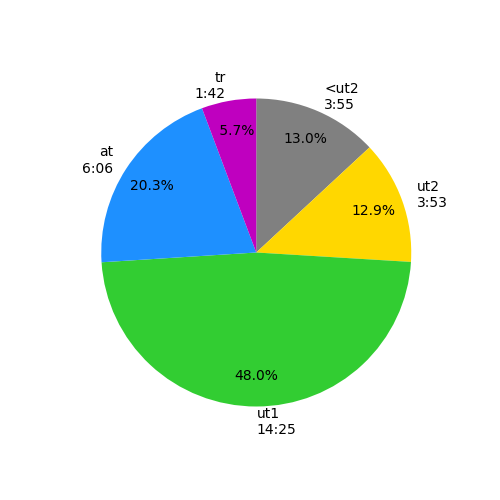 Workout Summary - media/20180324-0300470o.csv
--|Total|-Total-|--Avg--|-Avg-|Avg-|-Avg-|-Max-|-Avg
--|Dist-|-Time--|-Pace--|-Pwr-|SPM-|-HR--|-HR--|-DPS
--|07515|30:00.0|01:59.8|209.2|21.2|149.5|171.0|11.8
W-|07523|30:00.0|01:59.6|209.2|21.2|149.5|171.0|12.0
R-|00000|00:00.0|00:00.0|000.0|00.0|000.0|171.0|00.0
Workout Details
#-|SDist|-Split-|-SPace-|-Pwr-|SPM-|AvgHR|MaxHR|DPS-
00|00989|04:00.0|02:01.3|192.6|18.8|124.3|140.0|13.1
01|00289|01:00.0|01:43.9|306.8|27.3|148.7|154.0|10.6
02|00979|04:00.0|02:02.6|190.7|18.6|150.6|157.0|13.1
03|00289|01:00.0|01:43.7|311.7|27.1|154.9|163.0|10.7
04|00970|04:00.0|02:03.7|187.0|19.2|156.1|165.0|12.6
05|00287|01:00.0|01:44.4|302.0|28.5|155.6|161.0|10.1
06|00913|04:00.0|02:11.4|155.8|19.7|145.0|161.0|11.6
07|00289|01:00.0|01:43.8|308.8|29.3|152.1|159.0|09.9
08|00949|04:00.0|02:06.5|174.3|20.0|153.6|161.0|11.8
09|00293|01:00.0|01:42.5|323.8|29.1|158.1|165.0|10.1
10|00962|04:00.0|02:04.7|181.8|18.8|160.7|166.0|12.8
11|00314|01:00.0|01:35.7|395.1|34.9|153.8|171.0|09.0

I did a quick 1000m cooldown after that and now I feel great!
Tomorrow:  Rate ladders!
Session:
3 x 15' / 4'

5'@ Cat VI; SR 20
4' @ Cat V; SR 22
3' @ Cat IV; SR 24
2' @ Cat III; SR 26
1'@ Cat II; SR 28