Monday – 8/26: 30′ Stationary cycle
I hadn't planned on a workout on Monday, but I arrived at my hotel and had a appropriate gap in my schedule to squeeze in a quick workout.  I headed down to the gym and hopped on a stationary bike.
Why the bike?  Well, when I was packing on Sunday night I managed to give myself a nasty scratch on the top of my foot and it hurt to walk or run.  The bike pedals were OK though.
I programmed a 1 minute on / 1 minute off interval workout.
Good fun.  I slept in Orange County on Monday night.
Tuesday – 8/27: 50 minute steady state stationary bike 
First thing in the morning when I woke up.
After this, I showered, hopped in the car and drove to San Diego, about 90 minutes away.  I had breakfast with our team there, and had a couple of meetings.  Then I drove to Agoura Hills which is north of LA.  It was a very pleasant 3 hour drive.
Once I got to Agoura Hills, I had a meeting with some of our engineering team there.  I had dinner alone and fell asleep around 9, in the hotel in Agoura Hills.
Wednesday – 8/28: 40 minute stationary bike
Again, first thing in the morning.  Today was a medium intensity rolling hills workout.
Then back to our facility for more meetings.  I headed out to the airport around noon and flew to Chicago, arriving at 9pm.  I got to the hotel around 10pm and promptly fell asleep.
Thursday – 8/29: 30′ Stationary bike
Tired this morning.  Took it easy.  HR was high nonetheless.
After that, I headed to our office north of Chicago and had a few meetings.  I headed out to the airport around 4pm.  I caught a 7pm flight home and arrived back at my house around 11pm.  I slept in Hopkinton that night.
Friday – 8/30 : No training
I slept hard until 9am, when my wife helpfully woke me up so I could dash off and get onto my first call of the day..  The morning was a blur of calls.  Then we got our stuff packed and around 1:30 we headed off to the cape, arriving around 4:00pm.  I had another work call, and the we chilled out, had some dinner and crashed around 10:30.
That was my fifth bed of the week.
Saturday – 8/31: 11k coastal row
A glorious beautiful day!  I relaxed all morning.  In the early after noon, I loaded up the boat, and headed off for a row.  There was a brisk 10-15mph breeze from the north, so I decided to row the marshes where I would be protected from the chop.  It was a good call.  At the very end, I came out into the bay a little bit and I was bashed around.  That bit was not fun, but it only lasted a few minutes and I was back on the beach.
The tide was flowing out during the whole row, and the stream was quite strong at times.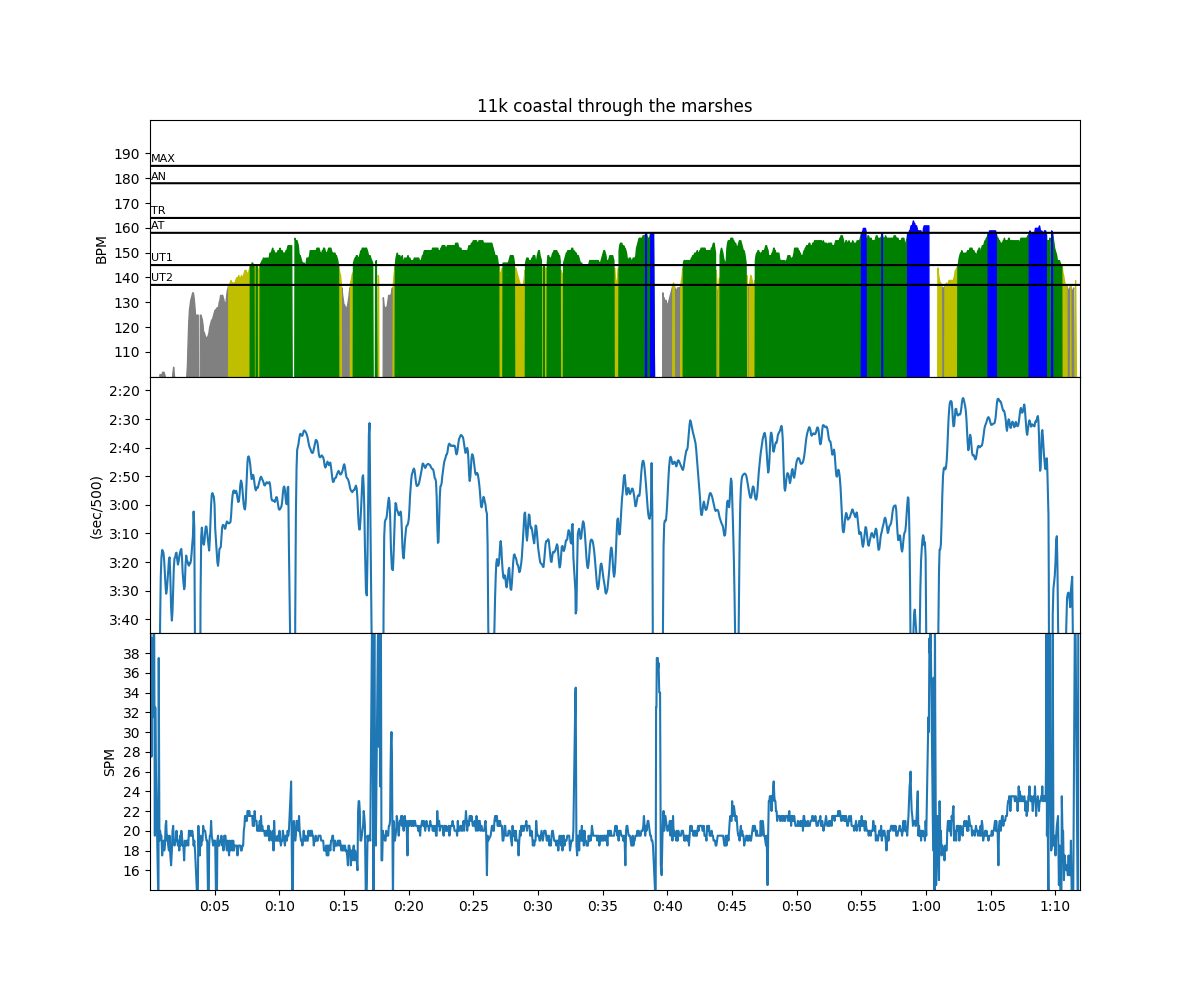 Workout Summary - media/20190831-2041020o.csv
--|Total|-Total----|--Avg--|-Avg-|Avg-|-Avg-|-Max-|-Avg
--|Dist-|-Time-----|-Pace--|-Pwr-|SPM-|-HR--|-HR--|-DPS
--|11661|01:11:55.0|03:05.0|000.0|20.5|146.2|163.0|07.9
W-|11138|01:05:24.4|02:56.2|000.0|20.0|146.7|163.0|08.5
R-|00530|00:06:31.2|06:09.0|000.0|25.1|140.5|163.0|04.1
Workout Details
#-|SDist|-Split-|-SPace-|-Pwr-|SPM-|AvgHR|MaxHR|DPS-
01|02673|16:15.2|03:02.4|000.0|18.9|136.4|156.0|08.7 against tide
02|01404|08:02.8|02:51.9|000.0|20.4|149.3|155.0|08.5 with tide
03|01915|12:12.5|03:11.2|000.0|19.7|148.0|158.0|07.9 against tide
04|03345|19:28.5|02:54.7|000.0|20.4|150.8|163.0|08.4 bit of both
05|00070|00:27.4|03:16.8|000.0|19.7|159.6|161.0|07.7 against tide
06|01671|08:33.4|02:33.6|000.0|21.2|152.1|161.0|09.2 with tide
07|00060|00:24.6|03:25.0|000.0|19.5|149.6|154.0|07.5 last little bit
Man, I love rowing!  The time just flew by, sun was shining, the water was nice and flat (mostly), and was able to focus on trying to row clean.
Tomorrow:  I hope I can do it all over again.