I love my job.  It is challenging and rewarding.  I'm an engineer and my company is involved in the semiconductor industry.  We supply equipment that is used to test semiconductor devices before they are put into the products that everyone uses every day.  Mobile Phones, computers, cars, trucks, robots, pacemakers, hearing aids, cell phone base stations, network routers.  The electronic guts of all of those products go across machines that make sure that they will work right.
Having a hard job, that I love means that I have to be realistic about my training objectives and plans.  My job got a lot harder a couple of years ago, and as a result, I have raced a lot less and my training load has gone down.
This chart from the Concept2 Online Logbook tells the tale.
My total training meters have been about 25% lower in the past 3 seasons than it was for the prior 6.  In a sport where "Miles make champions", and generally "more is more", that makes a big difference in terms of performance.
Even more impactful than the reduction in volume is irregular training.  If I was able to guarantee 6 sessions a week, but had limits of time per session, I could design a plan and make good progress.  But the way my life works right now, that is not possible.  This past week was an excellent example of what I mean.
Last Sunday, I had, what turned out to be an epic row.  I had planned it as a normal endurance session.  A coastal row exploring the salt marshes in Wellfleet.  And the first half was like that.  But in the second half, I was confronted by choppy water, and then a head wind that piled on a bit more intensity.  I was really worn out by the time I finished.
I was OK with that because I knew what kind of week I was going to have.
Monday:  First day back from vacation.  During vacation, I adjusted to waking up around 8 to 9am every day.  I didn't think I could rewind all the way to 5:15 on my first day back.  I elected to sleep in.  Looking at my schedule, I could have probably squeezed in a workout, but I was tired and sore from the Sunday row.
Tuesday:  Up at 4:00AM to catch a 6:00AM flight to Austin Texas for a customer meeting.  We got ready in the office in the morning and through lunch.  The meeting was in the afternoon, with a dinner that followed.  I got to my hotel at 9:30PM and fell asleep almost instantly.
Wednesday: Up at 4:00AM to catch a 6:00AM flight home.  Went straight to the office on arrival in Boston.  Had meetings all day, a team dinner after work, and then headed back to the office to host a "Global Town Meeting".  We have employees all around the world and we are experimenting with using audio and video technology to enable live meetings for the whole organization.  The meeting was at 9pm so that our team in Asia could attend in work hours.  I got home around 11pm, and I was honestly pretty amped up from the meeting.
Thursday:  I slept until 7:00AM and then headed to work.  I had meetings scheduled from 9:30 to 5:00pm, and then I had a business dinner that lasted until around 9:30PM.  On Thursday night, I managed to get to bed by around 11:00.
Friday:  I had a very important internal review meeting at 9:00 where I was the primary presenter.  I really needed to practice my presentation, so I got up at 5:15AM, headed to work and spent the time from around 6:30am to 9:00 working on speaker notes and dry running my stuff.  The meeting went well, and was over by 11:30.  I felt a lot more relaxed and worked through my other meetings in the afternoon.  I left around 6pm.
So there's five days.  Every day but Monday was more than 12 hours of work and no time for training.    Missing a day or two is no big deal, but 5 days probably erases multiple weeks of gains.
I need to do some research to figure out the best way to deal with this kind of thing.  Maybe some extremely short, HIIT sessions for days when I can't afford a full workout?  Since I'm on the road again this week.  I guess I'll give it a try.
As I rolled into the weekend, I was very eager to get back into some training.  I really missed it.  I knew I would be disappointed by my performance, but I tried to be matyure about it.  Just do a couple of nice endurance sessions, get back in the groove.
Saturday – 8/24/2019:  3 x 20'/2′ Endurance with Humon.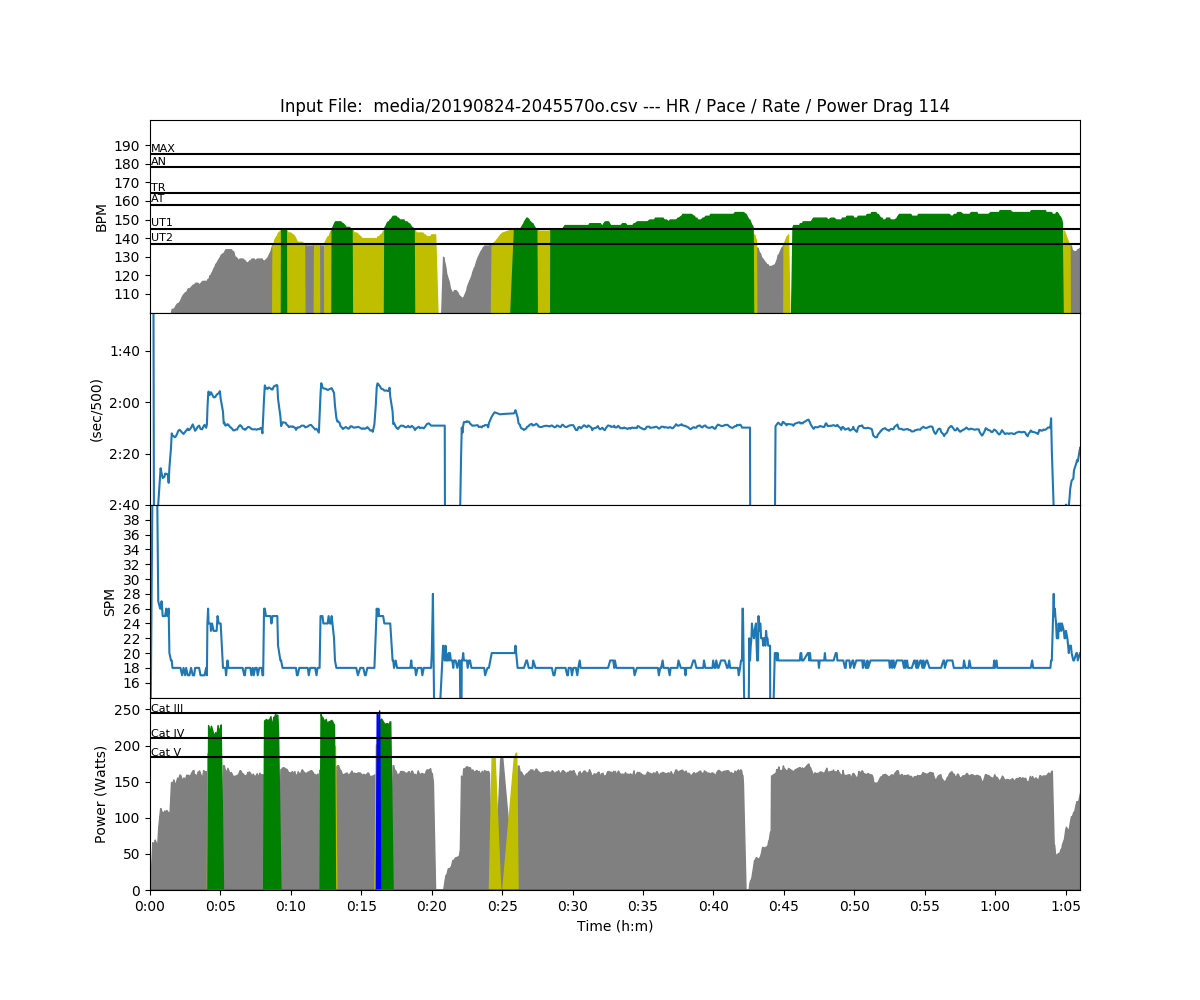 I felt great at first, but my HR climbed and I felt really tired by the middle.  I did really enjoy the 1 minute bumps I did during my first 20 minutes though.
        Workout Summary - media/20190824-2045570o.csv
--|Total|-Total----|--Avg--|-Avg-|Avg-|-Avg-|-Max-|-Avg
--|Dist-|-Time-----|-Pace--|-Pwr-|SPM-|-HR--|-HR--|-DPS
--|14837|01:06:01.5|02:13.5|155.1|19.0|142.0|155.0|11.8
W-|13986|00:60:00.0|02:08.7|165.5|19.0|142.7|155.0|12.3
R-|00854|00:06:01.5|03:31.6|051.8|19.7|134.4|155.0|08.4
Workout Details
#-|SDist|-Split-|-SPace-|-Pwr-|SPM-|AvgHR|MaxHR|DPS-
00|04711|20:00.0|02:07.4|171.7|20.2|131.3|152.0|11.7
01|04671|20:00.0|02:08.5|165.2|18.2|145.9|154.0|12.8
02|04605|20:00.0|02:10.3|159.7|18.5|151.1|155.0|12.4
Sunday – 8/25/2019 – 3 x 20′  / 2′ with 1′ bumps at r24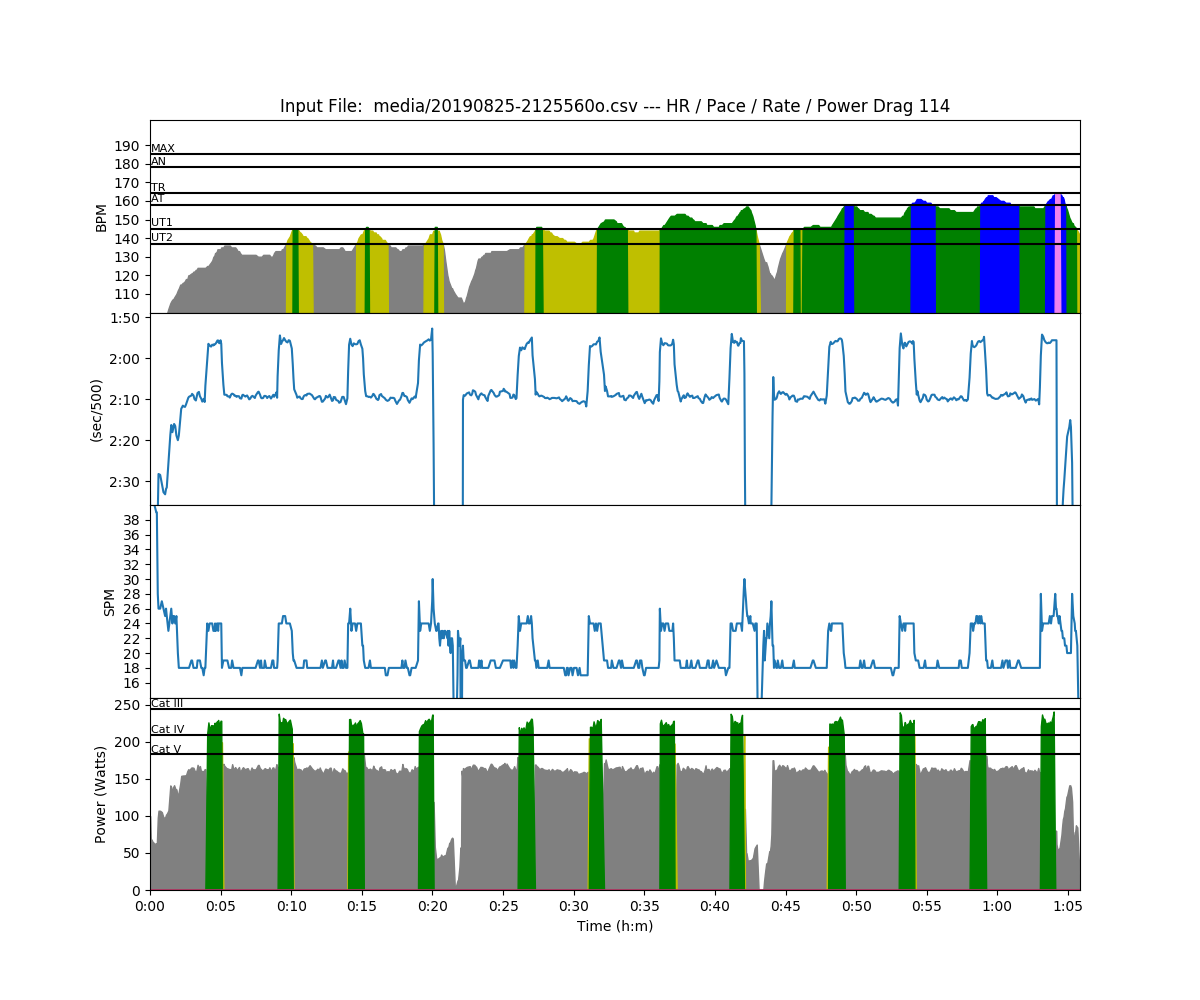 I had fun with the bumps, so I decided to do it again.  Today, I tried to hit r24 and 220W for each of the bursts.  I was really feeling the strain by the last 20′ piece, but I was having a good time with it.
        Workout Summary - media/20190825-2125560o.csv
--|Total|-Total----|--Avg--|-Avg-|Avg-|-Avg-|-Max-|-Avg
--|Dist-|-Time-----|-Pace--|-Pwr-|SPM-|-HR--|-HR--|-DPS
--|15121|01:06:00.0|02:10.9|163.4|19.8|141.4|164.0|11.6
W-|14227|00:60:00.0|02:06.5|174.2|19.7|141.6|163.0|12.0
R-|00896|00:06:00.0|03:20.8|055.2|20.6|139.1|163.0|09.1
Workout Details
#-|SDist|-Split-|-SPace-|-Pwr-|SPM-|AvgHR|MaxHR|DPS-
00|04704|20:00.0|02:07.5|170.4|20.5|130.2|146.0|11.5
01|04762|20:00.0|02:06.0|175.7|19.3|141.6|155.0|12.3
02|04760|20:00.0|02:06.0|176.6|19.5|153.0|163.0|12.2
Now it's Monday morning, and guess where I am?  I was up at 4:00AM to get to airport for a 6:00AM flight to LA.  I am in Orange County today.  San Diego tomorrow morning.  Driving up to north of LA Tuesday afternoon.  Flying to Chicago on Wednesday night, and then flying home to Boston on Thursday night.  I guess I'll put that HIIT theory to the test this week!