Sunday was the last day of my vacation, and I have to say that the weather has been pretty amazing.  I was able to train outdoors 7 of the past 8 days.
On Sunday, there wasn't too much wind, but it was really hot and humid.  I launched around 12:30.
I really enjoyed rowing around the salt marsh on Saturday, so I started off doing the same thing today, but explored a new nook and cranny behind Indian Neck.  The chart is a bit deceiving.  The part that is shown as blue behind indian neck is actually pretty heavily channeled salt marsh.  I turned around when the channel got a bit narrow to easily turn around.
When I rowed out from behind Feld Pt, the rowing actually got pretty annoying.  The westerly wind was building up a bit of chop, but there were also a ton of criss crossing boat wakes.  Rowing with this mess on the beam was really challenging.  Trying to take clean strokes and get my blades consistently buried was a constant struggle.
I was pretty miserable by the time I got up the inner harbor and I wasn't looking forward to the long slog home.  Because of the angle of the wind, the row home was a bit harder, but a lot less annoying.  I was really tired, my legs were empty and my heart rate was abnormally high.  I think the humidity and the total training load of the past few days just got to me.
As I came into the Lee of the island, the water flattened out and I decided to push the last bit harder.  I kept the rate reasonably low and pushed the pressure.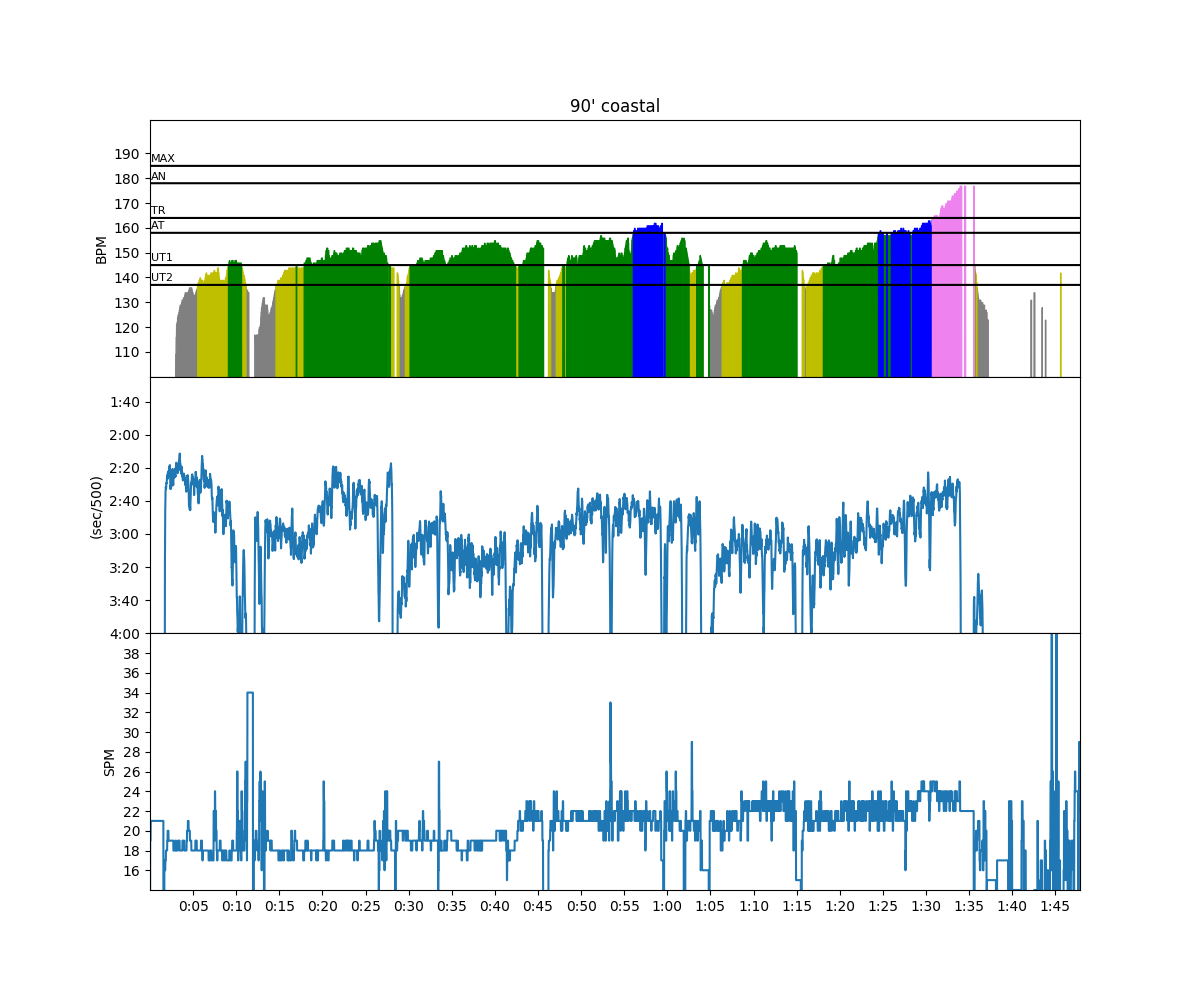 Workout Summary - media/20190818-1826050o.csv
--|Total|-Total----|--Avg--|-Avg-|Avg-|-Avg-|-Max-|-Avg
--|Dist-|-Time-----|-Pace--|-Pwr-|SPM-|-HR--|-HR--|-DPS
--|15655|01:47:52.0|03:26.7|000.0|19.7|144.6|177.0|07.4
W-|14215|01:23:09.0|02:55.5|000.0|20.4|148.1|177.0|08.5
R-|01449|00:24:43.0|08:31.8|000.0|17.5|133.2|177.0|02.4
Workout Details
#-|SDist|-Split-|-SPace-|-Pwr-|SPM-|AvgHR|MaxHR|DPS-
01|01616|08:19.0|02:34.4|000.0|18.3|131.4|147.0|10.6 to bridge
02|02813|15:57.0|02:50.1|000.0|18.4|144.5|155.0|09.6 behind indian neck
03|01809|11:28.0|03:10.2|000.0|18.9|149.7|155.0|08.3 halfway to harbor, got waked
04|00540|03:20.0|03:05.4|000.0|21.0|149.0|155.0|07.7 waked again
05|02636|15:21.0|02:54.7|000.0|21.3|151.9|162.0|08.1 rest of the in harbor
06|00283|01:39.0|02:54.7|000.0|20.8|144.1|149.0|08.3 
07|01464|09:18.0|03:10.6|000.0|21.8|146.6|155.0|07.2
08|00134|00:51.0|03:09.9|000.0|21.5|137.3|140.0|07.4 
09|02920|16:56.0|02:54.0|000.0|22.3|156.5|177.0|07.7 back to beach
By the time I got back to the beach, I was feeling a little woozy and it was a challenge to get everything loaded on the car. I drove back to the house and got the boat put away, and took a shower.  I laid down for about 30 minutes and started to feel much better.
I decided to take a rest day on Monday.