Time to get back into the training routine.  The basic plan remains the same.  A variation of the Wolverine Plan.
The outlines of the my variation of the plan:
6 total sessions a week
3 L4 sessions working on technique and aerobic fitness
1 L1 Session (Short Intervals)
1 L2 Session (Long Intervals)
1 L3 session (Hard Distance or intervals with short rests)
At the same time, I am following with some interest the training sessions that Eric Murray is putting out on YouTube.  A couple of weeks ago, on 26 March,  I did another sprinty session which was quite hard, but a good change of pace.  Yesterday, I watched a workout that he uploaded last week, and from the way he was describing it ("Ooo, you guys are gonna hate me for this one"), I found it almost irresistible.
Here's the link
The description of the workout is on the white board in the background.  (Mr. Murray is in the middle of the first set of six in the foreground.
The part of the board behind the chain is saying 2 / 4 splits from race pace.  If I were to guess my 2k pace right now, it would be around 1:45.  So, my target for this should be 1:41 to 1:43.
I started with a 20 minute warmup.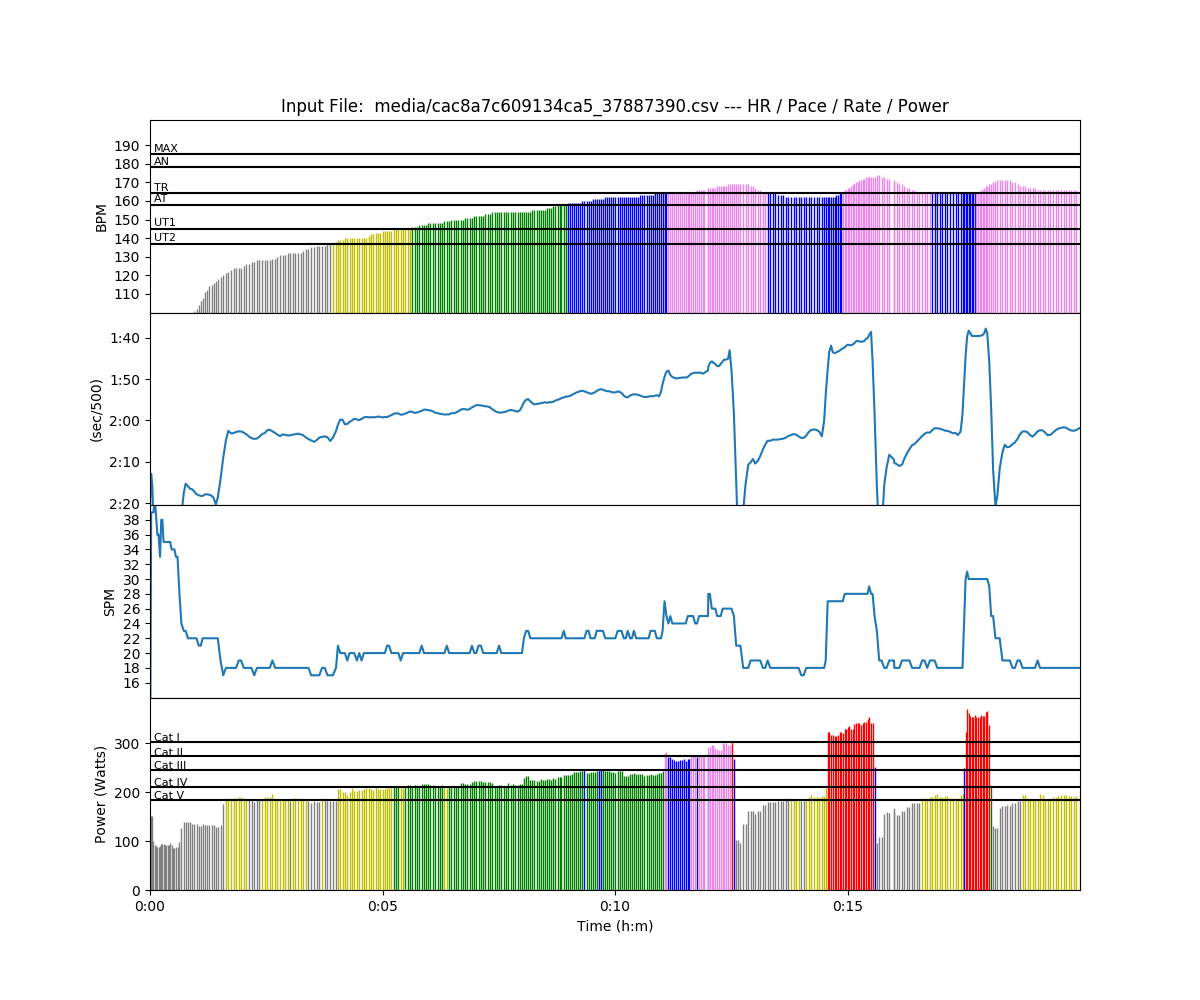 Whew, that was tough.  I was left wondering how well the main session would go.  Then I programmed the complex interval set into the PM5 and set off.  I got very ambitious and aimed at 1:39 instead of 1:41, and I paid dearly for it.
By the fourth interval, I was fried and paddled it out after about 20 seconds.  Then after a more sedate 5th interval, I discovered that I had misprogrammed the PM5.  I was looking at a 4 minute rest when I should have seen a 20 second rest.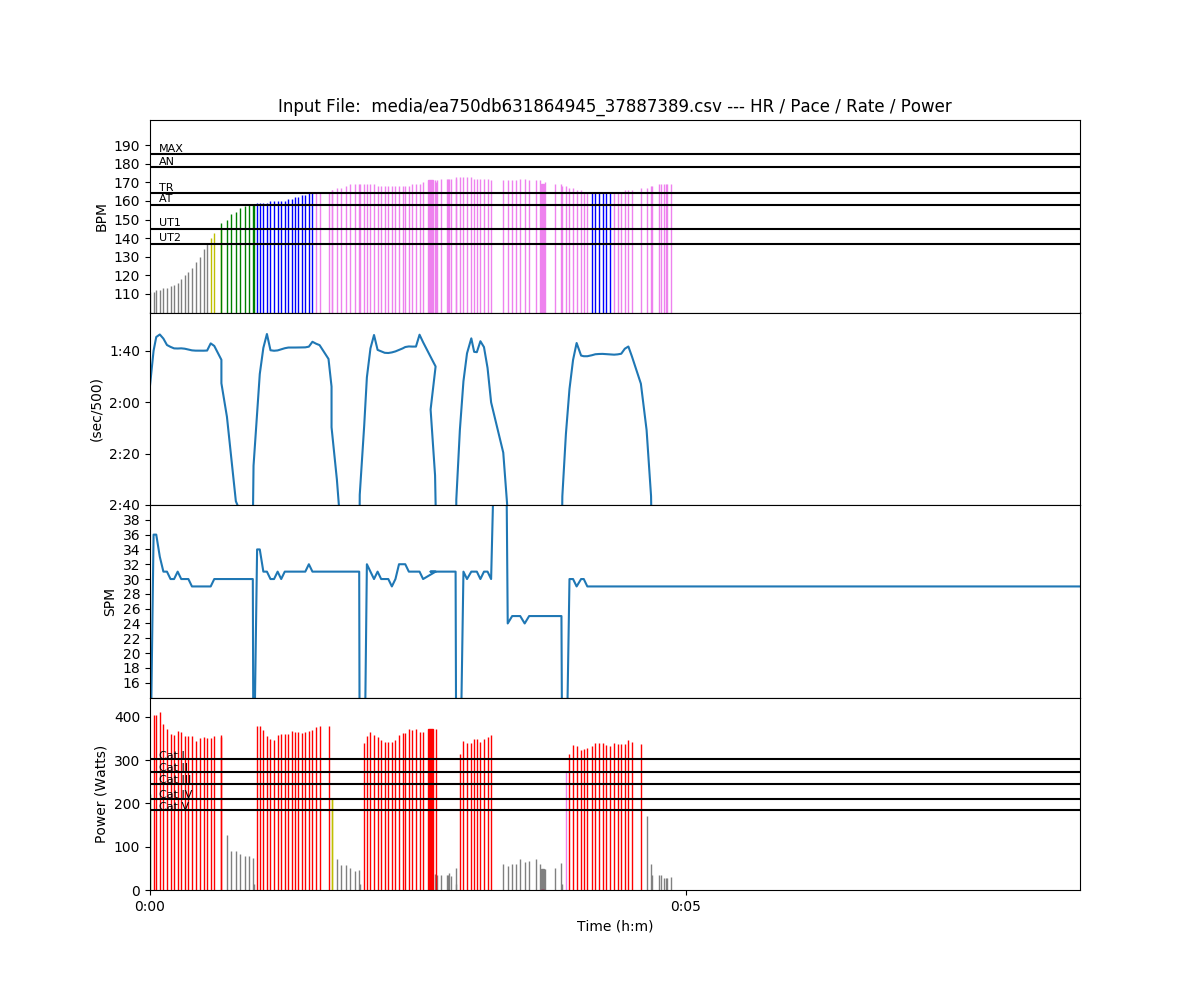 I pulled the plug and programmed it up again, hopefully correctly.  This time, I started at a more reasonable pace, but I still fought demons in each set after the 3rd 40 second burst.  I slowed down, but never gave up.
This session was hard!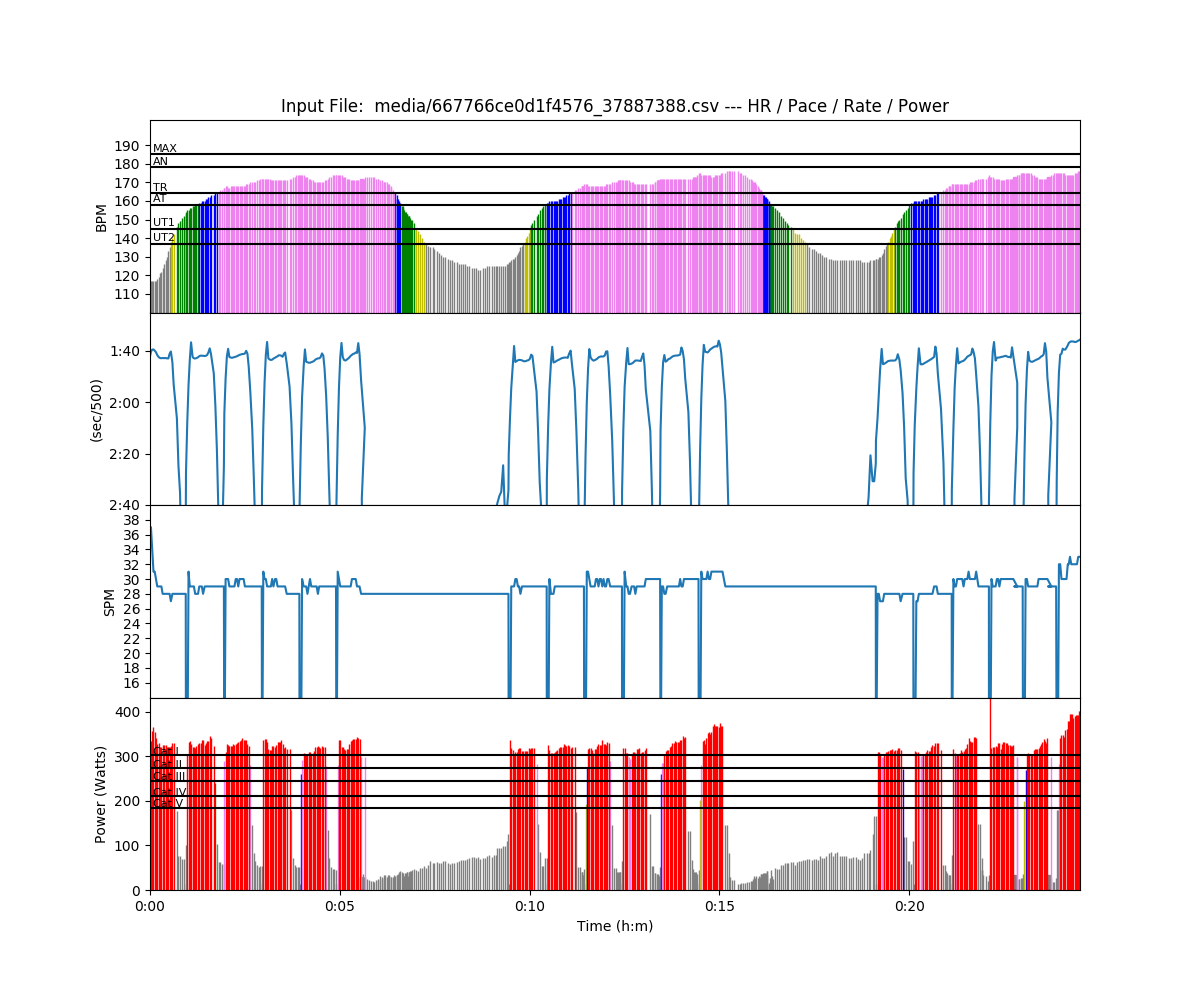 End result 1:42.2.  Basically 3 splits below where I think my 2k is!
So, this turned out to be a bit different from a classic L1 workout.  In those terms it is basically like a 3 – 4 minute pieces with 4 minute rests, but because you break up the 4 minutes into 40 second chunks, you can push the pace faster.
Tomorrow:  Either an L4 session on the erg, or a steady state session on the water.  The weather looks a bit iffy.  Winds from the West at 18-20mph.  I'll decide in the morning.