Tough week to maintain any training momentum.
Tuesday – 4/9 – 8km run
I was staying Cernusco, a suburb of Milan.  On Monday night, I got back to my room around 10pm, and set an alarm for 5:30.  I planned to go to the gym, but discovered it opened at 7, too late for me since I had to be in the office at 8am.
I decided to go for a run, without a lot of research about a route.  I knew that there was a canal nearby to run along, but I wasn't sure how to get to it.
My hotel was right near the "C" of "Cernusco".  So first, ran north and saw that that I was crossing over the canal, but I couldn't see a path from the overpass down to canal level, so I continued over, then ran around the outside of a park.  I intended to go into the park, but that seemed to be locked up for the night as well (it was still dark).  I turned back south and ran back over the canal, and saw that there were pedestrian stairs down to a train station.  I jogged down the stairs, and along the train tracks to the station.  I had hoped to use the pedestrian bridge over the tracks to get the the canal side, but there were turnstiles going into the station.  I kept running along, and then found an overpass.  That's the curved path going to the north.  That went right to the side of the canal, and I was home free.
I was running slowly, really slowly, like 10-11 minute mile pace.  But I was really enjoying myself.  Running along the canal was wonderful.  It was cool, the sun was starting to come up.  There were dog walkers and other runners out.  Along the canal were farms, and old houses, and across the canal a huge classic building.  I later found out it was the hospital.  A very classy looking hospital.
I managed to run slowly enough that I was having fun.  I got to a park and across the canal was a sports complex.  Then, I saw the coolest thing.  A stretch of the canal had been outfitted with Olympic white water kayak gates.  They must have the ability to increase the flow in the canal, because there was no impressive whitewater, just the gates.
A little past this, I noticed the time.  I'd been going for a bit more than 30 minutes.  I noticed my shoe was untied, so I stopped, retied it and turned around to go home.
The run home was just as nice.  I ran all the way back to the same overpass, and then continued south on the same road to the main route that would take me back to my hotel.  I was starting to get pretty tired by this point, and I didn't like running along the morning rush hour, but when I finally got back to my hotel, I was just delighted.  I ran for nearly an hour.  The longest run I've done in years and it felt really good.  Almost all of it was good aerobic HR, then at the end, I picked up a bit.
I need to run more often.
Then I had some less than happy meetings with our customer, some meetings back at our office, and then we went into Milan for dinner, along the canals.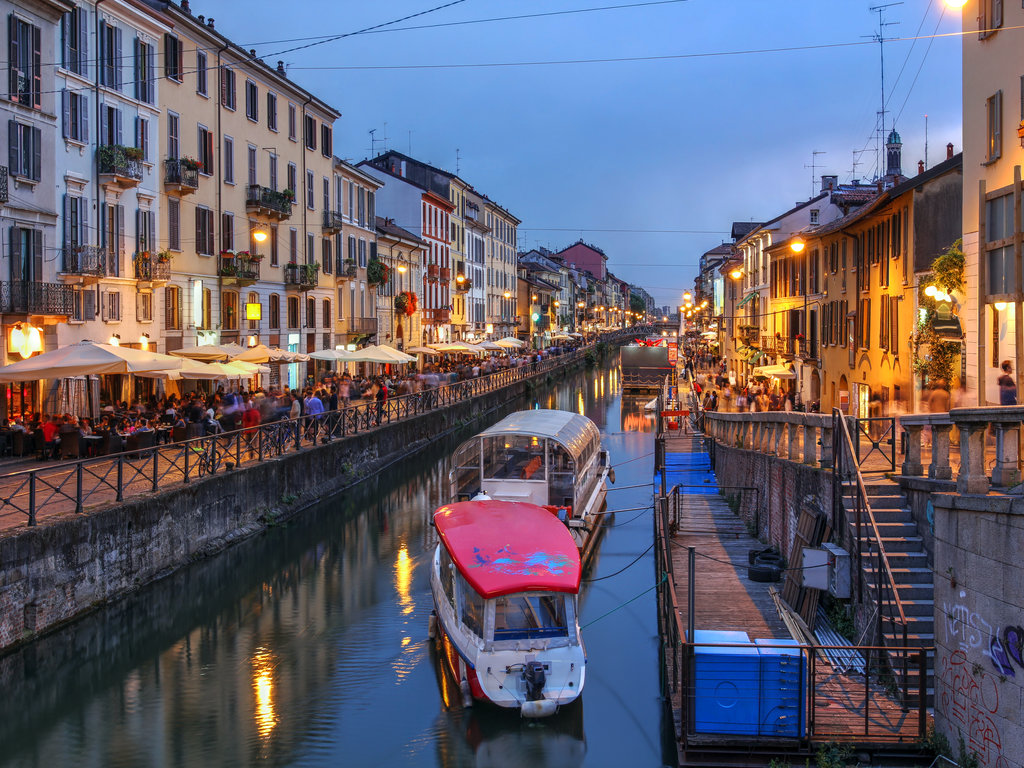 I didn't even know that Milan had canals!  Apparently they were covered over in the late 19th century and then uncovered in the late 20th century to beautify the city.
A little background on Milan's canals
Wednesday – 4/10 – No Training
Up at 5:30am, cab to the airport at 6:15.  Flight from Milan to Frankfurt.  Then Frankfurt to Boston.  Arrived around 4pm.
Thursday – 4/11 – No Training
I was bone tired by the time I got to bed on Wednesday night.  I had a red eye flight on Sunday night, jet lag sleep issues on Monday night and a late bedtime and early start on Wednesday.  I figure I got 12 hours of sleep over the 3 nights.  So, I slept in instead of getting up  to train.
Friday – 4/12 – No Training
I had a doctors appt on Friday morning.  So, no time to train
Saturday – 4/13 – 3 x 20'/2′
Finally, I had a chance to train!  Back to basics.  I felt terrible.  High heart rate.  No rhythm.  But it felt great to work up a sweat.  I felt like a new person after I was done.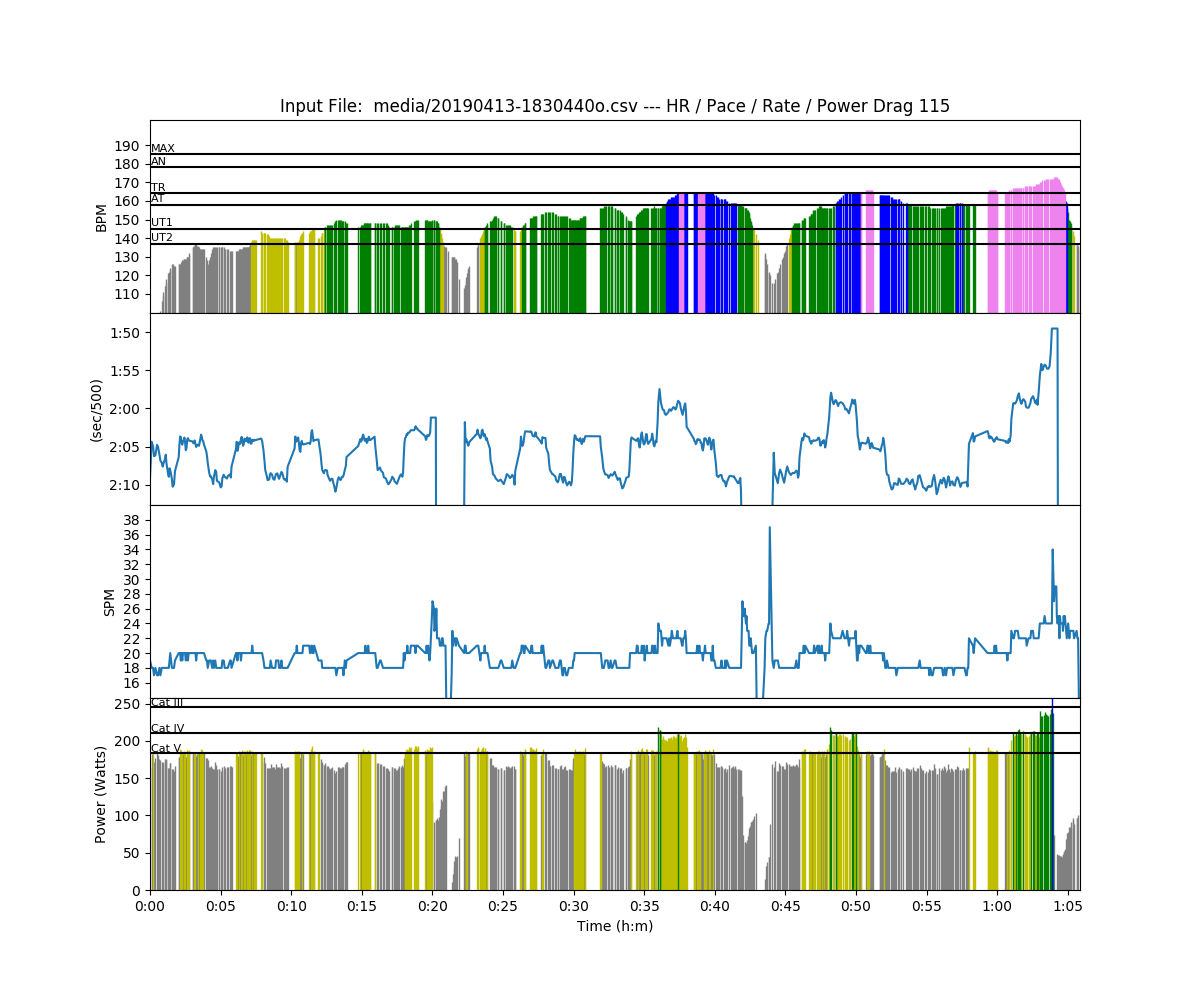 Compare this to the same thing a couple weeks ago.  Except that session was a more challenging stroke count!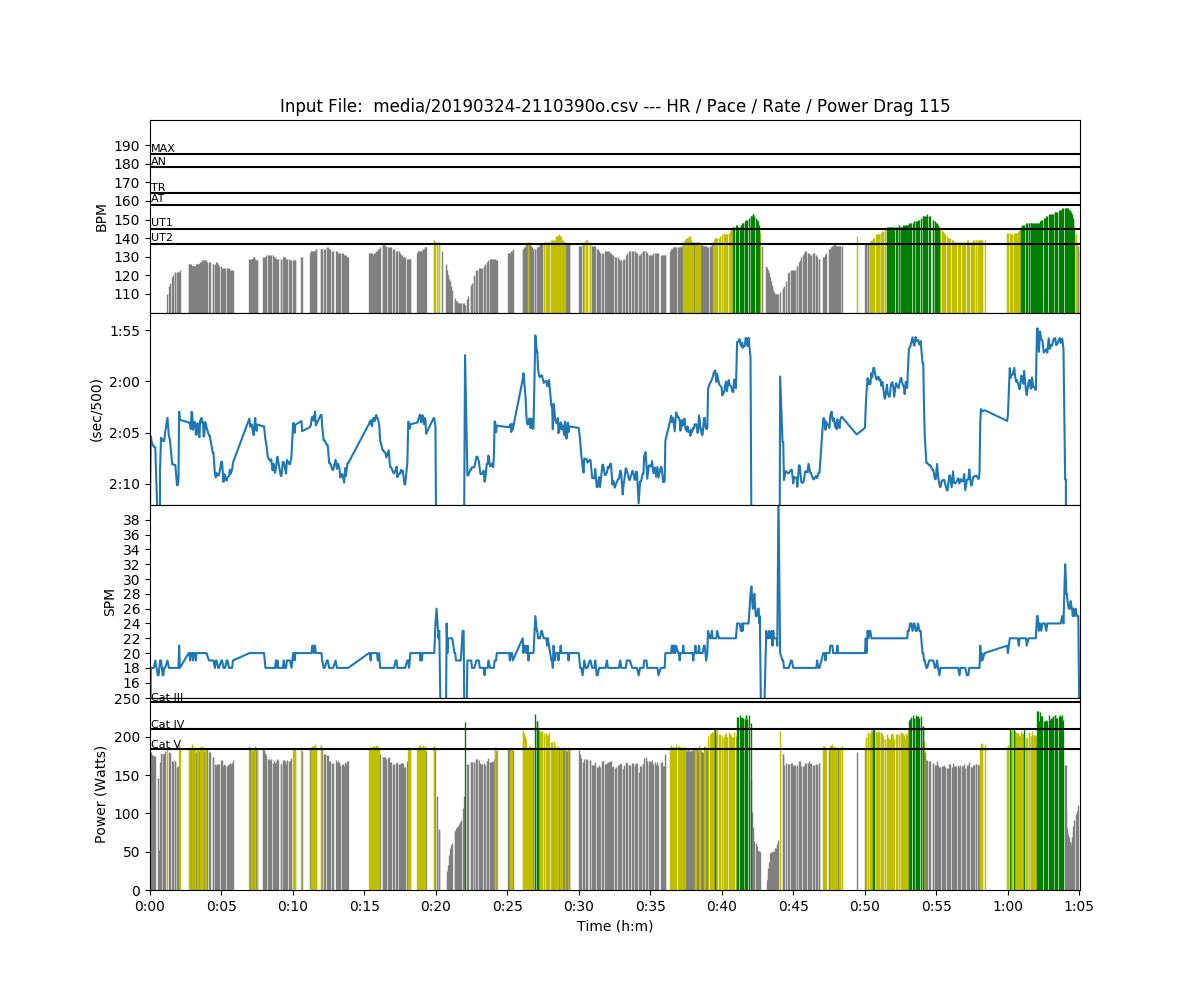 Amazing how quickly I can lose fitness!
Sunday – 4/14 – 15km OTW 1x
The weather forecast was for partly sunny skies, no wind and temps in the high 50s.  I was very excited to get back on the water.  I headed down to Newton and launched around 8am.
Since I've only been on the water twice so far this season, and hadn't been out since the 28th of March, I felt that the right thing to do today was to just do some r18 steady state rowing and maybe try to focus on technique.  The key things I wanted to work on were:
draw my hands in higher on my chest at the release to try to stop washing out.
work on getting my blades farther off the water on recovery
Work on hinging at my hips and maintaining body position forward during the leg drive.
Work on keeping my knees close to each other at the catch.  I think letting my legs splay out at the catch is the primary thing that is irritating my SI joint issues.
So it was a lot to think about and my success level was mixed at best.  But boy was it awesome to be out on the water!
I started off and headed up river to go take a peek at the Lasalle Boathouse.  Looked the same as always.  Then I spun around and headed down river, all the way to the dam.  Then back upriver to turn in the cove.  Back down to the dam again.  By then I had been going for about 70 minutes and I was pretty tired.  I decided to alternate 40 strokes of drills and 40 strokes of steady state for the trip back to the dock.  I did the following drills
square blades
pause at arms away (This was good practice to work on the whole body position thing
half slide
slow roll up
While I was on the way back down river, my phone died.  Not sure why it tapped out the battery so quickly this morning, but once it was kaput, I had didn't have a stroke rate.  (I used the speedcoach for pace, HR, Power and Eff Length.  I use RIM for boat acceleration curves and SPM).  I kind of enjoyed not having the SPM for a while.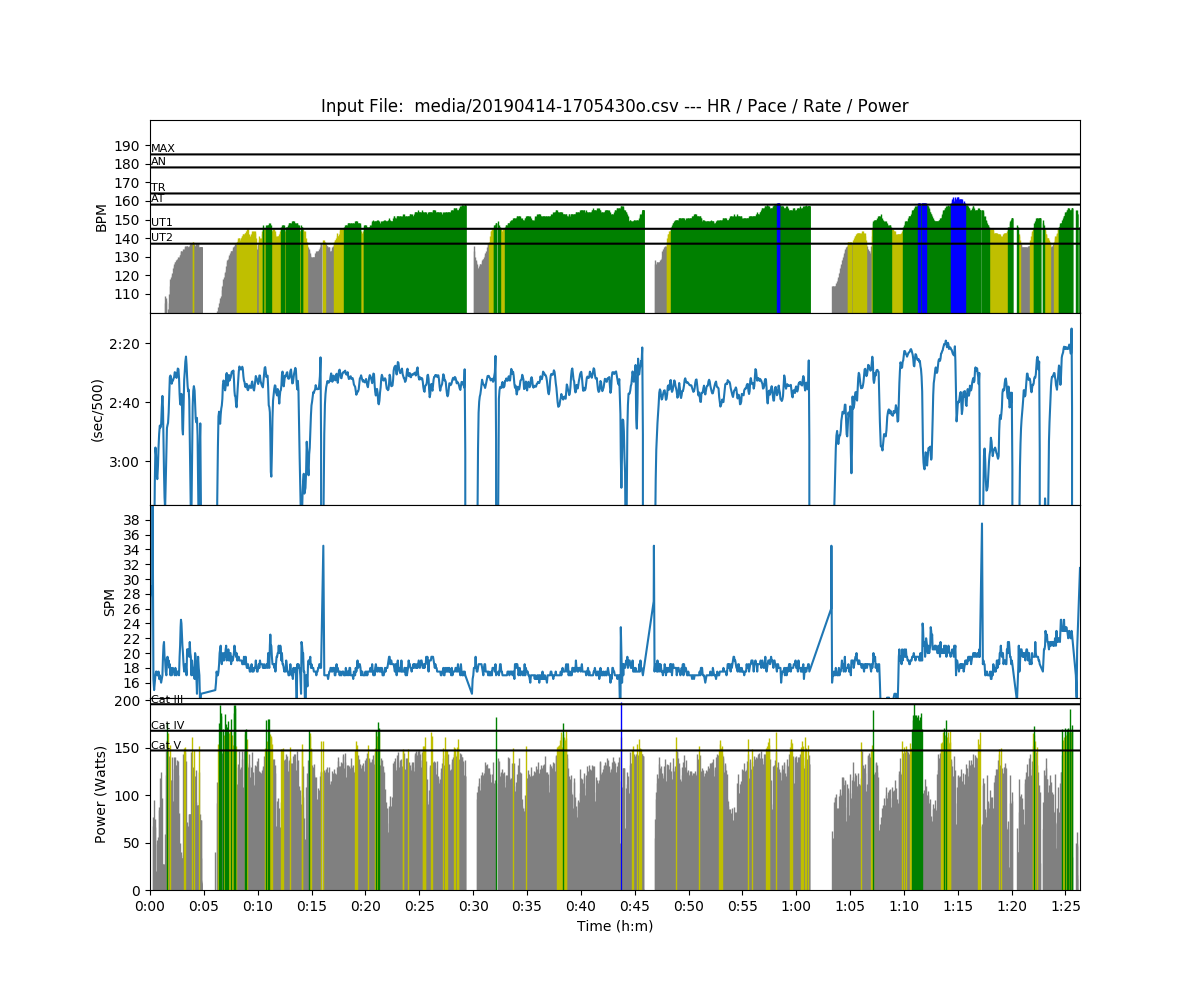 Workout Summary - media/20190414-1705430o.csv
--|Total|-Total-|--Avg--|-Avg-|Avg-|-Avg-|-Max-|-Avg
--|Dist-|-Time--|-Pace--|-Pwr-|SPM-|-HR--|-HR--|-DPS
--|15408|86:19.0|02:48.1|116.5|18.5|144.1|162.0|09.6
W-|12506|63:49.0|02:33.1|128.1|18.2|148.4|162.0|10.8
R-|02917|22:31.0|03:51.7|083.4|19.3|132.1|162.0|05.4
Workout Details
#-|SDist|-Split-|-SPace-|-Pwr-|SPM-|AvgHR|MaxHR|DPS-
01|00334|01:51.6|02:46.9|106.7|18.7|128.7|136.0|09.6
02|00927|04:21.4|02:21.0|143.9|18.8|137.9|147.0|11.3
03|00472|02:18.4|02:26.5|121.6|18.2|145.8|149.0|11.3
04|00152|00:46.9|02:34.6|110.2|17.8|132.0|135.0|10.9
05|02646|12:55.0|02:26.4|131.3|17.8|149.8|158.0|11.5
06|02424|13:03.7|02:41.7|123.4|17.3|150.4|156.0|10.7
07|00260|01:19.8|02:33.5|139.5|18.0|150.3|154.0|10.9
08|02775|13:56.1|02:30.6|128.1|17.8|151.4|159.0|11.2
09|00450|02:25.4|02:41.4|122.7|18.5|142.7|152.0|10.0
10|00435|02:13.4|02:33.3|155.6|19.4|151.9|159.0|10.1
11|00815|04:16.6|02:37.5|127.3|19.6|156.3|162.0|09.7
12|00162|00:51.9|02:40.5|095.0|19.6|144.8|150.0|09.5
13|00272|01:28.8|02:43.2|127.3|19.6|141.8|151.0|09.4
14|00381|02:00.4|02:37.9|124.5|22.4|147.1|156.0|08.5
Now my hands are pretty torn up, but I feel great!