Today was the ninth day in a row that I have trained on the erg.  I think it's my longest streak in a pretty long time and it's making me pretty happy.  I've got 3 more days before I head off to China, so I'll be trying to keep the streak alive.
I am actually a big believer in the general rule of taking a rest day every 6 days, but I had a couple of rest days before this streak and I will have a lot of trouble fitting sessions around my work in China, so I am OK with pushing it a bit.
Wednesday – 3/13 – 3 x 20'/2′ L4 (static)
Bread and butter.  Felt kind of hard.  I was actually having a bit of trouble rowing lightly enough at r16 to get down to 160W.   I think that helped overcook the session.  Still it was pretty enjoyable.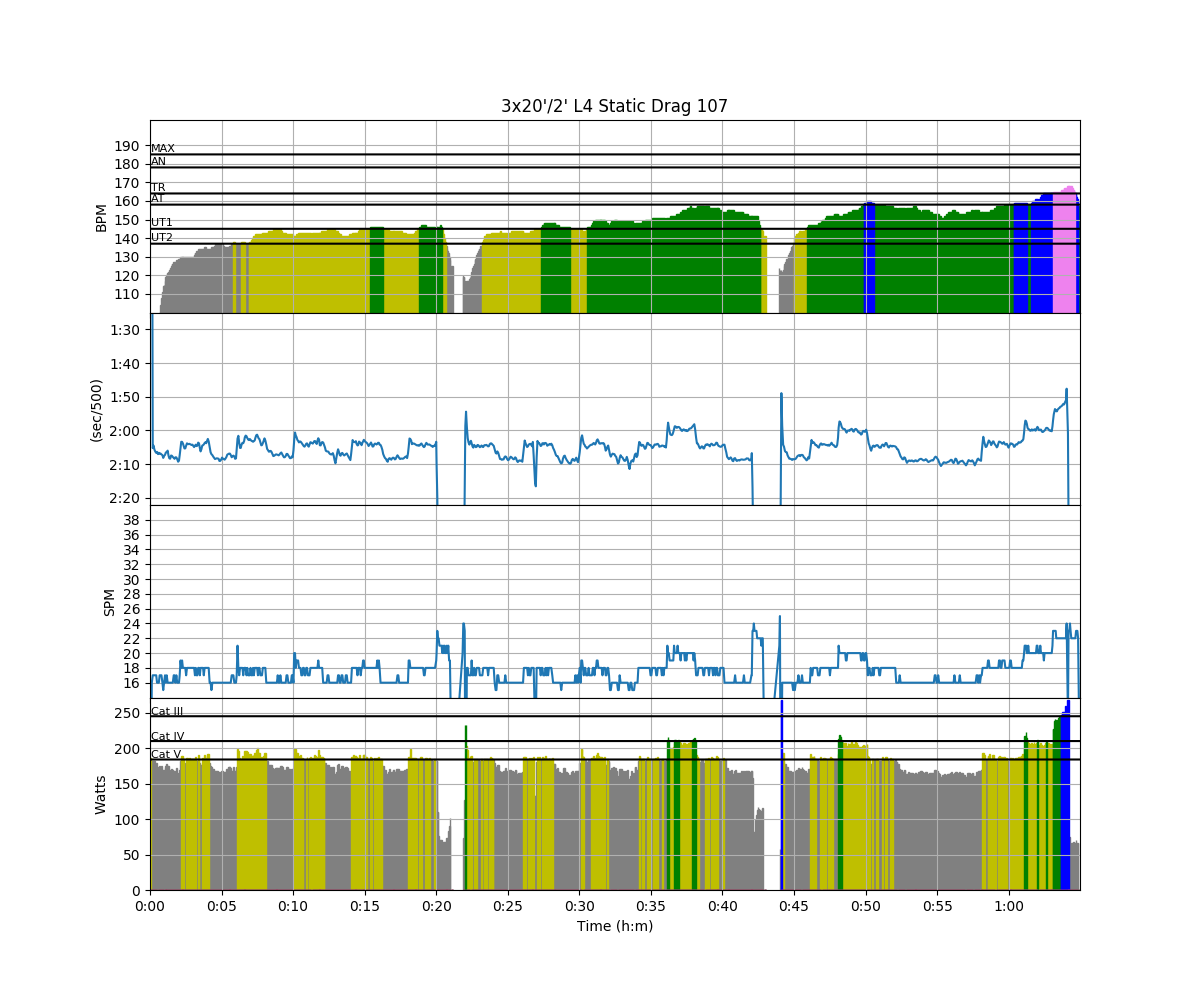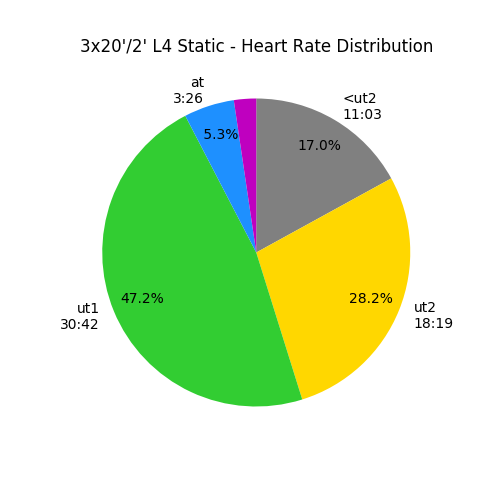 Workout Summary - media/20190313-1245450o.csv
--|Total|-Total-|--Avg--|-Avg-|Avg-|-Avg-|-Max-|-Avg
--|Dist-|-Time--|-Pace--|-Pwr-|SPM-|-HR--|-HR--|-DPS
--|15047|66:00.0|02:11.6|169.0|17.2|146.1|168.0|13.3
W-|14441|60:00.0|02:04.6|181.4|17.3|146.5|167.0|13.9
R-|00613|06:00.0|04:53.6|044.5|16.0|142.1|167.0|09.8
Workout Details
#-|SDist|-Split-|-SPace-|-Pwr-|SPM-|AvgHR|MaxHR|DPS-
00|02398|10:00.0|02:05.1|178.1|16.8|131.2|145.0|14.3
01|02405|10:00.0|02:04.8|180.3|17.3|144.0|147.0|13.9
02|02389|10:00.0|02:05.6|177.9|16.8|142.9|150.0|14.2
03|02412|10:00.0|02:04.4|182.1|17.4|152.5|157.0|13.8
04|02407|10:00.0|02:04.6|183.4|17.4|150.9|160.0|13.9
05|02430|10:00.0|02:03.5|186.9|18.1|157.3|167.0|13.4

Thursday – 3/14 – 4 x 2000 / 5′ L2 (static)
I felt pretty worried going into this session.  I have a reasonable history of L2 sessions now, so I had a good idea of achievable pace, but I knew it was going to have to be willing to endure some discomfort to hit the target.
My history.
1 Feb – Waterfall – 1:52.4 (static)
9 Feb – 4 x 2k – 1:51.6 (slides)
15 Feb – 5 x 1500 – 1:49.2 (static)
9 March – Waterfall – 1:51.1 (slides)
So, my target for today should have been 1:51, but I wanted to shoot for 1:50.  It's such a nice number.
I programmed the PM for 2k reps and 5 minute rests.  I did the first rep as a warmup.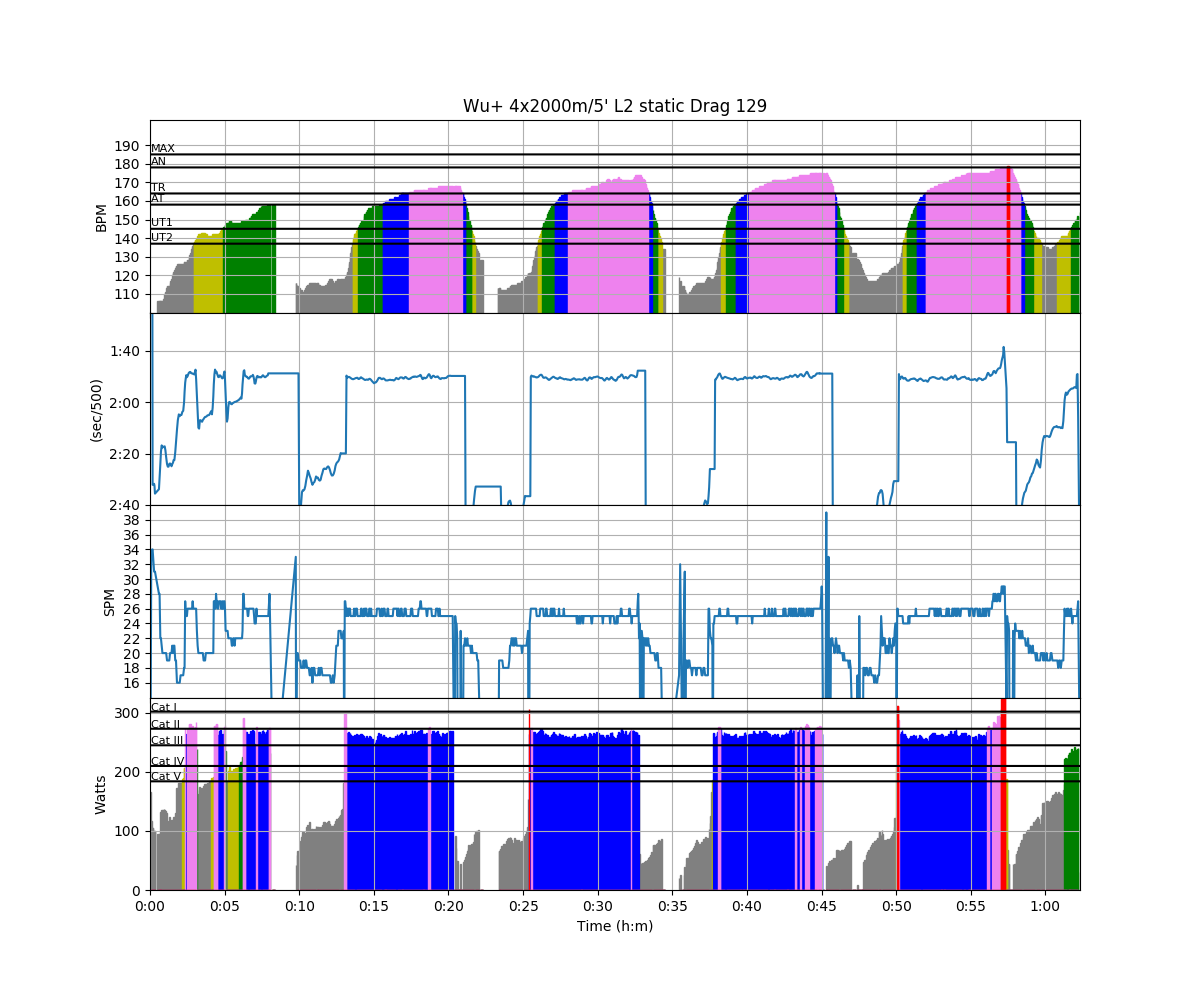 Isn't that the prettiest thing?  Nice warmup.  I extended the last burst to about 60 strokes, which got me a bit sweatier and I think that helped.
The first rep was a breeze.  I am noticing that my watts per stroke is going up a bit, must be all those L4s.  Here is a comparison of 4 L2 workouts.  I have 2 waterfalls, a 5 x 1500 and todays 4x2k.  Notice the way that my power per stroke was fading in later reps in the other three workouts, but today (purple) was a much steadier performance.
In terms of intensity, I think it was right in the zone.  I passed 95% of HRR max right at the end of the last interval.  I guess I could have pushed a little bit harder, but it felt great to be in control through the whole session/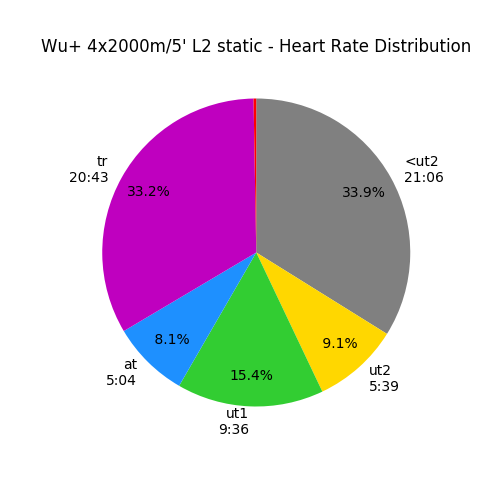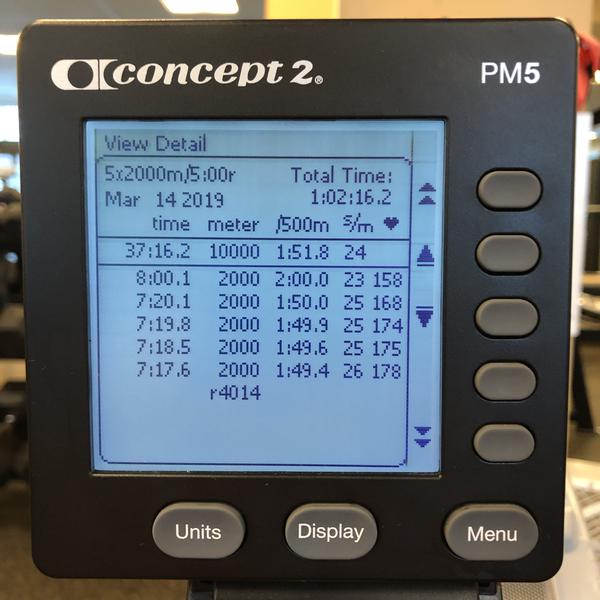 Average pace 1:49.7 for the 4 work reps.  Yes!  That makes me happy.
Tomorrow:  3 x 20'/2′ L4