I got back from California last Tuesday night and since then, I've trained every day.  It's been so nice being able to go to bed at an OK time, drive to work, get my session in and then do my job.  I have to cherish this, because I'm heading out to China, next Monday morning.
Sunday – 3/10 – 15 x 3'/1′ L3 on slides
I worked hard in the waterfall session on Sunday, but I wanted to get in my 3rd "hard" workout of the week.  I felt like I didn't have the fortitude to hold up in a long continuous piece like a 10K, so I opted for one of my favorite short interval/short rest sessions from the Wolverine Plan.  This workout tends to be bit faster than other L3 workouts, and it gets pretty intense in the last 5 reps, but having the 1 minute breaks makes it pretty manageable.  Even if you blow a rep, you have a chance for redemption coming right up.  So, I think it gives a similar physical training effect, but is a lot less taxing mentally.
I haven't done enough middle distance work on slide to have a great idea about pacing, but I don't like it when I do less than 800m per rep (1:52.5), so I used that as my goal.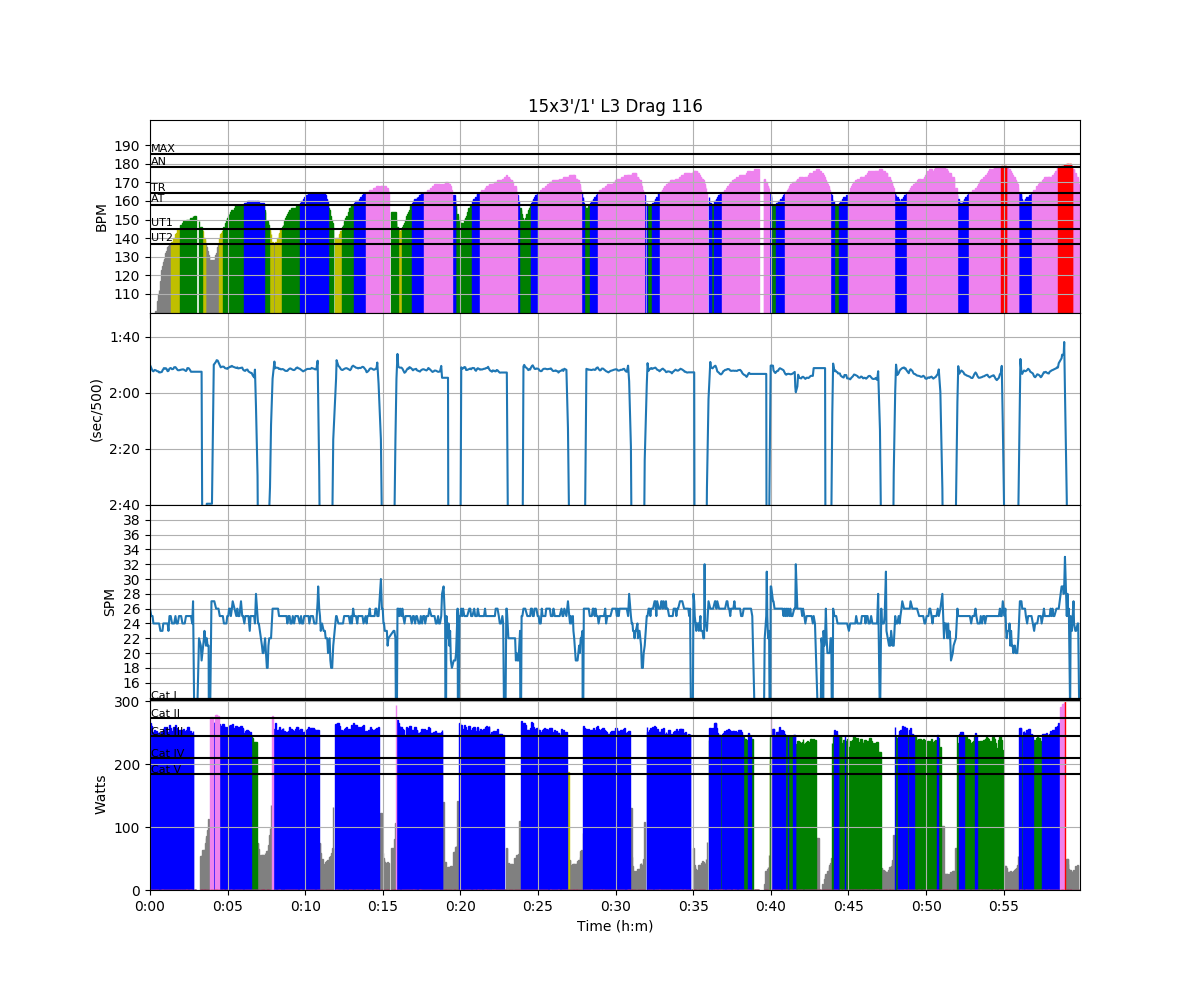 I fell short of 800m on reps 11, 12, 13 and 14.  Average distance per rep was 806m.  Average pace was 1:51.7.
It was quite a workout.  Over 30 minutes in TR and a nice little touch of red at the end.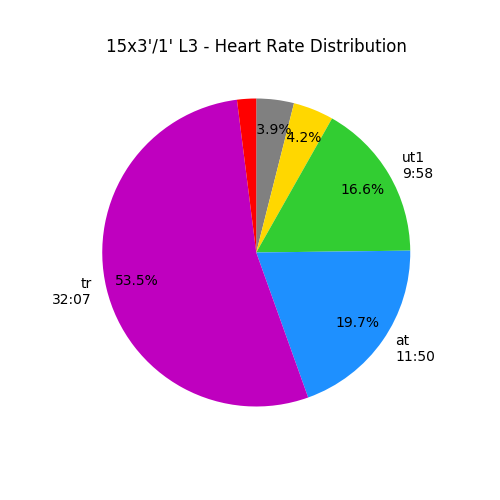 Monday – 11 March – 3 x 18'/2′ L4 (static)
My ass was dragging on Monday morning.  But, I was hoping to do a nice long 4 x 18′ session.  I ended up stopping after 3 reps because I was feeling pretty worn out.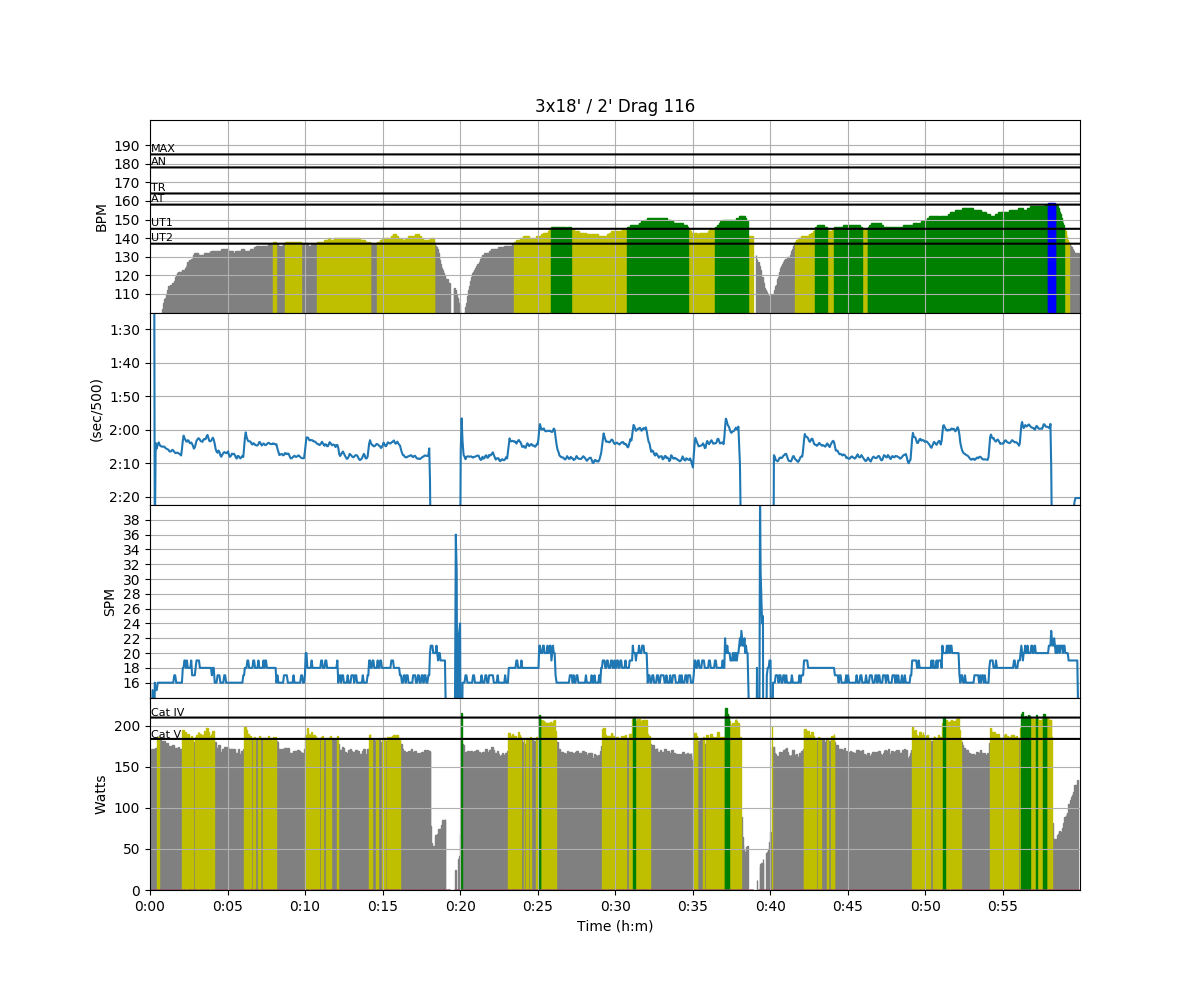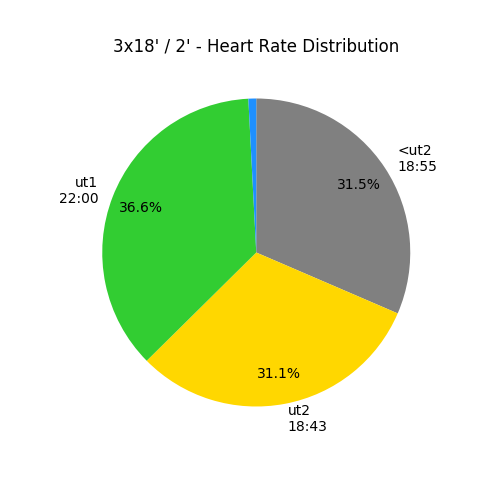 Workout Summary - media/20190311-1235390o.csv
--|Total|-Total-|--Avg--|-Avg-|Avg-|-Avg-|-Max-|-Avg
--|Dist-|-Time--|-Pace--|-Pwr-|SPM-|-HR--|-HR--|-DPS
--|13861|60:00.0|02:09.9|167.1|17.1|140.0|159.0|13.5
W-|12947|54:00.0|02:05.1|179.6|17.4|140.8|159.0|13.8
R-|00918|06:00.0|03:16.1|054.0|14.9|132.7|159.0|10.5
Workout Details
#-|SDist|-Split-|-SPace-|-Pwr-|SPM-|AvgHR|MaxHR|DPS-
00|01429|06:00.0|02:05.9|177.1|16.5|121.7|134.0|14.4
01|01444|06:00.0|02:04.6|180.9|17.6|136.9|140.0|13.7
02|01427|06:00.0|02:06.1|174.6|17.1|139.7|142.0|13.9
03|01433|06:00.0|02:05.6|180.2|17.2|132.9|146.0|13.9
04|01442|06:00.0|02:04.8|180.6|17.7|144.5|150.0|13.6
05|01442|06:00.0|02:04.8|180.6|17.6|147.8|151.0|13.6
06|01421|06:00.0|02:06.7|173.4|16.7|139.2|147.0|14.2
07|01442|06:00.0|02:04.9|180.0|17.7|148.8|155.0|13.6
08|01465|06:00.0|02:02.8|189.1|18.3|155.2|159.0|13.3
Tuesday – 12 March – Pyramid L1
I felt like I had been hit by a truck this morning when my alarm went off.  I barely dragged myself out of bed.  But today is L1 day and L1 day must be respected!
The schedule called for the pyramid.  Last time, I managed a 1:42 pace, so this time the goal was to try to hold 1:42 until the last two reps and then go faster.  It didn't end up turning out that way.
I started with a 2k warmup.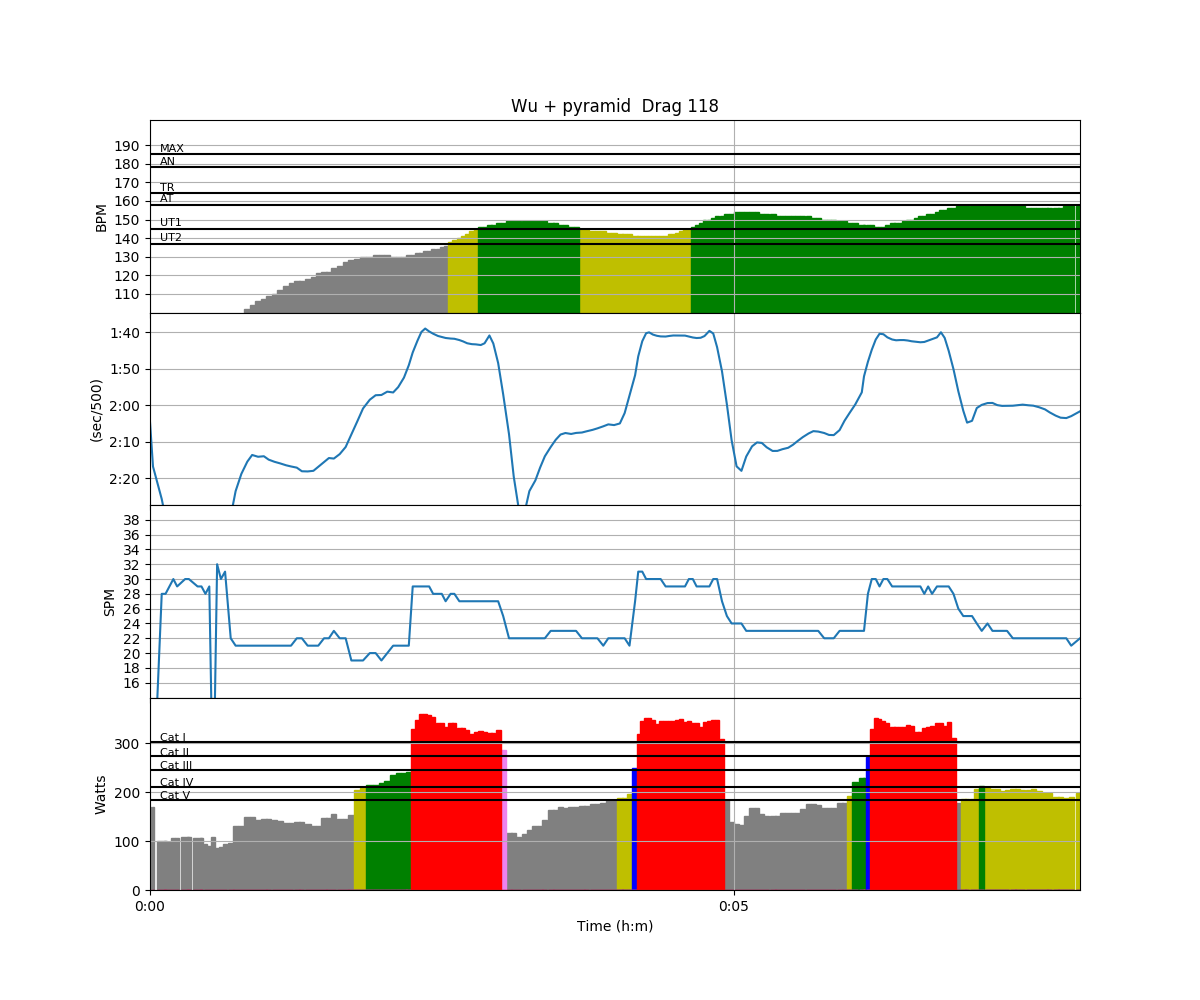 I think I need a longer warmup.
Then it was time to program the session into the PM.  It made me think that Concept2 should offer a more expensive, fancier PM that would make this easier.  I would buy one in a heartbeat and get the gym to upgrade.  Actually, if they just added the ability to download programmable workouts from ergdata, that would work too.  It was a lot of button pressing.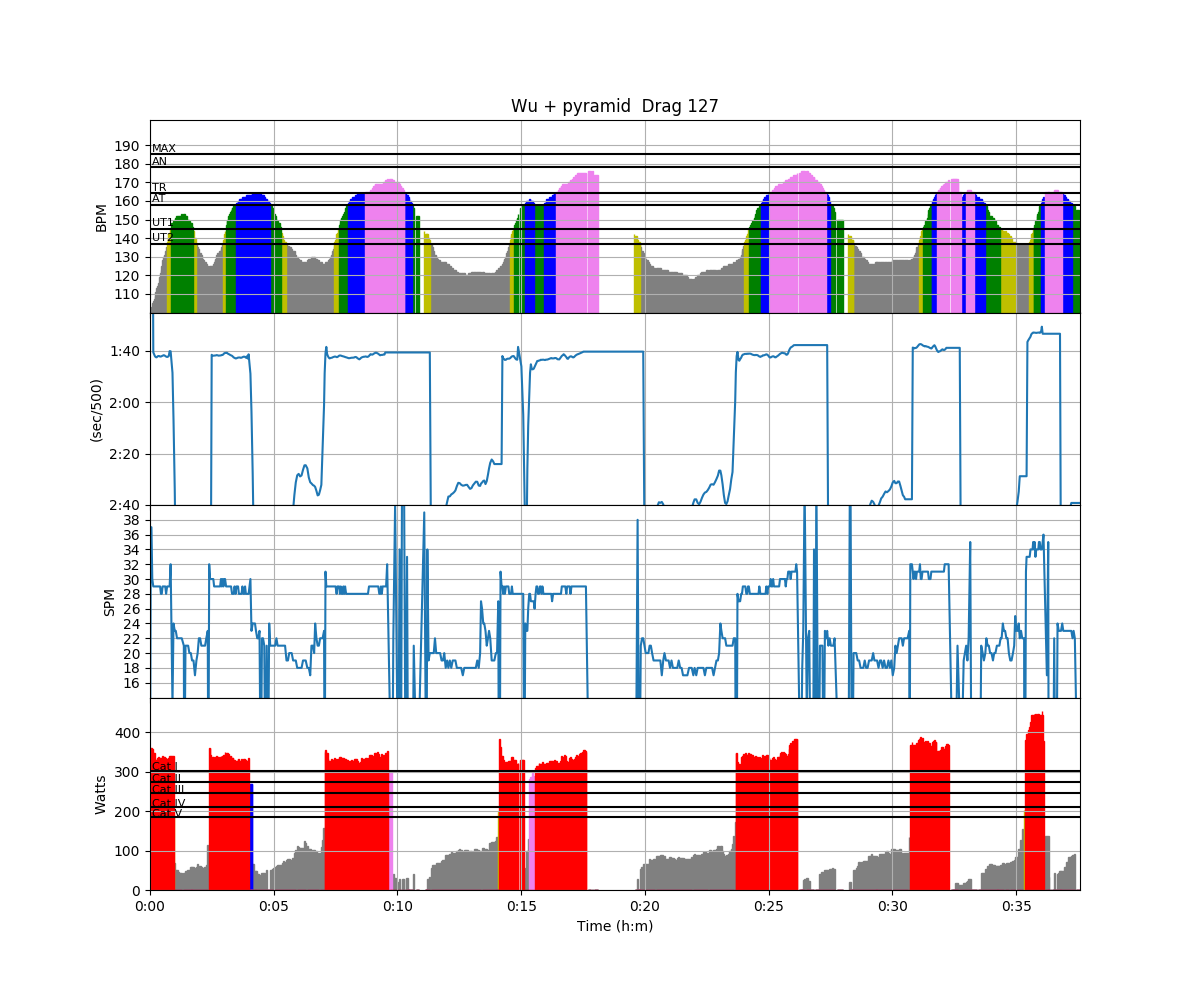 Here's how it went.
250.  (1:41.2 split) Felt good, but I was a bit worried that it started to bite with about 10 strokes left.
500 (1:41.3) Ooo.  That was a bit more work than I had hoped.
750 (1:41.4) I struggled through the last 250.
1000 (1:46.5).  I held a 1:41 split through the first 250m, and when it started to bite, I chickened out.  I wasn't in distress yet, but my thighs were burning and my breathing was a bit ragged.  I was counting strokes, but I went out too hard and didn't manage pace very well.  Anyway, I basically stopped rowing for about 2 seconds and then started up again.  By that time, the average split was around 1:55.  I held about a 1:45 pace and watched the average slowly come down.  Then with about 250m left to go I pushed harder.  Not my best work.
750 (1:40.7).  I was kinda mad at myself, I didn't want to blow another rep.  I rowed this one carefully through the first 500m and then emptied the tanks in the last 250.  I coasted into the last stroke feeling really gassed.
500 (1:38.1).  Now we're getting into "fun time".  I consciously tried to rate up and hold the split under 1:40.  This was pretty much OK through 300m, but the last 200 were very close to the edge.
250 (1:33.4).  All out.  I used to do this one well below 1:30.  Sucks to suck.
I need to harden up and stop bailing on reps like this.  It's a bad habit.