Friday – March 15 – 3 x 16'/1′ L4 (static)
I got caught up writing an email to someone who wanted to know how rowsandall could help you utilize EmPower data more effectively.  By the time I pushed send, I realized that I had left too little time for a normal 60 minute L4.  I figured I had about 50′, so I cut back the rests to a minute, and the intervals to 16′.
Since it was shorter, I pushed the intensity up a bit.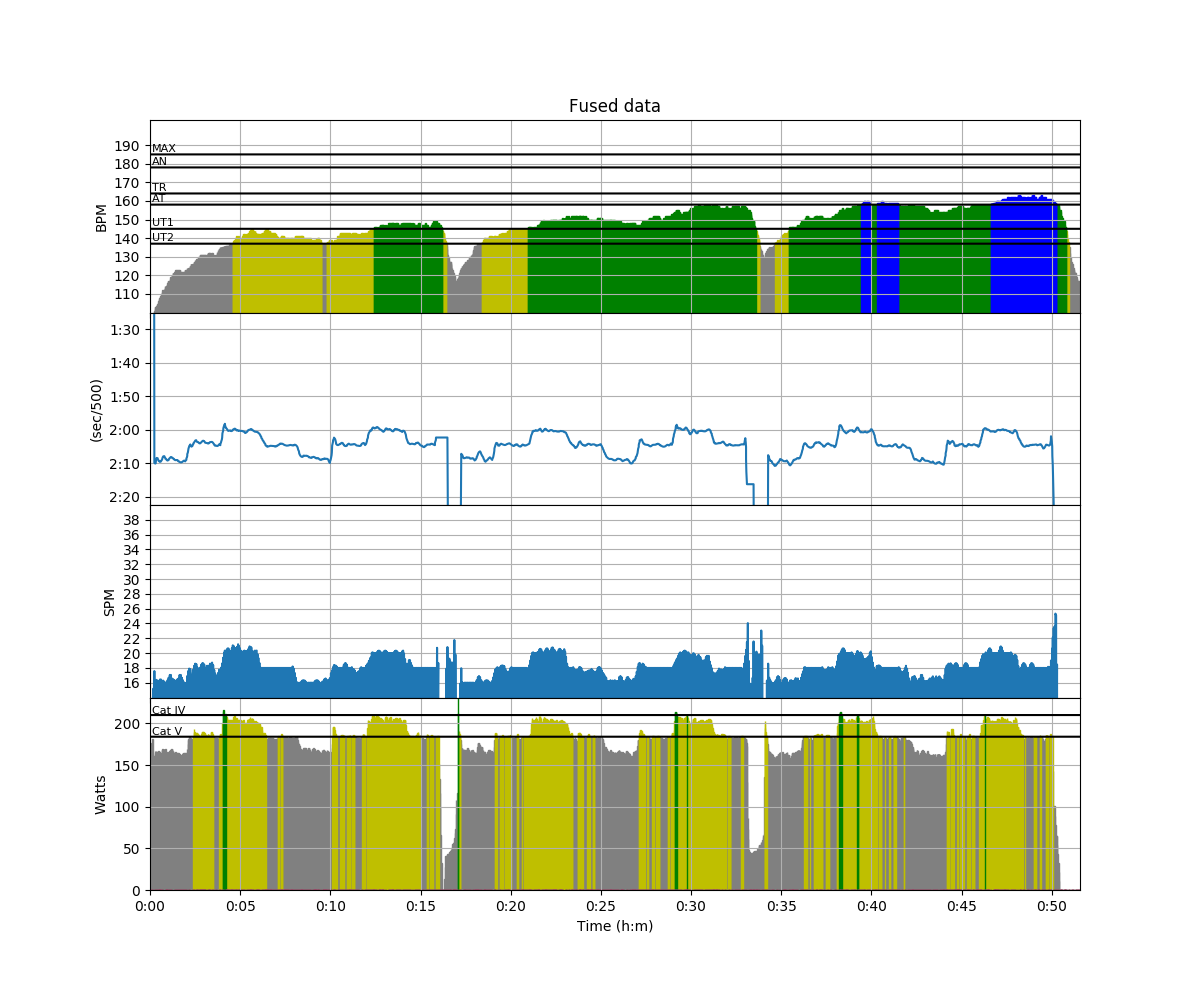 During this workout, my heart rate sensor didn't work.  But you can clearly see that there is HR data in the plot above.  What strange, black magic did I use to make that happen?  Well, I'll tell you.  I got an apple watch for christmas and I wear it during workouts.  I use the Apple watch as a general fitness tracker, but it keeps a full record of HR during exercise.  I found a cool little app for the iPhone called RunGap.  It has the ability to read the workout data saved by the apple watch and export it to Strava.
Now the fun begins.  Rowsandall has the ability to import workouts from Strava, so now I had two different versions of the workout.  One from the PM5 on the erg via painsled (with no HR data) and one from the apple watch (with none of the erg data).  How can I turn that into one workout?  I'm so glad you asked.  There is a feature in the workout editor called "Sensor Fusion".  This feature lets you pick columns of data from a second workout and fuse them into the workout file for the first workout.  The resulting Fused Workout is saved as a separate workout.  So I did that and viola, I have a complete picture of the session.  This works for other data sources too.  Anyway, it's a cool feature and it helped me out on this workout.
Saturday – March 16 – 10K L3 on slides
I thought I would be able to hold a 1:55 pace.  I figured that I was wrong around the 5k mark.  I broke form for a second and then wound back up to about a 1:56/1:57 pace.
Even that was brutal. I spent the last 4 minutes above 95% HRR.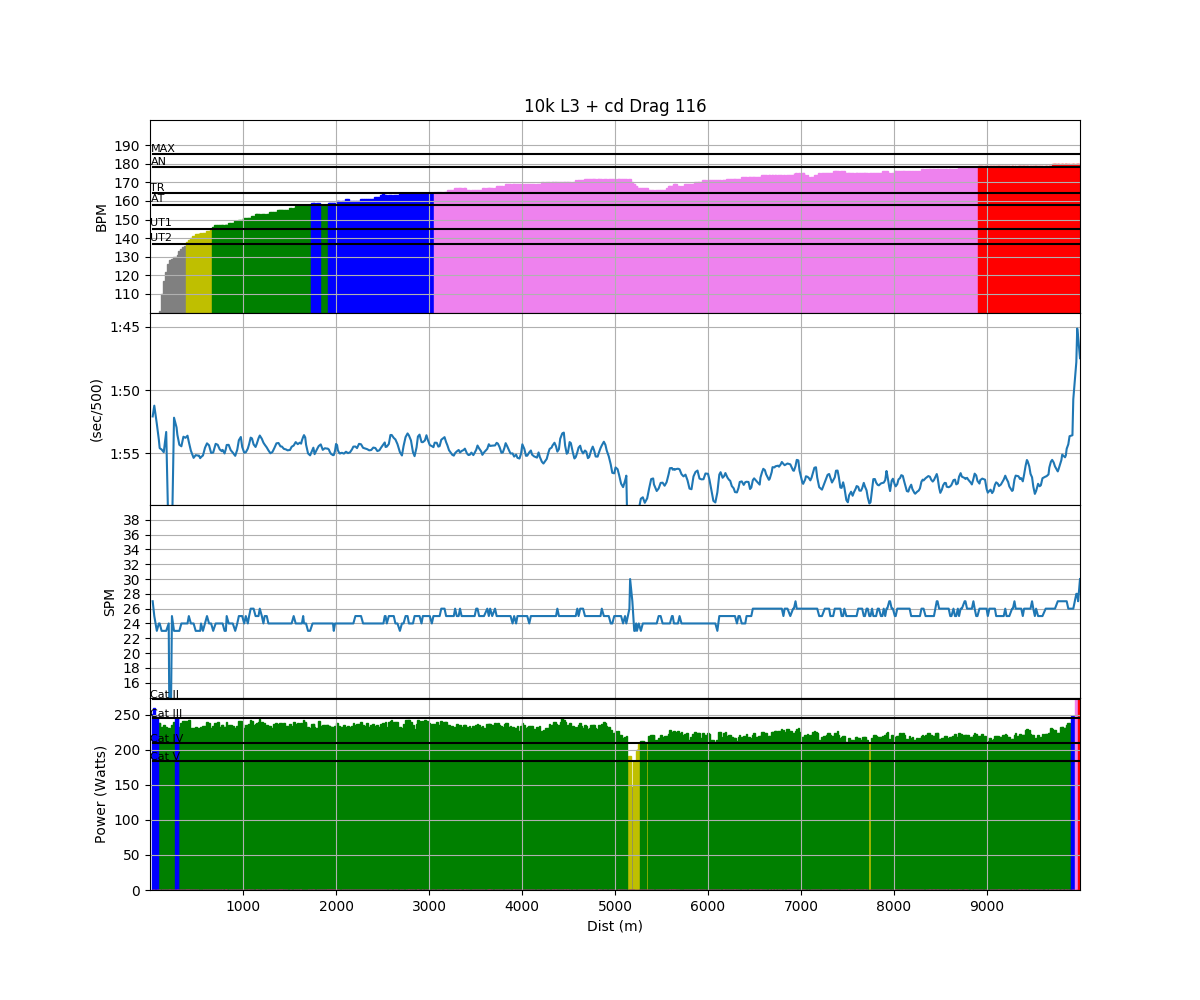 The glitch at the beginning was me fiddling with my magic watch.  By the time I got it squared away, I was looking at a avg split of 2:10.  I think I might of pushed a bit too hard to get back to a 1:55 avg over the next 2000 meters.  I paid the price later.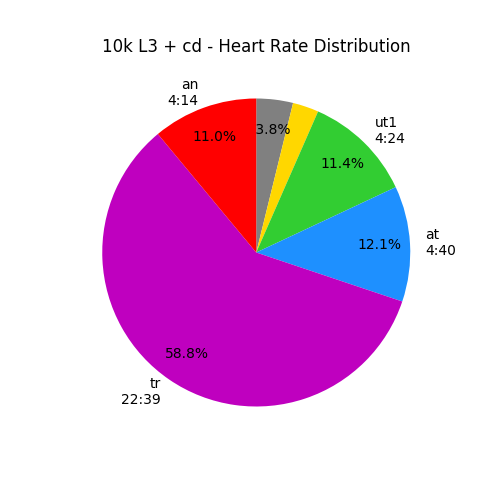 Workout Summary - media/20190316-2356090o.csv
--|Total|-Total-|--Avg--|-Avg-|Avg-|-Avg-|-Max-|-Avg
--|Dist-|-Time--|-Pace--|-Pwr-|SPM-|-HR--|-HR--|-DPS
--|09999|38:26.0|01:55.3|227.7|24.9|166.6|180.0|10.4
W-|10000|38:27.0|01:55.4|227.7|24.9|166.6|180.0|10.5
R-|00000|00:00.0|00:00.0|000.0|00.0|000.0|180.0|00.0
Workout Details
#-|SDist|-Split-|-SPace-|-Pwr-|SPM-|AvgHR|MaxHR|DPS-
00|01000|03:46.3|01:53.1|233.8|23.1|136.1|150.0|11.5
01|01000|03:48.0|01:54.0|236.2|24.2|155.7|159.0|10.9
02|01000|03:47.8|01:53.9|236.8|24.3|162.3|164.0|10.8
03|01000|03:48.5|01:54.2|235.0|25.1|166.8|169.0|10.5
04|01000|03:48.8|01:54.4|233.6|25.0|170.6|172.0|10.5
05|00973|03:50.5|01:58.5|213.8|24.3|168.7|172.0|10.4
06|01027|03:59.0|01:56.3|222.0|25.3|172.9|175.0|10.2
07|01000|03:53.8|01:56.9|218.9|25.6|175.0|176.0|10.0
08|01000|03:53.6|01:56.8|219.6|25.7|177.1|179.0|10.0
09|01000|03:50.9|01:55.5|228.6|26.1|179.3|180.0|10.0
I had a bit of cough the rest of the day.  But I was happy with the workout.  I did a slow 2K cooldown afterwards and felt a bit better once I had finished that.
Sunday – March 17 – 4 x 20′ / 2′ L4 on slides
I was leaving my options open on this workout.  If I was feeling tired, I would cut it off at 3 pieces, but it was one of those amazing workouts where each stroke felt easy and my heart rate stayed incredibly low.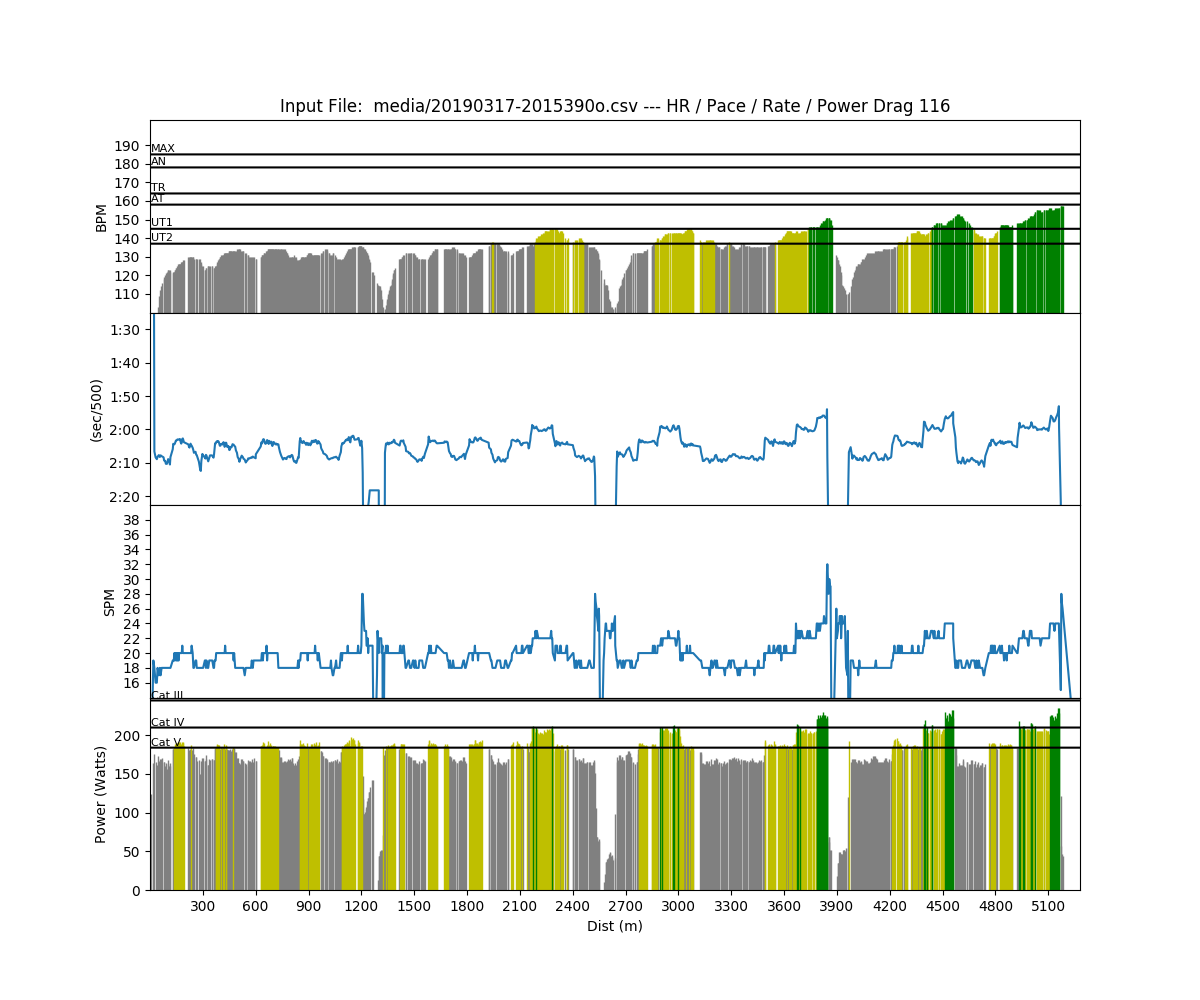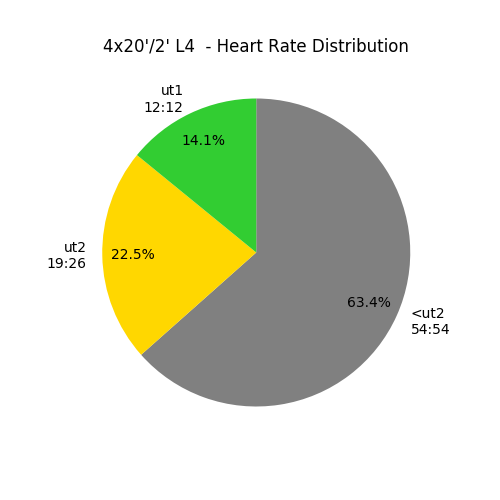 Workout Summary - media/20190317-2015390o.csv
--|Total|-Total-|--Avg--|-Avg-|Avg-|-Avg-|-Max-|-Avg
--|Dist-|-Time--|-Pace--|-Pwr-|SPM-|-HR--|-HR--|-DPS
--|20230|87:59.0|02:10.5|170.1|19.4|135.2|157.0|11.8
W-|19327|80:00.0|02:04.2|182.4|19.7|135.6|156.0|12.3
R-|00909|08:00.0|04:24.0|046.1|17.0|131.2|156.0|11.3
Workout Details
#-|SDist|-Split-|-SPace-|-Pwr-|SPM-|AvgHR|MaxHR|DPS-
00|02367|10:00.0|02:06.8|173.5|18.7|124.2|134.0|12.6
01|02402|10:00.0|02:04.9|179.6|19.1|131.9|136.0|12.5
02|02252|09:23.5|02:05.1|179.2|19.2|129.1|135.0|12.5
03|02560|10:36.5|02:04.3|182.6|19.9|137.9|145.0|12.1
04|02439|10:00.0|02:03.0|182.6|19.7|135.6|145.0|12.4
05|02426|10:00.0|02:03.7|185.8|20.1|139.8|151.0|12.1
06|02436|10:00.0|02:03.2|186.3|19.9|137.3|151.0|12.2
07|02445|10:00.0|02:02.7|189.9|20.5|148.6|156.0|11.9
Now I am over the middle of Greenland on my way to Shanghai.  It will be a bit of a challenge to maintain a good workout schedule, but at least the place I'm going to has a great gym with 2 Model D ergs in it.  We'll see how well I can maintain fitness.
Yesterday before I left, I brought my boat back to it's rack in Newton.  Hoepfully when I get home, it will be time to start OTW!