Not at the same time.
Sunday:  4 x 20′ / 2′ L4
Down on the Cape.  We went down to see how things were holding up over the winter.  The house looks to be a good shape, but the stairs that I built last spring have taken a serious beating.
The damage is much worse than last winter.  It appears that pack ice must have entrapped the bottom of the stairs and when it broke free, carried the stairs with it.  Next time I go down, I will see what I can salvage and once it warms up, I'll rebuild.
The workout had a much better outcome.  Sometimes, it just happens.   You do a workout where you feel great.  That's how I felt on Sunday.  I had pushed really hard on Saturday and for Sunday's session, I just wanted to bank the meters.  So, I set up to do the same L4 as I have been doing.  But it just felt so easy.  And my HR never really went up.  I've been doing 3 x 20s lately, but 4×20 was no problem.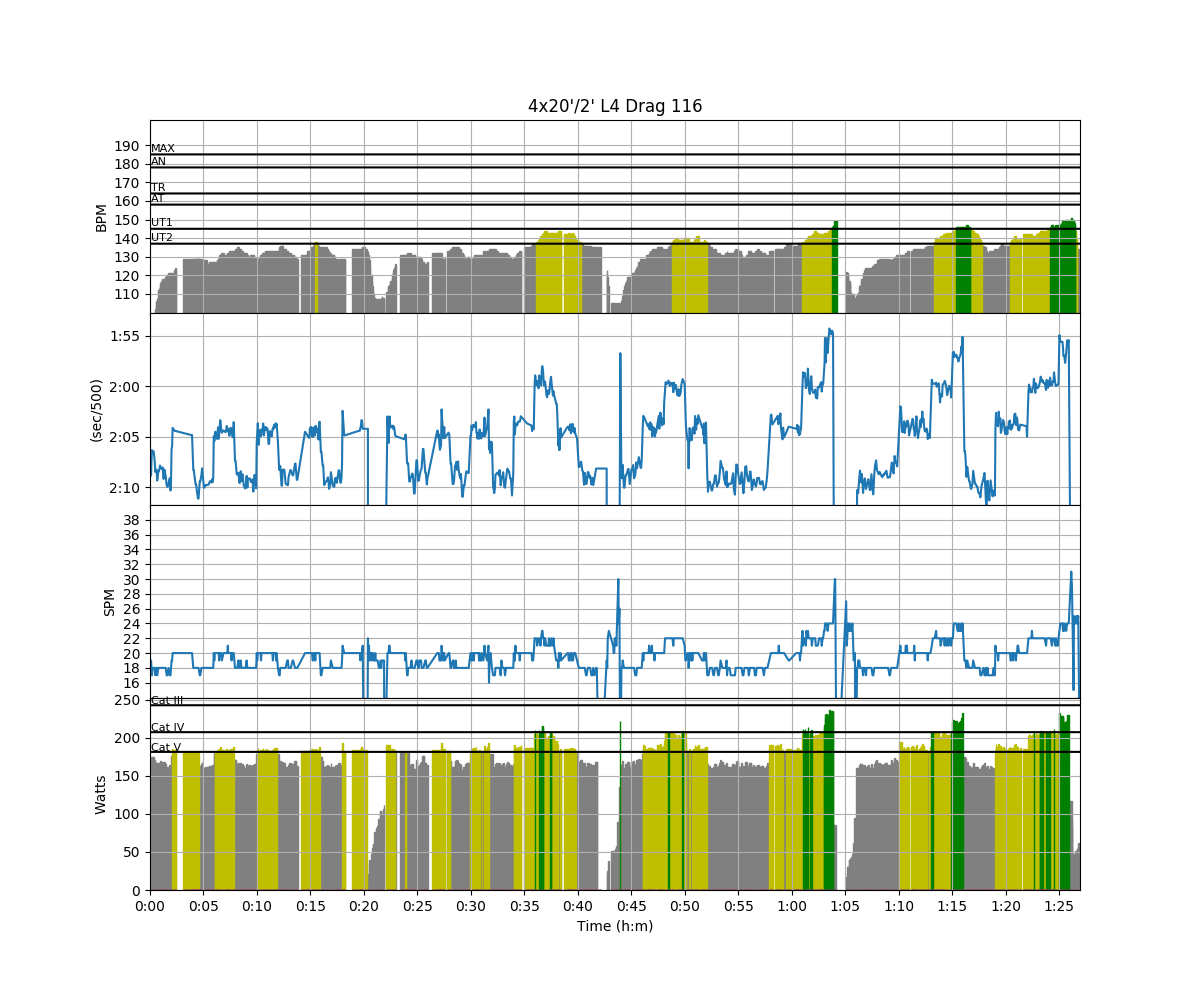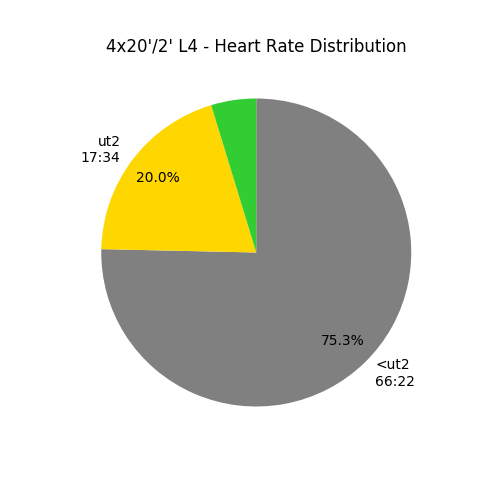 Workout Summary - media/20190210-1840400o.csv
--|Total|-Total-|--Avg--|-Avg-|Avg-|-Avg-|-Max-|-Avg
--|Dist-|-Time--|-Pace--|-Pwr-|SPM-|-HR--|-HR--|-DPS
--|20119|87:59.0|02:11.2|167.1|19.2|132.4|151.0|11.9
W-|19165|79:25.0|02:04.3|181.0|19.5|133.6|150.0|12.4
R-|00957|08:00.0|04:10.8|038.9|16.3|122.3|150.0|08.8
Workout Details
#-|SDist|-Split-|-SPace-|-Pwr-|SPM-|AvgHR|MaxHR|DPS-
00|04761|19:53.2|02:05.3|174.1|19.0|129.2|138.0|12.6
01|04766|19:46.4|02:04.5|179.1|19.2|133.6|144.0|12.5
02|04797|19:51.6|02:04.2|183.5|19.6|134.3|147.0|12.3
03|04842|19:53.9|02:03.3|187.1|20.1|137.0|150.0|12.1
Notice the summary is a bit ragged.  I have seen this before and almost always on the erg down on the Cape.  The reason it looks that way is it is missing lots of strokes.  This is a quick graph to show what I mean.  The captured data includes stroke number.  This is just a graph of the stroke number minus the prior stroke number in the file.  There are 9 times where more than 10 strokes are missing from the data.
The question is why?  There are lots of possible suspects.  The data is communicated from the PM5 to my iphone by bluetooth.  At the same time, my iphone is streaming a podcast over wifi, and using a bluetooth connection to my earphones.  My wifi on the cape is really bad (Thanks directTV!).  It's possible that the streaming is the cause.  Someday, I might try to sort it out.  Definitely if I am going to do an online challenge or ranked piece.
We headed home around 3 in the afternoon.
Monday – 8 x 500m / 3'30" – L1
I slept badly last night.  It's a Sunday night tradition.  But I was up at 5:15 and in the office by 6:20.  The planned session was an 8×500, and I was hopeful that I could hold a target pace faster than the 1:42 from the pyramid session last week.
I started with a 2k warmup.  Pick drill, then 20 stroke bursts at target pace.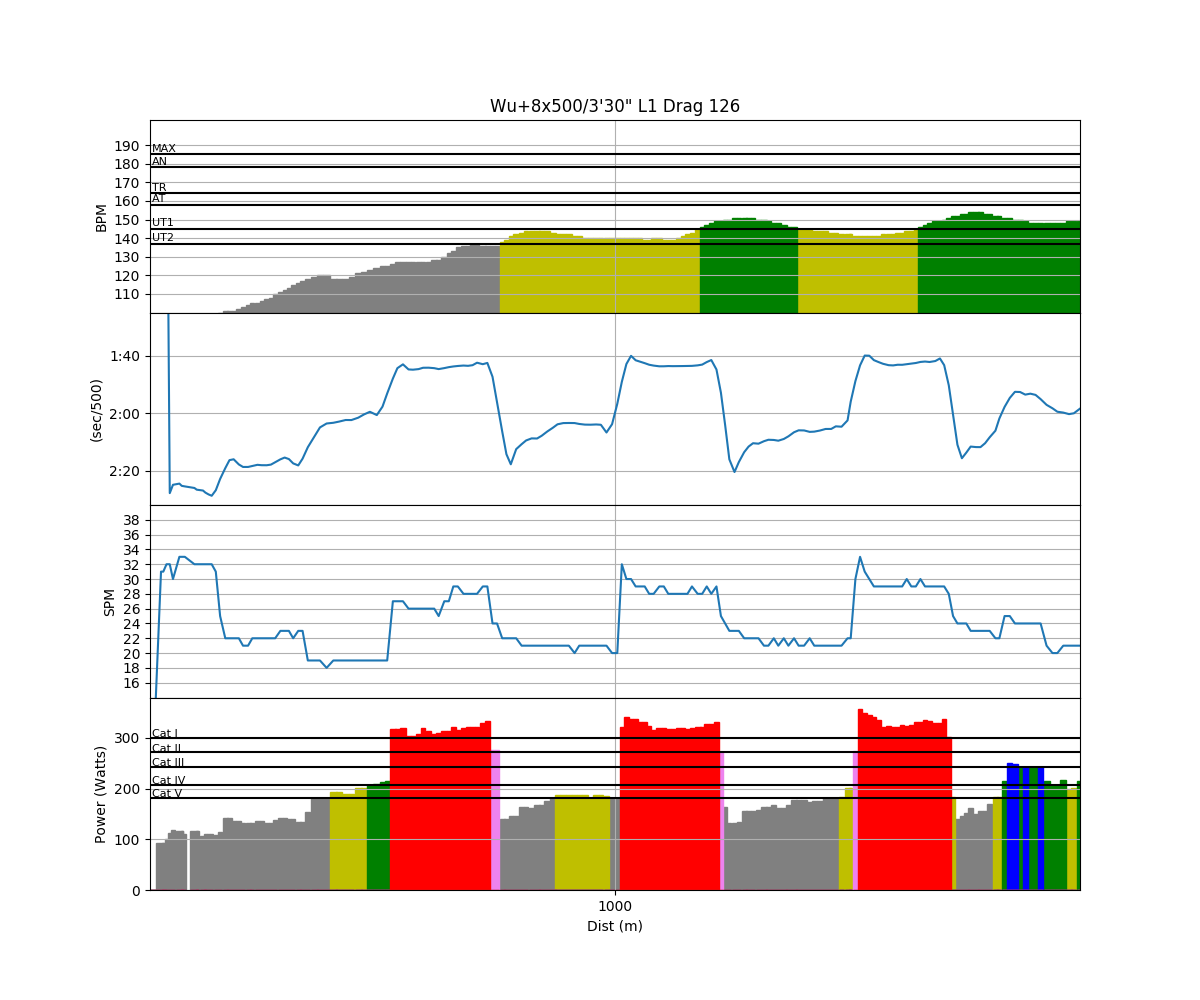 Then the main event.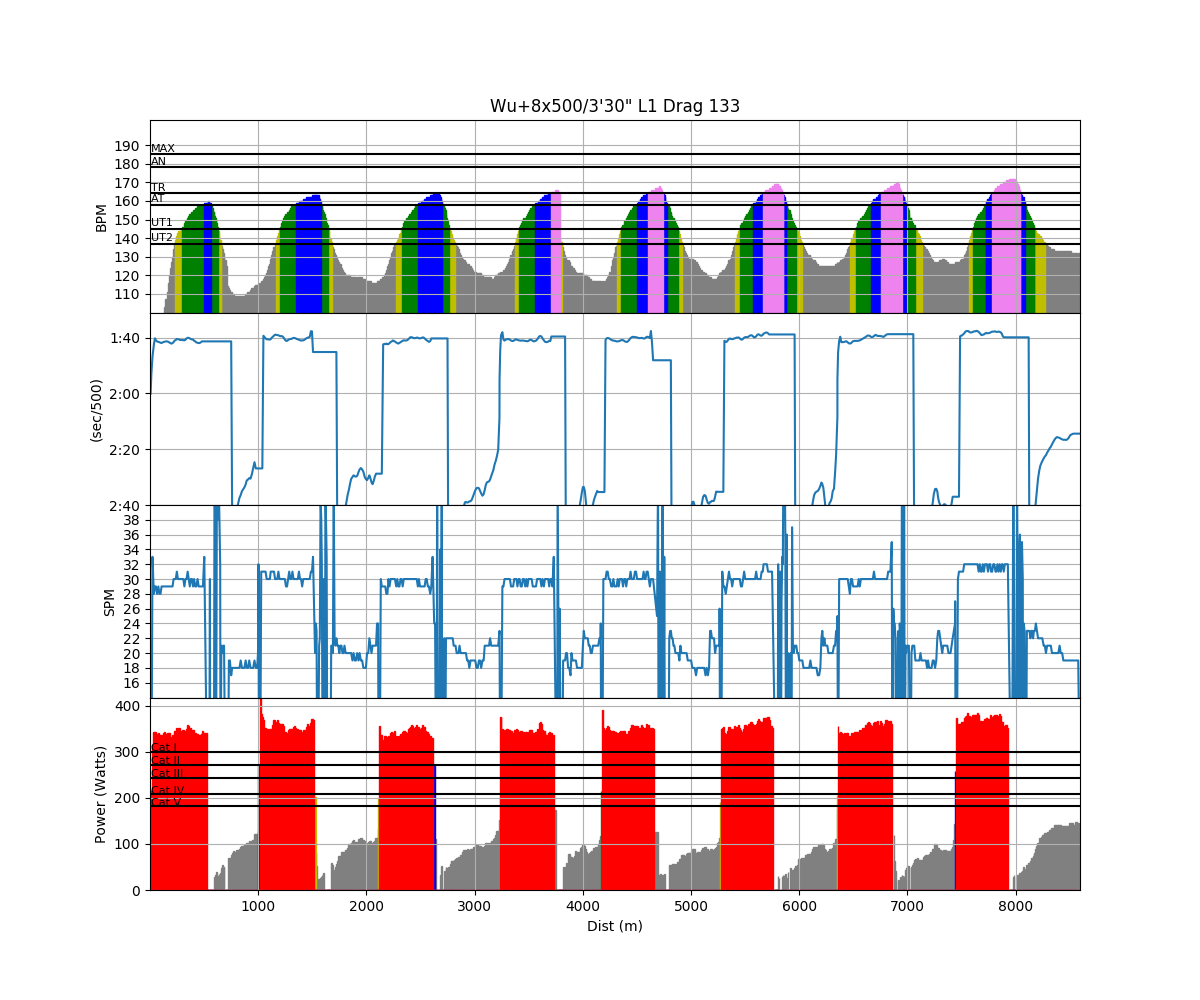 Workout Summary - media/20190211-1315390o.csv
--|Total|-Total-|--Avg--|-Avg-|Avg-|-Avg-|-Max-|-Avg
--|Dist-|-Time--|-Pace--|-Pwr-|SPM-|-HR--|-HR--|-DPS
--|08603|41:22.0|02:24.3|158.5|22.1|140.0|172.0|09.4
W-|04000|13:20.0|01:40.1|351.3|29.5|146.4|171.0|10.2
R-|04607|28:02.0|03:02.6|066.7|18.5|136.9|171.0|09.6
Workout Details
#-|SDist|-Split-|-SPace-|-Pwr-|SPM-|AvgHR|MaxHR|DPS-
00|00500|01:39.7|01:39.7|339.7|29.0|130.2|158.0|10.4
01|00500|01:40.5|01:40.5|356.1|29.7|146.5|163.0|10.0
02|00500|01:40.6|01:40.6|342.9|29.1|145.6|163.0|10.2
03|00500|01:40.7|01:40.7|345.5|29.1|148.5|165.0|10.2
04|00500|01:40.3|01:40.3|349.3|29.3|147.3|166.0|10.2
05|00500|01:39.2|01:39.2|354.8|29.5|149.2|168.0|10.3
06|00500|01:40.5|01:40.5|352.0|29.4|150.7|168.0|10.1
07|00500|01:39.3|01:39.3|370.5|31.0|153.3|171.0|09.7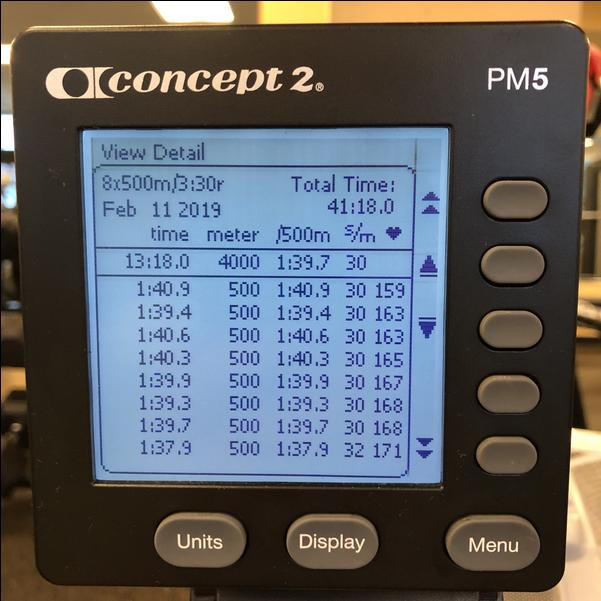 Nailed a 1:40 pace.  Happy with that.
Tomorrow:  3 x 20′ / 2′ L4