Tuesday:
I already posted about my session on Tuesday morning, but on Tuesday night, I did something fun.  My wife's niece play Hockey for Northeastern.  Northeastern is a legit women's hockey powerhouse.  They are ranked third in the NCAA division one.  They have an olympian on the team.  Anyway, we went to see her team play in the first round of the Women's Beanpot, a hockey competition between the 4 powerhouse schools in Boston (BU, BC, Northeastern and Harvard).  They were playing BU and it was an incredible game.  The quality of play was very high and my niece in law played well getting an assist and a ton of shots.  She was very bummed that she didn't get any goals.  The game ended in a tie and was settled in a shoot out, with BU coming out on top.
Here's a picture of her right after she scored the winning goal in overtime against BC in a game earlier this year.
Wednesday:  No Training
I had scheduled a plumber to come fix a problem with a sink Wed morning and he blew me off.  Supposed to show up at 8:30 and didn't.  I called to follow up and found out he wouldn't get to the house until at least 10.  I gave up rescheduled and headed to work.
I hoped to find time during the day to workout, but no luck.
Thursday: Hard 10K – L3
I had limited time because I had an 8 am meeting.  I was scheduled to do the 10K on Wednesday and then an L4 endurance session on Thursday.  With the short window, the 10K fit in better, and is a higher training priority so I did that.
No time for a warmup, so I just settled right in and went for it.  Last time I did a 10K, I fell apart at the end.  The cause was butt pain, lack of fitness and lack of toughness.  On Thursday, I was hoping to address the butt pain and the toughness.  Fitness is what it is.
For the butt pain, I have made an investment.  The Citius Remex.  The world's most expensive butt pad.  Endorsed by Eskild Ebbesen.  I imagine that elite rowers must treat their behinds with the care that a violinist lavishes upon their hands, or a dancer on their legs.  My wife has heaped ridicule upon me for buying this gold plated butt pad, but it will all be worth it if it solves my problems.
There is actually a theory behind this butt pad and it make some sense to me.  The seat on the C2 rower is basically flat and this puts all the stress on your Iscial Tuberosities (aka your sitz bones).  Other butt pads attempt to mitigate this by either cutting out material where the sitz bones are, or by providing cushioning to spread the pressure over a larger area.  But this has potential problems as well.  The edge of the cutouts can cause pressure points (and they did for me) and this can lead to pain.  And a squishy pad can cause problems with circulation on the back of your thighs.  The Citius Remex has a different shape to it.
It is designed to spread the pressure between your perinium and your ITs.  A bike seat basically puts all the pressure on your perinium, and the C2 puts all the pressure on your ITs.  This butt pad basically tries to balance the pressure between the two.  It also has three different insert for the middle part so you can "adjust" the balance between support on your perinium and sitz bones.
Anyway, it felt a bit weird at first, but I sat up straighter, was able to keep my knees down better, and my ass hurt a lot less at the end.  So, I am happy to have bought my gold plated butt pad and recommend it for aging rowers with delicate buttocks.
Back to the 10K.  Last time I averaged 1:57.2, but I was holding around 1:56 before I wimped out.  So I decided to try to target 1:56.  I ended up feeling a bit better at 1:55, so I hung in with that.  Around the 7K mark, I began to feel like that might have been a real problem, but I eased up the pace, counted out the strokes from 7k to 8k and held on.
It was a max effort.  I was above 95% of HRR for almost the last 2000m, about 7:30.  A very long time to be on the ragged edge.  So, I am simultaneously happy with the effort that I put in, and sad that it wasn't faster.  I finished with 38:25.7, a 1:55.2 pace.  I ranked it and it's 89th percentile.  Trained, I have the potential for 95th percentile performance.  And it's a long way off of my best 10K (36:33, 1:49.6 pace).  I guess it's something to shoot for.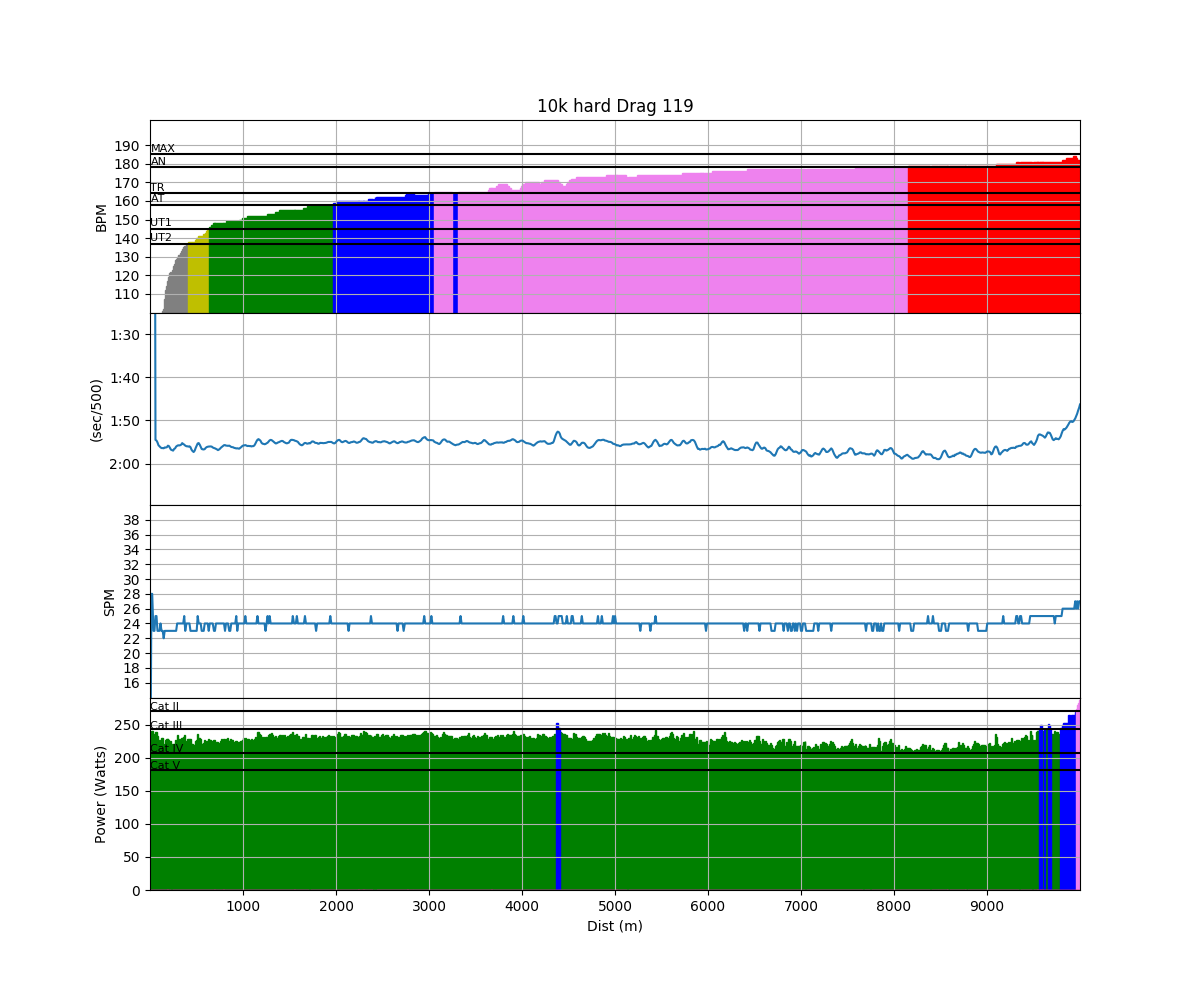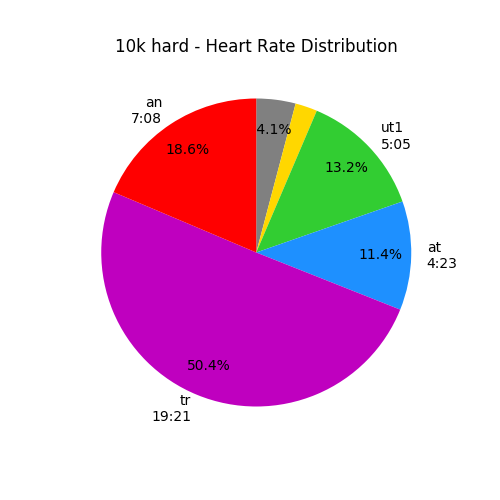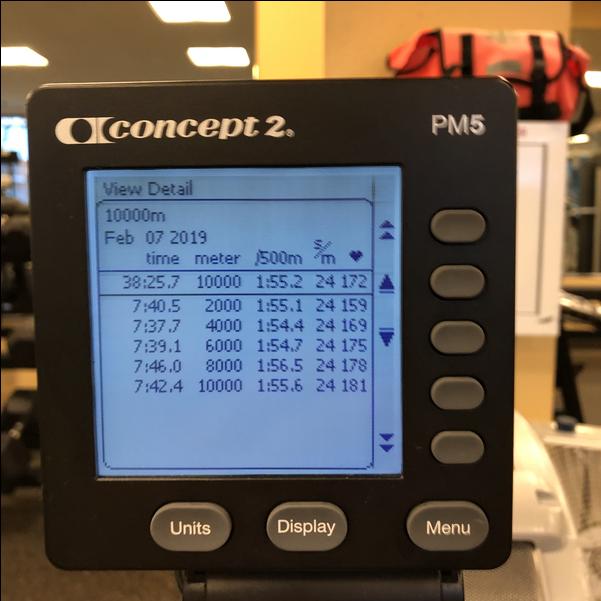 Workout Summary - media/20190207-1245380o.csv
--|Total|-Total-|--Avg--|-Avg-|Avg-|-Avg-|-Max-|-Avg
--|Dist-|-Time--|-Pace--|-Pwr-|SPM-|-HR--|-HR--|-DPS
--|10000|38:24.0|01:55.2|228.5|24.0|167.5|184.0|10.8
W-|10000|38:24.0|01:55.2|228.5|24.0|167.5|184.0|10.8
R-|00000|00:00.0|00:00.0|000.0|00.0|000.0|184.0|00.0
Workout Details
#-|SDist|-Split-|-SPace-|-Pwr-|SPM-|AvgHR|MaxHR|DPS-
00|01000|03:50.2|01:55.1|226.8|23.7|132.9|151.0|11.0
01|01000|03:49.3|01:54.7|232.0|24.1|154.9|159.0|10.9
02|01000|03:48.6|01:54.3|234.2|24.0|161.6|164.0|10.9
03|01000|03:49.1|01:54.6|232.9|24.0|165.8|169.0|10.9
04|01000|03:49.1|01:54.5|233.0|24.1|171.5|174.0|10.8
05|01000|03:50.0|01:55.0|230.0|24.0|174.2|175.0|10.9
06|01000|03:52.0|01:56.0|224.1|23.8|176.6|177.0|10.8
07|01000|03:53.9|01:57.0|218.9|23.8|177.4|178.0|10.8 - crisis!
08|01000|03:55.0|01:57.5|215.8|23.8|178.9|179.0|10.7
09|01000|03:47.6|01:53.8|237.5|24.8|180.9|184.0|10.6

I logged this as an entry for the rowsandall "Tough Ten" regatta.  And it puts me firmly in ….last place.  bummer.
Friday: No Training
Today was the make up appointment with the Plumber.  He showed up on time, but took my workout window.  I was booked the rest of the day.  In the evening, we headed down to the Cape for the weekend.
Saturday: 4 x 2000m / 5′ on slides – L2
I am trying hard to do the three "hard" workout per week, even if I miss sessions.  Today was the right day to do the L2.  Last week I did the waterfall for an average pace of 1:52.4.  This was on a static erg.  Trying to figure out a target pace, there was a lot to consider.
4 x 2000 is usually a bit faster than waterfall
slides are usually a bit slower for me than static
I was not feeling super aggressive, but I didn't want to fail at the workout
So, I decided to start around 1:54 and see what happened.  What happened was that I was able to do a bit better than that.  I did the first 2000 as warmup, then ended up with the first rep coming in right under 7:30 (1:52.3).  I felt pretty good so I pushed the second rep a bit more (1:51.5).  I had a problem in the rest after the second rep.  Somehow I nudged the back of the erg on  the slide and it was scraping.  I only noticed when I started the 3rd rep and the slides were massively misbehaving.  I stopped, worked it out and started up a fresh 2000.  It gave me an extra 1:30 of rest.  The third rep was challenging.  Fatigue was starting to set in, but I wanted to keep it under 7:30, so I pushed hard and finished at 1:51.5 again.  I was worried about the fourth rep.  My legs were feeling a bit empty.  In the first 3 reps, I was aiming at a rate around 27 and trying to pull right on 10 meters per stroke.  I was essentially trying to start the drive right as the distance clicked down to a "0".  In the last rep, I found that I was having trouble maintaining that and holding the rate around 27.  I struggled through the first 1500m, and then just buckled down to attack the last 500.  I was happy to finish, and even happier that I managed a slight negative split (1:50.9).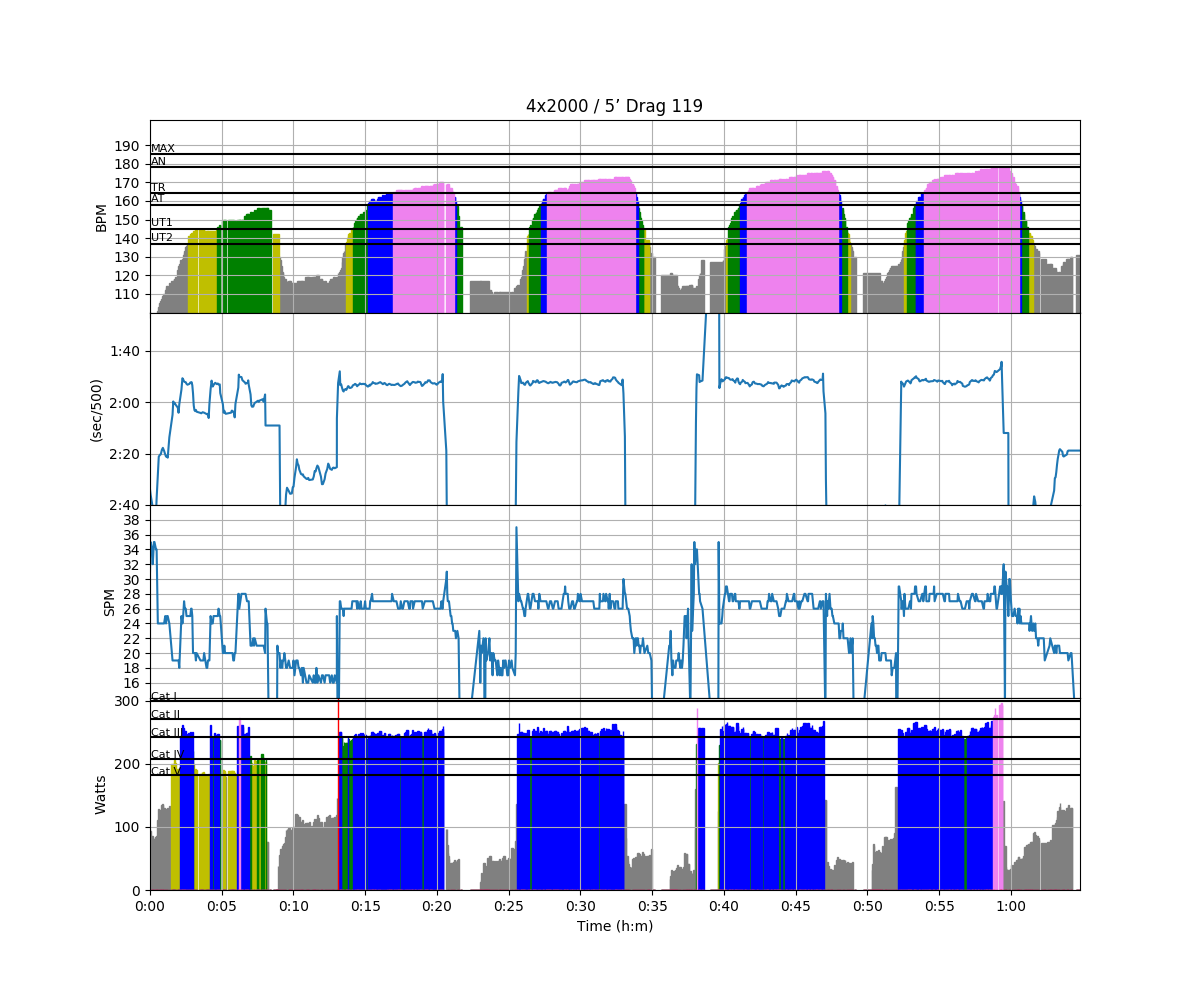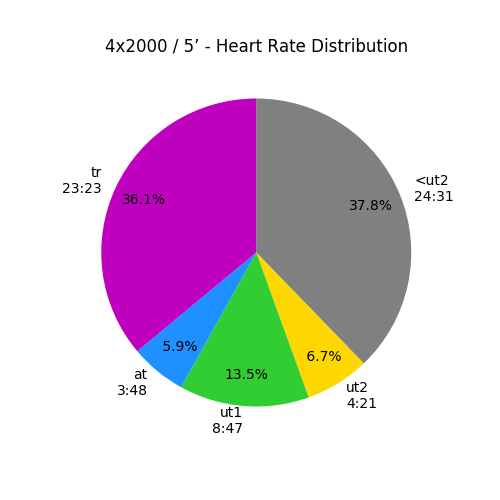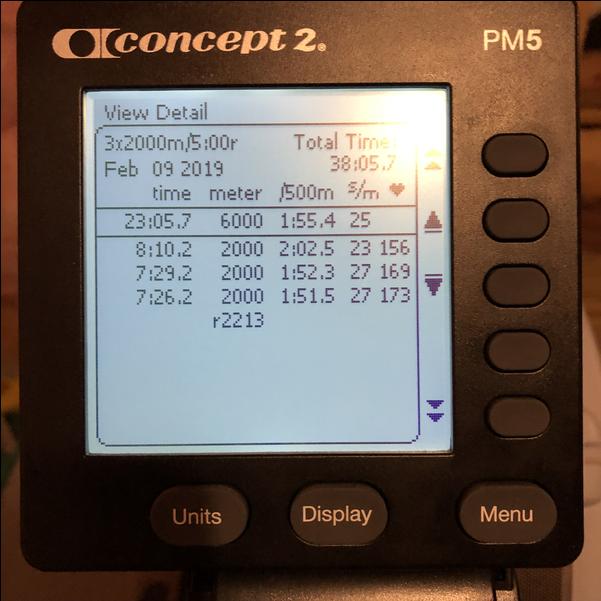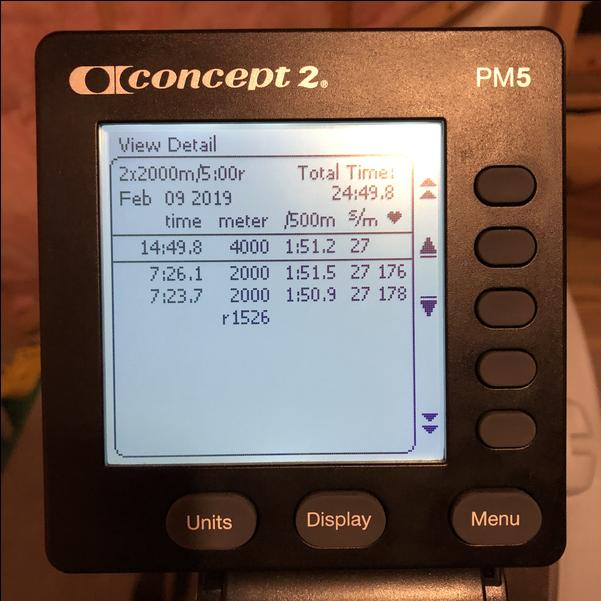 I am happy to be back at the wolverine plan.  I just have to keep the targets reasonable and I think this is a good plan to take me into the spring.
Tomorrow:  4 x 20′ / 2′ L4