New plan for today.  I was a bit short on time, and I honestly didn't want to do a long interval session either.  So, I decided that it would be a good chance for me to get a result in to the rowsandall racing series "Give it a try 500".
I am a happy member (and tester) for rowsandall, and one of cool features is the ability to define online races.  This started last summer with OTW races over specific course, but this winter, it has been expanded to support indoor races on ergs.  You can either upload a result from the c2 logbook, painsled or boatcoach, or you can plug in a result manually.  There are already a slew of races defined, and every user has the ability to through down a challenge.
This first race is just for people to get the idea of how it works.  And it works great!
I am a painsled user.  I use it because it captures all the cool metrics that the PM5 provides for later analysis.  I always send my results from painsled to rowsandall by email, which is quick and painless.  To enter my result in the race, I just have to click a button and it's there.
So, for today's session, I started with a Fletcher warmup.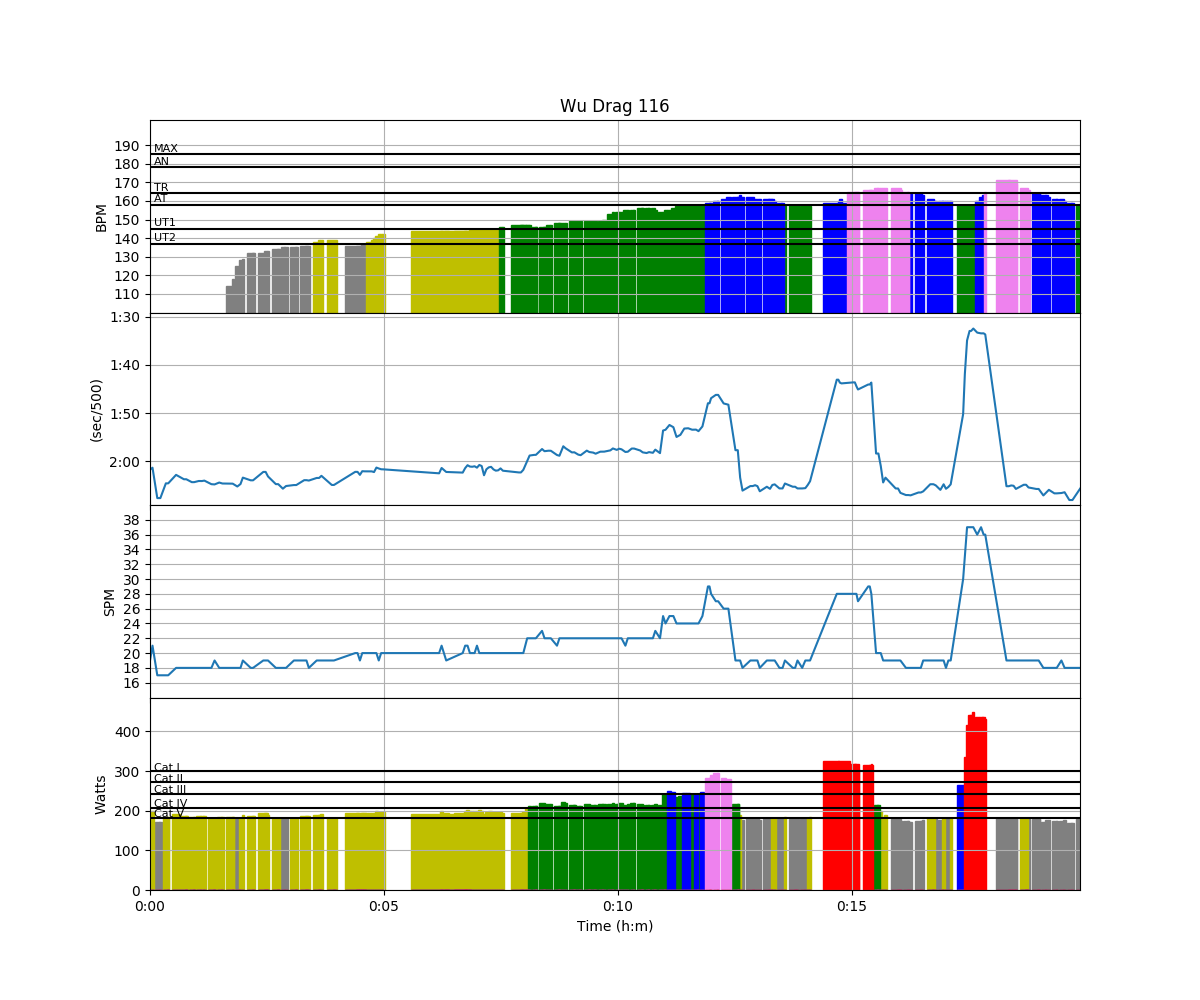 Looks like I'm having some issues with the PM talking to my phone.
Then I did the 500m.  I decided to try to rate around 40, and keep the pace around 1:30.  It turns out that this was hard to do.  I was feeling the struggle but halfway and I just closed my eyes and counted out strokes, and it was so many strokes!  At 40 spm, I had time to cram in about 65 strokes.  The last 20 were…were…painful.
The following charts tell the story.  I started at the right stroke rate and immediately slowed down too much.  I am just not used to rating up, even on slides.  With the rate down below 40, I was having trouble holding a sub 1:30 pace.  As I passed the halfway point, I decided to get the rate up where it belonged and the splits obliged by dropping to the right side of the target.  I could feel the power leaking out of my legs, so I just kept pushing the rate up.  With about 50 meters to go, I started to really gasp for air and my legs were starting to cease functioning, but by then I was just counting down the last few strokes.
The end result was a 1:29.4.  That's a second off of my PB, and on slides to boot.  So, I am not as fast as I was in 2014, but back then I was in tip top sprinting form.  I'm OK with this result.
This puts me in the lead for the online race so far, but there is still some time for someone to come along and beat me.  One of the cool things about racing on rowsandall is being able to compare racers.  Here's a little taste.  This is a plot of everyone's stroke rate through the race.  My line is the minty green one.  You can see how being on slides helped me rate up through the last half of the piece, compared to the static racers.