I have been having trouble sleeping the past two nights.  On Monday night, I slept from 10:30 to 1:00AM, and not at all there after.  Last night, 10:30 to 2:00.  So 6 hours of sleep over two nights.  I sure hope I sleep through tonight.
As you might guess, I had no trouble getting up with my alarm this morning.  I was watching the clock, waiting for it to click over to 5:15.  Then I headed to river.  It was cool and cloudy, mid-40s with a light wind that was a cross tail wind going downstream.  It's getting darker in the mornings now.  It was quite dark when I arrived at the dock, but by the time I finished scrubbing the goose shit off the dock, it was reasonably light.  I definitely need to replace the batteries in my safety light.
I also replaced the battery in my oarlock and it sprung back to life.
The plan for today:
4 x 2k
roughly 5 minute rests, but longer is OK
stroke rate: 25-26
target pace: 2:16
target power: 165W (same as last time)
I started with a nice formal warmup.  Pick drill, then some legs only, then about a minute of full pressure at around 20 spm.  Then paddle through the cut, have a quick drink of water, get myself lined up, get myself psyched up, wait for an even minute and go.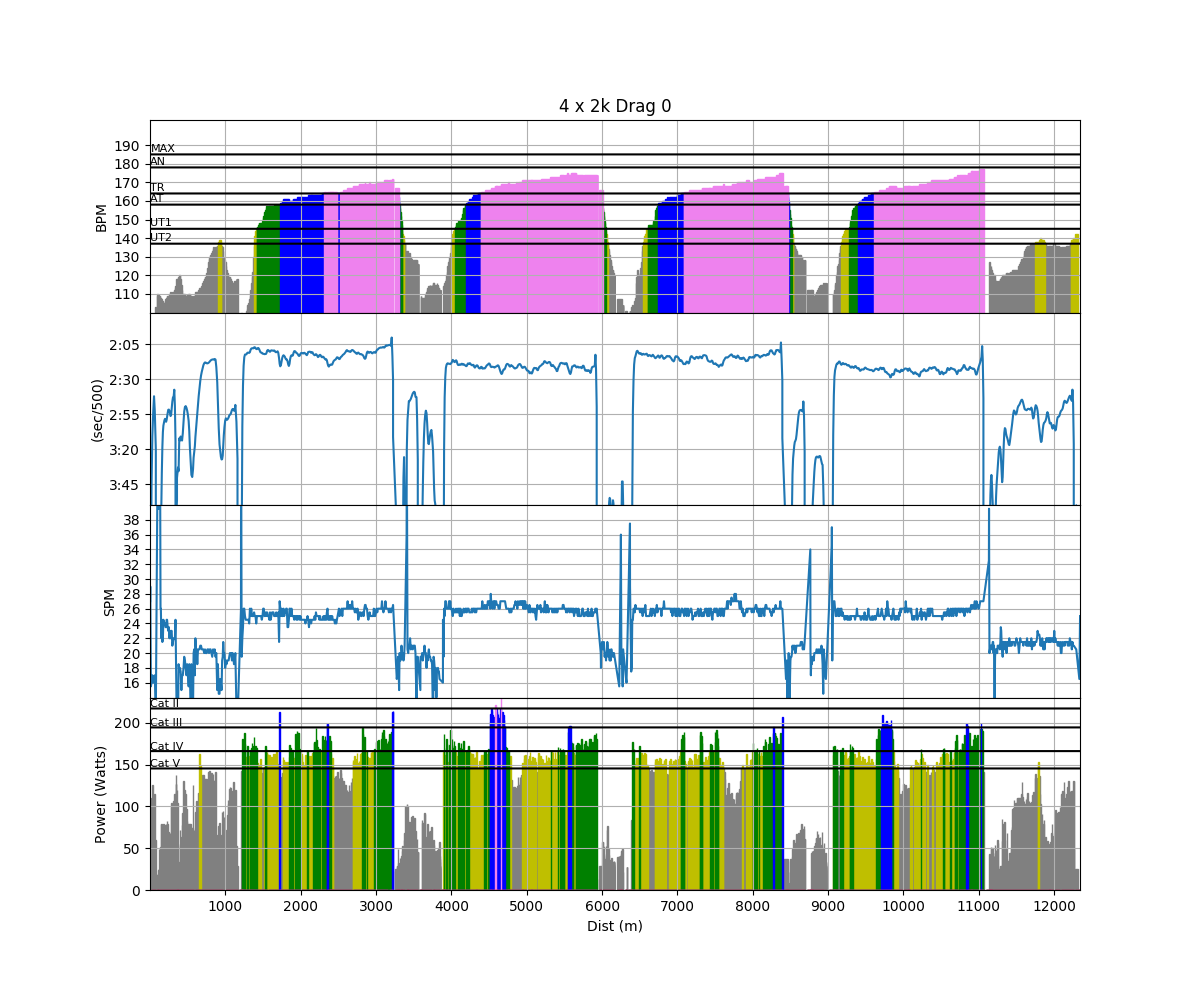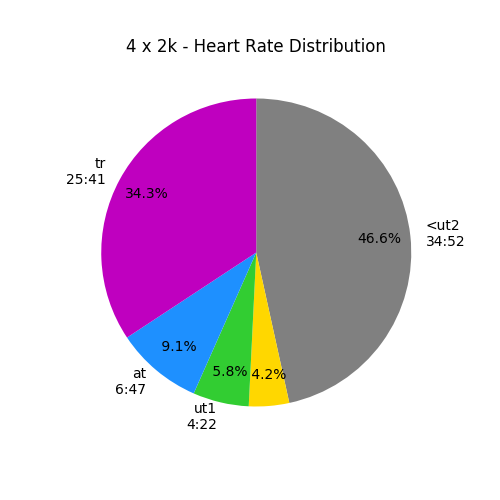 Workout Summary - media/20180925-1255310o.csv
--|Total|-Total-|--Avg--|-Avg-|Avg-|-Avg-|-Max-|-Avg
--|Dist-|-Time--|-Pace--|-Pwr-|SPM-|-HR--|-HR--|-DPS
--|12338|74:51.0|03:02.0|106.9|23.8|141.8|177.0|06.9
W-|08116|37:06.0|02:17.2|158.2|25.4|162.5|177.0|08.6
R-|04228|37:45.0|04:27.9|056.6|22.2|121.6|177.0|05.7
Workout Details
#-|SDist|-Split-|-SPace-|-Pwr-|SPM-|AvgHR|MaxHR|DPS-
01|00213|00:59.4|02:19.2|129.9|20.2|125.9|135.0|10.6 - wu
02|01983|08:40.4|02:11.2|159.1|25.2|159.3|172.0|09.1
03|01993|09:20.7|02:20.7|164.3|26.0|166.4|175.0|08.2
04|01966|08:46.9|02:14.0|153.7|25.8|162.7|175.0|08.7
05|01961|09:18.9|02:22.5|158.5|25.4|165.1|177.0|08.3
The first interval was magical.  I needed to maneuver around a couple of fours that were infringing in my lane about 500m into it, but otherwise it was like gliding on rails.  We've had a lot of rain later (Thanks Florence) and the river is unusually high for this time of year.  I think it was giving me about 5 splits downstream.  Seeing the fast splits got me a bit excited, so I pushed the last 500m pretty hard.
What the stream flow giveth in piece #1, it took away in piece #2.  5 more watts, almost 10 seconds slower per 500.  And it took 40 seconds longer!  I was a little fatigued after that one.
I didn't push the third piece as hard through the first 1000m.  I was feeling a little rough around the edges.  After I negotiated the s-curve.  I pushed harder and finished it strong.
Now the last interval.  Up river and into the light headwind.  I was really tired, so I started off limiting my stroke rate to 25.  I tried to work on holding form and I tried to ignore the pace.  The last 1000m were pretty horrible.  I felt like I was on the edge of blowing up, but my HR was basically pegged at 175 until the very end.  Either it was lack of sleep, or an inability to really dive into the hurt locker, but it felt like the last 1000m was in the "red".
After I finished, I rowed with feet out back to the dock (quite slowly).  Good workout, a little depressed it wasn't faster, but well executed.
Tomorrow:  75′ steady state, r20.