My last post updated things to Tuesday, 4 September.  Since then, things have been going great!  I knew I had some travel coming up this week, so I skipped rest days and just alternated hard and easy sessions.  Here's an overview.
You can see that I slid some sessions around.  I was scheduled for my 5 x 1500 on Monday 9/3, but I couldn't get on the water.  Instead I did an easy steady state session on the dynamic, and moved the hard sessions out by a day.  I am also taking liberties with the easy sessions.  My coach suggested that I use these sessions to continue to work on drills and also to include some speed work because it has value in head races for overtaking and at the finish.  It also pushes me to work technique at high rates, which is a good thing.
I'll have a bit more to say about training progress overall, but first, the sessions.
Wednesday, 5 Sept: 75′ of drills on the 5s.
Another great morning to row.  This session is all about technique.  It's 4 minutes of steady state and then a minute of drills.  The drills were
half slide
delayed feather
pause at body over
open hands on recovery
As you can see it was a low intensity session.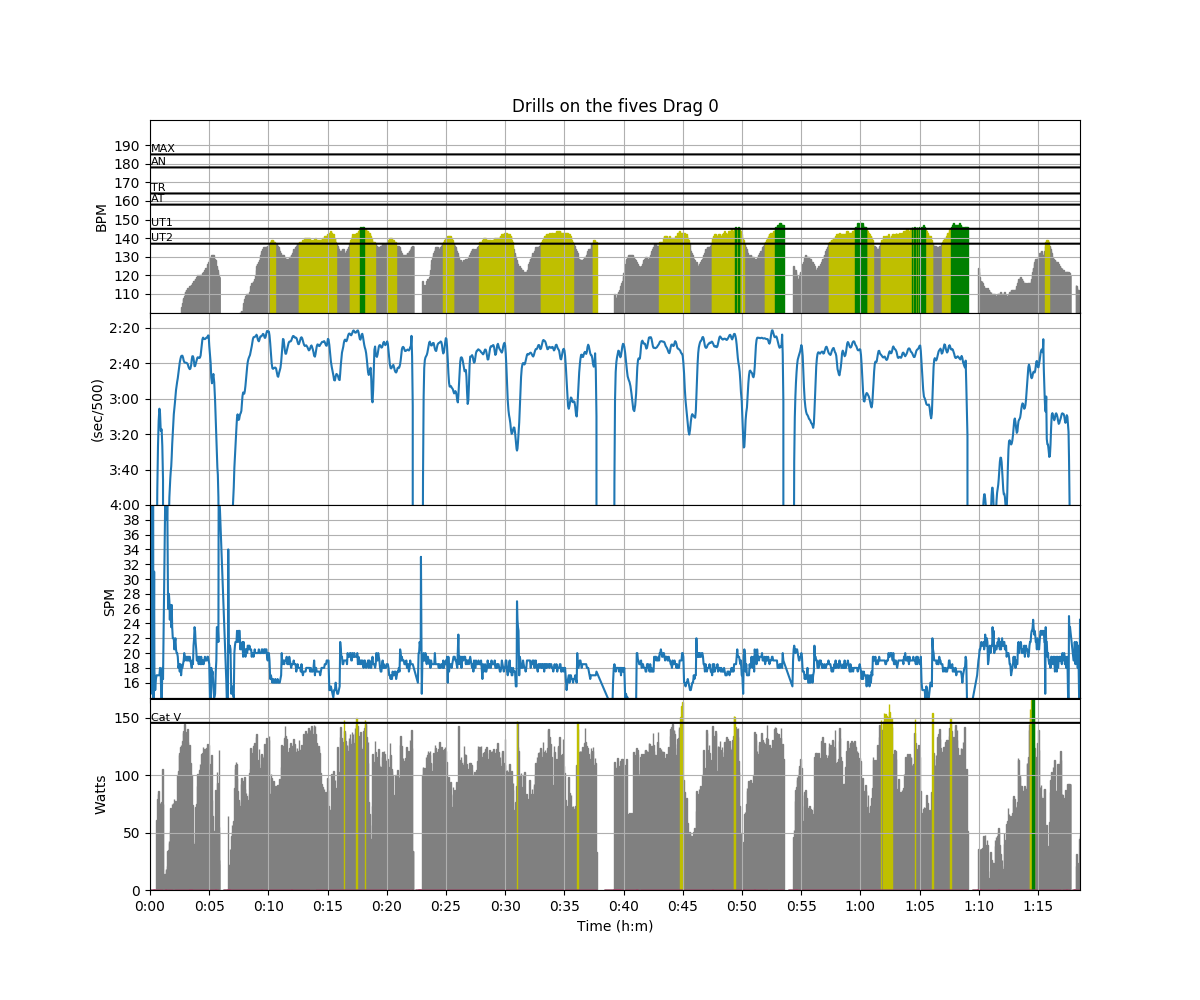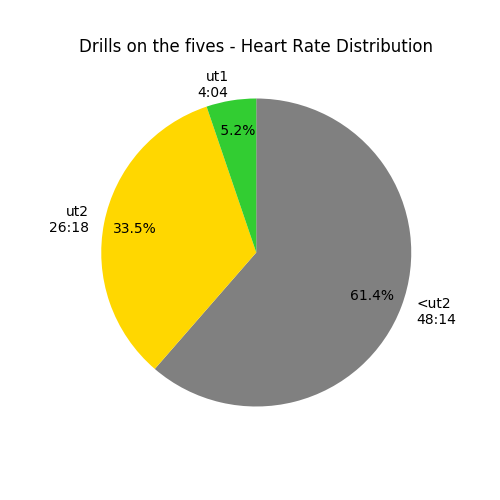 Thursday: 6 Sept: 12 x 3'/1′
With the nice easy workout on Tuesday, I should have been well rested and ready for action on Wednesday.  These short interval / short rest sessions are supposed to give me a chance to get lots of minutes in at close to head race intensity, but include enough rest so that fatigue does not become a big factor until deep into the workout.
That's not how it worked out in this session.  I decided that I would take a little extra time at the ends of the river, so it was really broken up into sets of 3 reps.  I managed through the first three, but when I turned and confronted the head wind, I overcooked the fourth rep.  I started the fifth, as I was approaching the s-turn, and I felt kind funny, a little woozy maybe.  Anyway, I pulled the plug and paddled through the turn.  I lined up and did the 6th interval per plan, but it was a nasty experience.  Notice that my HR is not extremely high, but my RPE was through the roof.  I was gasping for breath and shaking.
I took a good long rest and a drink, then I turned around to do another set, now with a tail wind.  I was a bit more conservative on pace for these and made it through the set of three.  Another turn and another longer than proper rest and I steeled myself for the up wind set.  I pounded out 2 reps, which took me up to the turn.  I decided to paddle through the turn and take a longer rest.  Then I did the 12th rep and finished strong.
The plan called for another set of three, but I was completely toasted.  In really hard workouts, my right glute will start to hurt at the end of a session and it was really bad this time.  I took my feet out of the shoes and gingerly paddled home.  I stopped and stretched every couple minutes because I just couldn't get comfortable in the seat.
Stunningly, no red in the plot.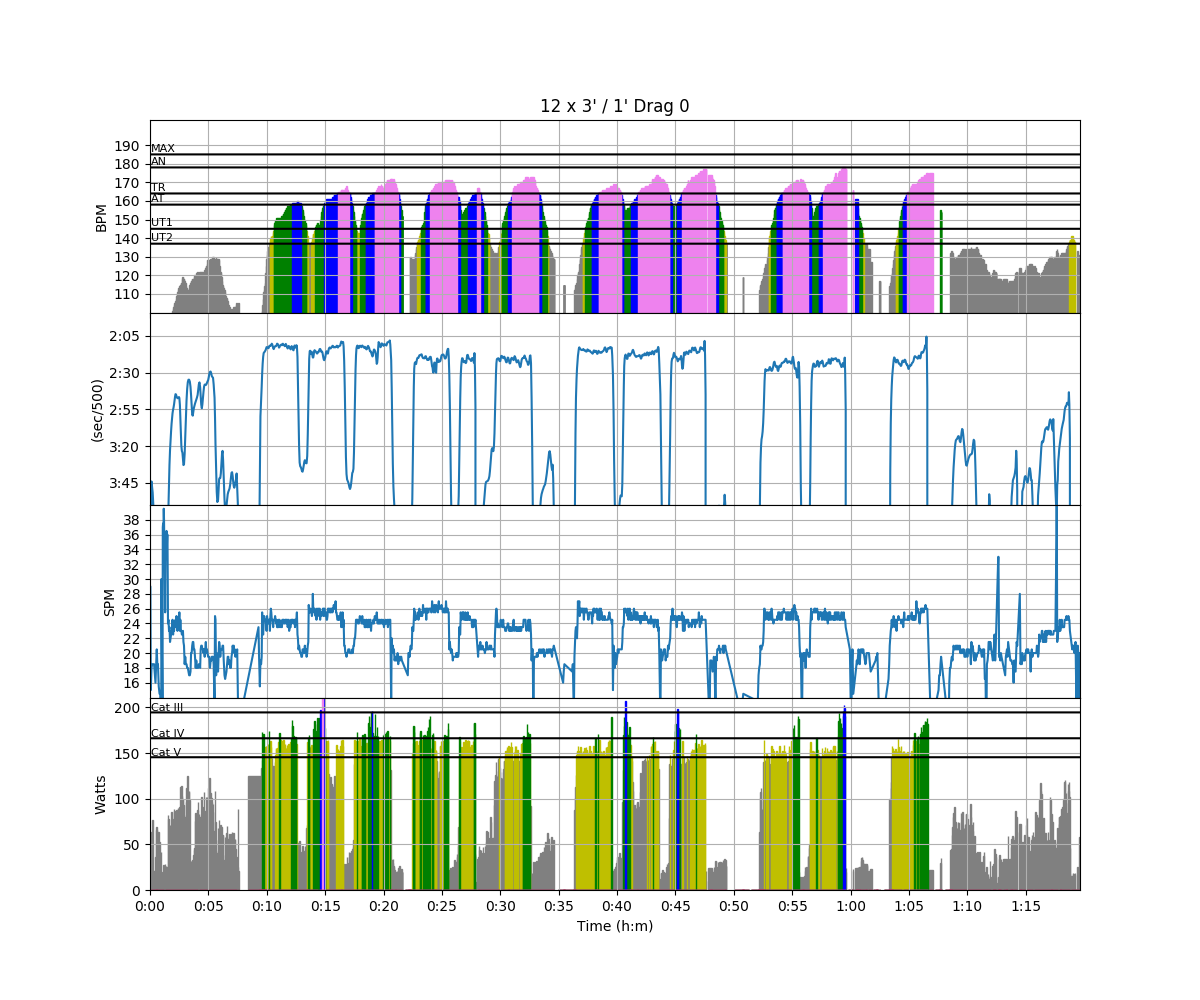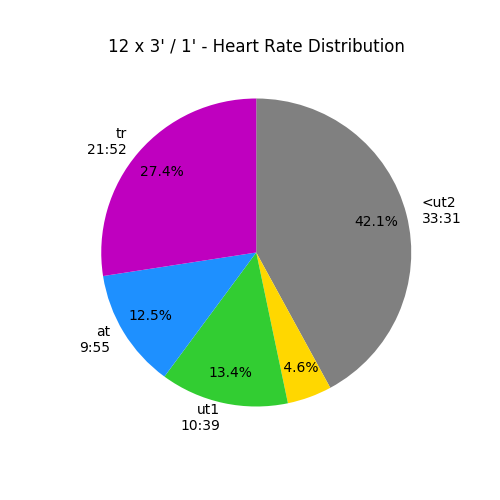 Workout Summary - media/20180906-1215320o.csv
--|Total|-Total-|--Avg--|-Avg-|Avg-|-Avg-|-Max-|-Avg
--|Dist-|-Time--|-Pace--|-Pwr-|SPM-|-HR--|-HR--|-DPS
--|12579|79:38.0|03:09.9|092.8|21.6|144.0|178.0|07.3
W-|07379|33:52.0|02:17.7|150.5|24.7|159.6|178.0|08.8
R-|05211|45:47.0|04:23.6|050.1|19.4|132.4|178.0|06.2
Workout Details
#-|SDist|-Split-|-SPace-|-Pwr-|SPM-|AvgHR|MaxHR|DPS-
01|00694|03:03.9|02:12.5|151.4|24.2|145.9|160.0|09.4 - dwn
02|00676|03:02.1|02:14.6|148.9|25.4|155.6|166.0|08.8 - dwn
03|00691|03:03.2|02:12.5|159.0|23.9|161.5|172.0|09.5 - dwn
04|00637|02:57.3|02:19.3|156.0|25.7|159.5|171.0|08.4 - up
05|00252|01:10.6|02:20.4|157.8|24.6|157.9|163.0|08.7 - up (fail)
06|00630|02:57.0|02:20.5|146.3|23.6|160.1|173.0|09.0 - up
07|00681|03:03.4|02:14.7|150.1|25.2|154.6|168.0|08.8 - dwn
08|00663|03:02.2|02:17.4|134.6|24.7|164.9|174.0|08.9 - dwn
09|00641|02:54.3|02:15.9|149.3|24.4|168.1|177.0|09.1 - dwn
10|00597|02:52.4|02:24.4|146.8|25.1|158.7|171.0|08.3 - up
11|00586|02:47.6|02:23.0|155.2|25.1|167.1|178.0|08.4 - up
12|00631|02:58.1|02:21.1|155.8|24.9|160.7|175.0|08.5 - up
Friday, 7 Sept: 70′ steady state with bumps
In this session, I wanted to keep the overall intensity low to moderate, but I wanted to do 20 stroke bursts at as high of a stroke as I could while maintaining reasonably clean stroke work.
As I went along, I found it easier to get the rate up into the mid thirties.  In one rep, I was really feeling it.  I was finishing so clean that I was keeping my blades off the water on the very brief recoveries.  I could feel the boat settle in the drive and pop in the recovery.  I loved it!  It's fun to go fast.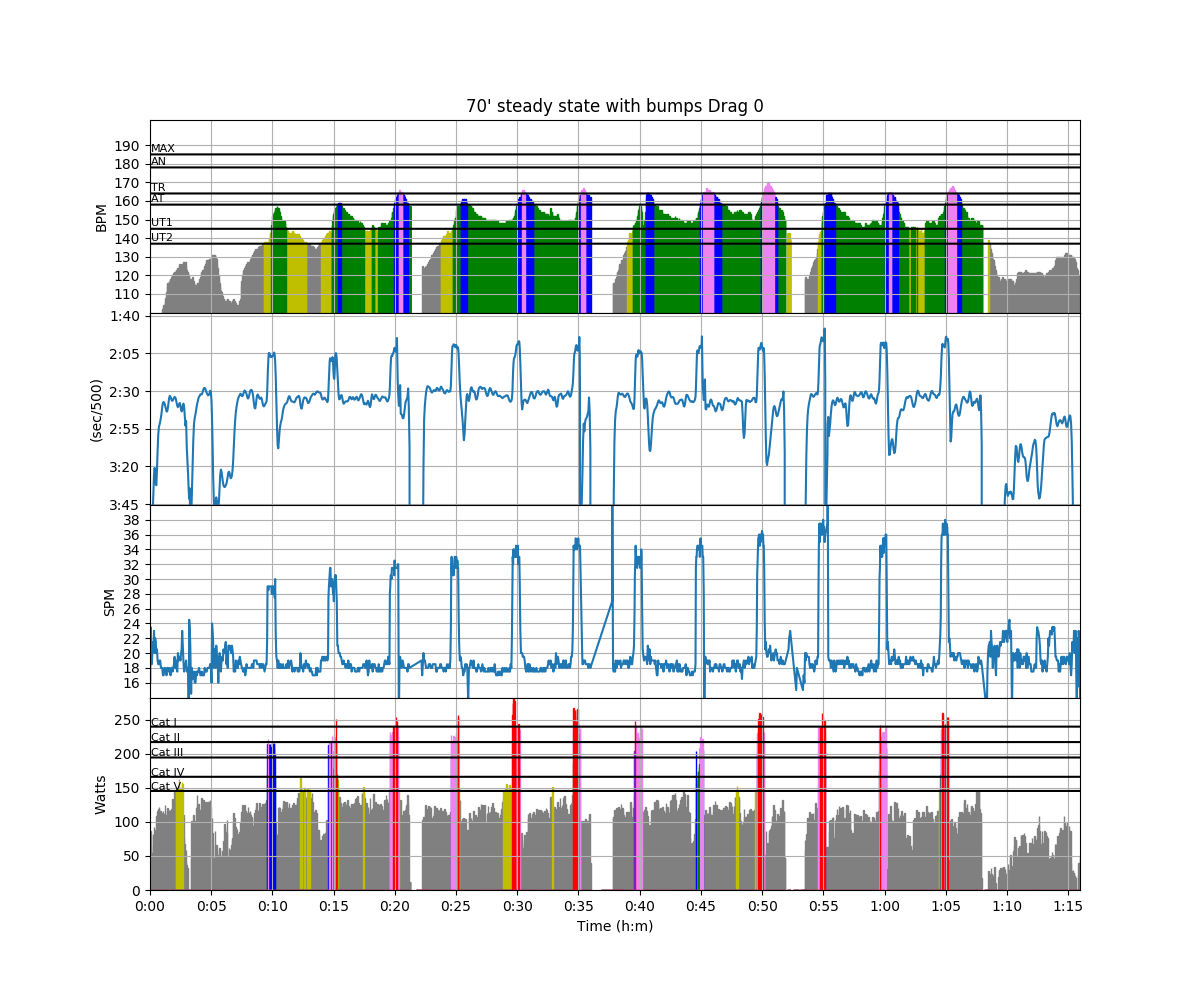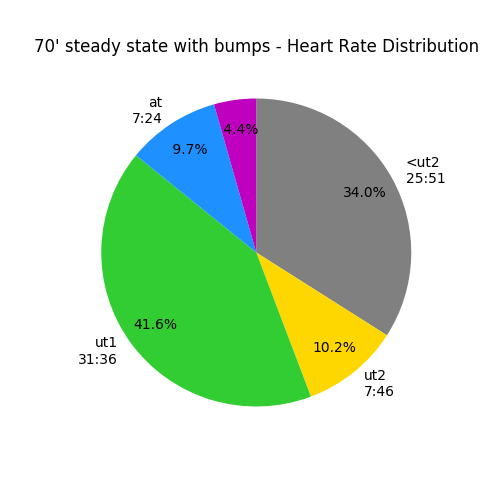 Workout Summary - media/20180907-1225290o.csv
--|Total|-Total-|--Avg--|-Avg-|Avg-|-Avg-|-Max-|-Avg
--|Dist-|-Time--|-Pace--|-Pwr-|SPM-|-HR--|-HR--|-DPS
--|13765|75:57.0|02:45.5|109.3|20.2|141.9|170.0|09.0
W-|01801|07:23.0|02:03.2|212.8|32.5|153.8|166.0|07.5
R-|11973|68:34.0|02:51.8|098.2|18.9|140.6|166.0|08.0
Workout Details
#-|SDist|-Split-|-SPace-|-Pwr-|SPM-|AvgHR|MaxHR|DPS-
01|00149|00:37.4|02:05.8|206.9|28.8|146.9|155.0|08.3
02|00156|00:41.3|02:12.2|203.3|28.9|150.7|158.0|07.8
03|00156|00:38.4|02:03.4|228.1|31.2|156.9|164.0|07.8
04|00167|00:40.7|02:02.1|205.3|30.8|150.8|157.0|08.0
05|00151|00:37.4|02:04.2|215.5|32.3|156.9|162.0|07.5
06|00137|00:33.5|02:02.5|242.6|34.3|154.6|162.0|07.1
07|00151|00:38.3|02:06.7|206.0|31.4|152.7|158.0|07.5
08|00136|00:33.4|02:03.0|185.8|34.1|156.5|163.0|07.1
09|00142|00:34.4|02:01.0|226.4|35.0|159.1|166.0|07.1
10|00136|00:31.4|01:55.4|237.2|36.3|148.5|158.0|07.2
11|00157|00:38.2|02:01.4|190.5|33.1|153.7|163.0|07.5
12|00165|00:39.6|02:00.1|212.7|34.8|158.1|166.0|07.2

Saturday:  Attempted 10K Threshold
Down on the Cape.  I was hoping to do my threshold session as a coastal row, but the weather was a bit windy, forcing me inside to do it on the erg (on slides).  The plan wanted a 40′ threshold piece, so I decided on a 10K.
I started with the a 2K warm up.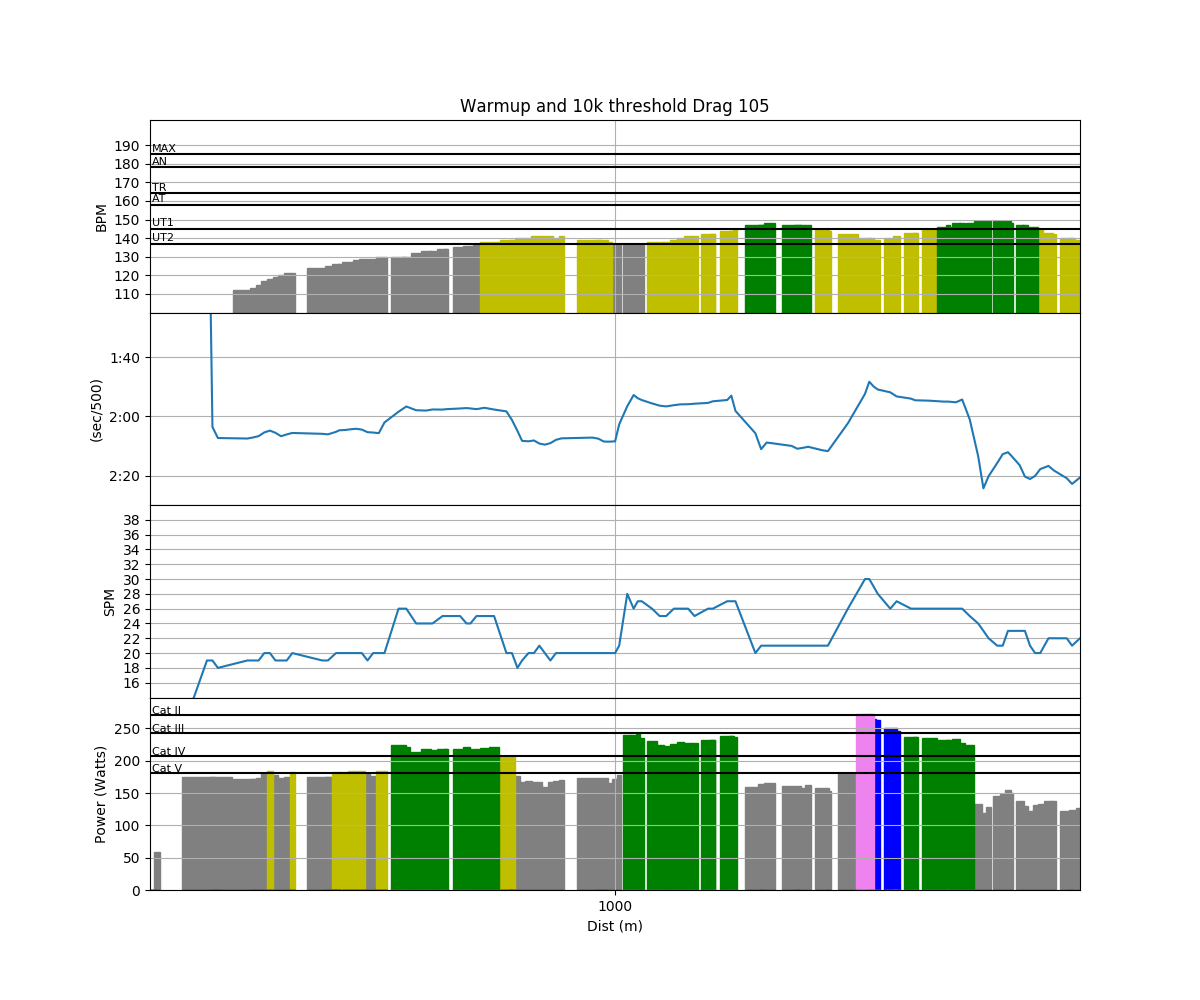 Then into the main event.  I thought I should be able to do it at a split of 1:58, so of course I set off at 1:57.  Turns out, 2:00 would have been a better choice.  I blew up just after 6K.
I took a few paddle strokes and then got going again at about a 2:02 pace. I sped up a bit towards the end, but it was a pretty ugly showing.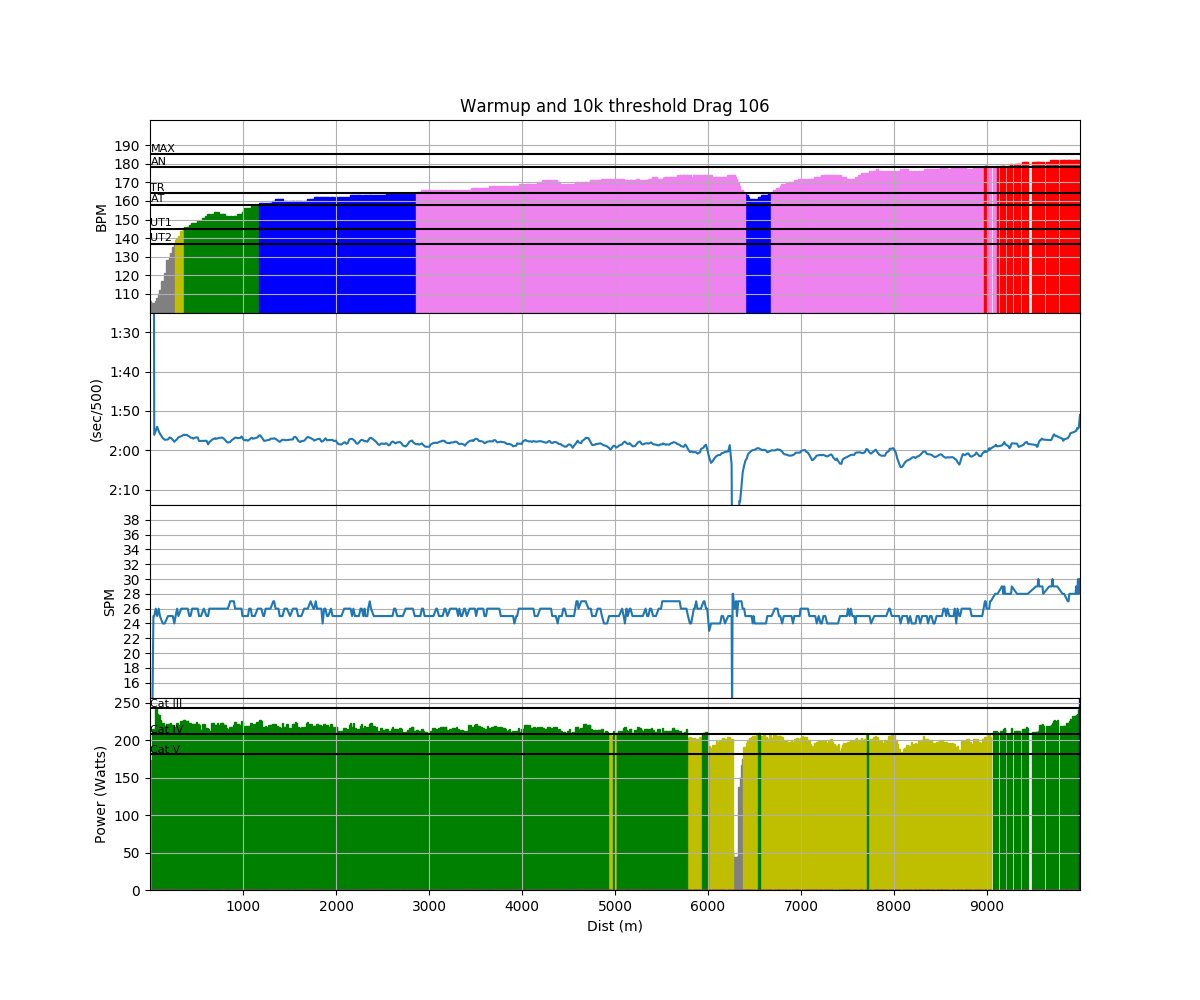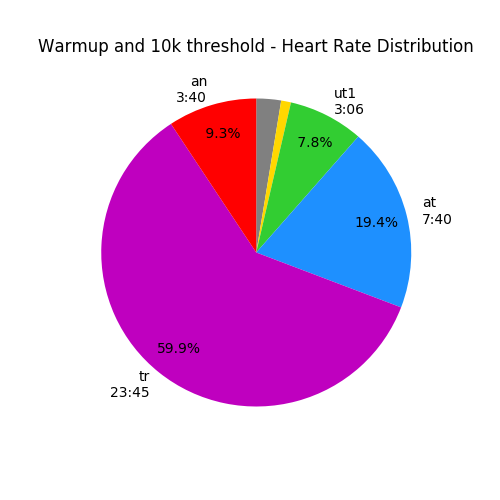 Workout Summary - media/20180908-2250280o.csv
--|Total|-Total-|--Avg--|-Avg-|Avg-|-Avg-|-Max-|-Avg
--|Dist-|-Time--|-Pace--|-Pwr-|SPM-|-HR--|-HR--|-DPS
--|10000|39:36.0|01:58.8|209.3|25.7|167.7|182.0|09.8
W-|10000|39:37.0|01:58.9|209.3|25.7|167.7|182.0|09.8
R-|00000|00:00.0|00:00.0|000.0|00.0|000.0|182.0|00.0
Workout Details
#-|SDist|-Split-|-SPace-|-Pwr-|SPM-|AvgHR|MaxHR|DPS-
00|01000|03:51.4|01:55.7|221.1|25.4|142.2|154.0|10.2
01|01000|03:53.6|01:56.8|219.8|25.7|160.0|162.0|10.0
02|01000|03:55.3|01:57.6|215.0|25.4|163.6|166.0|10.0
03|01000|03:55.2|01:57.6|215.5|25.6|167.0|169.0|10.0
04|01000|03:55.5|01:57.7|214.5|25.6|170.3|172.0|10.0
05|01000|03:56.8|01:58.4|211.2|25.9|172.6|174.0|09.8
06|01000|04:11.3|02:05.6|185.1|24.9|168.6|174.0|09.6 - boom!
07|01000|04:01.3|02:00.6|199.4|24.9|174.0|177.0|10.0
08|01000|04:02.4|02:01.2|196.7|25.1|177.2|179.0|09.9
09|01000|03:54.5|01:57.3|217.3|28.3|180.6|182.0|09.0
Good training effect anyway.  I'm interested to see how this piece goes on a static erg to get an idea of how much I suffer on slides.
Sunday, 9 September: 3 x 20'/2′ dynamic
So nice and cool!  I decided to observe a strict 150 bpm max HR because I wanted to recover from the nasty 10k attempt the day before.  It turned out to be a really nice session.  Unfortunately, the painsled session data got blown away somehow.  But in any case, it was about a 2:08 pace, which is pretty good for a low HR cap on the dynamic.
It was one of those sessions where I felt better after I finished than when I started.
Monday, 10 September: 4 x 2k OTW
This is the real pinnacle of the weekly training plan.  The long intervals.  They end up being very close to head race pace and by the last one you are feeling the effects.
Today the weather was cool again, and there was a bit of a breeze.  A headwind heading down river.
My plan for the session was to aim at 25 or 26 strokes per minute and try to work on smooth strokes and clean finishes.  I am trying to lighten up the first part of the drive.  I feel like it went very well today.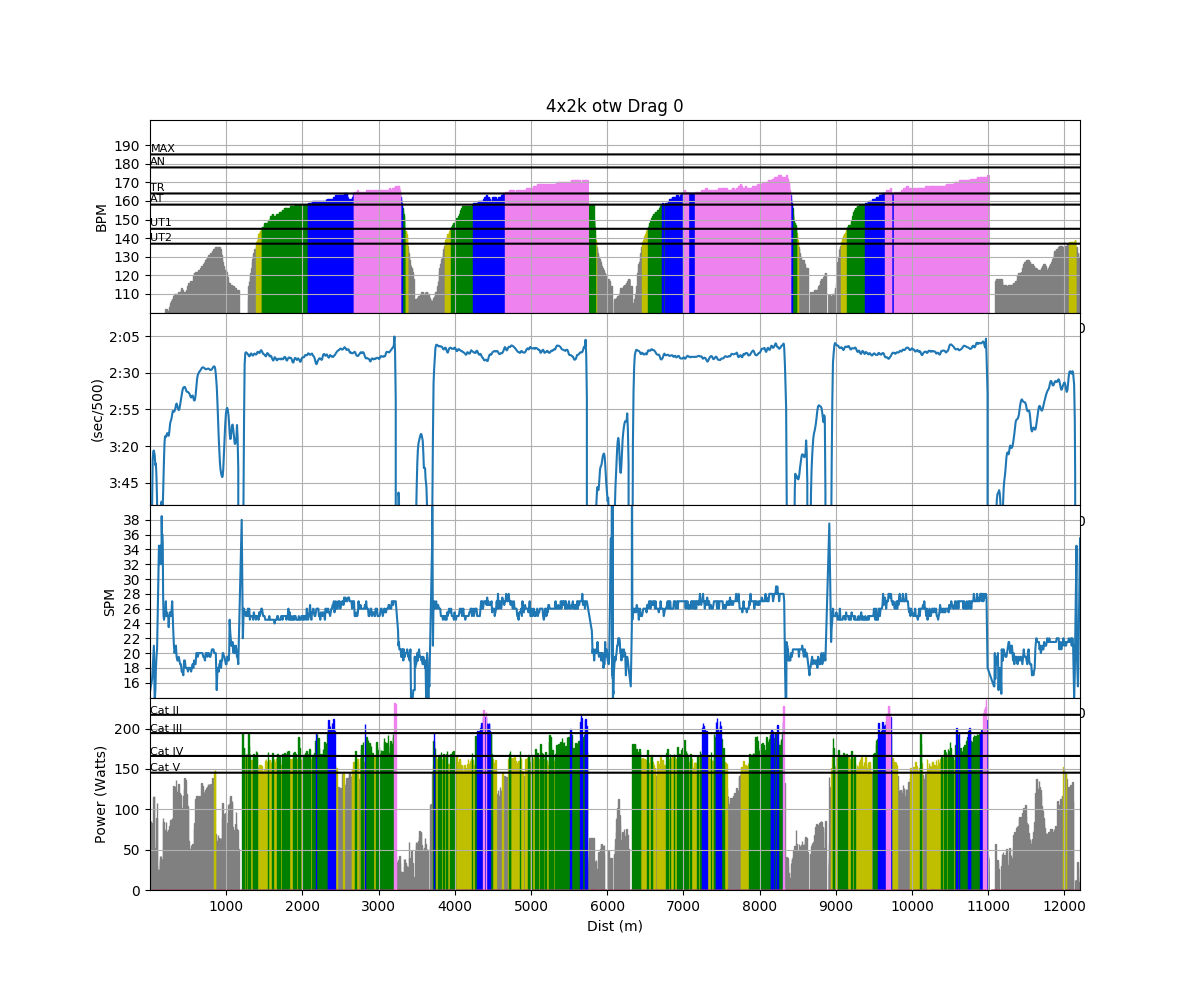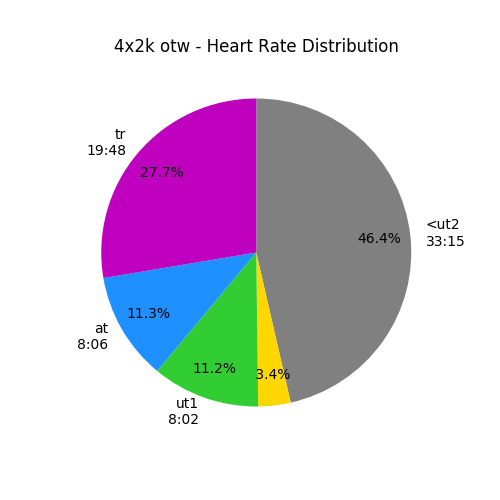 Workout Summary - media/20180910-1255340o.csv
--|Total|-Total-|--Avg--|-Avg-|Avg-|-Avg-|-Max-|-Avg
--|Dist-|-Time--|-Pace--|-Pwr-|SPM-|-HR--|-HR--|-DPS
--|12201|71:36.0|02:56.1|111.7|23.6|140.5|174.0|07.2
W-|07930|35:55.0|02:15.9|164.8|26.0|160.4|174.0|08.5
R-|04276|35:40.0|04:10.3|058.3|21.2|120.5|174.0|06.8
Workout Details
#-|SDist|-Split-|-SPace-|-Pwr-|SPM-|AvgHR|MaxHR|DPS-
01|01966|09:02.4|02:18.0|164.8|25.5|156.5|167.0|08.5 - up
02|01987|08:54.2|02:14.4|166.3|26.0|160.6|171.0|08.6 - dwn
03|01969|08:59.0|02:16.9|163.3|26.7|162.0|174.0|08.2 - up
04|02008|08:59.9|02:14.4|164.8|25.9|162.5|173.0|08.6 - dwn
Notice the consistency of power between up and down wind pieces.  That's what I was hoping to do.  As for the low HR, that's pretty cool.  It still felt really hard.
Comparing the stroke profiles to the last time I did this session.  There isn't a lot of difference, but the peak angle did move later by a couple of degrees.
After my row this morning, I drove straight to the airport.  I showered at the Admiral's Club and made my 10:30 flight with time to spare.
Now I am on a plane out to San Diego.  I am planning to do a steady state session at DelMar crossfit tomorrow morning.  Then I think my streak gets broken.  I fly early morning up to San Jose and I have meetings all day, and a business dinner at night.  I'm not sure if I will have time on Thursday before I fly home.
I track my overall training load in Strava and it was pretty depressing looking at it recently.  But with the string of sessions I've put together, things are definitely picking up.  I'm nearly to the level I was last January.
I should probably do a 20 minute test on a static erg to see where I stand.
It's a pity that I have a trip to the Philippines and Japan coming up next week.  That should screw things up pretty well.