Wednesday, August 15 – Brief HIIT session in the fitness center
I arrived in San Jose Tuesday afternoon, and headed straight to my meeting.  I spent the rest of the afternoon in our office and than had a business dinner that night.
In the morning I had a window to do a quick workout in the hotel fitness center.
I did a brief warmup and then I did a HIIT session on the treadmill.  It was 30 seconds of hard running on a 15% incline and then 4:30 of walking on the incline.  I did 6 intervals.  For some reason the data from the session did not get captured right.  It was very hard work when it was going on, but not a whole lot of it.
Thursday, August 16 – Easy 50 minutes in the fitness center
I flew from San Jose to Austin on Wednesday morning, then had meetings in our office there in the afternoon.  That evening we had a customer dinner.  In the morning, I got up and went to the fitness center of the hotel.
First, I did 30 minutes of incline walking (15% grade, ~3mph) on the treadmill.  Then I moved over to the stationary bike and did some rolling hills for another 20 minutes.
Not very impressive, and extremely boring.  The rest of the day was a blur of meetings.  I caught an evening flight back to Boston, arriving around midnight.
Friday, August 17 – No Training
I decided to get a some sleep on Friday morning instead of trying to squeeze a row in.  I brought my workout clothes to work hoping that I could sneak off for a quick session during the day sometime.  But all my time slots got booked up as the day went along.
Saturday, August 18 – 15 x 3′ / 1′
Saturday morning we had made arrangements for a tree service to come in and work on a bunch of trees that were damaged over the winter.  These guys were amazing.  They trimmed everything, stabilized some badly bent trees and even reshaped our shrubs.  They got it all done by the middle of the day.
My wife and I were planning to go down to the cape later in the day, so I had time for an erg session on the dreaded dynamic.  Today's assignment was a 15 x 3'/1′.
This is a favorite session of mine, but I didn't know how to pace it on the dynamic.  I was guessing somewhere between 1:55 and 2:00. I decided to start at 2:00 and try to negative split until things got dicey.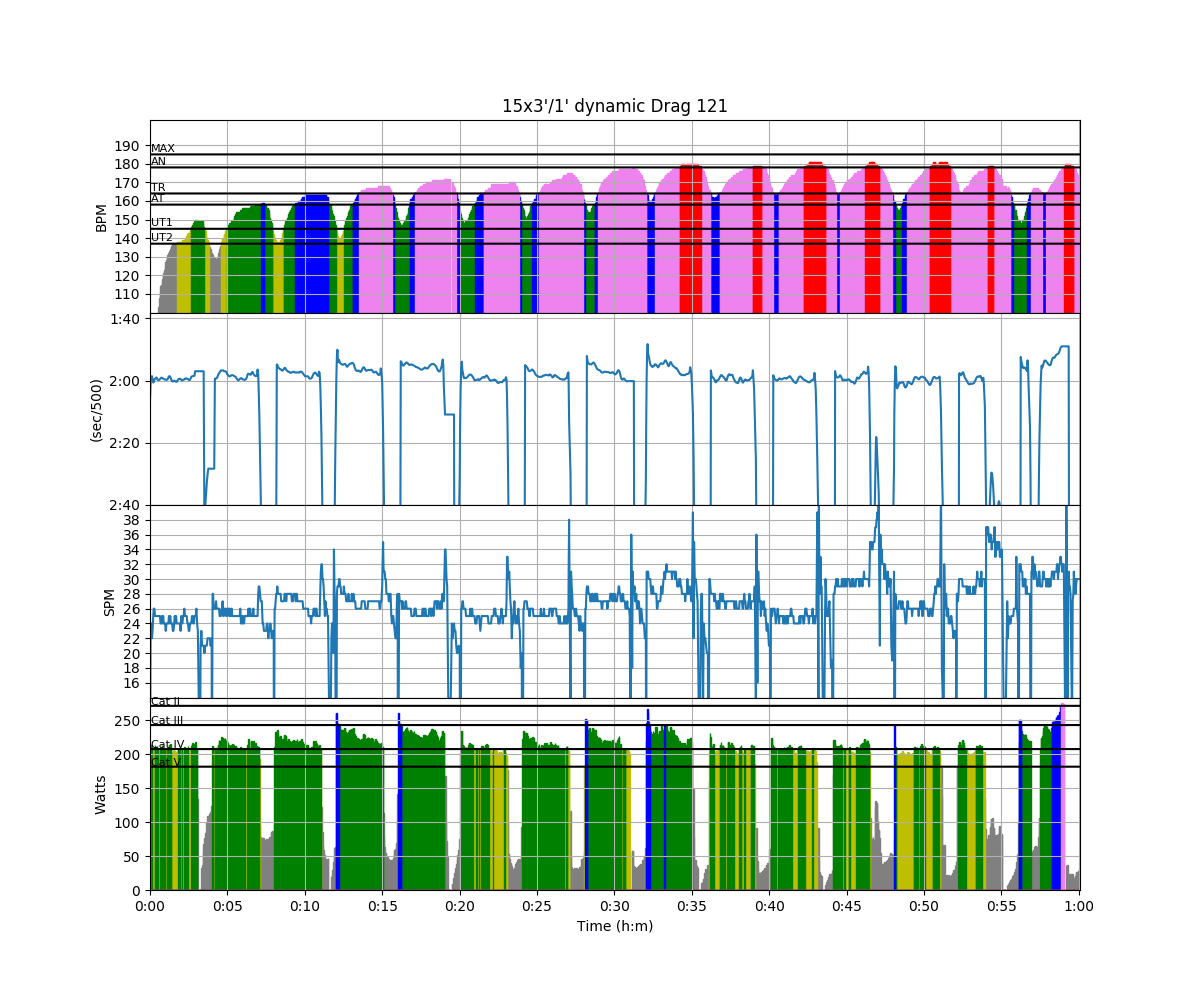 Things got dicey after about the 5th rep.  Then things got really dicey at the end and I blew up in the 14th rep.  But, judging by the HR stats, it was a pretty tough session.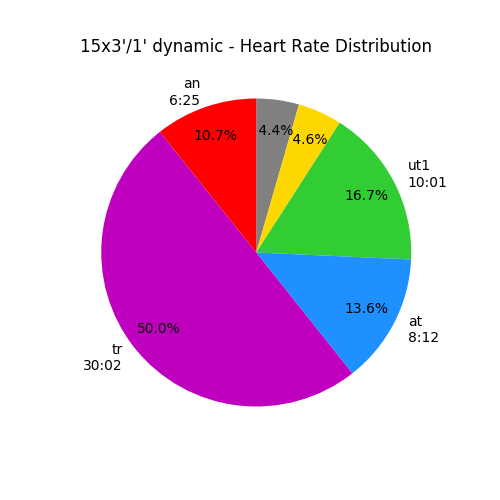 Too bad the paces were so slow.
         Workout Summary - media/20180818-1750260o.csv
--|Total|-Total-|--Avg--|-Avg-|Avg-|-Avg-|-Max-|-Avg
--|Dist-|-Time--|-Pace--|-Pwr-|SPM-|-HR--|-HR--|-DPS
--|13453|60:05.0|02:14.0|168.0|25.9|164.4|181.0|08.6
W-|11266|45:00.0|01:59.8|207.7|26.7|163.1|181.0|09.5
R-|02203|15:05.0|03:25.5|049.7|23.7|168.3|181.0|05.5
Workout Details
#-|SDist|-Split-|-SPace-|-Pwr-|SPM-|AvgHR|MaxHR|DPS-
00|00761|03:00.0|01:58.2|207.8|24.4|125.9|150.0|10.4
01|00762|03:00.0|01:58.1|213.3|25.4|148.2|158.0|10.0
02|00779|03:00.0|01:55.5|218.1|26.6|155.2|163.0|09.7
03|00780|03:00.0|01:55.4|227.3|26.8|159.2|168.0|09.7
04|00780|03:00.0|01:55.3|230.2|25.5|163.7|171.0|10.2
05|00746|03:00.0|02:00.7|208.0|24.5|161.9|169.0|10.2
06|00762|03:00.0|01:58.1|212.9|24.7|165.6|175.0|10.3
07|00756|03:00.0|01:59.0|218.1|26.7|169.1|177.0|09.4
08|00779|03:00.0|01:55.5|227.5|28.8|172.8|180.0|09.0
09|00751|03:00.0|01:59.8|203.9|26.4|170.9|179.0|09.5
10|00755|03:00.0|01:59.3|203.2|24.6|173.1|181.0|10.2
11|00711|03:00.0|02:06.5|184.7|29.9|173.6|181.0|07.9
12|00746|03:00.0|02:00.6|202.1|26.0|169.8|181.0|09.6
13|00666|03:00.0|02:15.2|159.0|30.5|173.0|179.0|07.3
14|00732|03:00.0|02:03.0|199.2|29.0|164.3|178.0|08.4
Sunday, August 19 – 3 x 20′ / 2′
I had hopes of going for an open water row, but it was a bit too windy.  I settled for an easy steady state session.  I had planned to do 4 x 20′, but my HR was high and I was having trouble holding a reasonable pace.  I decided to cut it off after 3 intervals.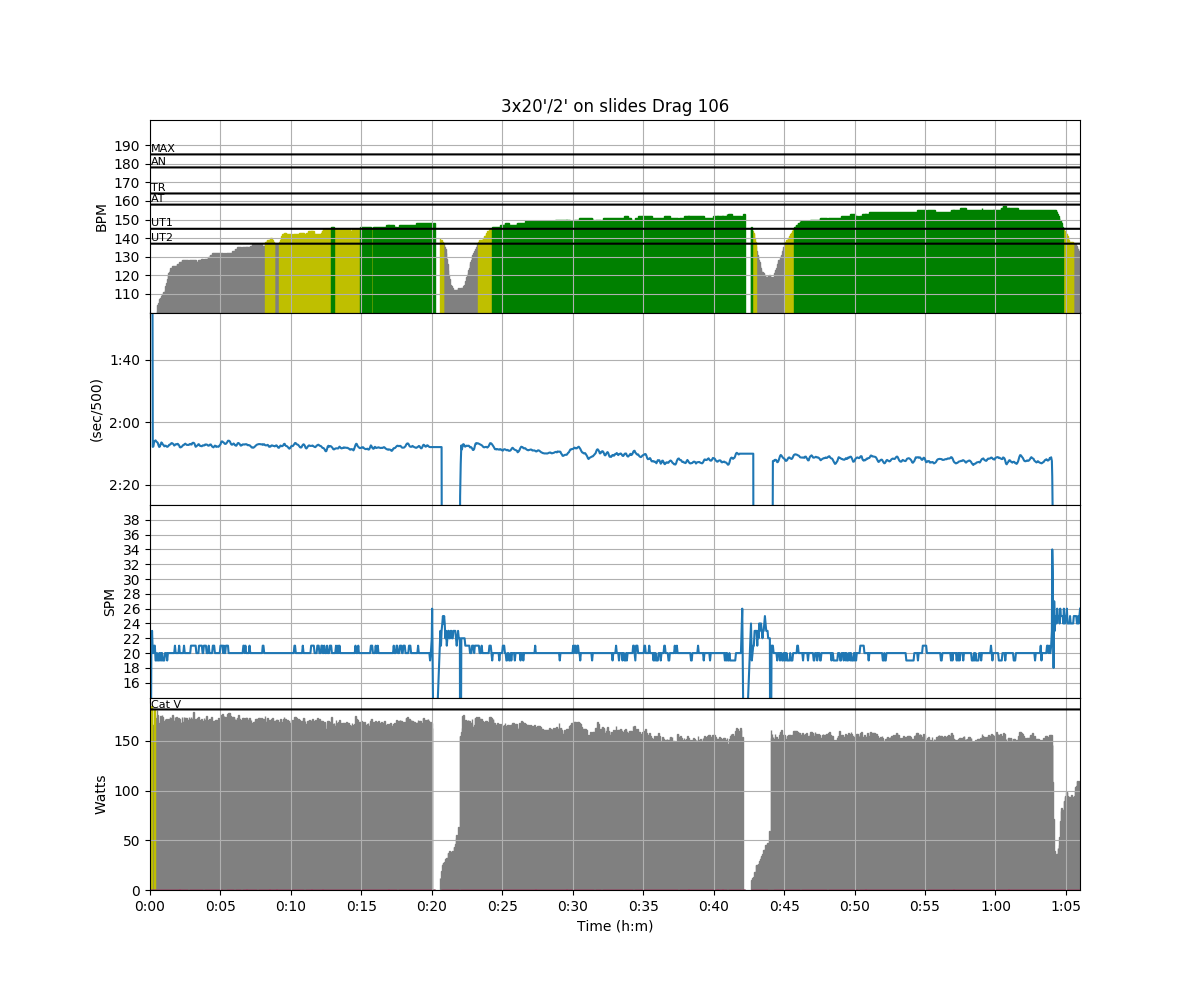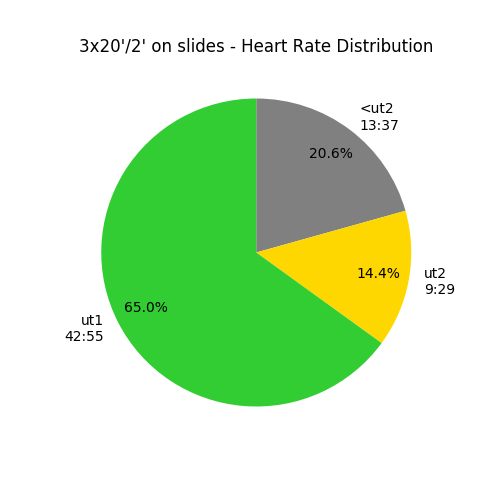 Workout Summary - media/20180819-1745260o.csv
--|Total|-Total-|--Avg--|-Avg-|Avg-|-Avg-|-Max-|-Avg
--|Dist-|-Time--|-Pace--|-Pwr-|SPM-|-HR--|-HR--|-DPS
--|14696|66:00.0|02:14.7|151.1|20.2|144.8|157.0|11.0
W-|13912|60:00.0|02:09.4|161.5|20.0|145.8|157.0|11.6
R-|00788|06:00.0|03:48.7|046.6|22.5|135.2|157.0|07.3
Workout Details
#-|SDist|-Split-|-SPace-|-Pwr-|SPM-|AvgHR|MaxHR|DPS-
00|04724|20:00.0|02:07.0|170.3|20.1|137.2|148.0|11.7
01|04624|20:00.0|02:09.8|160.2|20.0|148.3|153.0|11.6
02|04564|20:00.0|02:11.4|154.1|19.8|151.8|157.0|11.5
Monday, August 20 – 4 x 2000 / 4′
We stayed down on the cape on Sunday night and I got up at 5 to make my way to work.  It takes somewhere between 2:30 and 3:30 depending on traffic.
On this particular monday, the traffic wasn't so bad, and I made it to work with enough time for a workout in the fitness center.
I am trying to organize my training a bit more and start focusing on a few potential head races, so I wanted to increase the intensity of my training weeks.  Today's session is basically my goto head racing training session.  On the static erg, and my very best, I could do this session with an average pace around 1:45.  I am not at my best.  In fact, judging by my steady state pace, I would say that I am about 8 to 10 splits off my best form.  So I decided to target 1:55 for this session and see how it went.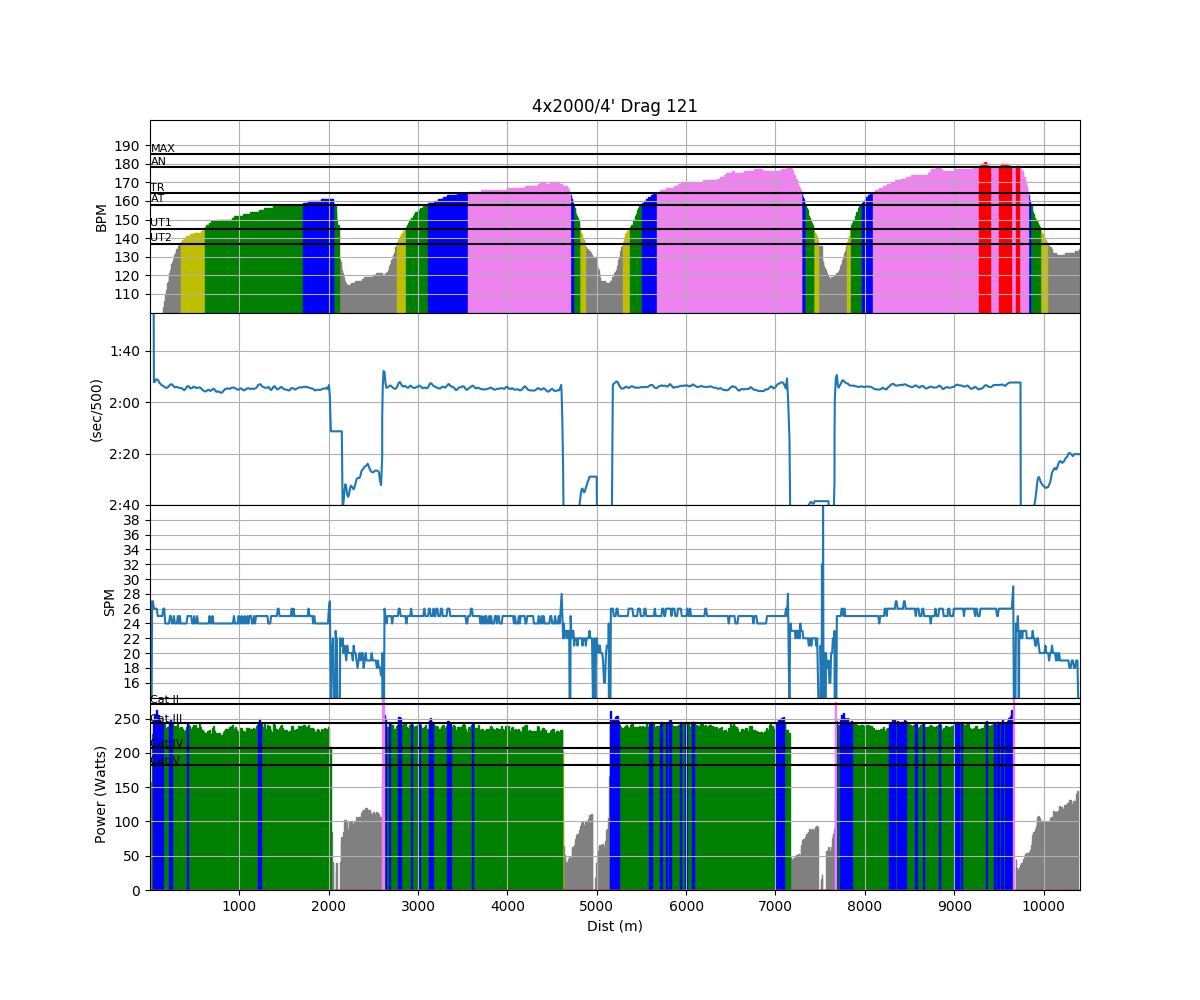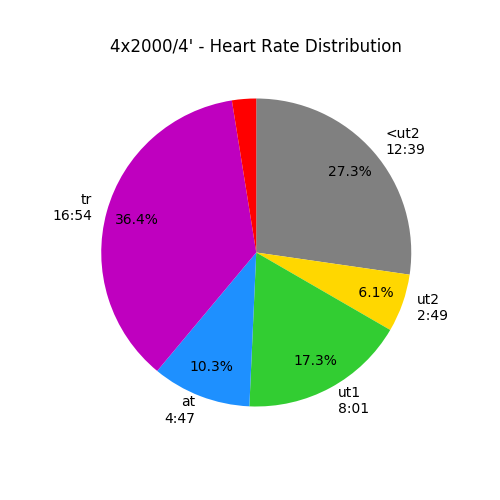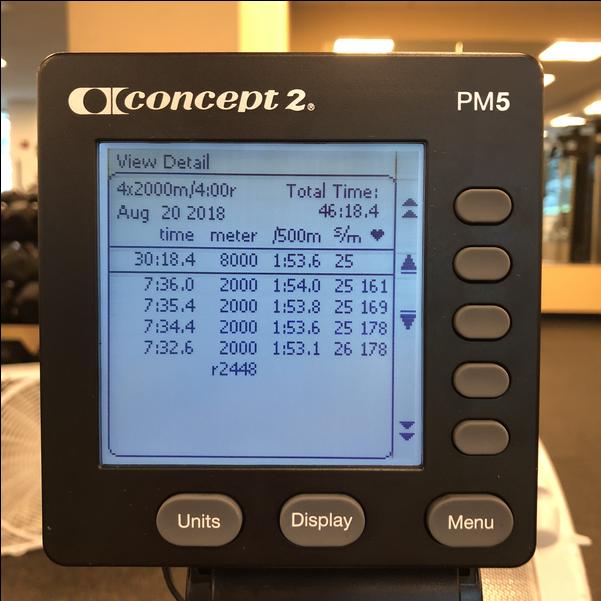 This was a really good session.  I felt like the pace target was good and I was able to stick to it. It was pretty motivating.
Tuesday, August 21 – 70′ Drills on the fives – OTW 1x
Hooray!  Back in my boat.  Since it had been a while, I decided to do a technical session.
The session is really simple.  4 minutes of rowing, and then 1 minute of drills, rotating between these four
1/2 slide
delayed feather
pause at body over
open hands on recovery
It's an engaging, challenging session that goes by really quickly.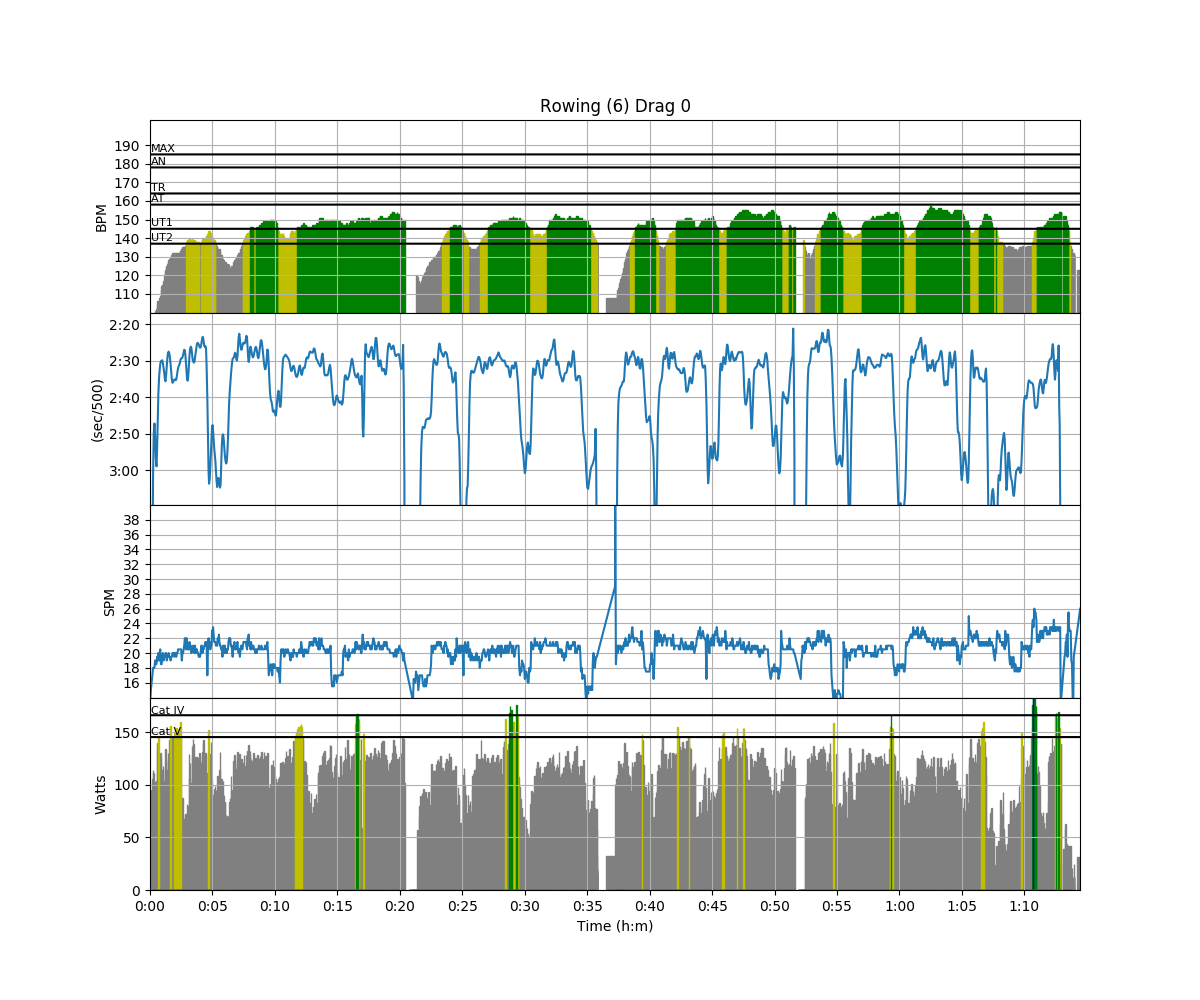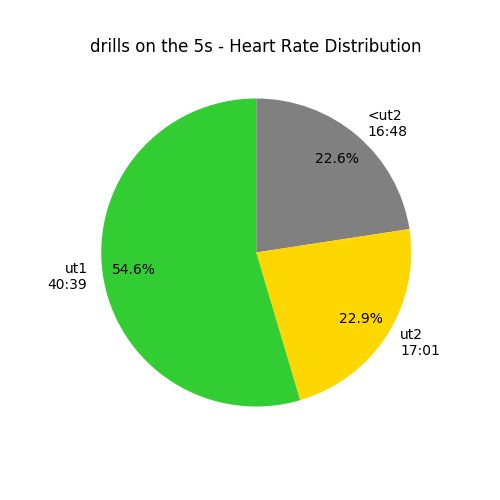 Wednesday, August 22 – 12 x 3′ / 1′
The plan was for 15 x 3′, but I ran out of time, and frankly energy.  This session is hard work!  But, then again, it's supposed to be.  The whole point of this session is to put in a lot of strokes at head race pace and pressure.  Right now that's awfully slow, but that will change with a but of focused work.
The pace on these is a bit deceptive because a lot of the intervals happen through the big s-turn, which slows me down a bit.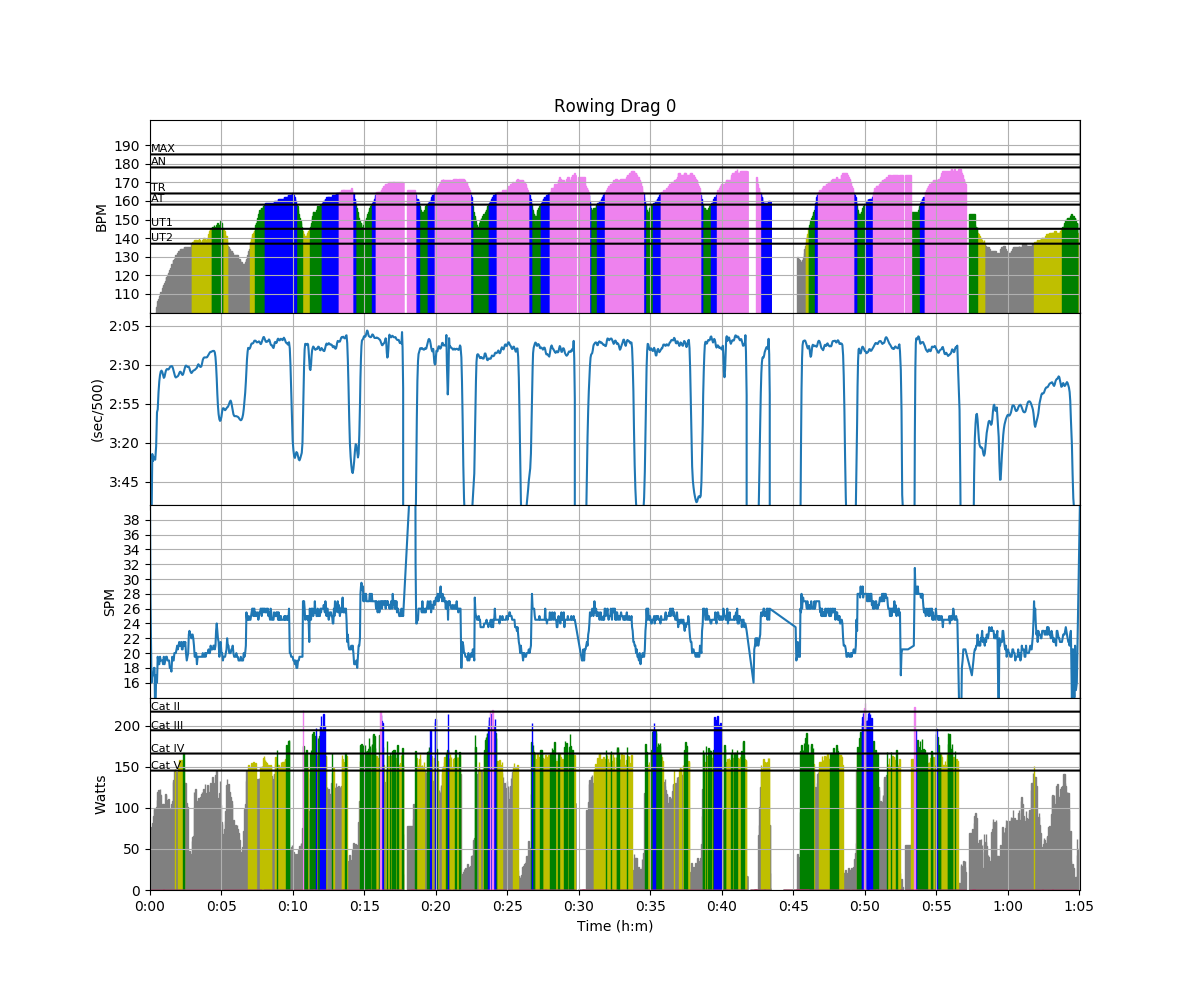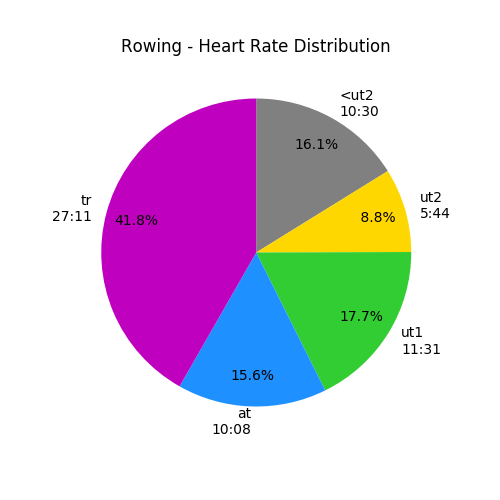 Workout Summary - media/20180827-2250260o.csv
--|Total|-Total-|--Avg--|-Avg-|Avg-|-Avg-|-Max-|-Avg
--|Dist-|-Time--|-Pace--|-Pwr-|SPM-|-HR--|-HR--|-DPS
--|11919|65:02.0|02:43.7|117.9|23.7|156.9|177.0|07.7
W-|07790|35:39.0|02:17.3|155.9|25.3|163.8|177.0|08.6
R-|04142|29:24.0|03:33.0|071.9|21.8|148.4|177.0|07.3
Workout Details
#-|SDist|-Split-|-SPace-|-Pwr-|SPM-|AvgHR|MaxHR|DPS-
01|00167|00:47.4|02:22.3|123.0|20.3|143.0|147.0|10.4 - warmup burst
02|00663|02:59.6|02:15.4|147.2|25.0|154.9|163.0|08.8
03|00546|02:29.8|02:17.1|149.5|25.6|161.1|166.0|08.5 - downriver turn
04|00648|02:52.4|02:12.9|166.1|26.8|163.3|170.0|08.4
05|00644|02:58.4|02:18.5|154.1|26.5|165.8|172.0|08.2
06|00599|02:49.6|02:21.5|155.9|24.3|161.9|172.0|08.7 - upriver turn
07|00607|02:50.4|02:20.3|161.2|24.6|165.6|174.0|08.7
08|00644|02:54.4|02:15.4|152.2|25.1|167.0|176.0|08.8
09|00656|03:00.3|02:17.4|145.1|24.6|167.0|175.0|08.9 - down river turn
10|00648|02:54.8|02:14.8|163.8|24.7|168.0|177.0|09.0
11|00092|00:25.8|02:20.4|153.1|25.4|159.1|160.0|08.4 - hit the weeds!
12|00622|02:49.3|02:16.0|158.9|25.8|161.1|175.0|08.5
13|00636|02:55.9|02:18.4|161.0|26.9|166.8|174.0|08.1 - upriver turn
14|00616|02:51.7|02:19.3|165.2|25.5|169.6|177.0|08.5
The low point of the workout was interval number 10.  I finished #9 going under the stone bridge and into the channel leading to the basin.  With a one minute rest, it's barely enough time to get the boat turned around.  On this turn, I managed to get my point wrong for the next interval, and within 30 seconds, I managed to get way to close to the weeds along the bank and really entangled my starboard oar.  It took me a couple of minutes to back my way out of the situation.  I was lucky I didn't flip.
The last three intervals passed without any additional drama.  Well, except it started raining on interval 10, and by the time I finished it was pouring!
Thursday, August 23 – 70′ Steady State
One of the great things about doing a good job on a high intensity session is that you really feel like you've earned your right to a low intensity session for the next day.  That's the way I felt on Thursday.  I just wanted to work on clean finishes and take it easy.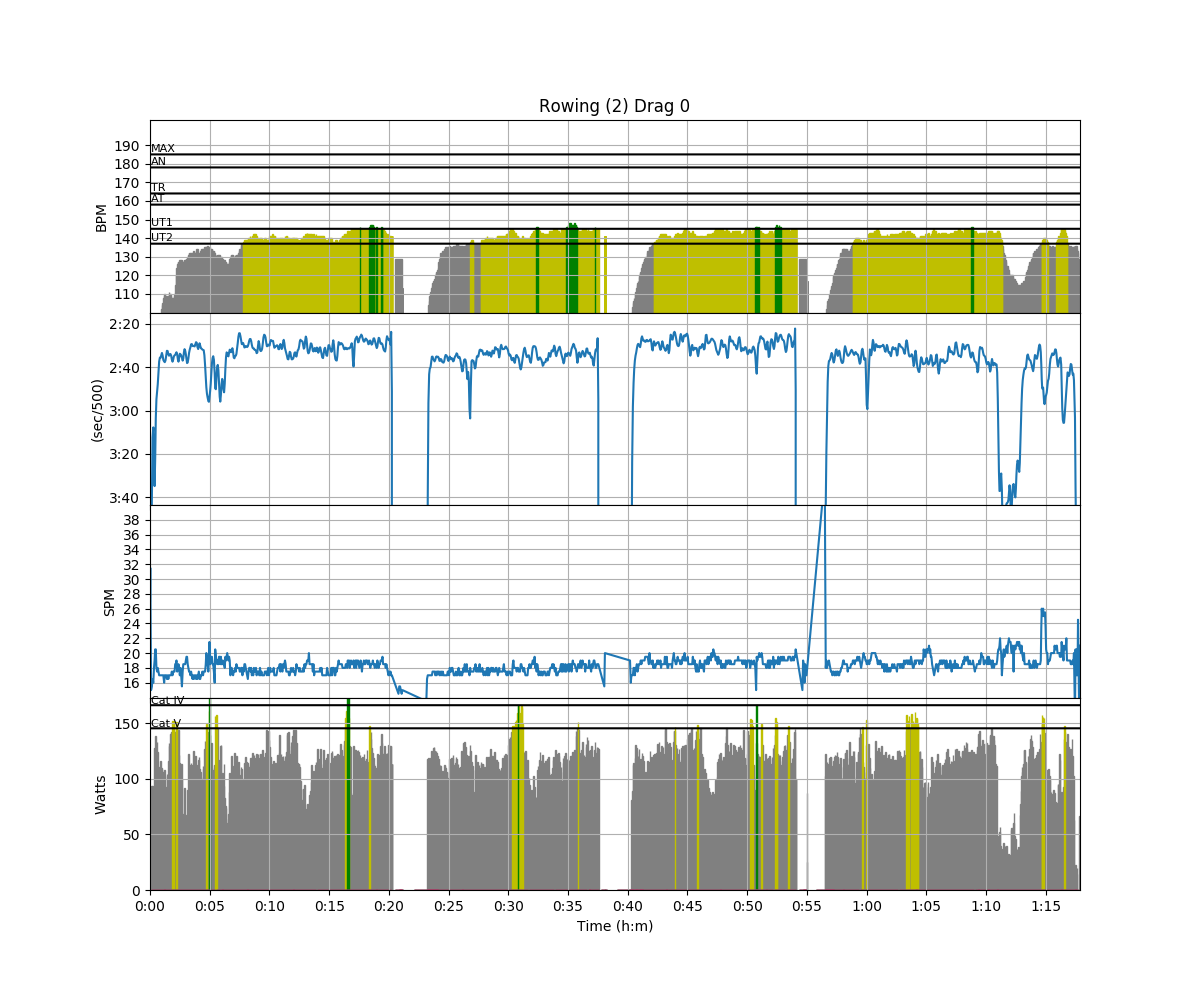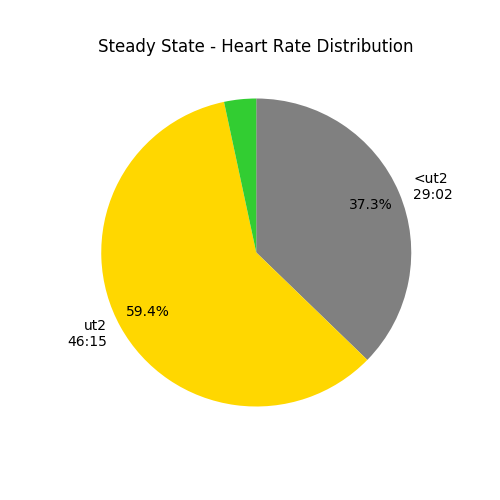 Workout Summary - media/20180827-2251030o.csv
--|Total|-Total-|--Avg--|-Avg-|Avg-|-Avg-|-Max-|-Avg
--|Dist-|-Time--|-Pace--|-Pwr-|SPM-|-HR--|-HR--|-DPS
--|13708|77:51.0|02:50.4|108.1|18.7|134.0|148.0|09.4
W-|13013|66:14.0|02:32.7|117.0|18.3|138.2|148.0|10.7
R-|00700|11:37.0|08:17.9|056.9|20.6|109.6|148.0|07.7
Workout Details
#-|SDist|-Split-|-SPace-|-Pwr-|SPM-|AvgHR|MaxHR|DPS-
01|03895|19:42.4|02:31.8|114.9|17.9|135.2|147.0|11.0
02|02753|14:10.1|02:34.4|117.1|17.7|139.6|148.0|11.0
03|02735|13:34.9|02:29.0|120.8|18.8|140.8|147.0|10.7
04|02800|14:21.1|02:33.8|118.4|18.6|139.8|146.0|10.5
05|00830|04:26.2|02:40.4|110.4|19.8|134.3|145.0|09.4
Easy peasy.  delightfully low heart rate.
Friday, August 24 – no training
Well, isn't that remarkable.  Taking a rest day after 6 consecutive training days!  Also, I had an extremely important meeting at 8am, so I got up at my normal 5:15 am, but headed straight to the office to do a little bit of last minute prep work.
Saturday, August 25 – remarkably crappy 10K
We stayed in Hopkinton this weekend.  There was some yard work and other stuff that needed to get done.  I wasn't really in the mood to get on the dynamic, but I didn't want to lose the little bit of momentum that I had built up.  I was due for a more intense session, so I decided to try to do a threshold 10k.  Again, I wasn't sure what pace I could hold on the dynamic, so I started out at about a 1:57.  That didn't last long.
After multiple HDs, and some might slow rowing, I got a little motivated with about 4k to go.  God, I hate the dynamic erg.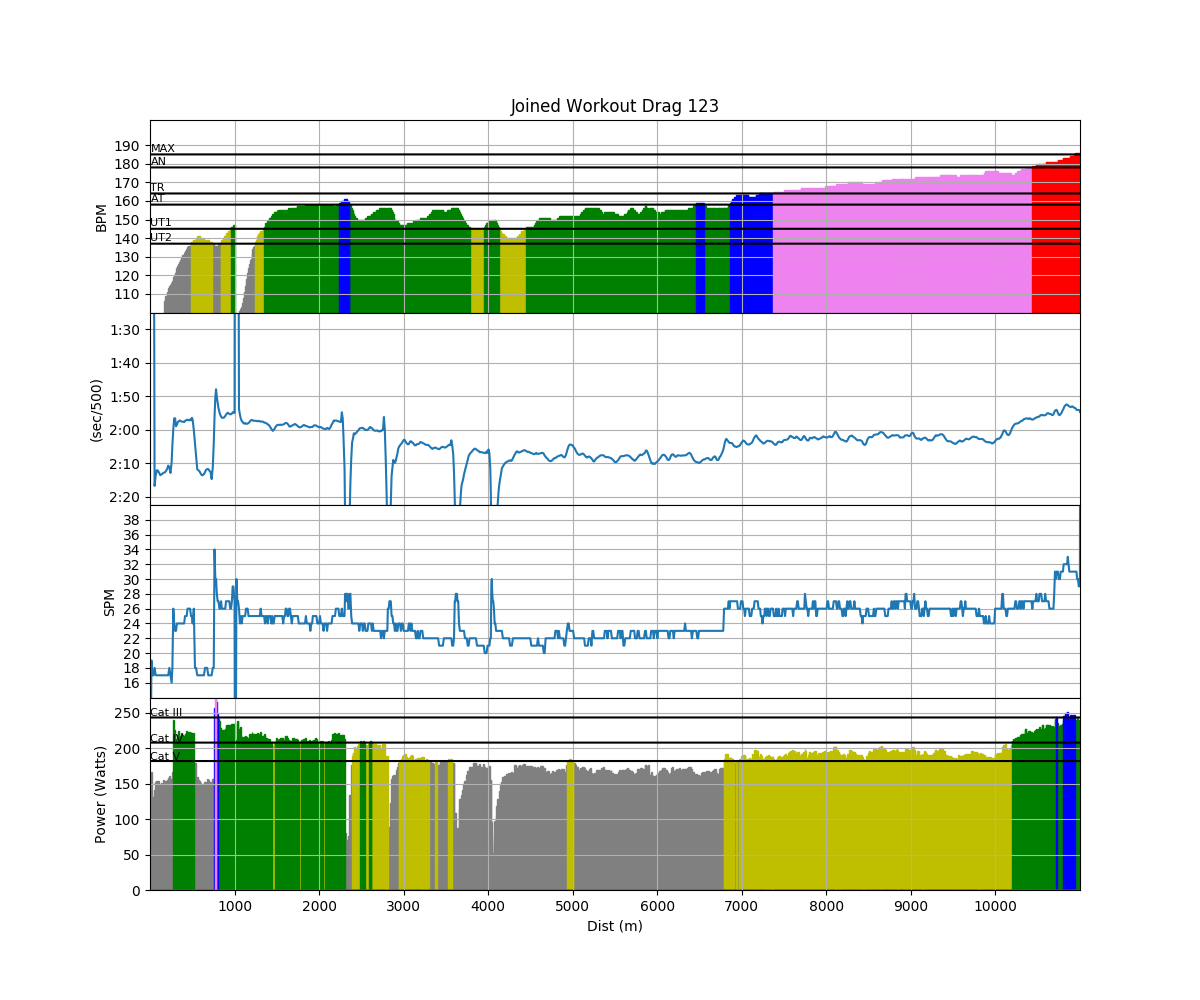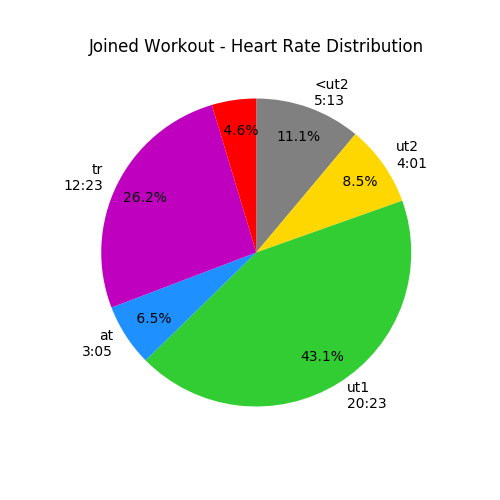 Sunday, August 26 – 16K steady state on the Charles River
On Friday, one of my friends from out in Worcester let me know that 4 of them were going to take 2 doubles down and launch them from Community Rowing so that they could row  the course for the CRI Fall Classic before the event.  He asked if I wanted to come along.  I thought that was a great idea, and it was lucky for me that I was around this weekend.  I picked up my boat in Newton and met them at 7:30.
We launched and headed downriver.  It's really a pretty magical place to row.  There are lots of turns, but none of them are too sharp.  Lots of bridges, but none of them are too narrow.  Lots of traffic, but at that time of the morning, it is almost all scullers and everyone knows the traffic pattern.
We rowed from CRI down to the BU boat house, about 8000m.  We had a couple of short stops on the way down as needed  to stay together as a group.  We got ourselves organized and headed back upriver.  This is the first time I've been on the course since my lousy row in last years HOCR.  It was good to row the course at steady state pressure and work on holding a line.
Each of the doubles had a close encounter with the ample vegetation that has invaded the charles this year.  There is a thick bed of weeds around the magazine beach turn.  People tend to hug that turn pretty closely in the race.  I think this year a bit wider turn will be needed.  Once we got up past the Weeks footbridge, we stopped again.  This is the about where the start line for the CRI fall classic is.  Then we took the rest of the way up as a single piece, and finished strong in front of the CRI boathouse.  There was a bit of headwind in this section.
It was an incredibly fun outing.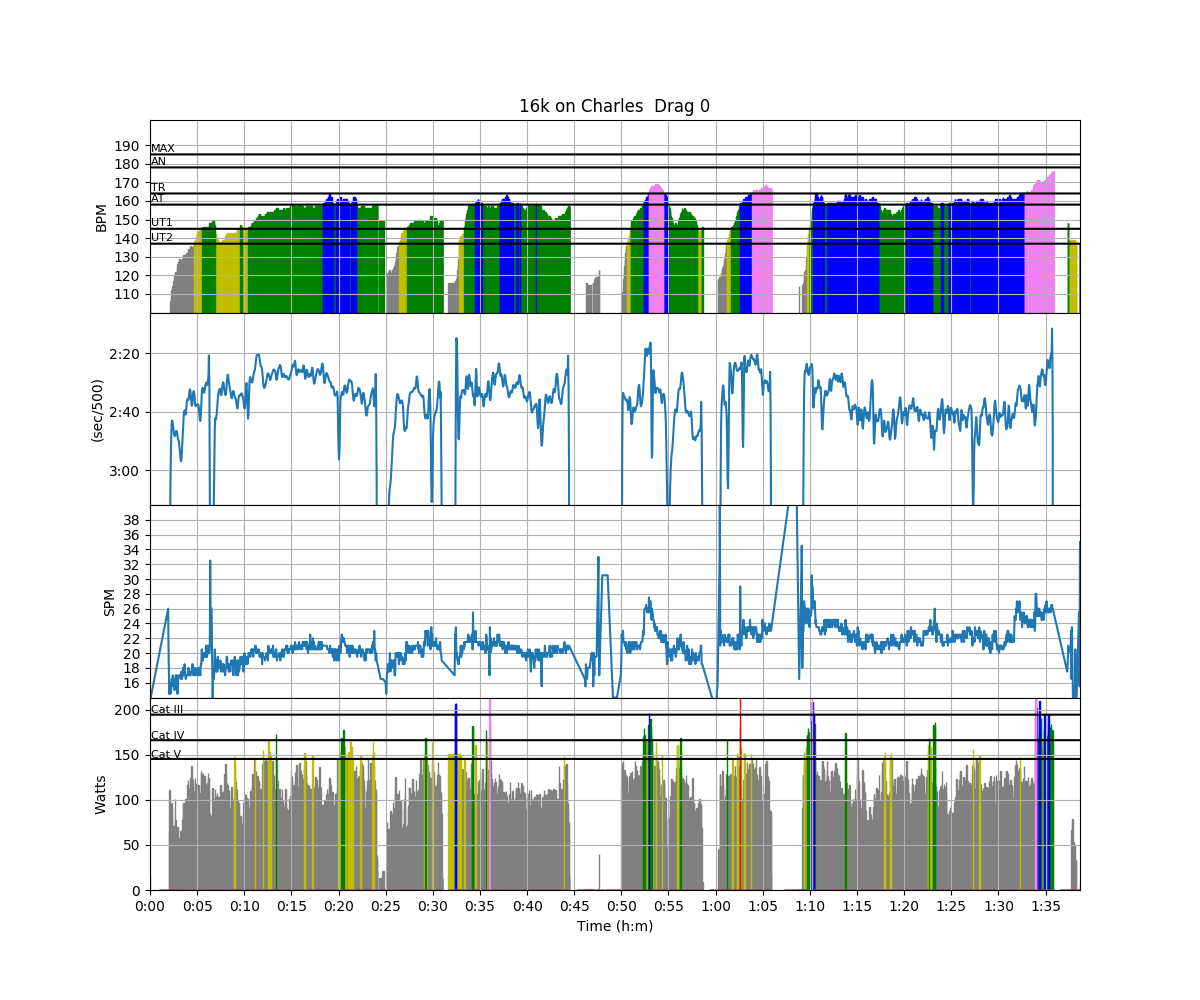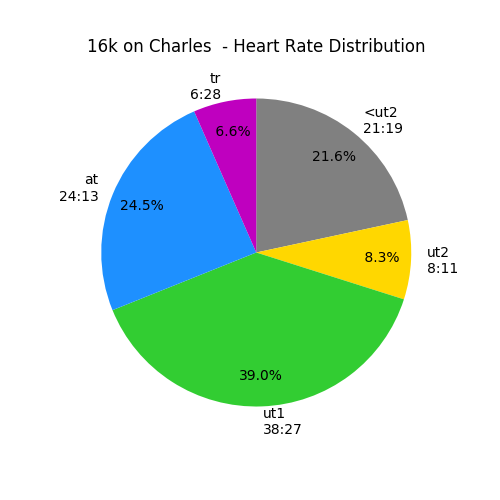 Workout Summary - media/20180826-1645260o.csv
--|Total|-Total-|--Avg--|-Avg-|Avg-|-Avg-|-Max-|-Avg
--|Dist-|-Time--|-Pace--|-Pwr-|SPM-|-HR--|-HR--|-DPS
--|16467|98:39.0|02:59.7|100.1|21.6|147.0|176.0|07.7
W-|15053|77:18.0|02:34.1|115.3|21.3|154.4|175.0|09.2
R-|01422|21:20.0|07:30.2|045.2|22.8|120.3|175.0|03.9
Workout Details
#-|SDist|-Split-|-SPace-|-Pwr-|SPM-|AvgHR|MaxHR|DPS-
01|00767|04:03.9|02:38.9|098.4|17.7|134.7|148.0|10.7
02|03436|17:10.0|02:29.9|114.9|20.0|153.4|164.0|10.0
03|00966|05:03.0|02:36.9|109.1|20.6|145.6|152.0|09.3
04|02354|11:59.6|02:32.9|108.6|20.6|154.6|163.0|09.5
05|00917|04:38.5|02:31.9|131.2|22.5|155.7|169.0|08.8
06|00570|03:01.5|02:39.1|108.8|20.1|150.3|156.0|09.4
07|01080|05:17.7|02:27.1|121.2|22.4|155.5|169.0|09.1
08|03379|17:49.4|02:38.2|114.9|22.6|157.9|164.0|08.4
09|01584|08:15.4|02:36.3|128.3|23.4|163.8|175.0|08.2

Monday, August 27 – 4 x 2000 / 4′
On the water in Newton.  Weather was perfect, maybe a bit hot, but sunny and calm.  The goal this morning was to replicate the happy feelings I got from last monday's 4x2k on the erg.  I knew that this was gonna be tougher in the boat.  Each rep would last almost 2 minutes longer and I had to focus on technique and steering.  I decided for this session to try to hold the stroke rate around 24.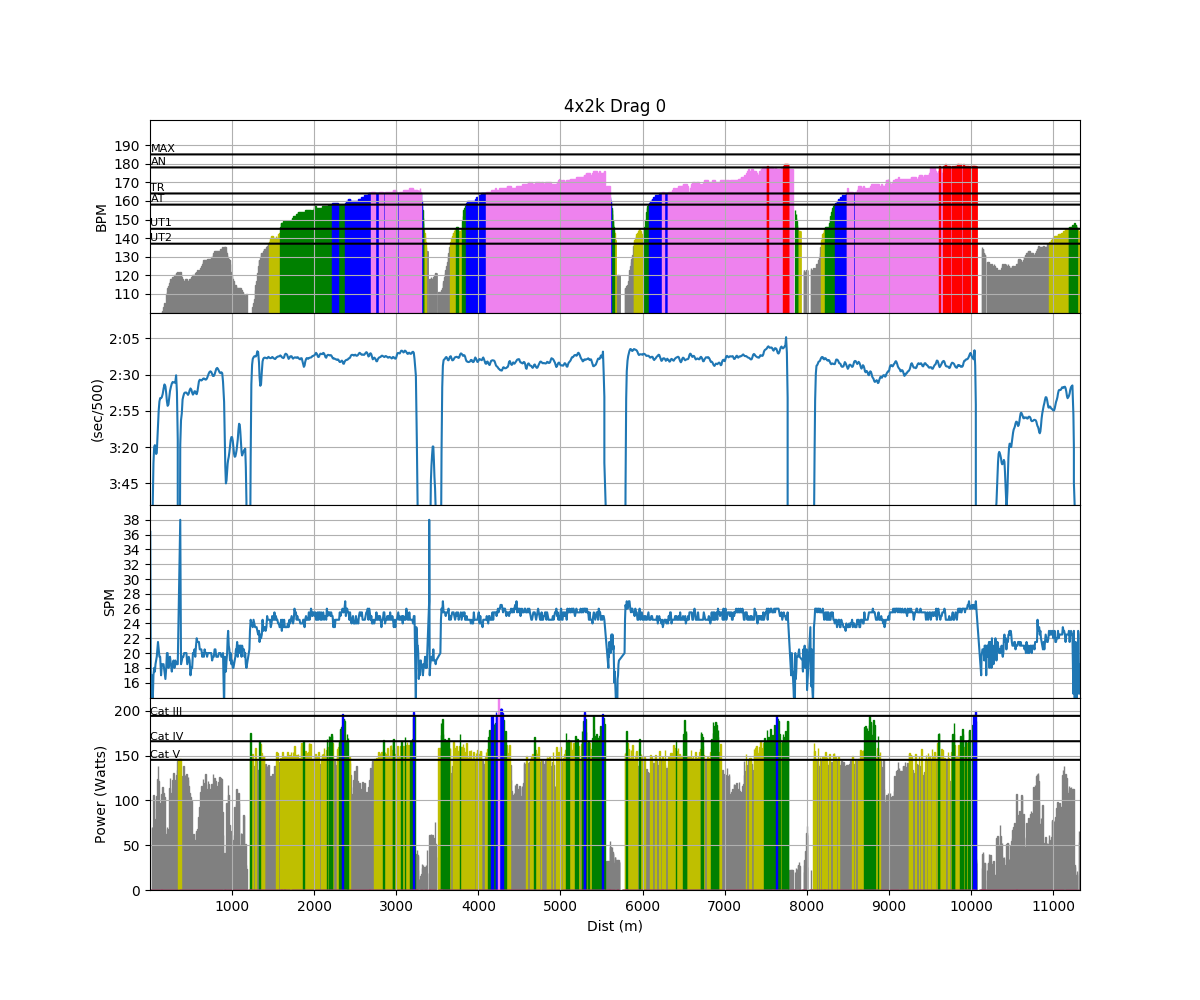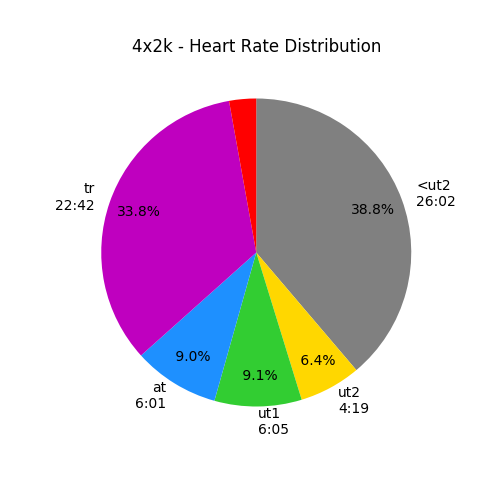 Workout Summary - media/20180827-1650270o.csv
--|Total|-Total-|--Avg--|-Avg-|Avg-|-Avg-|-Max-|-Avg
--|Dist-|-Time--|-Pace--|-Pwr-|SPM-|-HR--|-HR--|-DPS
--|11324|67:03.0|02:57.6|112.6|22.6|147.3|180.0|07.5
W-|08138|37:59.0|02:20.0|147.0|24.7|162.4|180.0|08.7
R-|03192|29:04.0|04:33.3|067.7|19.8|127.7|180.0|06.4
Workout Details
#-|SDist|-Split-|-SPace-|-Pwr-|SPM-|AvgHR|MaxHR|DPS-
01|00284|01:24.6|02:29.2|114.6|19.9|130.0|135.0|10.1 - warmup
02|02004|09:11.9|02:17.7|145.6|24.5|154.5|167.0|08.9
03|01966|09:12.2|02:20.4|154.2|25.2|164.7|176.0|08.5
04|01950|08:55.1|02:17.2|148.4|25.0|166.6|180.0|08.7
05|01933|09:15.4|02:23.7|144.8|25.1|168.6|180.0|08.3
So, that was awesome.  Slow, but awesome.  I held it together through all the reps and managed to focus on technique with my heart going a mile a minute.  It feel good to be back focusing on these simple sessions.
Now, I am on a plane out to San Jose.  I have a few days of meetings out here.  I'm going to try to find an erg so I can maintain my forward progress.